Kanye West
Kanye West is one of hip-hop's most innovating producers of the last 30 years, with albums like My Beautiful Dark Twisted Fantasy, The College Dropout, Yeezus, Late Registration, and Graduation.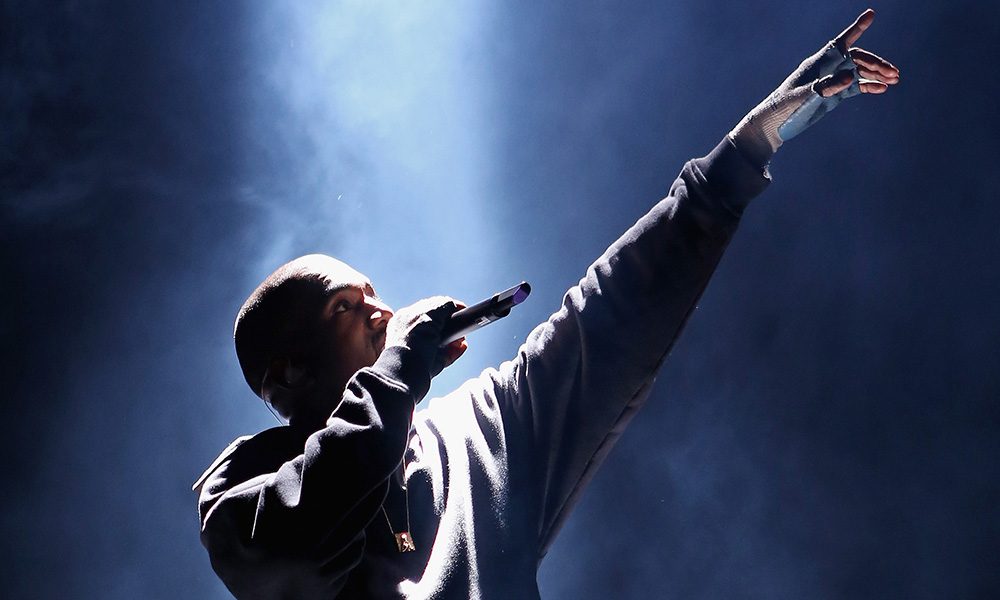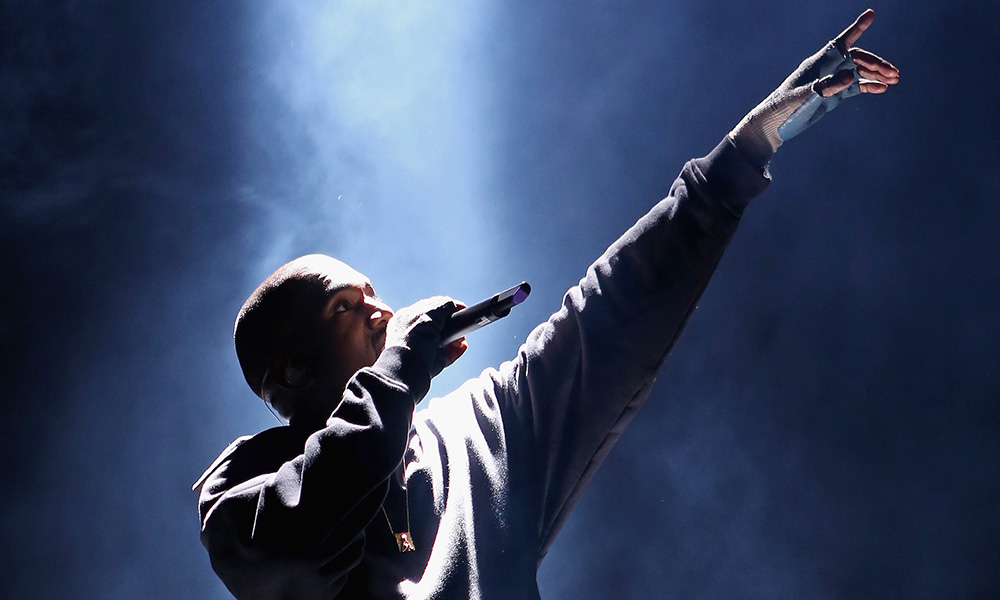 In the span of three short years, Kanye West went from Hip-Hop beatmaker to worldwide hitmaker, as his stellar production work for Jay-Z led to a major-label recording contract and, ultimately, a wildly successful solo career. West paired his beats with tongue-twisting raps and a self-assured, flamboyant personality. His dapper fashion sense set him apart from many of his rap peers, and his confidence often came across as boastful or even egotistical, albeit amusingly so. This flamboyance, of course, made for good press, something that West enjoyed in spades during his sudden rise to celebrity status. He was a media darling, appearing and performing at countless awards shows (and winning at them, too), delivering theatrical videos to MTV, and mouthing off about whatever happened to cross his mind. He frequently spoke out against the rampant homophobia evident in much rap music, posed for the cover of Rolling Stone as Jesus Christ, and even claimed during a televised Hurricane Katrina fundraiser that "George Bush doesn't care about black people." West courted controversy, no question about it, but his steady presence in the celebrity limelight couldn't eclipse his musical talent. His production abilities seemed boundless during his initial surge of activity, as he not only racked up impressive hits for himself (including 'Jesus Walks' and 'Gold Digger'), but also collaborated on smash hits with the likes of Jay-Z and Ludacris. As his career progressed throughout the early 21st century, Kanye West shattered certain stereotypes about rappers, becoming a superstar on his own terms without adapting his appearance, his rhetoric, or his music to fit any one musical mould.
Coming out of the left field (i.e., Chicago, a city rarely praised for its Hip-Hop exports), West was an unlikely sensation and more than once defied adversity. Like so many others who were initially inspired by Run-D.M.C., he began as just another aspiring rapper with a boundless passion for Hip-Hop, albeit a rapper with a Midas touch when it came to beatmaking. Indeed, it was his beatmaking prowess that got his foot in the industry door. Though he did quite a bit of noteworthy production work during the late '90s (Jermaine Dupri, Foxy Brown, Mase, Goodie Mob), it was West's work for Roc-a-Fella at the dawn of the new millennium that took his career to the next level. Alongside fellow fresh talent Just Blaze, Kanye West became one of the Roc's go-to producers, consistently delivering hot tracks to album after album. His star turn came on Jay-Z's classic Blueprint (2001) with album standouts 'Takeover' and 'Izzo (H.O.V.A.)'. Both songs showcased Kanye West's signature beatmaking style of the time, which was largely sample-based; in these cases, the former track appropriated snippets of The Doors' 'Five to One', while the latter sampled the Jackson 5's 'I Want You Back'.
More high-profile productions followed, and before long word spread that Kanye West was going to release an album of his own, on which he planned to rap as well as produce. Unfortunately, that album was a long time coming, pushed back and then pushed back again. It didn't help that West was in a tragic car accident in October 2002 that almost cost him his life. He capitalized on the traumatic experience by using it as the inspiration for 'Through the Wire' (and its corresponding video), which would later become the lead single for his debut album, 2004's The College Dropout.
As the album was continually delayed, West continued to churn out big hits for the likes of Talib Kweli ('Get By'), Ludacris ('Stand Up'), Jay-Z ("03 Bonnie & Clyde'), and Alicia Keys ('You Don't Know My Name'). Then, just as 'Through the Wire' was breaking big-time at the tail end of 2003, another West song caught fire, a collaboration with Twista and comedian/actor Jamie Foxx called 'Slow Jamz' which gave the rapper/producer two simultaneously ubiquitous singles and a much-anticipated debut album. As with so many of West's songs, the singles were driven by somewhat recognizable sample-based hooks: Chaka Khan's 'Through the Fire' in the case of 'Through the Wire', and Luther Vandross' 'A House Is Not a Home' in the case of 'Slow Jamz'.
In the wake of his breakout success, West earned a whopping ten nominations at the 47th annual Grammy Awards, held in early 2005. The College Dropout won the Best Rap Album award, 'Jesus Walks' won Best Rap Song, and a songwriting credit on 'You Don't Know My Name' for Best R&B Song award was shared with Alicia Keys and Harold Lilly. Later that year, West released his second solo album, Late Registration, which spawned a series of hit singles ('Diamonds in Sierra Leone', 'Gold Digger', 'Heard 'Em Say', 'Touch the Sky'). The album topped the charts, as did the 'Gold Digger' single, and Late Registration eventually won a Grammy for Album of the Year. West's production work continued more or less unabated during this time; particularly noteworthy were hits for Twista ('Overnight Celebrity'), Janet Jackson ('I Want You'), Brandy ('Talk About Our Love'), The Game ('Dreams'), Common ('Go!'), and Keyshia Cole ('I Changed My Mind'). West also founded his own label, GOOD Music (i.e., "Getting Out Our Dreams"), in conjunction with Sony BMG. The label's inaugural release was John Legend's Get Lifted (2004), followed one year later by Common's Be. In addition to all of his studio work, West also toured internationally in support of Late Registration and released Late Orchestration: Live at Abbey Road Studios (2006) in commemoration.
After retreating from the spotlight for some time, West returned to the forefront of the music world in 2007 with a series of album releases. Consequence's Don't Quit Your Day Job and Common's Finding Forever, both released by GOOD, were chiefly produced by West; the latter proved to be particularly popular, topping the album chart upon its release in July. And then there was West's third solo album, Graduation, which was promoted well in advance of its September 11 release (a memorable date that pitted Kanye against 50 Cent, who in one interview swore he would quit music if his own album, Curtis, wasn't the top-seller).
A pair of singles — 'Can't Tell Me Nothing' and 'Stronger', the latter an interpolation of Daft Punk's 2001 single 'Harder, Better, Faster, Stronger' — led the promotional push. It became his third consecutive chart-topping album, and its success culminated in eight Grammy nominations. West was the victor in four of the categories, and he performed two songs during the ceremony, including Late Registration's 'Hey Mama', chosen in honour of his recently deceased mother. That loss, compounded by a breakup with his fiancée, informed 2008's 808s & Heartbreak, a major change of pace that saw West singing most of his emotionally pained lyrics with the assistance of Auto-Tune. As polarizing as it was, it went platinum.
My Beautiful Dark Twisted Fantasy, most of which was recorded in Hawaii and involved guest vocal spots from the likes of Nicki Minaj, Kid Cudi, Rick Ross, and the RZA, was released in November 2010. It was preceded by the bombastic, King Crimson-sampling single 'Power'. A sprawling and audacious album, MBDTF debuted at number one on the Billboard 200 and also went platinum. While the album was still hot, West recorded the aggressive and boast-heavy Watch The Throne with Jay-Z and numerous producers and songwriters. Billed as a set by the Throne, it was released in August 2011 and entered the Billboard Top 200 chart at number one. In September 2012, he released the GOOD Music collaboration album Cruel Summer which featured artists such as Big Sean, Pusha T and Lifted. Four singles ('Mercy', 'Cold', 'New Flow' and 'Clique') were released as promotion for the record.
Towards the end of 2012, there were rumblings from acclaimed producers that a new album would emerge soon. These murmurs were soon confirmed when West himself announced that he was working on his sixth album with the likes of Daft Punk, King L, Justin Vernon, Rick Rubin, Chief Keef and many more contributing. As one of the most eagerly anticipated albums of 2013, Yeezus was released to rapturous reviews from critics. Described as his most confrontational and bravest album to date, West touched upon controversial and sensitive topics and delivered an astonishing and bold record. Despite leaking four days early upon its release, Yeezus sold almost 327,000 copies during its first week and the single 'Black Skinhead' was released. 2013 also proved to be a personal milestone for West as he became a father for the first time, with partner Kim Kardashian giving birth to a baby girl in June 2013.
The couple married in May 2014 – an uncharacteristically quiet year for Kanye. Initially slated for mid-2014, the Yeezus follow-up was nowhere to be seen, before the entire 12-month period almost came and went without any new music. But then 'Only One' slid under the wire on New Year's Eve. With contributions from Paul McCartney, it showed that Kanye was continuing to attract a wide range of collaborators, while the results – a paean to his 18-month-old daughter – saw him revisit the Auto-Tuned neo-soul of 808s & Heartbreak.
It was quickly followed in the near year by 'FourFiveSeconds', a song that added Rihanna to the Kanye-Macca pairing but didn't yield a new album release. Instead, in February 2015, West unveiled his Yeezy fashion line: a clothing and footwear collaboration with Adidas, with Yeezy Season 2 following in September. By this point, West's new album seemed to be in constant flux, changing titles from So Help Me God to SWISH, while West kept working on it – even as he released teaser songs online: 'Facts' in December 2015, with 'Real Friends' and 'No More Parties In LA' following in the new year. Just days before premiering the album at a Madison Square Garden event that doubled as an unveiling of his Yeezy Season 3 clothing line, West both the tracklist and the title were under revision, West posting regular Twitter updates on his progress. And even when the album – finally titled The Life Of Pablo – debuted to the live audience gathered at Madison Square Garden on 11 February, by the time it appeared on Tidal, on 14 February, the running order had been expanded to 18 tracks.
By now, many reviewers wondered whether West's endless post-release tinkering (in a matter of days, he would go on to release a new version of the album track 'Wolves') redefined the concept of the album as a living, breathing, ever-changing work of art. Pitchfork, in their 9/10 "Best New Music" review, stated that "the album plays like Kanye might still be remixing it furiously in your headphones while you listen", kick-starting a slew of reviews that sought to make sense of what was an undeniably idiosyncratic release in a unique career.