Kanye West And Kid Cudi Announce 'KIDS SEE GHOSTS' Series
The Takashi Murakami-directed animated series is based on the duo's collaborative 2018 album.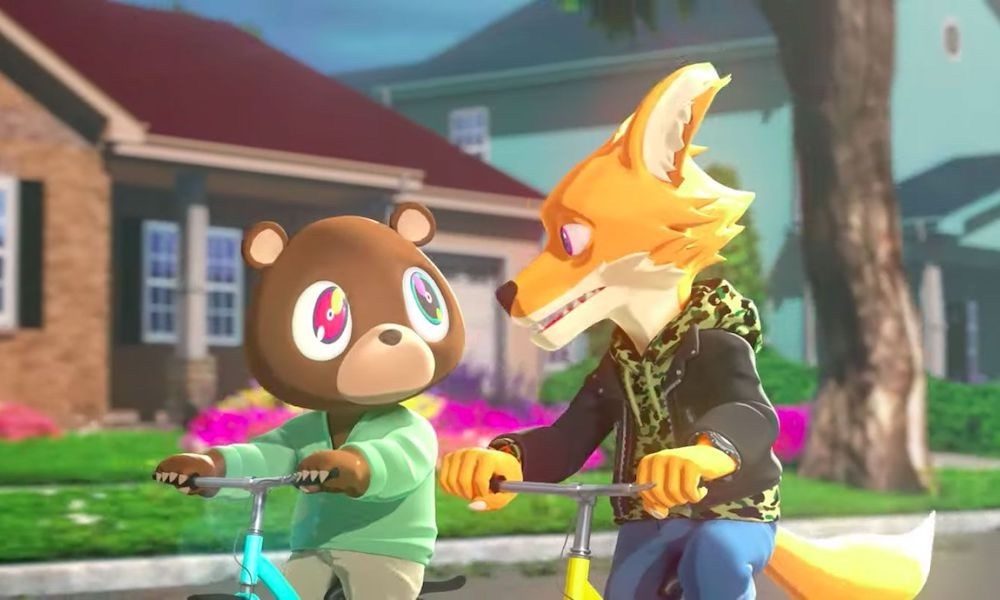 Kanye West and Kid Cudi released an intriguing animated trailer today for KIDS SEE GHOSTS, a forthcoming TV series based on the artists' 2018 collaborative project and subsequent eponymous album. Directed by pop artist Takashi Murakami (who also designed the KIDS SEE GHOSTS album cover) the trailer features characters voiced by West and Cudi.
In the two-minute CGI trailer for KIDS SEE GHOSTS, West can be heard voicing Kanye Bear, while Cudi – who is also credited for the sound design, along with William J. Sullivan – lends his voice to Kid Fox. The trailer also prominently features West and Cudi's song, '4th Dimension', off their album. While a release date for KIDS SEE GHOSTS has not yet been confirmed, Cudi tweeted that the series was "coming soon".
Released in 2018 via West's GOOD Music Imprint, the unique KIDS SEE GHOSTS marked the culmination of a long, fruitful and sometimes fraught working relationship between West and Cudi. The pair had been guesting on each other's projects ever since West's 2008 album, 808s & Heartbreak, with Kudi signing to GOOD Music label that year.
Under the moniker of KIDS SEE GHOSTS, the talented duo recorded a collection of introspective songs in Jackson Hole, Wyoming. Sonically, West and Cudi came up with psychedelia-infused hip-hop, with several songs straddling the line between rock and rap. Their lyrics, meanwhile, went deep – covering their struggles with mental health and personal demons. Joining the pair were a variety of high-profile guests, including producers Justin Vernon, Mike Dean, Benny Blanco and André 3000, as well as vocalists like Pusha T, Ty Dolla Sign and Yasin Bey.
The album debuted at No.2 on the Billboard 200, and peaked in the Top Ten in territories around the world, including in the UK, Australia and Canada. Critically, the album was embraced around the globe and was on many outlets' "Best Of" lists for 2018, including those by Billboard, the New York Times, the NME, Pitchfork and Rolling Stone.
Listen to the best of Kanye West on Apple Music and Spotify.
Format:
UK English