"They only made 20 of them at the time. I used that one on 'Memphis' and I still use it today." So said Lonnie Mack in 1968, five years after his top five US hit with that great track, which helped define the highly distinctive guitar trademarked by Gibson on 6 January 1958: the Flying V.
Another estimate says that 98 were made originally, but either way, those 1958-59 originals are now valued at between $200,000 and $250,000. Indiana bluesman Mack was one of the early adopters of an instrument that remains one of the most striking looking axes in the world of guitars.
Lonnie named his guitar Seven, because he was told it was seventh off the production line; his fellow blues practitioner Albert King was another who started using a Flying V soon after they came into that limited circulation, and he called his Lucy, in answer to B.B. King's Lucille.
The first of the guitars were made not of mahogany, but of limba, a lighter wood, and the look, designed by Gibson president Ted McCarty, was deliberately futuristic. But it didn't prove popular at first, and it was the milestone 'Memphis,' and other Mack recordings, that helped the new generation of rock guitarists take an interest in the Flying V.
Dave Davies of the Kinks, Arthur Lee of Love and Jimi Hendrix were among those to realise that the guitar had both audible and visible appeal. Gibson weren't slow to recognise the new interest, and relaunched the guitar, this time with a mahogany body, in 1967. That year, King recorded 'Born Under A Bad Sign' with his Lucy and future stars like Stevie Ray Vaughan were spellbound. Albert even cut a song that may have appeared to be named after a popular TV series, but was really a love letter to his Flying V, '(I Love) Lucy.'
Andy Powell of Wishbone Ash was another fan of the V. "I [used to go] up to the music shops in London on the train and [look] in the windows," he told Guitar Player in 1974. "And I used to build up these fantasies about owning a Flying V. At one time it was a Les Paul, but then it changed. Mine is lust a fairly basic mid-'60s V. I recently acquired another one in mint condition, which is really nice."
The guitar also fitted perfectly with the glam-rock look and sound of the extrovert rock bands of the early and mid-1970s. Marc Bolan was closely associated with it, as was Paul Stanley of Kiss; Ronnie Montrose of Montrose and Cheap Trick's Rick Nielsen both acquired 1958 models in the 1970s.
Tom Petty liked the guitar so much that for years, the Heartbreakers' logo was a Flying V piercing a heart. "I always thought the Flying V was great ever since I saw Dave Davies playing one in the Kinks on television in Gainesville," Tom Petty told Q magazine in 1989. "I thought, 'Yeah, that looks cool, so the first one I could afford, I bought."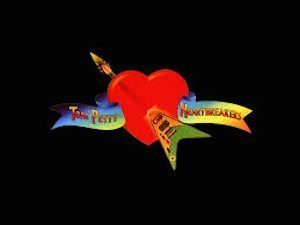 Pettybecame less keen when the V became associated with the subsequent "hair" metal bands, such as Quiet Riot. Scorpions also favoured one in the 1980s, as did modern rockers Hüsker Dü, and Lenny Kravitz gave the instrument a Hendrix-style endorsement in the 1990s.
The Flying V2 version of the guitar arrived in the late 1970s, and there have been later variations such as the Reverse Flying V and the bass version of the guitar, the V Bass. But it's the design of the original 1958 guitar that is in modern production at both Gibson and Epiphone.
Follow the Rock Heroes playlist.