Coming Up Roses For Bobby Darin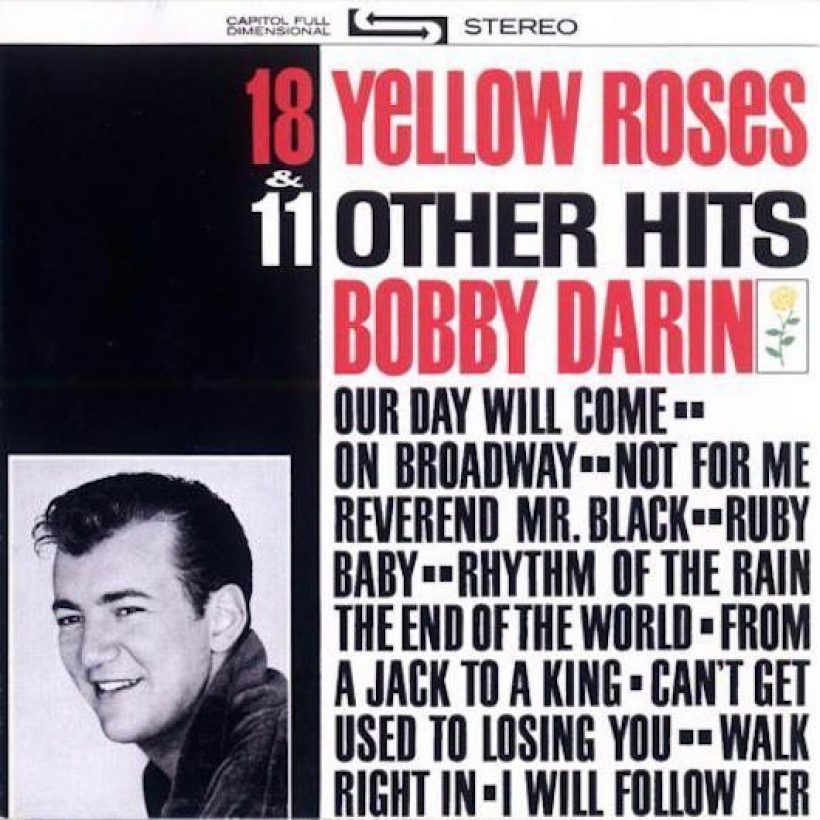 In 1963, Bobby Darin turned 27 in good form. In box office terms, he was a prime nightclub attraction; he had some new hit singles to his already illustrious name; and, as the Billboard cutting below shows, his publishing and production firm T.M. Music was on the up and up.
Already five years into a US chart career that had started with 'Splish Splash,' he landed one of his biggest 45s of his life with 'You're The Reason I'm Living,' and followed that No. 3 success with the No. 10 entry '18 Yellow Roses,' both his own compositions. The latter song also gave Darin a new UK top 40 single.
Then, exactly 53 years ago, on 24 August that year, the vocal stylist from the Bronx made the charts with the 18 Yellow Roses album. Overseen by early Beach Boys producer Nik Venet and with arrangements by Jack Nitsche, it was already his third set for Capitol, for whom he had signed in September 1962. Apart from the title hit, the LP saw his new label steering the singer to a diet comprised almost exclusively of covers of recent major American hits.
These included takes on Dion's 'Ruby Baby,' the Drifters' 'On Broadway', the Rooftop Singers' 'Walk Right In,' the Cascades' 'Rhythm of the Rain' and Ruby and the Romantics' 'Our Day Will Come.' There were treatments of 'End of the World' and 'From A Jack To A King,' signature hits for Skeeter Davis and Ned Miller respectively, as well as Andy Williams' 'Can't Get Used To Losing You' and Little Peggy March's 'I Will Follow Him,' restyled as 'I Will Follow Her.'
The album did show Bobby expanding his style further towards country, even if it was on another hit interpretation, of the Kingston Trio's top tenner 'Reverend Mr. Black,' co-written by Jerry Leiber and Mike Stoller with Billy Edd Wheeler. Aside from 'Roses,' Bobby did manage to get one more of his own compositions into the set, and one that showed he deserved to be far more than a mere cover artist: the spirited 'Not For Me,' which was the b-side of the 'Roses' hit single.
18 Yellow Roses entered the US album chart at No. 122, curiously in the same week that the single not included on it, 'Treat My Baby Good,' entered the Hot 100. That track reached No. 43, while the 'Roses' album peaked at a modest No. 98.
Listen to 18 Yellow Roses on Spotify
Format:
UK English