Perfect Christmas Gifts For Discerning Indie Rockers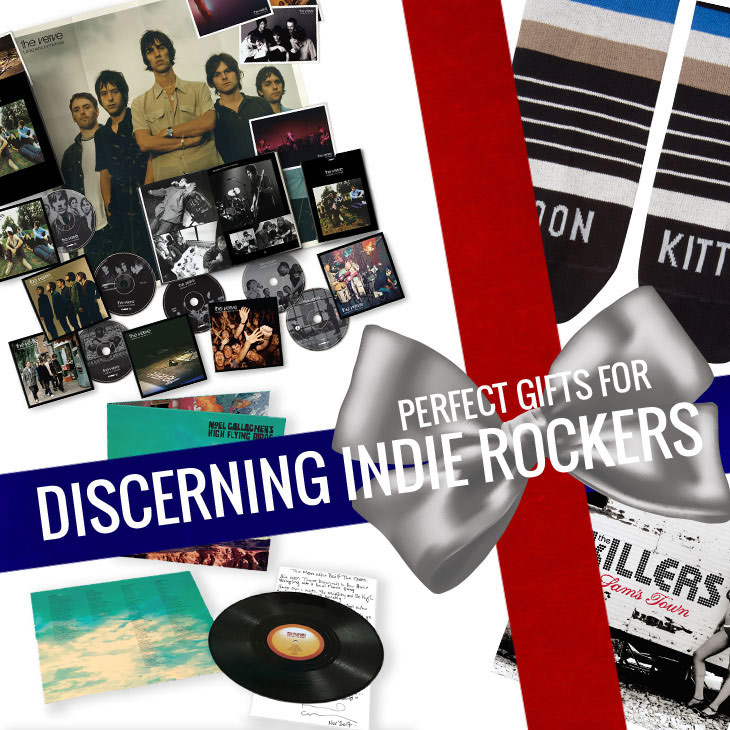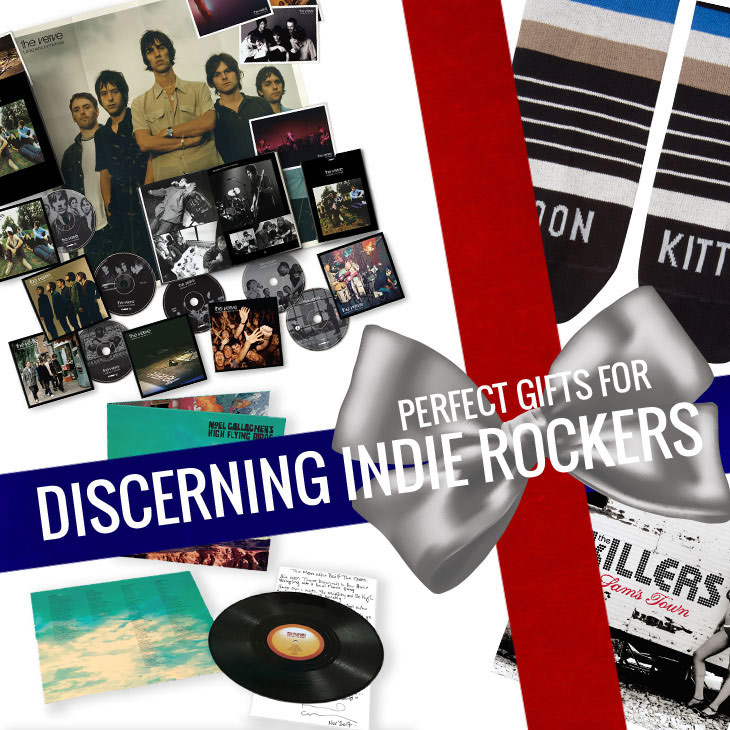 They are the white whale of your Christmas shopping list, the very particular and hard-to-shop-for discerning music fan who would no sooner turn up their nose at your last minute gift card. If you're looking to truly impress this holiday season, check out some of the latest releases and reissues from this year including new music from Beck, Noel Gallagher, Tori Amos and deluxe anniversary reissues from R.E.M., The Verve, Elliott Smith and other gifts for indie music lovers.
1. Beck: Colors
It seems fitting that Beck's new album Colors comes in equally colourful packaging, hinting at the unabashed pop that's waiting inside.
2. Noel Gallagher's High Flying Birds: Who Built The Moon?
The holidays are all about bringing family together, but in this case, it's a musical chart cage match, with Liam Gallagher's first solo release As You Were facing off against Noel's third solo and sonically experimental, Who Built The Moon? As he sings on the record, 'Be Careful What You Wish For', or in this case, snag both for your Oasis loving brother.
3. R.E.M.: Automatic For The People 25th Anniversary
If they believe in Santa then they might also believe we put a man on the moon. R.E.M's genre-defying album Automatic For The People celebrates its silver anniversary with this deluxe reissue that includes the remastered album in Dolby Atmos, 20 never-before-heard demos from the recording sessions and a live performance from their 1992 show at the 40 Watt Club in their hometown of Athens, Georgia.
4. …And You Will Know Us by the Trail of Dead: Source Tags & Codes
Don't let the morbid name fool you, …And You Will Know Us by the Trail of Dead is no metal band, but the beloved Austin alt-rock outfit who built a loyal fanbase from the late nineties to early aughts thanks to their legendary live shows and their major label debut Source Tags & Codes. Pick up the new 15th anniversary edition for the indie rocker on your list that includes three additional songs that were previously only on international releases.

5. – 12. Elliott Smith: Vinyl LP's
Over twenty years later and the music of Elliott Smith is still profoundly moving music fans. This year brought a wealth of reissues and unearthed material from the singer-songwriter, including the 20th anniversary of Either/Or with an expanded edition, Smith's major label masterpieces XO and Figure 8, his first studio albums Roman Candle (1994) and Elliott Smith (1995), as well as his final album From A Basement On The Hill (2004) and the posthumous compilation albums, New Moon and An Introduction To…Elliott Smith.
13. The Verve: Urban Hymns 20th Anniversary Box Set
As one of the quintessential indie rock albums of the 90s, The Verve's Urban Hymns holds a special place in the hearts of anyone who came of age towards the tail end of Britpop, both in the UK and beyond. Now 20 years later, this landmark album receives a six-disc super deluxe box set reissue that boasts plenty of B-sides, previously unreleased live recordings along with the remastered album and concert DVD.
14. – 16. R.E.M x Paul Smith Collection
Looking for gifts for indie music lovers who appreciate crate digging AND high street fashion? British Designer Paul Smith utilized the artwork, lyrics and photographs by Anton Corbijn for R.E.M. to create a capsule collection of silk pocket squares, woven scarves, canvas tote bags, socks and T-shirts to celebrate the 25th anniversary of Automatic For The People.
17. Tori Amos: Native Invader
Now with the arrival of her 15th album, singer-songwriter and pianist extraordinaire, Tori Amos hasn't lost any of her spark and delivers a politically-charged yet poetic album that's a salve for these turbulent times.
18. Interpol: Our Love To Admire (10th Anniversary)
After enrapturing audiences in their native NYC and abroad, Interpol sealed their reputation as one of the biggest indie acts in the world with their major label debut in 2007. Now their best-selling album is getting a 10-year anniversary reissue, available as a 2-LP vinyl set, a double LP with bonus DVD, or a CD/DVD set which marks the first time Interpol's 12-song performance at the London Astoria on July 2nd, 2007 will be available in the US.
19. The Killers: Sawdust 2LP
A true gem for indie music lovers, the Las Vegas indie outfit followed up their sophomore album Sam's Town with a collection of B-sides and rarities that hinted out their past influences and where they were headed, From covers of Dire Straits and Joy Division to a powerful collaboration with the late musical legend, Lou Reed, this 2007 compilation is now available on 2LP 180 gram vinyl, out on 15 December.
For more gifts for indie music lovers, visit uDiscover Music's indie music store here.