'Jesus Is King': The Gospel According To Kanye West
From its inspiration to its samples, 'Jesus Is King' is Kanye West's most gospel-inspired album yet, pushing the music in an explicitly hip-hop direction.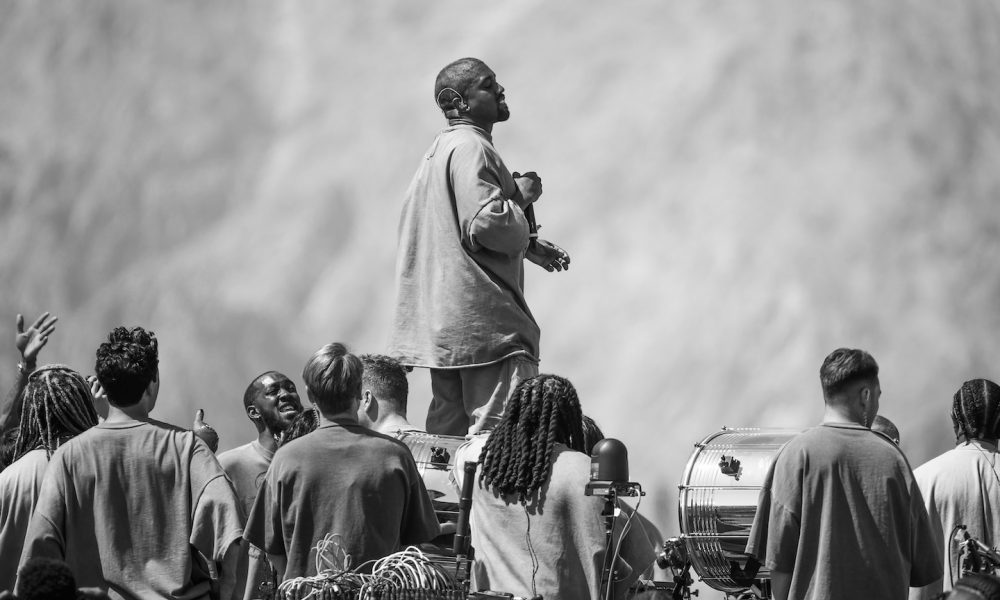 Kanye West has used faith and religion as thematic touchstones throughout his career. On his debut album, The College Dropout, key track "Jesus Walks" took religion to the clubs with a proud declaration of his faith. He portrayed himself as a divine figure on Yeezus' "I Am God," and declared that its follow-up, The Life Of Pablo was "a gospel album" (albeit one with "a whole lot of cursing on it").
Having since pronounced himself born again and renewed in faith, Kanye began conducting his pop-up Sunday Service sessions at the beginning of 2019. Held in a range of secret locations, the weekly events have featured a choir singing gospel covers of songs written by West and others, alongside guided prayers. On October 25, he dropped his long-teased Christian rap album, Jesus Is King. Featuring a range of classic gospel samples and employing his own Sunday Service Choir, the album serves as both a celebration of gospel music's rich history and an attempt to push the style in new hip hop-inflected directions.
Listen to Jesus Is King on Apple Music and Spotify.
Gospel inspiration and samples on Jesus Is King
Jesus Is King opens with the spectacularly beautiful choral vocals of "Every Hour." Sung solely by the Sunday Service Choir, it's an uplifting spiritual that perfectly illustrates the beauty of the gospel form. From there, West mines a rich vein of samples, both secular and religious, to help craft the album.
New Jerusalem Baptist Church Choir: 'Revelations 19:1'
The looped "Hallelujah" refrain from New Jerusalem Baptist Church Choir's 1985 gospel classic is paired with church-like organ dirges and bombastic drum blasts for the album's second track, "Selah."
Whole Truth: 'Can You Lose By Following God'
This soulfully devout 1974 track includes the line "Father I stretch, stretch my hands to you". Sampled right at the start of "Follow God," it also recalls "Father Stretch My Hands, Pt.1," from The Life Of Pablo.
Kanye West - "Follow God" (Official Lyric Video)
Grupo Vocal Argentino: 'Martín Fierro'
West takes a secular turn for this sample from an Argentinian folk group, though the subtle acoustic guitars and harmonized vocals provide a suitably hymnal base for "Closed On Sunday"'s ruminations on faith and family.
Bruce Haack: 'Snow Job'
With a lyrical nod to Yoko Ono's 1972 song "We're All Water," "Water" tackles themes of religious purity over the deep bubbling synths of electronic pioneer Bruce Haack's "Snow Job." abetted by another stunning turn from the Sunday Service Choir.
James Cleveland And The Sunday Community Choir: 'God Is'
One of gospel music's great pioneers, James Cleveland is paid tribute to in the following "God Is." Performed alongside the Southern California Community Choir, Cleveland's track of the same name is a perfect demonstration of his groundbreaking arrangements for choirs, fusing church music with soul, pop, and jazz.
Two Door Cinema Club: 'Costume Party'
Pitched down, a surprising sample from indie-pop band Two Door Cinema Club's 2010 track "Costume Party" establishes the ringing rhythm that drives "Use This Gospel." Even more surprising, however, are the guest appearances by smooth jazz saxophonist Kenny G and a reunited Clipse.
Claude Lévéille: 'Un Homme Dans La Nuit'
Performed by a massed bank of brass instruments, "Jesus Is Lord" is a short ode to the Messiah, built on the melody from this 1978 track by the Québécois singer-songwriter.
Digging deeper into gospel music
Inspired to investigate gospel music further? Here are some of the founding fathers of the music, and a few artists who are have taken it in new directions in recent years.
Listen to the best gospel music on Spotify.
Pastor TL Barrett
A relative unknown until the 2010s, the Chicagoan preacher is a favorite of Kanye's. His 1976 track "Father Stretch My Hands," a richly soulful number with a Stevie Wonder-esque warmth, was sampled heavily for the The Life Of Pablo track of the same name. "Nobody Knows," a 1971 track that features an unforgettable performance from one of gospel's greatest (if least-known) vocalists, is another classic example of his work.
Mahalia Jackson
Regarded as the greatest vocalist in the history of gospel music, Mahalia "The Queen Of Gospel" Jackson's richly beautiful, deeply spiritual contralto voice was capable of conveying myriad emotions. Her stirring, blues-heavy 1962 live version of Clara Ward's hymn "How I Got Over" sees that incredible voice portraying both deep sadness and triumphant, life-affirming joy.
The Joubert Singers
First seeing the light of day on the church-issued Somebody Prayed For This gospel collection, "Stand On The Word" became one of the key disco 12"s of the 80s when it was reissued in remixed form under the name of The Joubert Singers. A triumphant mix of tumbling piano lines, exuberant angelic-voiced paeans to God, and funky bass lines, it's easy to imagine it tearing up the era's New York dance floors.
Aretha Franklin
Recorded live in 1956 when she was a mere 14 years old, at her reverend father's New Bethel Baptist Church in Detroit, Aretha Franklin's Songs Of Faith album showcased a singer of astonishingly precocious talent. Among its stirring performances is this jaw-dropping second act of her two-part performance of Thomas A Dorsey's gospel standard "Precious Lord Take My Hand."
Precious Lord (Pt. 2 / Remastered/2019)
Andrew Wartts
Based in Bloomington, Illinois, Andrew Wartts released the classic, if little-known, gospel album There Is A God Somewhere on the tiny Champ label in 1982. Recorded with The Gospel Storytellers, its brilliant fusion of church music with soul, folk and jazz is exemplified by the shimmering funk of the biblical number "Peter And John."
Andraé Crouch
Known as the father of modern gospel music, Andraé Crouch was renowned for his lush productions, and helped popularize the form when he brought his gospel choirs to Michael Jackson's "Man In The Mirror" and Madonna's "Like A Prayer." His 2011 track "The Promise" is a wonderful demonstration of his warm production style and lush arrangements.
Kirk Franklin
One of the brightest stars of modern gospel music, Texas native Kirk Franklin's fusion of gospel with modern urban music crossed over into the R&B and pop charts. Combining classic hip-hop beats, scratches, and G-funk-style piano lines with soulful vibes and lush vocals, "I Smile" is a wonderful example of his style.
Kirk Franklin - I Smile (Video)
Chance The Rapper
Kanye West isn't the only rapper to try his hand at gospel music. Following his stunning turn on The Life Of Pablo's opening track, "Ultralight Beam," Chance The Rapper delved deeper into gospel with his Coloring Book mixtape, featuring Kirk Franklin as a guest and peppering the likes of standout track "No Problem" with choral vocals.
Looking for more? Discover the best gospel songs of all time.