The Million Dollar Story Behind Kanye West's 'Jesus Walks' Music Videos
The directors behind the rapper's 'Jesus Walks' music videos talk about how they came together.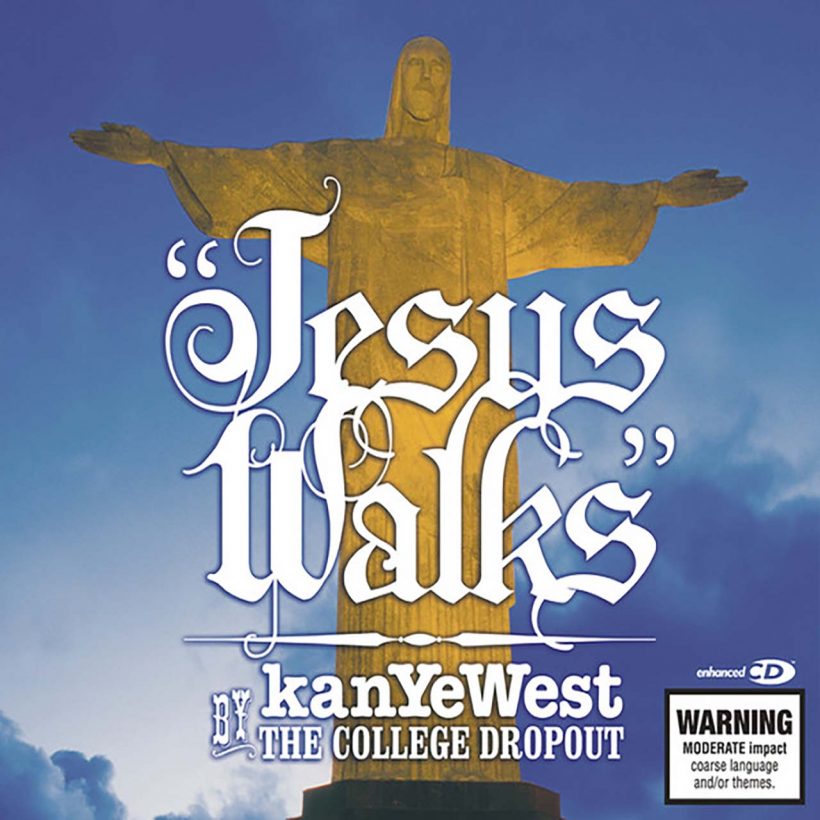 Here's how much music videos matter to Kanye West. During the filming of the second video to "Jesus Walks," Kanye – unbeknownst to him, became a part of MTV's Punk'd, a hidden camera practical joke show hosted by turn-of-the-century star Ashton Kutcher. The plan was that a fake Los Angeles Film commission officer would come on set to shut down the video for lack of a permit to shoot in that area, on that day. After some tense banter back and forth between the fake officer and Kanye West and his team, Ashton gave the order for the fake officer – who once again was real to Kanye, to confiscate the film.
Things got very real at that moment for everyone on set. After a few minutes of verbal back and forth during the confiscation of the film, Kanye snuck in and wrestled the film out of the fake law enforcement officer's hands. He then jumped into a van with a production assistant and ordered them to speed off. "They sped to the parking lot at 50 MPH, luckily he didn't run anyone over," "Jesus Walks" director Chris Milk recalls. "But there was one of the actors that were trying to get into the van, the fake film cop guy. There was a part where he rolls over and there was a point where the van came very close to running over his legs," he said.
Listen to Kanye West's The College Dropout now.
If real, this could've ended up a terrible situation for Kanye – who in 2004, was at the beginning of his career. Luckily by the time they made it over by the parking lot, Kutcher jogged out of his trailer to reveal that it was all fake and the Louis Vuitton don had indeed been Punk'd.
Kanye West was ready to risk it all for the sake of his music video, but that's because West has notably put his all into his art. There is no dollar amount that he won't spend or no measure he won't take to create music videos that live up to his artistic standards. It's that very passion and artistic drive that led him to film three separate music videos for "Jesus Walks" with a combined budget of over $1,000,000. The three videos were premiered at the Tribeca Film Festival on the evening of June 21, 2004, and fifteen years later all of the directors reflected with us on the situations and concepts that came to birth all three videos.
VERSION 1: DIRECTOR MICHAEL HAUSSMAN
LOCATION: LOS ANGELES, CALIFORNIA
BUDGET: $650,000
Michael Haussman was enlisted first to film the video for "Jesus Walks." West expressed his admiration about Haussman's past work, most specifically his video for Madonna's "Take a Bow." However, Haussman didn't exactly know who West was at the time. It wasn't until he heard the song "Jesus Walks," which came at a trying point in his life, that he agreed to sign on to do the video. The video was filmed in Los Angeles featuring the concept of three different people finding their own personal Jesus through dangerous life experiences. After filming the video, however, Kanye began to sour on the final product.
How did you get approached to do this video?
Michael Haussman: I was in a bubble at a time. I'd just moved to Rome. My wife's Italian, and we'd just had our kid in Rome and he got put into intensive care right away. I'd just finished a film I wasn't happy with and I was kind of hiding out anyways, and I didn't know who the f--k Kanye West was, to be honest. I mean, I kind of heard his name but I didn't know if he was a producer, if he was a singer. Who is he exactly? I didn't really know, and I'll admit that I was super out of it at this time for all those reasons.
Then when he approached me, it was because he really liked the Madonna "Take A Bow" video I did years ago and we started talking. That was the basis of us meeting. But I thought it was funny because I really didn't know [who he was], but when I put the track on I thought it was amazing
Thematically, it was touching all the buttons and especially considering I was going through a heavy period myself where I was having to examine faith. So it certainly was hitting emotionally a lot of things for me, so I wrapped my arms around it big time.
What inspired you to include these three separate stories?
Haussman: My point of views are that those are three, very visual stereotypes that you can take. And that's kind of what I went with, and it was also very L.A. to me. Like when you go through Skid Row, you see the drunks and the guys, and then that area is like the whores and the gangsters. It's about turning that wheel where you go, "I don't wanna do this anymore."
And they're going to this one place where metaphorically it's a church, where they can turn their lives around, but they're just looking at themselves and they're kind of burning their things in the end.
What ultimately happened with the way things turned out?
Haussman: The editor who edited this – Robert Duffy, he's really great and he just finished "99 Problems" with JAY-Z, like two weeks before. And that was really plaguing Kanye, because he really wanted something that moves like that. That was fast like that. He was frustrated with our edit because he wanted that. And I'm like, "Well, [laughs] you wrote 'Jesus Walks.' It's a whole different story, it's a different rhythm." I kind of just turned off to it, because there was a moment when Kanye went from a really supportive guy to all this stuff. I had to get back to my son who was getting better at the time, so it wasn't like I was going to go out and shoot another video or reshoot scenes. That wasn't really on the table. And I heard his frustrations, and yeah, he wanted "99 Problems" and it wasn't that.
And then he called me a year later and left a really long message on my answering machine – super, super nice. He was saying, "I'm sorry. I was really young at the time." He wanted to do something else and it was great. He and I have seen each other many times since the video. I don't think there were ever any bad feelings towards doing other videos. It was like, do what you gotta do and I'm gonna do what I gotta do. We'll hook up some other time.
VERSION 2 – DIRECTOR CHRIS MILK
LOCATION: LOS ANGELES, CALIFORNIA
BUDGET: $500,000
Kanye West - Jesus Walks (Version 2)
Unsatisfied by the initial video's final result, West bounced back to a director that he'd worked with in the past. Chris Milk, who previously directed "All Falls Down" (and would later direct "Touch The Sky," as well as various other projects), was enlisted for a new version of the video. While the initial video heavily leaned on the concept of finding solace in the church, Milk's concept was grittier. It became a controversial clip that would only be played on MTV during the evening hours.
What was your relationship with Kanye and how did you guys meet?
Chris Milk: I had already done one music video when we were originally introduced, and it was the music video for the Chemical Brothers. And after that, he saw the promise in working with me – there were certainly way more music video directors that had hundreds of videos, but he saw my reel and said that's the guy I wanted to work with.
I think it was the girlfriend of one of his managers that showed him my Chemical Brothers video. And we did the "All Falls Down" video and it was a really great experience. He was one of my closest friends at one time, and we had mutual respect for each other and "Jesus Walks" is an example of that mutual respect. He had an idea that he wanted to do, and I had an idea that I wanted to do, and he said "Will you do my idea?" and I said, "I don't think I'm not the right person for that." So he hired Michael Haussman, and I actually went to a couple of days of the shoot of that video. I was happy to see him do the idea that he wanted to do.
How did Kanye approach you to do the new version?
Milk: He called me and said that he was unhappy with the video, and that he now wanted to do the concept that I had finished as a replacement for that video. [When] we finished our video, the intention was that we were going to do a premiere on MTV. We sent it to them, and they thought the video was too controversial to play it during regular daytime hours. Kanye's management and the record label started getting into negotiations with MTV about what could be done about it. The record label wanted to play the Michael Haussman version during the day, and my version at night. Kanye was actually really furious that MTV even knew that there was another version of the video because he didn't want that version to go out. He wanted just this one to go out. Ultimately, the [Haussman version] was played during the day, mine was played after 9:00 to 10:00 PM.
When did you first hear "Jesus Walks?"
Milk: The reason I got into music videos is that I see images when I hear music. It's similar to synesthesia, but it's not colors. But I see characters in stories. When I listen to a song I see the music video, and that's why it's hard for me to do another music video. And that's why I couldn't do that different version of "Jesus Walks."
And when I heard it, what it sounded like was that it had all these interesting discreet voices. Where most songs would just have a music track and a lead singer. There was this whole tapestry of voices in there. You hear the girls chanting "Jesus Walks," you chants and marchers which I turned into prisoners, even like the oboe kind of voice in the breaks which ends up becoming a character. I just started thinking "Who are all these kind of characters that I'm hearing these voices for? There's the Klu Klax Klan, there are the prisoners and the guards, and the jump rope girls, and the drug dealers and cops."
Could you talk a little bit about your approach and style with this video? There's a lot of nuance and such distinct things you choose to focus on, like the ending with the Klan member and the beginning to "Never Let You Down" playing.
Milk: I had a philosophy that whatever style I shoot, should suit the narrative. And I'm not doing justice to the song if I'm trying to find a specific aesthetic that belongs to me, that I applied from a totally different musical mood generically. The aesthetic should fit the tone of the song and the story. Usually, you pick one aesthetic for the music video, this one was different because you had so many interwoven storylines that people connect together, and each one got their own aesthetic.
In terms of the ending, here's what so great about working with Kanye. [He] really looked at the music video as its own separate and discrete piece of art. A lot of musicians look at music videos like an extra piece of promotion for the song and the album, whereas Kanye really looked at it like this is a piece of art within itself and if we have to change the music to make the piece of art better, then let's do that.
The scene with the Klu Klux Klan guy – narratively it needed a bridge that was twice as long as the song to tell the story correctly. If you listen to the version of the song from the album and the version of the song from the video, it's different because I looped it in the edit. I showed it to him and I said, "Hey, I changed your song to suit the video." And he said, "Cool, it's better." The way that the song is, it didn't have like a strong singular clash. I needed more of something like that, and the construction of "Jesus Walks" – it built and built but the crescendo was earlier, and I needed the crescendo right at the end and he built that extra piece of music. And I think he recorded those strings specifically for the video, and we stuck that other song in there too. That's just an example of how we can make the best short film, and that sometimes meant cutting out music and that sometimes meant looping music or adding new music.
VERSION 3 – DIRECTORS COODIE SIMMONS & CHIKE OZAH
LOCATION: CHICAGO, ILLINOIS
BUDGET: $50,000
When it came to the Tribeca Film Festival premiere, directors Coodie Simmons and Chike Ozah were the only two directors front and center to represent "Jesus Walks." And while their video cost considerably less to produce compared to the other two visuals, they insist it was the only clip that night to get the standing ovation. Kanye approached the Chicago-bred directors to add a much more "soulful" perspective to the clip that only they can.
Do you remember the first time you heard "Jesus Walks"?
Coodie: The first time I heard "Jesus Walks" was in a barbershop in Chicago called MellowSwing. [Kanye] and Rhymefest had just finished making it. He was playing the track before I heard his lyrics. It was '99 or early '00 I believe.
Chike: The first time I heard it, Coodie was showing me some footage because Coodie had been documenting Kanye for a period of time now. So he had footage of Kanye going around, rapping the song to different influential people because that's what he used to do when he was trying to get his message out. And I just remember him getting up on someone's desk at an office, and I was like "Damn, this is crazy." Just what he was saying – being so bold to have a song about Jesus. You have Christian rappers and sometimes it comes off so corny, which is a shame. But he did it in a way where it felt so dope and strong, and real and powerful. It could compete with any song that was out on the radio.
What was your relationship with Kanye at the time?
Coodie: [He] used to come into MellowSwing and he would play tracks and get his haircut. I remember I used to be at No. I.D.'s house and Common might be there, and Kanye & GLC would be outside trying to get in and they would be like, "Hold on, be quiet, Kanye outside." He was trying to learn and be around, and he was very ambitious and I guess kinda pesty a little bit too. I remember going over to Kanye's [apartment on 95th Street] and I just began noticing how talented and how charismatic he was. He would get in front of the camera and start freestyling. He just loved the camera. I could see it right then, oh this guy about to win GRAMMYs.
He wound up moving to New York, and I just remember hearing [JAY-Z's "Izzo"] on the BET Awards, and I hit him up and I said, "Dude, that's your track?!" and he said "Yeah, man it's going down. I'm working with Beanie Sigel, and everyone out here." So, I was like, I got to get to New York. So I wound up moving to New York, and pretty much day to day I'm filming. And we going into Def Jam with the camera – Kanye rapping for everybody, jumping on desks. One of the main songs was "Jesus Walks."
Chike: I went to art school and always passionate about art and pushing the envelope, and he had the same appreciation for that. I was working at MTV at the time and he would come and just sit next to me on the computer, and I would show him all types of sites that were influencing me. I felt like he appreciated the same aesthetic at the time that I was into. He understood, and there were very few people that understood and were like me. Very few people who were fans of hip hop, but also understood this high art aesthetic and different types of media at a high level.
In terms of the videos that you guys directed, a lot of them are "guerrilla-style" – if you look at "Two Words," "Through The Wire" and even some parts of this song. Was this your preferred directing style by necessity – or was it because of resources?
Chike: It was a combination of all those things. When Coodie first showed me his stuff, he had this dope raw, aesthetic and it was something that I gravitated to because he executed it so well and in a real way. I feel like that resonated with me. With my style, I feel like I've always tried to create that rawness within the design. That marriage of those raw elements with very cool graphic typography elements. Sort of a hybrid of the two. Mashing up rawness with art. I feel like our style showcases those nostalgic elements of life that you can remember, and incorporate that to make it modern.
Coodie: And I'll add onto that. I tell people all the time. I feel like Jesus directs. I feel like God directs. A lot of things just happen naturally. Me filming Kanye and then he has a car accident, and then we come together with Chike and we come up with "Through The Wire" and using all that archive footage that was filming. That was one set up for us.
Chike: I mean "Jesus Walks" is a perfect example of that, as far as I coming up with that shoot. That video should've never even happened with regards to the timeframe we had to even make it.
Coodie: So Kanye did two videos. He did the first one with Michael and Chris Milk. They spent a lot of money. So then me and Chike in the club, we kickin it, we come out the club and Kanye calls me. And I say, "Damn, what I do? Let me see what's going on.." I asked, and he said, "I did the two 'Jesus Walks' videos but I'm not getting no soul out of those, let's do the one you wrote."
I wrote the "Jesus Walks" treatment before "Through The Wire." While we were in LA, we were going over ideas. We came up with the whole Jesus Walks – because he wanted Dave Chappelle to play Jesus, and I said let's make Jesus cool. Let's make it funny and make it dope.
But he called Chike that night, at 4:00 AM. I was like, "When you wanna do it?" – Kanye hates when someone says they can't do something, he'll go off. So he says, "Let's do it on Sunday!" We in New York, at 4:00 AM on Friday morning. And I said, "We gotta shoot in Chicago." So me and Chike wrote later that day and started calling around. Chike's calling people in LA. I'm getting the crew together in Chicago. We're just making it all happen. Kanye didn't call us back until 6:00 PM or 7:00 PM that night with his credit card, because we needed to buy the stuff. So when he did that, most of the [B&H Audio Visual stores were] closed. So we called [the location in LA]. We got film coming from [LA], we got our plane tickets and flew in on Saturday, got our hotel, location scouted and found kids, [and then taught] them how to do the Jesus Walks dance. We made all that happen and we shot that video on Sunday. Just on the grace of God.
It feels like a viral clip. Do you guys remember seeing this at all on any of the networks?
Coodie: I remember them seeing them on MTV like one time. It wasn't getting the airtime like the other ones. The label was pushing the other ones. Kanye didn't feel the soul in the other ones, that's why he did our version. The networks didn't care about the soul like that, but they cared that the production level was great.
Chike: The main time I remember was [when] the newspaper covered it the next day and the reaction to it. Dame Dash said we had the best video. I thought all the videos were great, but we captured the soul that Kanye was trying to get it across.
Coodie: And we were the only one who got a Standing O.
The conventional approach for things has never been Kanye West's modus operandi. Live performances become spectacles, interviews become life statements, and a standard music video release transforms into a full premiere at TriBeca Film Festival for three music videos to one song. But to this day, the triple video premiere helped continue to establish the legacy of Kanye West as an artist who puts art before the business, even if the bill maxes out around $1,200,000. He told the New York Times, "Even if we don't make the money back financially, we'll make it back spiritually." Fifteen years later, he's made it back tenfold.
Listen to Kanye West's The College Dropout now.
Editor's note: This article was originally published in 2019.