One Last Top Ten Groove For T.Rex
'The Groover' made its British chart entry on 16 June 1973, on the way to becoming their final UK top ten 45.
T. Rexstacy blew in like a hurricane and took the UK by storm for two years. Then, before we knew it, the glam-rock figureheads were coming to the end of their run of huge singles. There were still more hits to come, but on 16 June 1973, 'The Groover' made its British chart entry on the way to becoming the final top ten 45 by T. Rex in their home country.
What a run that was, starting the week in November 1970 when 'Ride A White Swan' glided into the top ten for the first time. It peaked at No. 2, after which four of the next six T. Rex singles hit No. 1, and they amassed ten top ten singles in less than two and a half years. It was a period that also included three No. 1 albums.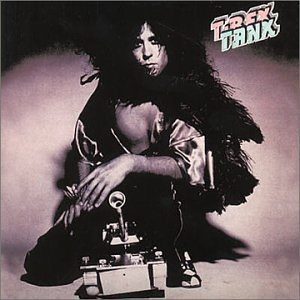 By the spring of 1973, T. Rex were no longer in album chart-topping form, but Tanx debuted and peaked at No. 4, just as The Slider had done the previous summer. '20th Century Boy,' these days so anthemic that it's assumed by many to have been one of the biggest singles by the duo, reached No. 3 in the UK around the same time.
'The Groover,' a new Marc Bolan song produced as usual by Tony Visconti, was released as a single on 6 June. To the excitement of fans, it didn't feature on Tanx or anywhere else, and neither did its b-side 'Midnight.' On the 16 June UK chart, the single took a bow at No. 6, in the week that Suzi Quatro climbed to the summit with 'Can The Can.'
A week later, as 10cc assumed the top spot with 'Rubber Bullets,' the T. Rex release climbed to its No. 4 peak. 'The Groover' had two more weeks in the UK top ten, after which Bolan would never return there: the next single 'Truck On (Tyke)' peaked at No. 12, the first of four further top 20 hits during his lifetime.
"The press took the view that T. Rex were on the way out and that [David] Bowie was 'poaching' the hip T. Rex fans," wrote Tony Visconti later in his autobiography, Bowie, Bolan & the Brooklyn Boy. "I could all too clearly see the writing on the wall.
"There were new kids on the block doing the glam thing, and some were doing it much better than we were. The teenyboppers had Slade and Gary Glitter, but the cool kids were listening to Bowie and Roxy Music." Happily, Bolan was able to reshape his work for the post-glam age and make some significant singles and albums in the four years before his sad death in 1977.
Follow the official T. Rex Best Of playlist.