Rock history took place on a university campus on 14 February, 1970. It may have been Valentine's Day, but that was of little consequence when one of the UK's greatest-ever rock bands, The Who, took to the stage of the refectory of the University of Leeds in England to record the performance that became their first live LP, described on release by the New York Times as the "best live rock album ever made," Live At Leeds.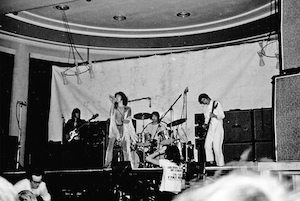 University gigs and tours have always been a common part of the British live music circuit, though the Leeds campus was not one of the most regularly used. The Moody Blues played there, for example, during their early days as a rhythm and blues combo, in 1965, but it was one night with The Who that brought it to prominence.
Two weeks later, Pink Floyd performed there; The Who returned to the venue later in the year, as did Floyd in 1971. Then The Rolling Stones also included it on the 'Goodbye Britain' tour that preceded their departure for tax exile status and the Exile On Main St album.
The Who's already outstanding reputation as a live band in 1970 had been further enhanced by their appearance the previous summer at Woodstock. Their live set was now a fascinating mixture of their early mod days of R&B covers and material that had added to their growing status as exponents of conceptual rock.
Thus they delivered a set to the Leeds audience that still included their cover of Benny Spellman's 'Fortune Teller,' as well as Mose Allison's 'Young Man Blues' and Sonny Boy Williamson's 'Eyesight To The Blind.' But it also featured early hits like 'I Can't Explain' and 'Happy Jack,' as well as an extensive run through Pete Townshend's new Tommy opus. A medley at the end featured 'My Generation,' 'Magic Bus' and others.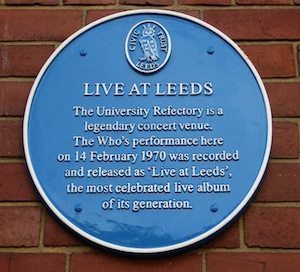 Later in 1970, Roger Daltrey told the weekly music paper Sounds that he was very happy with the album. "It was one show and it was a very valid bit of plastic, you know. There was hardly anything dubbed on it – there were more things taken off than put on. Two backing voices were added, but that was only because the mike fell over. The whole thing is as it happened. We even pulled a lot of the crowd out because it was like, distracting to listen to."
The Live At Leeds album was released in May and made the top five in both the UK and US. In 2012, Who devotees finally had the chance to buy the recording of the band's next gig, staged 24 hours after Leeds, on the Live At Hull set. The Who had always intended to record this show to gather material for the original album, but sound problems meant that, unless they were there at the time, fans had to wait more than 40 years to hear it.
Listen to Live At Leeds on Spotify
Explore our dedicated The Who Artist Page