Heavy metal inspires serious devotion, tapping into a tribal instinct that sees fans pledge unwavering allegiance to their favourite bands, ready to fight their corner at any perceived insult…
…Which makes picking the best metal albums of all time a nigh-on impossible task.
The music has changed shape many times over the decades, but it has always been built on pushing the boundaries – of volume, of aggression, and of sheer sonic expressionism. This run down of 25 of the best metal albums of all time tells the story of an ever-evolving genre and the landmark releases that brought it out of the shadows.
Black Sabbath: Paranoid (1970)
Released a mere six months after their debut and boasting cuts such as 'Iron Man', 'War Pigs' and the title track, Ozzy and Co.'s second album laid down the blueprint for all to follow, and turned its creators into idols.
KISS: Destroyer (1976)
After establishing a cult following in the US, KISS nailed it with their fourth album. The illustrated artwork finessed their cartoon-like image, while their studio experimentation proved they could offer more than the average rock band, pointing the way towards Love Gun.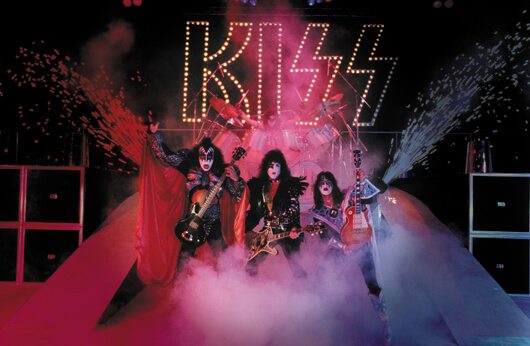 Motörhead: Ace Of Spades (1980)
As late frontman Lemmy said himself, Motörhead were "too late for the first metal movement and early for the next one". His group spoke to punks and metal-heads alike, but with speed the key on cuts such as the title track, Ace Of Spades can truly claim to point towards the thrash metal movement coming over the horizon.
Iron Maiden: The Number Of The Beast (1982)
Controversial, commercially-successful and containing some of the group's finest moments ('Run To The Hills'; the title track), The Number Of The Beast was a perfect storm and a defining moment for both Iron Maiden and the New Wave Of British Heavy Metal.
Scorpions: Blackout (1982)
After making an about-turn from their earlier, proggy outings of the 70s, Scorpions became one of Germany's finest rock exports in the 80s. Singer Klaus Meine underwent surgery on his vocal chords during the recording of Blackout – yet he'd never sounded in such fine voice.
Venom: Black Metal (1982)
Jet black in look and uncompromising in sound, Venom's second album not only helped birth an entire subgenre, but also gave it its name. As extreme as metal got at the time, it took years for many to understand this album's deep, dark influence.
Dio: Holy Diver (1983)
Over three separate stints, the late Ronnie James Dio's tenure as vocalist with Black Sabbath is second only to Ozzy's. His first album fronting his own outfit (which here included Rainbow bassist Jimmy Bain and Sabbath drummer Vinny Appice), Holy Diver marked its main man out as one of metal's most compelling singers and remains an essential 80s classic.
Metallica: Master Of Puppets (1986)
After two genre-defining albums, with Master Of Puppets Metallica dragged thrash metal kicking and screaming into the mainstream. Not only one of the biggest releases of the decade, it remains one of the most important albums of all time.
Slayer: Reign In Blood (1986)
Hot on Metallica's heels, Slayer's third album added to the rising thrash tide in the mid-80s and saw producer Rick Rubin take what he'd learned from producing hard-edged hip-hop to new levels of heaviosity.
Anthrax: Among The Living (1987)
Three was also the magic number for Anthrax, who fully hit their stride with Among The Living and brought a New York attitude to the thrash mosh pit.
Whitesnake: Whitesnake (1987)
While darker things were happening on the outskirts, commercial metal was also alive and well in the late 80s. After a decade in the business, Whitesnake hit upon an unabashedly radio-friendly sound for album number seven, bequeathing the world a US chart-topping re-recording of their 1982 outing 'Here I Go Again', along with other rock radio staples such as 'Is This Love'.
Guns N' Roses: Appetite For Destruction (1987)
GN'R's phenomenal rise remains one of rock's great tales. Immediately gaining them a reputation as one of the most dangerous bands on the planet, Appetite's mix of punk aggression, innate songwriting and metal attitude appealed to all – and made Guns N' Roses one of the biggest bands on the planet.
Def Leppard: Hysteria (1987)
New Wave Of British Heavy Metal survivors, Sheffield outfit Def Leppard tapped into the Los Angeles glam metal scene and turned out an album that topped the charts on both sides of the Atlantic, thanks to the inclusion of the likes of 'Pour Some Sugar On Me' and 'Love Bites'.
Megadeth: So Far, So Good… So What! (1988)
Eighties thrash metal at its finest, it features Dave Mustaine's fast, aggressive and virtuosic playing and sold more than any of the band's records to date, even sandwiched between their iconic Peace Sells… But Who's Buying? and Rust In Peace albums. Born out of turbulent times for the band, its doomy thrash sound made it a classic of the genre.
Queensrÿche: Operation: Mindcrime (1988)
As the thinking man's metal band, this prog-metal outfit has always stood out from the legions of pop-metal 80s acts. With Operation: Mindcrime, they created metal's own version of The Wall: a twisted heavy metal opera that rallied against governmental corruption and corporate greed through a series of raging rock'n'roll hits, haunting instrumentals and Geoff Tate's finest vocal outing that enraptured from start to finish.
Metallica: … And Justice For All (1988)
From the superstar producer behind GN'R's Appetite, … And Justice For All was the band's most complex and innovative album to date and proved the band still had legs after bassist Cliff Burton's death. With Hetfield in his top form lyrically and fuelled by endless power grooves, it continued to raise the bar and spawned Metallica's first single, the emotionally raw 'One'.
Danzig: Danzig (1988)
Under the influence of Rick Rubin, the ex-Misfit's self-titled debut marked a departure from the death-rock of Samhain to a more sinister blues-rock sound steered by Glenn Danzig's howling croon. It remains a muscular metal classic and contains one of the biggest metal hits to ever tip its toe into mainstream waters – 'Mother'.
Anthrax: Persistence Of Time (1990)
A musical retort to those who claimed the group strayed from their thrash roots, the title summarises how one of The Big Four could modernise without compromise. The result was a denser, darker and more personal album, and Anthrax's most intelligent work yet. Longer track times afforded a more progressive style, but they didn't leave their wits behind, as evidenced by the excellent cover of Joe Jackson's 'Got The Time'.
Megadeth: Rust In Peace (1990)
If Megadave wanted to be faster and heavier than his former band, then he succeeded in spades with the 'Deth's greatest creative achievement. It's got all the makings of an essential metal album: it's fast, dramatic and features some the best solo guitar riffs Mustaine has ever written – inspiring generations of tech-metal bands that reached for the impossibly high bar set by Rust In Peace.
Pantera: Vulgar Display Of Power (1992)
Between Dimebag Darrell's speed riffing, a groove-tastic rhythm section and Phil Anselmo's roaring vocals, Vulgar Display Of Power would be the album to catapult Pantera to the top of the 90s metal hierarchy, where they would stay for much of the decade while changing the face of extreme music forever.
White Zombie: La Sexorcisto: Devil Music Volume One (1992)
White Zombie got their groove back after making the switch from their early noise-rock days to a hybrid of their own making, fusing grunge, heavy metal and stoner rock into a sound that would pave the way for other metal mad scientists. With Rob Zombie's vocals now at the forefront, their winning formula of rhythmic intensity and horror imagery paved the way to crossover success.
Rob Zombie: Hellbilly Deluxe (1998)
The auteur of horror, Rob Zombie was fully-unleashed after leaving his band of misfits of the previous 13 years. While the hard rock grooves and horror aesthetic were still there, he turned up the guitars and synthetic arrangements, appealing to metal and industrial fans alike.
A Perfect Circle: Mer De Noms (2000)
This album is just the precipice of what would be a prolific creative partnership between Billy Howerdel and former Tool frontman Maynard James Keenan. Keenan brought an aching sense of sincerity and melodic sensibility to the genre, crafting a proggy, modern metal classic in the process.
Volbeat: Outlaw Gentlemen & Shady Ladies (2013)
After breaking the States with Beyond Hell/Above Heaven in 2010, Danish melodic masters Volbeat continued to deliver their special blend of rockabilly metal with a western theme. They've also straddled the worlds of radio-friendly rock to heavier metal, but it's within these label-free grey areas that they truly thrive.
Eagles Of Death Metal: Zipper Down (2015)
Hailed as harbingers of back-to-basics rock, EODM would hit the pause button for seven years before returning with another sleaze-tastic blues-rock disc. Despite the name, they don't really fall into the traditional "metal" category, but they have the attitude and embody the fast-living, frantic garage rock riffs that metalheads can appreciate.
Do you agree with our pick of the 25 best metal albums? Comment below and let us know, we'd love to hear your thoughts!