Stones' '71 Marquee Gig Comes To DVD
The Rolling Stones' famed club performance at the Marquee in London in 1971, just before the original appearance of their 'Sticky Fingers' album, will be released on DVD and iTunes by Eagle Rock in June. 'From The Vault: The Marquee — Live In 1971,' which coincides with the upcoming special edition of 'Sticky Fingers' itself, will be out on June 22.
The footage of the show, filmed for US television, has reportedly been stored in an attic for nearly two decades. The Marquee gig, with the band's then-current line-up of Mick Jagger, Keith Richards, Charlie Watts, Mick Taylor and Bill Wyman, took place just after the completion of the Stones' farewell UK tour of that year. This was just before they relocated to the south of France for tax reasons, leading to the creation of their 'Exile On Main St.' album.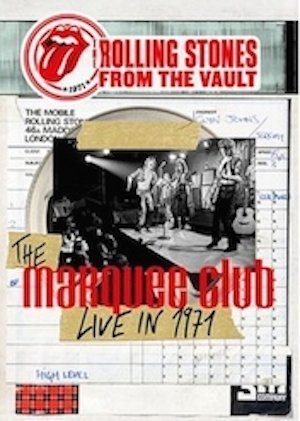 The performance was not only a super-rare date in an intimate club setting for the biggest band in the world, but also included 'Brown Sugar,' 'Dead Flowers' (as seen in the above preview clip from the longform release), 'Bitch' and 'I Got The Blues,' – a song they had not played on the farewell UK. All of these were about to be unveiled as part of 'Sticky Fingers.'
This is the latest in the 'From The Vault' series of archive releases of classic Rolling Stones performances. The Marquee footage has been painstakingly restored, with the audio mixed by Bob Clearmountain and available in 5.1 surround sound on the DVD and SD Blu-ray formats.
The package will also be released in DVD+LP and DVD+CD formats, with bonus alternative takes included on all but the LP version, plus the band's famous performance of 'Brown Sugar' on the British TV chart show 'Top Of The Pops.'
The track listing for 'From The Vault: The Marquee — Live In 1971' is as follows:
1. Live With Me
2. Dead Flowers
3. I Got The Blues
4. Let It Rock
5. Midnight Rambler
6. (I Can't Get No) Satisfaction
7. Bitch
8. Brown Sugar
Bonus tracks:
1. I Got The Blues – Take 1
2. I Got The Blues – Take 2
3. Bitch – Take 1
4. Bitch – take 2
5. Brown Sugar ('Top Of The Pops,' 1971)
Explore our dedicated Rolling Stones Artist Page