C2C Preview: Thomas Rhett
Tonight (Friday 11) is the night that Thomas Rhett, fresh from his incredible success in the US, makes his official live debut in the UK, with an early evening performance on the main stage of the Country to Country Festival at The 02 in London. He's been talking to uDiscover's Paul Sexton about being the "rookie" on this year's bill, and you can listen to an excerpt in this Soundcloud clip.
"I'm nervous, but I think it's going to be a lot of fun," he says. "When we got booked to do this sometime last year, I didn't know what to think, really. Out of all the country artists, to be one of the ones that got selected to come over here amongst other people like Carrie [Underwood] or Kacey [Musgraves] or Sam [Hunt], that have played over here before, I'm the rookie. But I'm looking forward to it, man, I've felt nothing but love since I've been over here, so I think it's going to be a really fun night."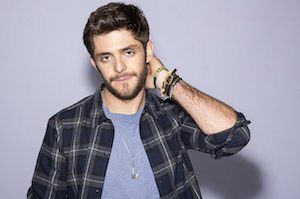 Rhett plays the main stage which, later in the evening, will be taken by Dwight Yoakam and then headliner Miranda Lambert. Inside the arena, their sets will be interspersed with performances on the smaller Yamaha Music Stage by Charles Esten and Ashley Monroe. The same combination of artists, minus Esten, then moves on to the Dublin C2C on Saturday and Glasgow on Sunday.
Thomas played a three-song acoustic set with two band members at a small media gathering on Wednesday evening (9). He included stripped-down versions of his two most recent country radio airplay No. 1s 'Crash and Burn' and 'Die A Happy Man' alongside another track from his current Tangled Up album, 'I Feel Good.'
"My buddy Brett Eldredge, who I don't think has done the C2C Festival, has come over here and played a couple of club shows, and I was watching these Instagrams of these clubs that are packed out singing his album cuts, and he was like, you'll be so amazed at how well they know your album, not just your singles."
Listen to Thomas Rhett's Tangled Up album on Spotify
Explore our dedicated Thomas Rhett Artist Page
Format:
UK English