Daniel Barenboim's New Album 'Encores' Celebrates His 80th Birthday
Daniel Barenboim's new album features a selection of his favourite encores and marks the start of celebrations to mark his 80th birthday year.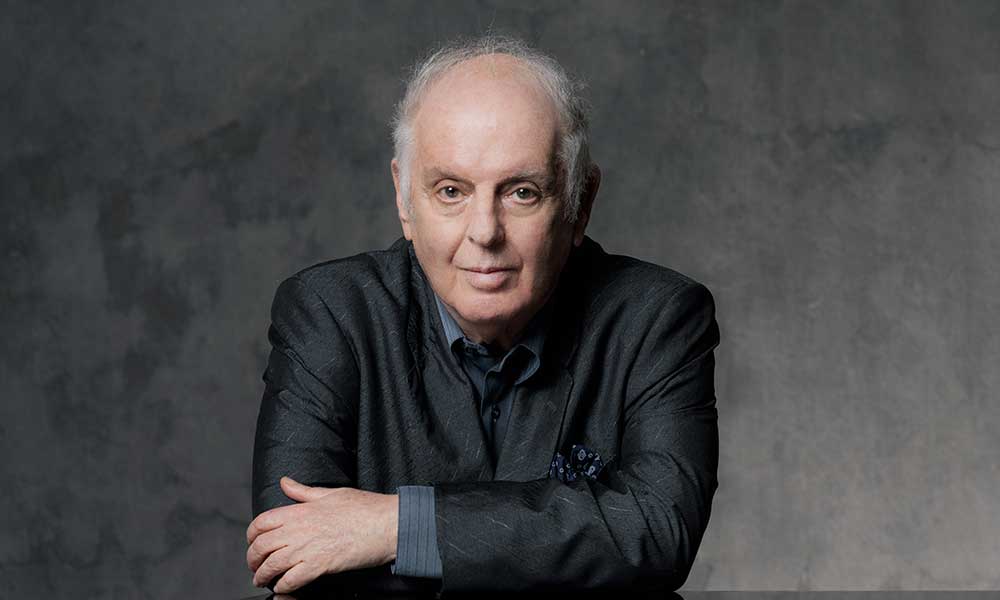 Daniel Barenboim has announced he will release his new album Encores, to celebrate his 80th birthday year, on 25 March 2022. The new selection of the pianist's favourite encores was specially recorded at Daniel Barenboim's Pierre Boulez Saal in Berlin and features miniature masterpieces by Albéniz, Chopin, Debussy, Liszt, Schubert and Schumann. The first single from Daniel Barenboim's Encores, Debussy's 'Clair de Lune', is out now.
Debussy: Suite bergamasque, L. 75 - III. Clair de lune
Encores celebrates Daniel Barenboim's 80th birthday year
Encores marks the start of Deutsche Grammophon's tribute to Daniel Barenboim throughout the coming year, as he approaches his 80th birthday in November, which includes three albums and two concerts streamed on DG Stage.
The release of Daniel Barenboim's Encores will be followed by the reissue of his interpretations of Mendelssohn's Lieder ohne Worte ('Songs Without Words'), which originally came out in 1974 as a 3-LP set, on 29 July, and his latest readings of Schumann's four symphonies, recorded live with the Staatskapelle Berlin at the Staatsoper Berlin and Philharmonie Berlin, on 7 October.
Daniel Barenboim signed a contract to make a dozen albums for Deutsche Grammophon in July 1972 and over the next two decades he built the foundations of his remarkable catalogue for the label.
Daniel Barenboim said, "I am grateful that Deutsche Grammophon has chosen to mark the year of my 80th birthday with recent performances as well as an album made during my early years with the label. I believe these recordings show how music exists as a world in itself, never the same twice, always changing, no matter how many times we perform a particular composition. This is the great privilege of being a musician, the chance to learn new things every time we play the same piece. And it's a further privilege to be able to share this experience with audiences."
"Maestro Barenboim is a major source of inspiration"
"We are privileged to work with Daniel Barenboim at the heart of the Yellow Label," said Dr Clemens Trautmann, President Deutsche Grammophon. "The intellectual curiosity, spiritual insights and mature artistry of his music making deserve every accolade, as does his work as a humanitarian, educator, innovator and passionate advocate for music as a force for good in the world. For this anniversary year, we are going to present multiple facets of his creative work, ranging from a reissue of one of his earliest recordings for DG to recent live recordings, including a brand-new Schumann symphony cycle with the Staatskapelle Berlin and an album of piano encores made at the Pierre Boulez Saal, his pioneering centre for the promotion of cultural exchange and dialogue in Berlin. We look forward to working on many more projects in the years to come with Maestro Barenboim, who is a major source of inspiration for classical music and our civil society as a whole."
Daniel Barenboim is not only an acclaimed soloist and a conductor as much at home in the opera house as he is on the concert stage, he is a dedicated chamber musician, performing and recording with old friends such as Martha Argerich, Yo-Yo Ma and Anne-Sophie Mutter, and younger virtuosos such as Kian Soltani or his violinist son Michael. He is also a respected speaker, peace activist and champion of music education. Opera Now noted, "He's one of the most versatile cultural figures of our time."
Deutsche Grammophon's celebrations to mark Daniel Barenboim's 80th birthday year also include two concerts streamed on DG Stage. Daniel Barenboim is joined on 14 January by his childhood friend Martha Argerich for a programme of piano duos followed, on 21 January, by a performance of Beethoven's Triple Concerto given to mark the 20th anniversary of the groundbreaking West-Eastern Divan Orchestra which Daniel Barenboim co-founded to promote intercultural dialogue. The soloists are three of today's most illustrious musicians: Daniel Barenboim, who conducts from the piano, violinist Anne-Sophie Mutter and cellist Yo-Yo Ma.
Daniel Barenboim will lead the Vienna Philharmonic in the New Year's Concert on 1 January 2022 which will be broadcast on television and radio worldwide.
Daniel Barenboim's new album Encores will be released on 25 March 2022 and can be pre-ordered here.
Do you want to be the first to hear the latest news from the classical world? Follow uDiscover Classical on Facebook and Twitter.
---
Format:
UK English