Decca Classics Sign Violinist Randall Goosby
Violinist Randall Goosby will release his debut album for Decca Classics, celebrating African-American composers, in Spring 2021.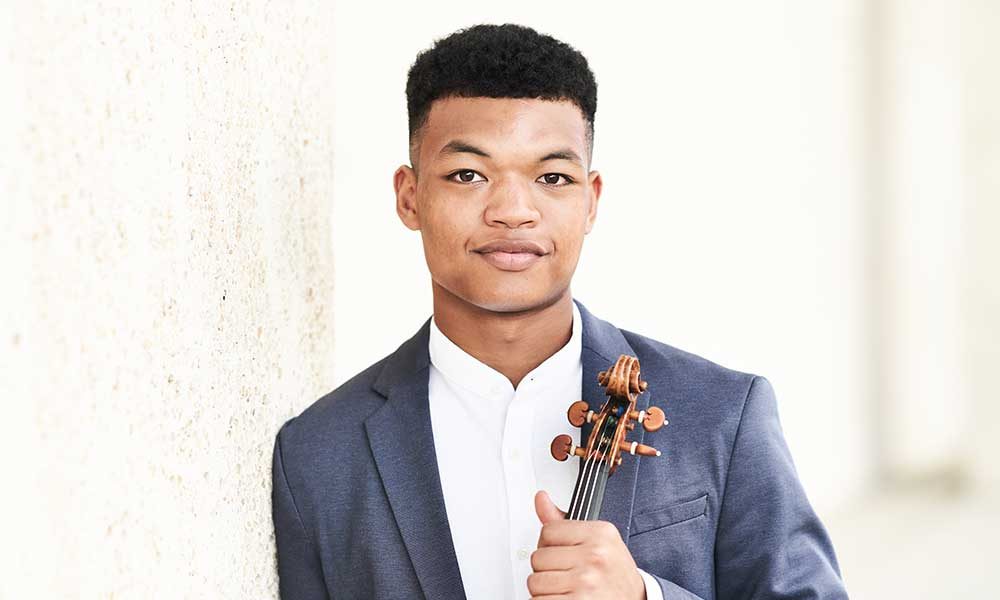 Decca Classics have announced the signing of 24-year-old violinist Randall Goosby. He is a protégé of one of the world's legendary violinists, Itzhak Perlman, and was the youngest ever winner of the junior division of the prestigious Sphinx Competition in his native United States. Randall Goosby is also a champion of diversity in classical music and passionate about music education. The New York Times described Goosby's Carnegie Hall performance as, " …a masterly level of control and exquisite tone … his performance won him a deserved standing ovation for its sheer virtuosity."
Decca Classics signs violinist Randall Goosby
"It's part of my quest as an artist to amplify black voices in classical music, bringing heightened recognition to this incredible music."
Randall Goosby said, "I'm so thrilled to be working with the Decca Classics team for the release of my debut album! It's a record label that has been home to some of my favourite artists and musical role models, and I'm delighted to be joining such an esteemed roster. For me, music has always been a way to inspire others. It's part of my quest as an artist to amplify black voices in classical music, bringing heightened recognition to this incredible music."
Dominic Fyfe, Label Director of Decca Classics, added, "Randall and I first met back in February 2019 and I have followed his development closely. It's rare to find such a supremely eloquent player and an equally articulate advocate for the value of classical music. In his playing Randall looks back to a golden age of violin greats, as befits a student of Itzhak Perlman, and in his advocacy for music education, outreach and diversity he is a forward-looking ambassador for the future of our industry. Randall will inspire us, and we welcome him to Decca Classics."
Debut album will celebrate African-American composers
Randall Goosby will release his debut album for Decca Classics in spring 2021. The recording will journey across more than a century of African-American music for violin, tracing its roots in the spiritual through to the present day, and feature works by composers William Grant Still and Florence Price plus newly commissioned music by Xavier Foley.
Randall Goosby's father is African-American and his mother is Korean. He started leaning violin at the age of seven and he made regular trips from his home in Memphis, Tennessee to New York City, where Itzhak Perlman had arranged a full scholarship to study with him at Juilliard.
Itzhak Perlman recently received the Lifetime Achievement Award at the Gramophone Awards and in a tribute Randall Goosby, alongside composer John Williams, gave a heartfelt speech about studying with "the greatest violinist who's ever lived." Goosby has performed frequently with Perlman.
"An astonishing degree of musical maturity"
Goosby's concerto debut with the Jacksonville Symphony aged nine was followed, at thirteen, with the New York Philharmonic at a Young People's Concert and with the Cleveland Orchestra where his performance was praised for "an astonishing degree of musical maturity" (Cleveland Plain Dealer). He recently made his Kennedy Center debut in Washington DC and in 2021 will make his recital debut at London's Wigmore Hall.
In addition to his demanding performance schedule Randall Goosby shares his love of music through community engagement programmes across the United States.
In 2019 Randall Goosby became the first ever Robey Artist with Young Classical Artists Trust in London. He is currently studying for an Artist Diploma with Itzhak Perlman and Catherine Cho at The Juilliard School where he earned both undergraduate and graduate degrees. Goosby plays a Giuseppe Guarneri del Gesu of 1735, on generous loan from the Stradivari Society.
Do you want to be the first to hear the latest news from the classical world? Follow uDiscover Classical on Facebook and Twitter.
---
Format:
UK English