Deutsche Grammophon Wins Label Of The Year At Gramophone Awards 2021
Deutsche Grammophon was named Label of the Year at the prestigious Gramophone Classical Music Awards 2021 ceremony streamed from London.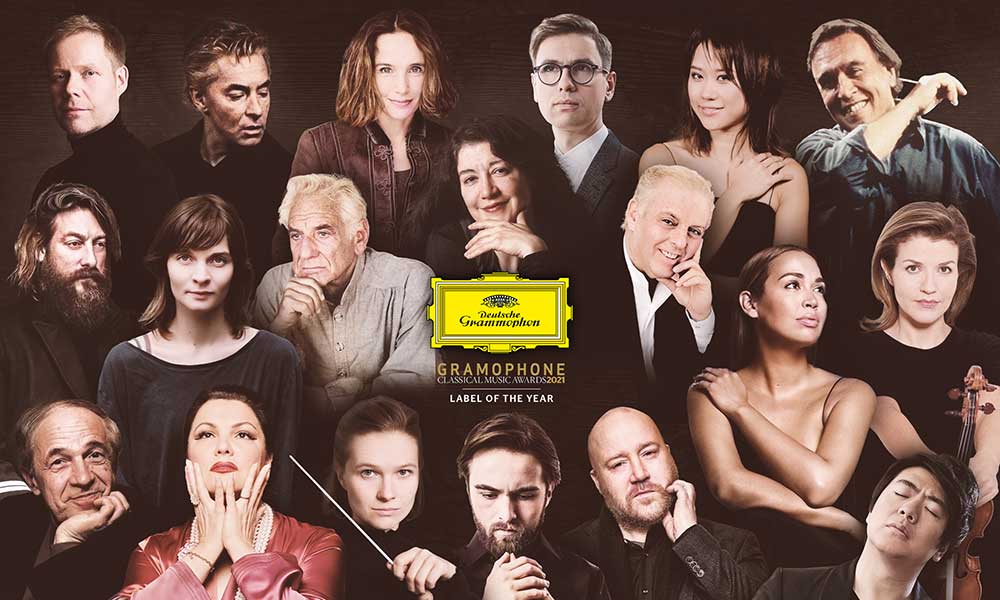 Deutsche Grammophon was named Label of the Year at the prestigious Gramophone Classical Music Awards 2021 last night. The award recognises the famous Yellow Label's commitment to artistic excellence and technological innovation and crowns a remarkable period even by the standards of Deutsche Grammophon's long and distinguished history.
Not only has Deutsche Grammophon responded to the needs of the day by creating its own digital concert hall, DG Stage, it has made every effort to champion young musicians setting out on their careers, introduced and promoted new composers and contemporary classical repertoire, continues to garner critical acclaim for their recordings of the highest quality, has adopted Dolby Atmos audio for many of its new and remastered releases, and is dedicated not only to its artists, but to the modernisation and longevity of its recorded output. Its distinctive yellow label adorns the covers of releases by some of the world's top names in classical music, including recent Gramophone Award winners Jan Lisiecki, Víkingur Ólafsson, Yuja Wang and Mirga Gražinytė-Tyla.
Deutsche Grammophon wins Label of the Year Gramophone Award 2021!
Deutsche Grammophon named Label of the Year
James Jolly, Gramophone's Editor-in-Chief, explained, "Each year we salute a record label that has enriched our musical lives in a way that has demonstrated not just terrific A&R – matching musician and music – but also a clear response to the world around us, taking into consideration the frightening speed at which our consumption of music changes, what music we listen to, how to balance the traditional and the innovative, and how – at the end of the day – to convey the sense of an identity or a brand. Our Label of the Year for 2021 has done all that and more. It personifies what, for many of us, classical music is about. We're delighted to recognise Deutsche Grammophon, its President Clemens Trautmann and his team in Berlin, and all the people worldwide who ensure we encounter its recordings through whatever medium we choose."
Dr Clemens Trautmann thanked Gramophone and praised all Deutsche Grammophon artists and his entire team for their passion, creativity and hard work. He noted that by launching DG Stage and adopting Dolby Atmos sound, the label was staying true to its roots: to the combination of music and technology established in 1898 by its far-sighted founder Emile Berliner, inventor of the gramophone. He added that a more recent Deutsche Grammophon tradition, with a focus on electronic and minimal music, was currently being reinvigorated by its New Repertoire division. "Our artists are our greatest source of inspiration and our aim is to keep supporting their work, meeting their needs and enabling them to realise their aspirations," he said. "We're thrilled with all the awards given to Deutsche Grammophon tonight, and are particularly honoured to have been chosen as the Label of the Year."
Lifetime Achievement Award
Legendary soprano Gundula Janowitz, particularly renowned for her wide-ranging work on Deutsche Grammophon with Herbert von Karajan, received the Lifetime Achievement Award for her remarkable achievements in live performance and recorded music, spanning more than four decades. To mark this special award Deutsche Grammophon has remastered for Spatial Audio Janowitz's classic 1973 recording, with Herbert von Karajan, of Richard Strauss's Four Last Songs.
Orchestral Recording of the Year
Deutsche Grammophon also won Orchestral Recording of the Year for Franz Schmidt – Complete Symphonies at the Gramophone Classical Music Awards 2021. Paavo Järvi and the Frankfurt Radio Symphony's live performances on this revelatory three-disc set, featuring of all four of Franz Schmidt's symphonies and his famous Notre Dame 'Intermezzo', shine a light on his fascinating, but overlooked, output.
Spatial Audio Award
The Spatial Audio Award, new this year and presented with Apple Music, was won by Stile Antico for their Decca Classics album The Golden Renaissance at the Gramophone Classical Music Awards 2021. The recording was produced by Jeremy Summerly, engineered by Dave Rowell with post-production by Brad Michel. Stile Antico's Kate Ashby noted, "There's something really special about hearing this music, which is more than half a millennium old, in the latest, cutting-edge audio technology."
Recording of the Year
The Recording of the Year accolade was given to Chandos' recording of Britten's Peter Grimes, featuring the Bergen Philharmonic Orchestra and Choirs under the baton of Edward Gardner. The cast is headed by Stuart Skelton as Peter Grimes and the late Erin Wall as Ellen Orford, alongside Susan Bickley, Roderick Williams, Catherine Wyn-Rogers, Robert Murray, James Gilchrist and Marcus Farnsworth.
Artist of the Year
James Ehnes, recipient of the Artist of the Year award ended 2020 with the release of the fourth instalment of his Beethoven violin sonata cycle on Onyx. Now, with the instalment of a state-of-the-art studio in his Florida home, Ehnes has produced recordings of Bach and Ysaÿe recitals, offering 'lockdown gold' to listeners around the world.
Young Artist award
Soprano Fatma Said, also the recipient of the 2021 Gramophone Award for Song, took home the Young Artist award, sponsored by Classic FM. A former BBC Radio 3 New Generation Artist, Said is now a resident in London after undertaking training at the Hanns Eisler School of Music in Berlin and the Accademia del Teatro alla Scala, becoming the first Egyptian soprano to perform on its stage.
Special Achievement award
The 2021 Special Achievement award was given to The Boston Modern Orchestra Project, founded in 1996 by conductor Gil Rose. Twenty five years later, BMOP proudly advocates for new and neglected music by American composers writing in the 20th and 21st centuries.
Concept Album award
This year's Concept Album award was given to Christian-Pierre La Marca for Cello 360, his first collaboration with the Naïve label. The repertoire spans from Marin Marais's music for viols and cello, at the cusp of the 18th century, right through to the Covid-era work 'Timeless', created by La Marca and his partners from the 1163 collective, Marie-Amélie Seigner and Rayann.
Orchestra of the Year
The 2021 Orchestra of the Year was won by the Minnesota Orchestra who took nearly a third of the 31,000 votes cast in the only public vote in the Awards.
In total, 18 awards were given to recording artists and ensembles who have shown resilience, innovation and adaptability in the face of another challenging year.
The Gramophone Classical Music Awards 2021 were streamed online from the VOCES8 Centre, in London, and hosted by Gramophone's Editor-in-Chief James Jolly and classical chart-topping pianist Isata Kanneh-Mason, who opened the ceremony with a Gershwin Prelude featured on her latest Decca Classics album Summertime. VOCES8 closed the ceremony with a moving performance of the spiritual 'Deep River'.
Listen to all the winners' playlists in lossless and in Spatial Audio (where available) on Apple Music.
Do you want to be the first to hear the latest news from the classical world? Follow uDiscover Classical on Facebook and Twitter.
---
Format:
UK English