Frank Zappa's 50th Anniversary 'Hot Rats' Expanded Edition Is Out Now
Frank Zappa's groundbreaking solo album 'Hot Rats' is out now via Zappa Records and UMe as a newly expanded edition to mark its 50th anniversary.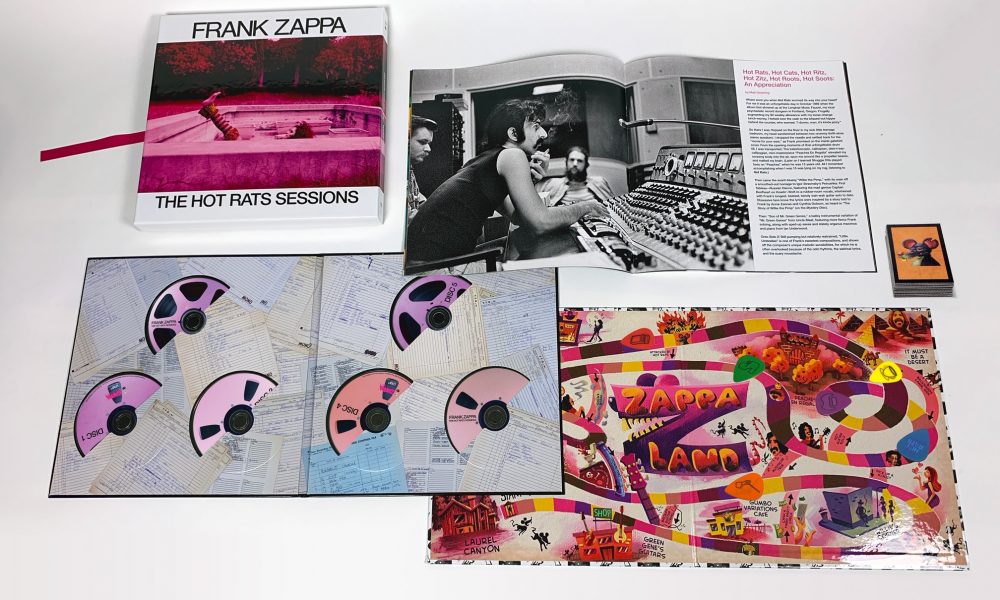 Frank Zappa's groundbreaking solo album Hot Rats is out now via Zappa Records and UMe as a newly expanded edition to mark its 50th anniversary.
The multi-disc box set arrives today, one day before what would have been Frank's 79th birthday, and includes unreleased tracks, rare mixes, never-before-seen photos from the Hot Rats era and an exclusive 'Zappa Land" board game.
The Hot Rats Sessions box is an in depth commemoration of the original album, first released on 10 October 1969. Hot Rats established Zappa as a virtuosic guitarist with a record that he described as a "movie for your ears."
Frank Zappa released no fewer than 62 albums in his 52 years, but Hot Rats marked the beginning of a new era of his career, following the dissolution of his band The Mothers Of Invention. Pairing the sophistication of jazz with rock'n'roll's attitude, Hot Rats remains a freeform-fusion masterpiece that has inspired countless others.
THE HOT RATS SESSIONS - FRANK ZAPPA
Zappa's highly prolific 1969 period is captured in this sprawling six-disc box, documenting every composition recorded during the July 1969 sessions when Zappa recorded Hot Rats, and including a wealth of additional material that ended up on subsequent releases during his lifetime.
Pulling from the legendary Zappa vault, the collection utilises original multi-track master tapes, newly mixed by Craig Parker Adams in 2019, and mastered by Bob Ludwig, all providing a fascinating look behind these iconic sessions.
Overseen by the Zappa Trust and produced by Ahmet Zappa and Zappa Vaultmeister, Joe Travers, The Hot Rats Sessions is available as a 6CD boxed set and digitally.
The expertly-curated set also includes a 28-page booklet featuring striking images of the recording sessions by Bill Gubbins, photographs of the master tapes and tape boxes, and stunning outtakes by the original Hot Rats cover photographer, Andee Nathanson.
Nathanson reveals details behind the photo shoot in the liner notes, which also include essays by Zappa collaborator Ian Underwood and Vaultmeister Travers, and an appreciation from Simpsons creator and lifelong Zappa fan, Matt Groening, who recounts his first time listening to Hot Rats as a teenager:
"From the opening moments of that unforgettable drum fill, I was transported. The kaleidoscopic, calliopean, dare-I-say-callipygian, mini-masterpiece 'Peaches En Regalia' elevated my scrawny body into the air, spun me around like a propeller beanie, and melted my brain."
The Hot Rats Sessions set also includes a one-of-a-kind "Zappa Land" board game where players compete to get Frank get back to the studio to finish Hot Rats.
Hot Rats was composed, arranged, and produced by Zappa who played guitar on all tracks and delivered extraordinary solos throughout. It remains one of the best-selling albums of his career, a six-song record made up of five instrumentals, including one of his most beloved works, 'Peaches En Regalia', which includes some stellar bass work from then 15-year-old Shuggie Otis.
Otis isn't the only star musician who makes an appearance on The Hot Rats Sessions. Frequent Zappa collaborator Captain Beefheart provides his unmistakable vocals to blues-rock number, 'Willie The Pimp', while multi-instrumentalist Ian Underwood, violinists Don "Sugarcane" Harris, Jean Luc Ponty, bassist Max Bennett, drummers John Guerin, Paul Humphrey and Ron Selico and R&B pioneer Johnny Otis also perform on the sessions.
It Must Be A Camel (1969 Mix Outtake)
In addition to the original Hot Rats tracks, the box set also includes an assortment of extras such as vintage promotional audio ads for the album, the mono singles of 'Peaches En Regalia' and 'Little Umbrellas', along with rare mixes of more than a dozen tracks.
A Zappa fan's dream, The Hot Rats Sessions is brimming with unreleased session material, and includes the first-ever official release of 'Bognor Regis' along with several unedited masters of songs like 'Twenty Small Cigars', 'Toads Of The Short Forest', 'Lil' Clanton Shuffle' and 'Directly From My Heart To You'.
"Zappa's first true solo album, Hot Rats introduced new recording techniques, melded previously segregated styles, and even presaged a new musical genre," writes The Guardian in their glowing review.
The Hot Rats Sessions is out now and can be bought here. View the full tracklisting below.
The Hot Rats Sessions
CD1
Piano Music (Section 1)
Piano Music (Section 3)
Peaches En Regalia (Prototype)
Peaches En Regalia (Section 1, In Session)
Peaches En Regalia (Section 1, Master Take)
Peaches Jam – Part 1
Peaches Jam – Part 2
Peaches En Regalia (Section 3, In Session)
Peaches En Regalia (Section 3, Master Take)
Arabesque (In Session)
Arabesque (Master Take)
Dame Margret's Son To Be A Bride (In Session)
CD2
It Must Be A Camel (Part 1, In Session)
It Must Be a Camel (Part 1, Master Take)
It Must Be a Camel (Intercut, In Session)
It Must Be a Camel (Intercut, Master Take)
Natasha (In Session)
Natasha (Master Take)
Bognor Regis (Unedited Master)
Willie The Pimp (In Session)
Willie The Pimp (Unedited Master Take)
Willie The Pimp (Guitar OD 1)
Willie The Pimp (Guitar OD 2)
CD3
Transition (Section 1, In Session)
Transition (Section 1, Master Take)
Transition (Section 2, Intercut, In Session)
Transition (Section 2, Intercut, Master Take)
Transition (Section 3, Intercut, In Session)
Transition (Section 3, Intercut, Master Take)
Lil' Clanton Shuffle (Unedited Master)
Directly From My Heart To You (Unedited Master)
Another Waltz (Unedited Master)
CD4
Dame Margret's Son To Be A Bride (Remake)
Son Of Mr. Green Genes (Take 1)
Son Of Mr. Green Genes (Master Take)
Big Legs (Unedited Master Take)
It Must Be a Camel (Percussion Tracks)
Arabesque (Guitar OD Mix)
Transition (Full Version)
Piano Music (Section 3, OD Version)
CD5
Peaches En Regalia (1987 Digital Re-Mix)
Willie The Pimp (1987 Digital Re-Mix)
Son Of Mr. Green Genes (1987 Digital Re-Mix)
Little Umbrellas (1987 Digital Re-Mix)
The Gumbo Variations (1987 Digital Re-Mix)
It Must Be A Camel (1987 Digital Re-Mix)
The Origin Of Hot Rats
Hot Rats Vintage Promotion Ad #1
Peaches En Regalia (1969 Mono Single Master)
Hot Rats Vintage Promotion Ad #2
Little Umbrellas (1969 Mono Single Master)
Lil' Clanton Shuffle (1972 Whitney Studios Mix)
CD6
Little Umbrellas (Cucamonga Version)
Little Umbrellas (1969 Mix Outtake)
It Must Be A Camel (1969 Mix Outtake)
Son Of Mr. Green Genes (1969 Mix Outtake)
More Of The Story Of Willie The Pimp
Willie The Pimp (Vocal Tracks)
Willie The Pimp (1969 Quick Mix)
Dame Margret's Son To Be A Bride (1969 Quick Mix)
Hot Rats Vintage Promotion Ad #3
Bognor Regis (1970 Record Plant Mix)
Peaches En Regalia (1969 Rhythm Track Mix)
Son Of Mr. Green Genes (1969 Rhythm Track Mix)
Little Umbrellas (1969 Rhythm Track Mix)
Arabesque (Guitar Tracks)
Hot Rats Vintage Promotion Ad #4
HOT RATS (TRANSLUCENT HOT PINK VINYL) TRACKLISTING
Side A
1. Peaches En Regalia
2. Willie The Pimp
3. Son Of Mr. Green Genes
Side B
1. Little Umbrellas
2. The Gumbo Variations
3. It Must Be A Camel
Format:
UK English