Low-End Revolution: How UK New Wave And Post-Punk Changed Bass Playing
Innovative bassists from New Order, Japan, The Police, and more changed how the instrument was played in rock bands forever.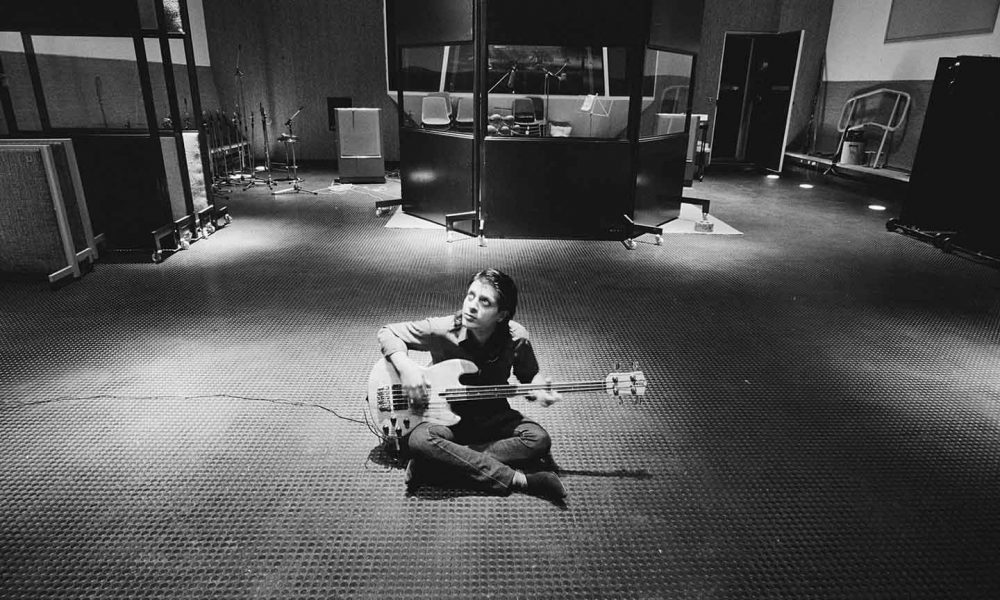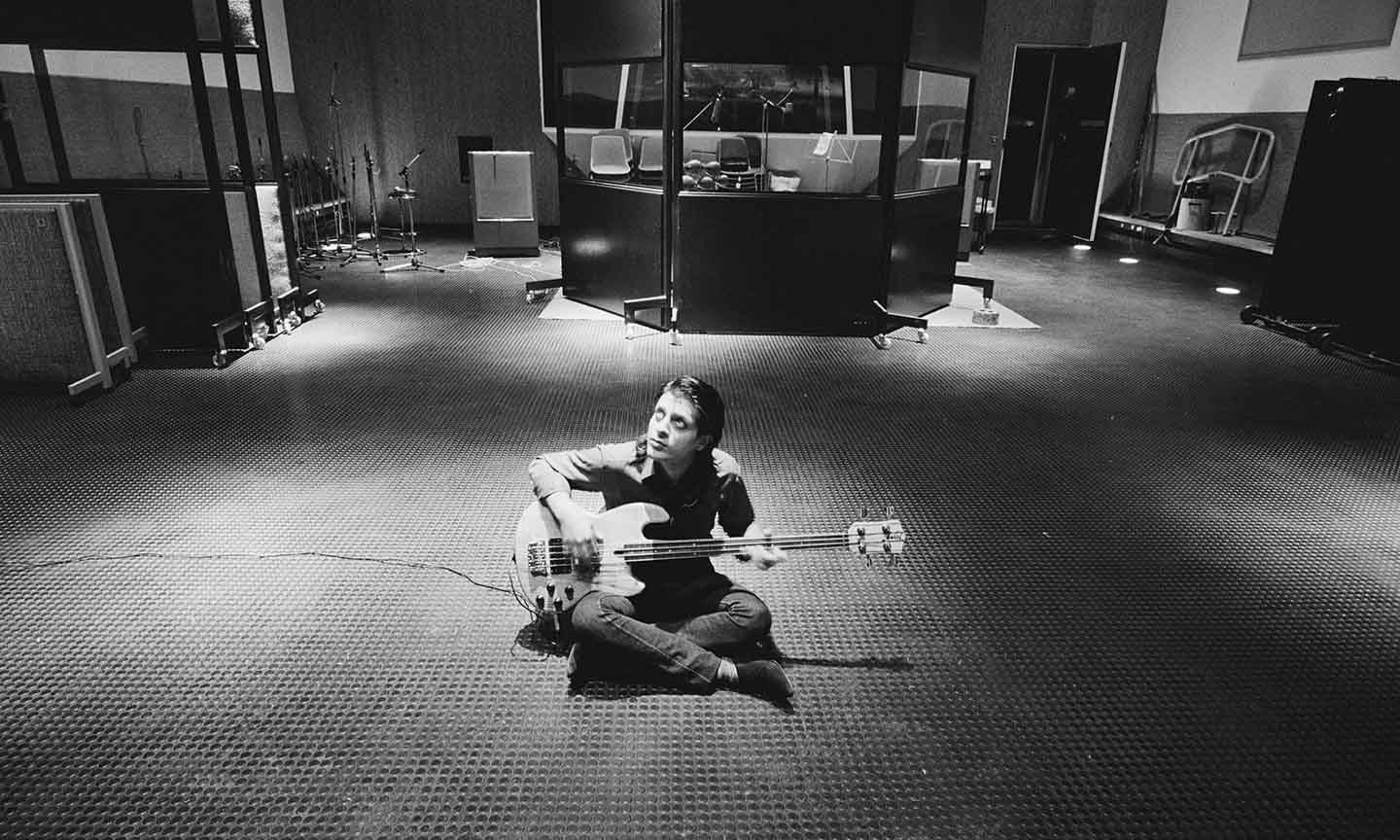 When the bottom shifts, everything on top is affected. That's a basic fact of both physics and music. It never sounded truer than in the late 70s and early 80s in England, when the lessons learned via 60s bass guitar innovators were applied to post-punk and New Wave.
Elvis Costello and Joe Jackson
UK punk had barely fired off its first salvo with The Clash, Sex Pistols, Damned, et al. before a pack of crafty souls started working out where to go next. It was late 1977, with the echoes of "White Riot" and "God Save the Queen" still ringing in the air, when Elvis Costello assembled The Attractions to record for the first time. He had cut his first album about a year earlier, backed mostly by California band Clover, who would shortly evolve into Huey Lewis & The News but were still loose-limbed roots-rockers at the time.
For This Year's Model, he planned something more outré, drafting a gang of scrappy Brits. Bruce Thomas was among the crew, a bassist whose CV went back to the beginning of the decade and included work with folkies Bridget St. John and Al Stewart, folk-rockers Sutherland Brothers & Quiver, and progger Peter Bardens. Along the way, he'd absorbed the ideas that players like Paul McCartney introduced in the days of Swinging London, freeing the bass to roam the upper register with impunity and deliver bold, melodic lines that gave lead guitarists a run for their money.
Thomas's muscular riffs drive milestones like "Pump It Up" and "(I Don't Want to Go to) Chelsea." As Charles Shaar Murray observed in the New Musical Express at the time, "Bruce Thomas…plays bass in a manner that enables him to oscillate between the rhythm section and the front line or even occupy both territories simultaneously." In 1979, Thomas would close the circle of the aforementioned McCartney influence by playing on Wings' Back to the Egg.
Elvis Costello & The Attractions - Pump It Up
Joe Jackson was often lumped in with Costello and Graham Parker as one of the Angry Young Men of UK New Wave, and his right-hand man Graham Maby nearly made Thomas sound like a wallflower by comparison. The mighty rumble of Cream's Jack Bruce and the athletic fretwork of Motown house bassist James Jamerson were key inspirations for Maby's trebly, in-your-face bass tone and melodic dominance on Jackson's 1979 debut, Look Sharp.
Maby's hyperactive, up-front lines on "Got the Time" and his fevered, jack-in-the-box riffs on the title track and "Is She Really Going Out with Him" don't just drive the tunes – they define them. In a 1979 NME concert review, the ubiquitous Charles Shaar Murray noted, "Graham Maby bobs and weaves stage right, punching out riffs, fills and comments that simultaneously underpin and lead Gary Sanford's jabbing, remorseless rhythm guitar."
Is She Really Going Out With Him?
The Stranglers and Peter Hook
The Stranglers, meanwhile, were busy breaking every punk rule in sight by fusing the dark, organ-driven psychedelia of The Doors to the spirit of '77 on their maiden voyage, Rattus Norvegicus. But whether the band was somersaulting through Dave Greenfield's giddy funhouse keyboards on "(Get a) Grip (On Yourself)" or diving into the brash, eight-minute punk-prog suite "Down in the Sewer," Jean-Jacques Burnel's unprecedentedly aggressive bass playing barreled through like a burly Visigoth sacking a Roman palace. His outsize, overdriven lines look back to little but John Entwistle's monumental bass attack with The Who.
Burnel, in turn, influenced Peter Hook, bass man for quintessential post-punks Joy Division and their spinoff, New Order. Hook adopted Burnel's habit of hanging his bass down at groin level like an Old West gunslinger, and he had loud, dirty licks to spare on 1979's Unknown Pleasures, setting the standard for legions of contemporaries and generations of followers. By New Order's 1981 debut, Movement, he'd taken things even treblier and more melodic, sometimes sounding indistinguishable from guitarist Bernard Sumner.
The influence of reggae
John Wardle, better known as Jah Wobble, was the bassist at ground zero for the birth of post-punk. When John Lydon left both The Sex Pistols and punk behind to explore fresh territory with Public Image Ltd., he based his new sound around Wobble's bigger-than-life bass work. On 1978's First Issue, tracks like "Theme" and "Fodderstompf" revolve around rolling, reggae-soaked bass lines that underline Wobble's infatuation with Aston "Family Man" Barrett's bottom end on Bob Marley's records. But Wobble added a pugnacious edge, paving the way for countless punk/reggae fusions to come.
Right around the time Wobble came to prominence, another colorfully monikered bassist was lashing syncopated reggae basslines to a punk-informed setting, on The Police's first album, Outlandos d'Amour. On rock radio staples like "Roxanne" and "I Can't Stand Losing You," Sting's bass led the shift from Jamaican-inflected verses to four-on-the-floor rock choruses with a seamlessness that surely had something to do with his jazz-schooled chops. It would eventually help make The Police one of the biggest bands on the planet. Their reggae/rock cocktail would go on to influence Men at Work, Novo Combo, and scads of other 80s acts, as well as 90s giants like No Doubt.
The Police - Roxanne (Official Music Video)
The influence of funk
By the early 80s, bands on both sides of the Atlantic would bring the funk to post-punk, but one of the first was The Pop Group, a howling wolfpack out of Bristol who also brought provocative politics to the party. Founding bassist Simon Underwood brought a savagely funky feel to the band's 1979 debut single, "She Is Beyond Good and Evil," a song with enough staying power for St. Vincent to cover it more than three decades later. Along with the slightly less feral Gang of Four, The Pop Group laid the groundwork for countless New Wave funkateers and even contributed members to a few, like Pigbag, Maximum Joy, and Rip Rig + Panic.
One of the biggest bands of the 80s was propelled by a bassist who used punk-funk as a building block, along with disco, glam, and R&B. Birmingham boy John Taylor's photogenic mug would make him one of the most crushed-on pinup boys of the decade, but it was his kinetic, endlessly danceable grooves that helped push Duran Duran to the top of the heap. They were prime architects of the early 80s New Romantic movement that brought the term "dance rock" to the musical lexicon. And on 1981 hits like "Planet Earth," "Careless Memories," and "Girls on Film," Taylor's bumping, burbling, unfailingly butt-shaking bass lines combined with the authoritative whomp of drummer Roger Taylor for the "dance" portion of the equation.
Between the freshness of their sound and the enormity of their success, Duran Duran inspired no shortage of disciples. The most closely connected were Kajagoogoo, whose 1983 debut was produced by Duran keyboardist Nick Rhodes. Their giggle-inducing name and tonsorial choices too often overshadow their musical expertise. Bassist and bandleader Nick Beggs adapted John Taylor's funk/pop/rock brew to his own ends on tunes like the blockbuster hit "Too Shy," and brought a fretless, jazz-funk touch to the club-friendly grooves. He even played the Chapman Stick, a notoriously challenging 10-string axe popularized by prog bass legend Tony Levin.
Mick Karn and beyond
Speaking of fretless bass, Mick Karn of Japan used its slippery, aqueous tones to build a whole new musical language. Fronted by future art-rock cult hero David Sylvian, the London band started out mixing glam and punk, but by 1979's Quiet Life, they'd turned a corner. Duran Duran and the rest of the New Romantic crew borrowed heavily from Japan's mix of German-influenced electronics, Asian flavors, and fluid grooves where Karn came off like a New Wave Jaco Pastorius, wringing a swirling world of tones from his fretless axe.
Visions Of China (2003 Digital Remaster)
Once the funk and fury of the period's UK bass heroes came exploding into earshot, nothing was ever the same. Bassists of every genre witnessed a new world of options come into view and took full advantage of the new musical menu. In the 90s, post-rock, alternative, trip-hop, and more were informed by the daring low-end escapades of Thatcher-era England. And in the new millennium, legions of post-punk revivalists including Bloc Party, Franz Ferdinand, The Rapture, Interpol, and The Killers carried the conversation forward.
In business, anyone will tell you that the bottom line is all-important, determining whether you're behind or ahead of the game, and by how much. The bottom line in music is exactly the same. Post-punk and New Wave bassists were exactly what rock needed to get it out of the red and solidly back in the black.