The Killers
The Las Vegas band led by Brandon Flowers have established a career that's defined the sound of rock and influenced countless bands.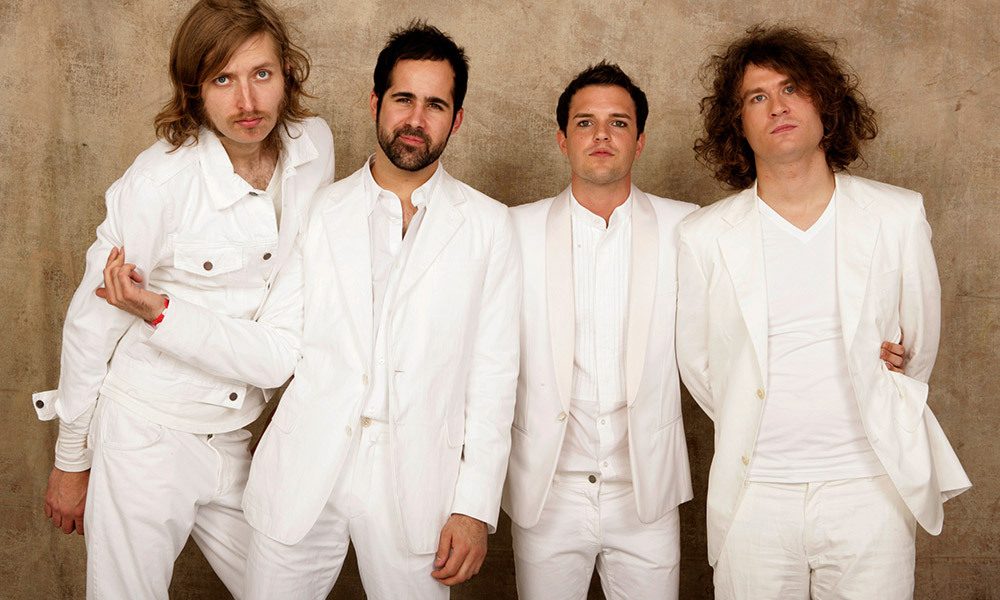 Very much a 20th-century band, The Killers have turned their initial obsession with British alternative pop, indie rock and lo-fi into a huge, stadium-filling sound that manages to retain integrity while appealing to the mainstream. In that happy place they've released four studio albums that have sold an estimated 22 million copies worldwide (all four topping the UK charts) and matched the long-form discs' Platinum status with massive single hits – "Mr. Brightside", "Somebody Told Me", "All These Things That I've Done", "When You Were Young" and "Human" being some of their classic signature pieces. They've collaborated with Toni Halliday, Lou Reed, Elton John & Neil Tennant, Dawes and Jimmy Kimmel and won numerous prestigious awards, including two BRITS, NME Awards in the UK and US, and are seven times nominated Grammy artists.
Paying careful attention to image and presentation hasn't hindered their rise either since singer Brandon Flowers is a natural frontman and a charismatic spokesman and they have enjoyed over a decade as an original four-piece that provides intelligent radio sound and danceable rhythms set to ignite audiences in clubs or from the largest festival stages. Big sellers then and a huge draw, the Killers have progressed from rookie status to the acme of professionalism without sacrificing their ideals.
Brandon Flowers, from Las Vegas, Nevada started the ball rolling after leaving the synthpop trio Blush Response in 2001. Having seen Oasis play in Los Angeles Brandon was smitten with the truth – he had to be in and lead a rock group: simple as that. Next in was guitarist Dave Keuning and in this early guise, songs like "Mr. Brightside" and "Under the Gun" took shape. The line-up of today was completed once bass player Mark Stoermer and drummer Ronnie Vanucci, Jr. were hired and a writing spree resulted in most of the debut disc Hot Fuss taking shape. Road testing their material in local Las Vegas clubs brought them to the attention of UK based scouts who brought them to London on the strength of a five-song demo that featured "Jenny Was a Friend of Mine", "Mr. Brightside", "Glamorous Indie Rock and Roll", "Somebody Told Me" and "On Top".
The Killers combination of carefully stated retro rock and hooks befitting their name led to an Island Def Jam contract, followed by shows supporting British Sea Power, Morrissey and fellow Americans Stellastarr.
Using recordings from 2002-2003 The Killers released the debut Hot Fuss in summer of 2004 and found themselves an instant following. The Hot Fuss album and its first three singles were so brilliant that they should have won something for the five Grammy Award nominations they received. Blessed by a freshness and spontaneity that shone out everywhere Hot Fuss updated new wave and post-punk with such élan that critics found no difficulty in aligning them to greats like New Order and The Cure, Morrissey (an avowed fan), David Bowie and Lou Reed.
Attention to instrumental detail was duly noted on the many gems on offer: "Jenny Was a Friend of Mine" – a modern murder ballad – the sexy "Mr. Brightside", the Smith's inspired "Smile Like You Mean It", the garage power pop "Somebody Told Me", and the vastly impressive "All These Things That I've Done", whose refrain "I got soul, but I'm not a soldier" became a rallying cry, one that defined them in many ways, and was enhanced by the vocal glories of the Sweet Inspirations gospel choir.
A five-star classic, Hot Fuss is such a big seller that there can't be many who haven't come across it in some shape or form but if you haven't then discovery is vital. Try the original of course although we love the bonus cuts and the iTunes Deluxe Edition because one can't get enough of a good thing, which this is.
Following up an album that sold over six million copies in the UK, Europe and the US alone could have been daunting but the Killers were on such a roll that Sam's Town took them even further. Flowers' distinctive lyrics and voice and his increasing piano and electric keyboards skills added new depth to a disc recorded in Nevada and London with co-producers Alan Moulder and Flood keeping the sound razor contemporary. Since it was obvious by now that the band was already established, and wearing the trappings of stardom well, they could have taken a critical backlash. They didn't because the lead single "When You Were Young" expanded their sonic ambition with a heartland sweep that nodded to Bruce Springsteen's first two albums and topped the US Alternative Songs chart (it made #2 in the UK). One of many Killers earworm melodies "When You Were Young" was ingeniously brought to life in the video shot in Mexico, overseen by renowned director Anthony Mandler.
While the lovely "For Reasons Unknown:" slipped through the net it is another standout cut. The same applies to "Read My Mind", a piece that Brandon still considers to be amongst his very best. The Pet Shop Boys agreed and provided a stunning "Stars are Blazing 'mix'" with Neil Tenant and Chris Lowe adding extra vocals.
The alliance between America and Britain was cemented when Tim Burton made his directorial video debut on "Bones" and hammered home again on Sawdust, a compilation of singles, B-sides, rarities, covers and remixes recorded between 2002 and 2007. Most acts would just sleepwalk through such a project, or leave it to the company but the Killers took full control in including their Joy Division cover "Shadowplay" and, somewhat more bizarrely, Dire Straits' intricate "Romeo and Juliet", recorded at an Abbey Road session. This is a great disc for fans and newcomers: we're delighted with their version of the Mel Tillis' mid-sixties Vietnam war weepie, made legendary by Kenny Rogers, "Ruby, Don't Take Your Love to Town." Genius to do this!
The third studio album is Day & Age (2008), another superior modern rock and synthpop fusion, overseen now by British electronic guru Stuart Price. This new collaboration helps make the wondrous "Human" such a special song, even seven years since release. Left off the Sawdust compilation, because it was just too good, Flowers sees this as a philosophical meeting between Johnny Cash and the Pet Shop Boys, while others thought it welded New Order to Bruce Springsteen. Whatever, it's a damn brilliant tune that doesn't require much more elaboration, but neither should its undoubted ubiquity and dance trance heavy beat detract from what else lies within. The new wave party atmosphere of "Spaceman" and the rootsy "A Dustland Fairytale" are at such a tangent to "Human" that one is struck by Flowers' ability to switch from universal truths to the deeply personal narrative style. That's his skill just as much as the band has written "The World We Live In' allows them to inhabit different terrain.
Four years will elapse between Day & Age and 2012's Battle Born (the phrase plucked from the state flag of Nevada). Solo albums and the need for family life were responsible for the break but the Killers returned with a vengeance, recording in their adopted home state and in Nashville, Tennessee. Elements of political intent are found on here although the countrified pop of "Miss Atomic Bomb" has more to do with American desert culture per se than anything more overtly sinister – that would be too easy. The older heartland love affair they specialise in lights up "Runaways" and "I Feel It in My Bones" (the latter a co-write between Flowers and Travis frontman Fran Healy).
In many ways Battle Born is the Killers most progressive and ambitious album yet: it is produced by a variety of names – Steve Lillywhite, Damian Taylor, Brendan O'Brien, Stuart Price and ambient master Daniel Lanois – but it still holds the centre. As with all their work Deluxe and Bonus editions exist.
In 2013 the second compilation Direct Hits cleaned up the past, with grand entries from the four albums and two new tracks, "Shot at the Night" and "Just Another Girl". Understanding that a Hits set is a great way to introduce newer listeners, Flowers and company were happy with the results and we concur that this is another entry point into discovering this amazing band.
With Brandon Flowers most recent solo album, The Desired Effect, picking up where his debut Flamingo and the main act's Battle Born left off the sense of continuity is maintained. Still, in their early-30s, the Killers will return soon. We can't wait, but then we're only human.
Words: Max Bell