Best Glastonbury Performances: 30 History-Making Festival Highlights
The best Glastonbury performances have not only defined careers, they've made musical history. These 30 festival highlights reveal why.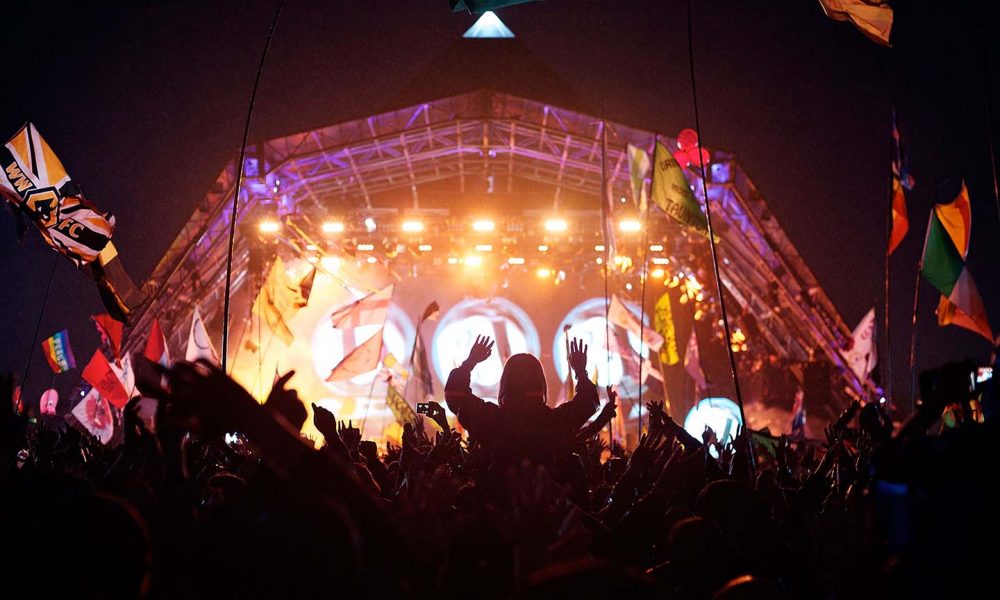 Chronologically, Monterey, Woodstock, and the Isle Of Wight got there first, but when it comes to music festivals, Glastonbury still casts the longest shadow. As such, the best Glastonbury performances aren't just highlights in the festival's own story, but landmark moments in the history of music – career-defining events that have turned bands into household names overnight.
These days, this remarkable (mostly) annual jamboree is well established among the music industry's major calendar entries, yet it sprang from the humblest of beginnings. Inspired by having seen Led Zeppelin play an al fresco performance at the Bath Festival Of Blues And Progressive Music, Somerset-based farmer-turned-promoter Michael Eavis launched what was initially called the Pilton Pop, Folk & Blues Festival at his own Worthy Farm on 19 September 1970, with just 1,500 festival-goers stumping up the £1 admission fee.
The event was renamed the Glastonbury Free Festival in 1971 – the same year the first of its three famous Pyramid Stages was constructed – and after a sporadic first decade, it's gradually morphed into the singular experience which has since attracted millions of fans. Now usually referred to simply as "Glasto," the event has retained its idealistic counterculture approach and now offers everything from a fairground to the nature-based Green Fields and family-friendly events.
Predominantly, though, it's the stellar headlining acts that have enshrined the festival's legend. uDiscover Music head down the front to savor the 30 best Glastonbury performances of all time.
30: T.Rex (1970)
A pattern that's emerged throughout Glastonbury history is for headline acts to drop out, only for their hastily-arranged substitutes to seize the day and turn in stellar performances. After famously arriving in a Cadillac so wide it could barely squeeze down the lane leading to the festival site, soon-to-be glam rock superstar Marc Bolan and his team established this tradition in Glastonbury's inaugural year, stepping in to replace The Kinks at the 11th hour and turning in what Michael Eavis later dubbed "one of the most memorable slots ever at the festival".
29: Elvis Costello (1987)
Elvis Costello initially performed a tetchy solo Saturday headline set at the 1987 festival. However, when it concluded after "Tramp The Dirt Down," the curtain behind the influential singer-songwriter rose to reveal his band, The Attractions, who then performed a visceral, hour-long set in their last show with Costello until the mid-90s. With his current outfit, The Imposters, Costello made a triumphant return to Glastonbury in 2013.
28: Portishead (1995, 1998, 2013)
The otherworldly trip-hop sounds of Portishead's singular debut album, Dummy, might not seem ideal for a celebratory affair such as Glastonbury, but the Bristolian outfit led by Beth Gibbons held the festival's acoustic tent spellbound during their inaugural appearance, in 1995. Their widely-praised return performances from 1998 and 2013 have further enhanced Portishead's Glastonbury reputation.
27: The Verve (1993)
In an NME interview, Richard Ashcroft recalled that The Verve hadn't arranged a camping pitch inside the Glastonbury grounds, so they ended up erecting their tent outside the festival, even though they were playing. However, the fast-rising Lancashire outfit soon adapted and turned in a legendary set, which included highlights from their debut album, A Storm In Heaven, and an extended version of their classic early single "Gravity Grave." As Ashcroft said, "All I remember is just the rush, the adrenaline, it was definitely the biggest crowd that I'd ever looked out on."
26: Dolly Parton (2014)
Country queen Dolly Parton sported a white, rhinestone-studded trouser suit and gave a suitably regal performance at Glastonbury. Strutting across every inch of the stage, she led the enraptured audience of more than a few impersonations through a solid hour of clapalongs and singalongs during a set laced with classics such as "Coat Of Many Colors," "Islands In The Stream," "Baby I'm Burning," "9 To 5," and the inevitable "Jolene."
Dolly Parton performs Jolene at Glastonbury - BBC
25: Adele (2016)
Adele made her low-key Glastonbury debut on the Park Stage in 2007. Four years later, flush from the world-beating success of her second album, 21, she played down her chances of making a main-stage return to the festival, telling fans the thought of arena-sized crowds was enough to give her an "anxiety attack". She proved herself – and her detractors – wrong in no uncertain terms in 2016, however, storming through a hit-stuffed set and turning her sombre signature ballad "Someone Like You" into a communal singalong as a parting shot.
24: Snoop Dogg (2010)
After Jay Z proved Glastonbury was just as ideally suited to hip-hop as it was to rock in 2008, Snoop Dogg again created a sensation two years later, when all roads leading to the Pyramid stage were reputedly blocked a good half hour before the superstar rapper was due onstage. In celebration, Snoop regaled the crowd with a combination of medley after medley – interspersed with requests as to where the ladies were at – and even performed a reworked version of Tinie Tempah's "Pass Out," featuring the UK grime star who also played Glastonbury under his own steam the following night.
Snoop Dogg & Tinie Tempah perform 'Pass Out' at Glastonbury 2010
23: Pulp (1995)
Pulp's signature hit "Common People" was already scaling the UK charts when the group played Glastonbury, subbing for The Stone Roses, who cancelled after guitarist John Squire broke his collarbone. However, while the Sheffield indie-pop stalwarts were already on the rise, they rapidly ascended right to the top after their heroic Glastonbury performance, which included "Common People" and the controversial "Sorted For E's And Wizz." Shortly after, the band's career-defining third album, Different Class, topped the UK charts and won the Mercury Music Prize.
22: Beyoncé (2011)
Another triumph for pop in the rock arena, Beyoncé's superbly-paced 2011 set was stuffed with hits including "Crazy In Love," "Single Ladies," "Independent Women," "Halo," and "If I Was A Boy," along with surprise covers of Kings Of Leon's "Sex On Fire" and Alanis Morrisette's "You Oughta Know." The star later confessed she'd asked Coldplay's Chris Martin for a little help with her setlist, but her 90-minute performance was rapturously received and, as she told the BBC's Jo Whiley afterwards, "I am just so honoured – this is a highlight of my career."
Beyoncé performs Irreplaceable | Glastonbury 2011 - BBC
21: Underworld (1999)
Aside from Glastonbury's main Pyramid Stage, the festival's Other Stage (originally the NME Stage) has played host to countless up-and-coming stars since the 90s. This stage is primarily responsible for bringing dance music to the festival, with Orbital's 1994 performance often cited as a turning point. Prior to that, UK electronic pioneers Underworld first came to Glastonbury as part of an unofficial rave sound system in 1990, but in '99 they were fully endorsed by Michael Eavis and company, and they celebrated in style, sending fans into rapture with phenomenal versions of their signature hits "Born Slippy" and "King Of Snake."
20: Neil Young (2009)
Neil Young pulled out of Glastonbury 1997 due to having allegedly sliced his finger while preparing a ham sandwich, but he more than made up for it in 2009. Akin to his peer Bob Dylan, The legendary Canadian has never been the kind of artist to appease the general festival-goer, but at Glastonbury, he pulled out all the stops, with an extensive setlist of classics like "Hey Hey, My My," "Heart Of Gold," "Rockin' In The Free World," and a cover of The Beatles' "A Day In The Life" that prompted the transfixed crowd to continually chant his name on departure. Job done, and then some.
19: Paul Simon (2011)
Paul Simon made his first ever Glastonbury Festival appearance in the regular Sunday afternoon "legends" slot on the Pyramid Stage, following in the footsteps of the likes of Johnny Cash, Neil Diamond and Brian Wilson. The iconic singer-songwriter was up against swelteringly hot conditions, but he had the perfect antidote to soothe the Glastonbury crowd with evergreen hits "The Boy In The Bubble," "50 Ways To Leave Your Lover," and "Slip Slidin' Away." He also played three songs from his then new album, So Beautiful Or So What, including the title track, and kept his signature hit, "You Can Call Me Al," in reserve for the joyous finale.
18: Katy Perry (2017)
Making a magnificent entrance in a diamanté-clad jumpsuit, sparkly purple hat and purple strap-on wings, Katy Perry slayed the Saturday-night crowd in 2017, despite being up against Liam Gallagher on the festival's Other Stage. Playing most of her must-hear hits, including a medley of "Teenage Dream," "Firework," and "Dark Horse," she performed a set simply bursting with energy, danced with a security guard and brought out backing dancers who changed into increasingly preposterous headdresses with each passing song. That's the spirit.
17: Arcade Fire (2014)
Canadian alternative stars Arcade Fire pulled out all the stops for their 2014 festival set which included exuberant visuals, numerous costume changes and a beautifully-paced, hit-stuffed setlist. Having turned the Pyramid Stage into a full-tilt discotheque with "Sprawl II" and "Reflektor," the band played their trump card, sparking a massive singalong with a jubilant "Wake Up" and cementing their reputation as one of contemporary music's most singular live acts in the process.
Arcade Fire - Reflektor at Glastonbury 2014
16: Travis (1999)
Travis' second album, The Man Who, had only been in the shops for a month when they played the Other Stage at the 1999 Glastonbury Festival. The weather had been glorious earlier in the day, but as the Scottish quartet played their soon-to-be-released single "Why Does It Always Rain on Me?", the heavens opened. The crowd went wild, however, and the performance went down as one of the all-time great shows in the festival's 50-year history (it is now being released as Live At Glastonbury '99). By the time "Why Does It Always Rain On Me?" was released as a single five weeks later, Travis were on the verge of international stardom, and would go on to headline Glastonbury a year later.
15: The Chemical Brothers (2000, 2011)
Glastonbury put on a spectacular show to mark the festival's arrival in the 21st Century. With a reputed 100,000 fans succumbing to the diverse charms of a bill including David Bowie, Travis, Basement Jaxx, Coldplay and Moby, 2000 saw the return of the festival's newly-refurbished Pyramid Stage, which was now 100 feet high and clad in dazzling silver. It also proved the ideal setting for The Chemical Brothers to seize the day and turn the festival site into the world's greatest ever open-air club. The electronic pioneers later made a triumphant Glastonbury return in 2011 and they're likely to hit new heights again in 2019.
14: Radiohead (1997, 2003, 2017)
Radiohead also turned in sterling Glastonbury performances in 2003 and 2017, but as yet they've been unable to beat their 1997 show – a watershed moment in their career, which Michael Eavis himself has described as "the best Glastonbury performance ever". In 1997, Thom Yorke and company appeared just a fortnight after the release of their landmark third album, OK Computer, and sent the festival audience into raptures with stunning performances of its standout tracks, including "Karma Police," "No Surprises," and a mind-bogglingly intense "Paranoid Android."
13: The Who (2007, 2015)
The Who had previously played a blinder at the 2007 Glastonbury Festival, triumphing despite being lashed by driving rain. In 2015, however, they joined the pantheon of Glasto greats in no uncertain terms, with Pete Townshend on vicious lead guitar form and Roger Daltrey at his pugnacious best as the band delivered two hours of vintage classics ranging from "Pinball Wizard" to "Who Are You," and "My Generation."
12: Johnny Cash (1994)
Johnny Cash's 1994 slot ushered in the final, glorious phase of his career. The first of his Rick Rubin-produced albums, American Recordings was released just two months previously, but it was his widely-admired Glastonbury show that brought The Man In Black a whole new contemporary audience. Addressing the masses with a suitably curt, "Hello, I'm Johnny Cash," the then 62-year-old star duly performed a commanding, career-spanning set that went down an absolute storm.
11: Florence + The Machine (2015)
In yet another example of Glastonbury snatching victory from the jaws of defeat, Florence + The Machine stepped in at the last minute when Foo Fighters were forced to cancel after Dave Grohl broke his leg. Clearly relishing every second, Florence Welch and her team played an absolute blinder, with Welch pirouetting around the stage, feeding her vocal through a vocoder on an otherworldly reimagining of "What Kind Of Man," and dedicating a moving, stripped-back version of "Times Like These" to Grohl.
10: Iggy & The Stooges (2007)
Iggy Pop's experienced things most of us couldn't even begin to envisage, but one thing he hadn't done was perform at Glastonbury until he finally brought his legendary Detroit charges, The Stooges, to the festival in 2007. Revisiting the footage, it now feels strangely poignant as the band then (circa their comeback album, The Weirdness) still featured Ron and Scott Asheton, both of whom have since passed away. On the night, however, The Stooges were simply blazing as they powered through proto-punk classics "1969," "Funhouse," and "I Wanna Be Your Dog," before Iggy provoked a mass stage invasion during "No Fun." Truly electrifying.
9: Stevie Wonder (2010)
One of Glastonbury's most anticipated headliners ever, Stevie Wonder didn't disappoint. Indeed, when he closed the 2010 event on the Sunday night, his generous setlist dripped with classic songs. "Uptight (Everything's Alright)," "Superstition," "Sir Duke," "I Just Called To Say I Love You," and "For Once In My Life" were all performed with gusto, while wonderful surprises included a harmonica-led cover of Michael Jackson's "Human Nature" and a closing "Happy Birthday" featuring festival organizer Michael Eavis. The Guardian said, "A Glastonbury headline set featuring so many classics could never go wrong in the hands of this legendary musician," and we can only concur.
8: Jay Z (2008)
Glastonbury has always embraced changing fads and fashions, but it has broadly been seen as a "rock" festival down the years. Signs that hip-hop was breathing down the neck of guitar-based music were, however, never more visible than in 2008, when Jay Z headlined the Pyramid Stage. Of course, there were plenty of naysayers, with Noel Gallagher famously saying, "I'm not having hip-hop at Glastonbury, it's wrong." Jay Z had the last laugh. He belted out a sarcastic cover of Oasis' "Wonderwall" for his opening gambit and then simply brought the house down.
7: Bruce Springsteen (2009)
Few can even get close to Bruce Springsteen when it comes to pulling off widescreen rock'n'roll suitable for the biggest fields and stadiums on the planet. However, in typical fashion, The Boss took nothing for granted and gave Glastonbury his all during a truly epic headliner on the festival's Saturday night in 2009. Featuring his trusty lieutenants, Little Steven and Nils Lofgren, The E Street Band were in superb form and their set featured all the classics ("Born To Run," "Glory Days," "Dancing In The Dark") plus wonderful surprises such as covers of Patti Smith's "Because The Night" and Joe Strummer's "Coma Girl." The size of the audience? "More than half the state of Nebraska, judging from the immense, rippling sea of arms and the forest of flags," according to The Guardian.
6: The Killers (2017)
Las Vegas alt.rock superstars The Killers made their Glastonbury debut in 2007, but they really delighted fans when they returned ten years later as unannounced special guests to play a ten-song set full of fan favorites in front of a capacity crowd on the John Peel Stage. With Brandon Flowers and company on especially transcendent form, their ecstatically-received set included signature hits "Mr. Brightside," "Somebody Told Me," and "Human," while they also previewed their then-imminent Wonderful Wonderful album with a rousing version of trailer single "The Man." The band are set to add to their Glasto legend in 2019 as they headline the Pyramid Stage on the Saturday night.
5: Metallica (2014)
Though arguably the world's biggest metal band of them all, Metallica had never played Glastonbury until 2014 and there were plenty of sceptics who felt they were anything but acceptable Glasto fare. James Hetfield and co had other ideas, however, and they won over the doubters with a titanic set which culminated with storming versions of "Nothing Else Matters" and "Enter Sandman." The band then returned for an encore consisting of Thin Lizzy's "Whiskey In The Jar" and their own "Seek And Destroy," and finally launched dozens of black Metallica-branded weather balloons into the crowd, triggering a giant game of dodgeball between the audience and security guards. Epic.
Metallica - One at Glastonbury 2014
4: Paul McCartney (2004)
Rumours persisted that Michael Eavis had been trying to secure Paul McCartney for Glastonbury for decades, so it was a major coup when the legendary ex-Beatle finally walked out on the Pyramid Stage in front of 120,000 fans. His arrival couldn't have been timelier, as bad weather had blighted that year's festival and Portugal had just knocked England out of the Euro 2004 football tournament. However, the rain stopped and spirits lifted in unison as McCartney and his band performed a historic set, simply crammed with classics ranging from "Eleanor Rigby," "Get Back," and "Back In The USSR" through to "Live And Let Die" (embellished with a firework display) and a life-affirming "Hey Jude." As NME put it: "This is a member of the greatest band in the world ever playing some of the greatest songs in the world ever. And it doesn't get better than that."
3: The Rolling Stones (2013)
Remarkably, 50 years after they first trod the boards together, The Rolling Stones finally headlined Glastonbury for the first time. Was it worth the wait? You bet. The legendary outfit were in imperious form, kicking off with sure-fire hits ("Jumpin' Jack Flash," "Gimme Shelter"), revisiting cult favorites (Keef's "You Got The Silver," the rarely-performed psych-pop classic "2000 Light Years From Home") and completing their home run with a choir-assisted "You Can't Always Get What You Want" and a phenomenal "Sympathy For The Devil," complete with a scrap-metal phoenix atop the stage which raised its wings and spurted jets of fire. Simply unmissable.
2: The Cure (1986, 1990, 1995)
The Cure are set to close 2019's Glastonbury in what will be their fourth appearance at the festival, and the stage is set for an epic as the alt.rock icons' profile is currently at its highest in years. Of course, Robert Smith and co already have a significant history with the festival, having already headlined in 1986, 1990 and 1995. Arguably the cream of these, The Cure performed their triumphant 1986 Glasto set to the unplanned backdrop of a spectacular thunderstorm and ended up delivering three encores, including an emotional "Faith" and the angst-ridden title track from their nihilistic classic, Pornography.
1: David Bowie (2000)
David Bowie first featured on a Glastonbury bill in 1971, in the festival's second year. It was then known as the Glastonbury Free Festival and the event was still cultivating its identity. If that low-key appearance has largely been overlooked, the same won't ever be said for Bowie's return in 2000: a truly tumultuous event and arguably one of the greatest rock and pop headlining shows ever, wherein the chameleonic star played just about everything of significance from his catalogue, from "Wild Is The Wind" to "Ashes To Ashes," "Changes," "Rebel Rebel," "Heroes," "The Man Who Sold The World," and so many more. In a nutshell: showmanship, superb pacing and timeless music. His Glastonbury triumph shows exactly why we won't ever see the likes of him again.
David Bowie - Heroes (Live at Glastonbury Festival 2000)