Led Zeppelin
Led Zeppelin are one of the most famous and acclaimed rock bands of all time, with their iconic lineup of Robert Plant, Jimmy Page, John Paul Jones, and John Bonham and classic songs like 'Stairway to Heaven' and 'Whole Lotta Love.'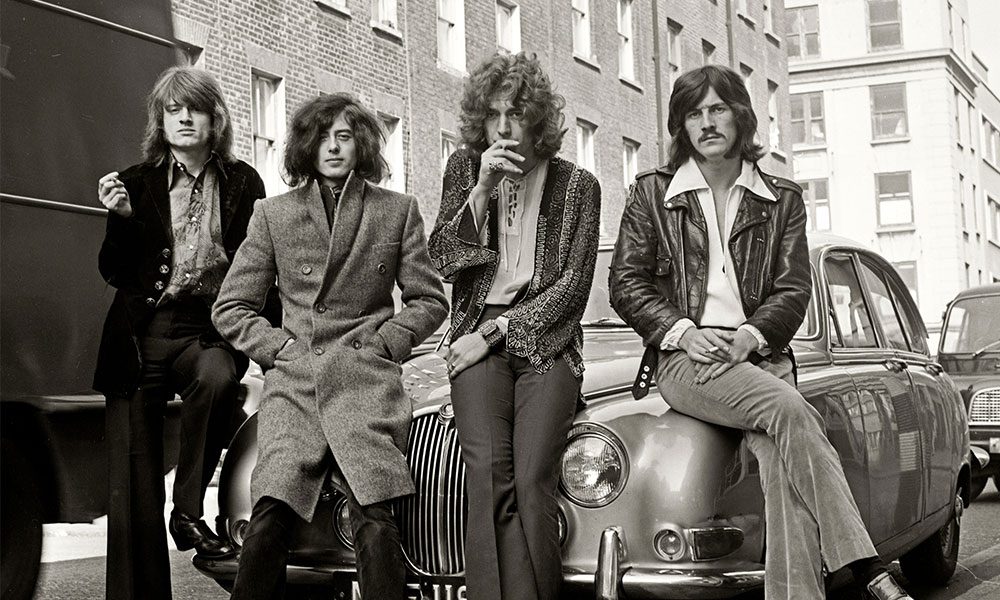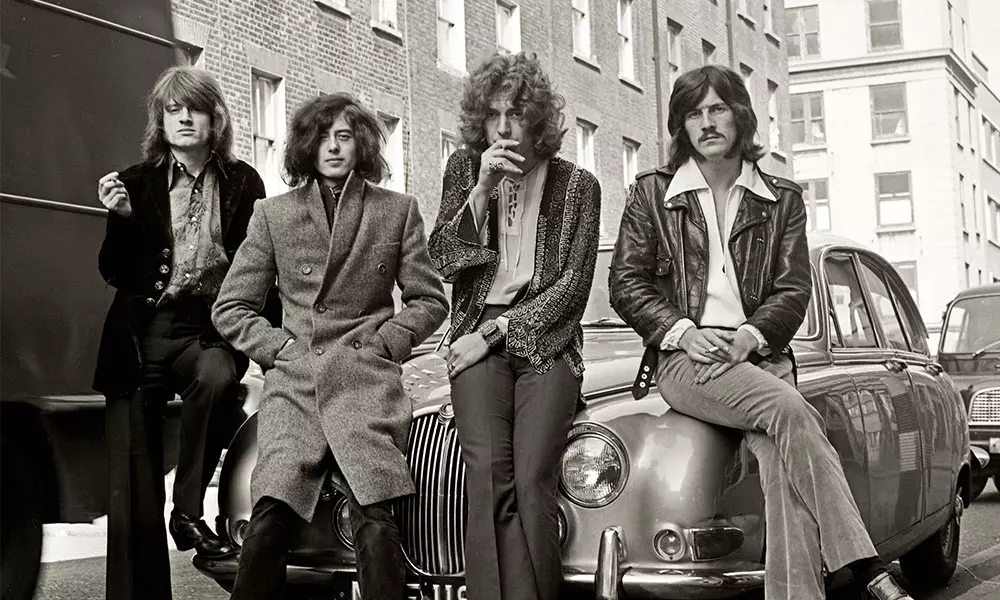 It's safe to say that, during the period of 1971 to 1975, Led Zeppelin were the biggest band in the world. Masters of hard rock, they were also fantastically accomplished musicians. Jimmy Page's background as a young session guitarist, and then the mainstay of the later Yardbirds, gave them one instrumental focal point, though the rhythm section of John Bonham (drums) and John Paul Jones (bass) were equally important to developing the group's sound. Even when Zeppelin were floating towards heavy metal, Bonham and Jones could inject a soul groove into the mix.
As a singer, Robert Plant – one of the most distinctive vocalists in rock – also brought along a folk and West Coast sensibility. The hybrid was so potent that they never did things by halves, and even if tales of their touring debauchery are often embroidered, there's enough truth in them to maintain the legend.
Meanwhile, all their studio albums went platinum, with Led Zeppelin IV (aka Runes or ZoSo) achieving staggering sales – over 23 million in the US alone. The same goes for their live albums and box sets, even while maintaining a deliberate policy of not releasing singles in the UK. (Other territories were, however, immune to the credibility-saving gesture, allowing tracks such as 'Whole Lotta Love', 'Black Dog', 'Immigrant Song', 'Rock And Roll' and 'Trampled Underfoot' to spearhead the FM radio revolution).
Renowned for their imaginative stagecraft – and pyrotechnics to match the music – Led Zeppelin evolved rapidly from tight blues-rock to a looser beast altogether on Houses Of The Holy and Physical Graffiti. Led Zep maintained a powerful hold on their audience and have been honoured in various ways: Rock And Roll and Grammy Hall Of Famers, five diamond-certified albums, and personal gongs for Page (OBE) and Plant (CBE). They were also thrilled to be the 2012 recipients of Kennedy Center Honors, as bestowed by Barack Obama.
Still called The New Yardbirds when sessions commenced for their eponymous debut, Led Zeppelin laid down a marker. Following a Scandinavian tour, they unveiled their new name at the University Of Surrey in Guildford, in October 1968, and released the album in America the following January (while home-grown fans had to import it for two months). They had the basis for a classic: 'Good Times Bad Times', 'Babe I'm Gonna Leave You', 'Dazed And Confused', the Bert Jansch-inspired 'Black Mountain Side', 'Communication Breakdown' and a cover of Willie Dixon's 'I Can't Quit You Baby' – All top-notch, high-octane rock'n'roll. Amazingly, not all reviews were favourable, but eventually, common sense prevailed and Rolling Stone, who'd disparaged it first time round, ranked it No.29 on their list of the 500 Greatest Albums Of All Time in 2003. The disc was also inducted into the Grammy Hall Of Fame and remains a firm favourite.
Led Zeppelin II, again produced by Page, was heavier still. 'Whole Lotta Love', with parts "borrowed" from Dixon, topped charts in Germany and Australia and sold a million-plus in the US. Other epics such as 'The Lemon Song' and 'Heartbreaker' propelled the band like a juggernaut. By the end of 1960, they were rock gods.
Led Zeppelin III moved the group into the more pastoral acoustic territory, though they hadn't shied away from that form before. 'Immigrant Song', 'Since I've Been Loving You', 'Gallows Pole' and 'Bron-Y-Aur-Stomp' left the competition eating dust. The album was a global smash. Like its predecessors, it's well serviced by a deluxe 2014 reissue, thanks to rough mixes and unreleased gems the likes of 'That's The Way', a mellow piece adorned by dulcimer and mandolin.
Now for the gravy. Led Zeppelin IV, recorded at Headley Grange and London's Island Studios, whipped everything they could do into one stupendous package. 'Black Dog', 'Rock And Roll', 'Going To California' (which the 22-year-old Plant wrote with Joni Mitchell on his mind) and the timeless 'Stairway To Heaven' found Zeppelin on such a high that five-star reviews erupted everywhere.
Resistance was pointless, not to say churlish. Quite apart from the branded brilliance one came to expect, there was the track 'The Battle Of Evermore', a folk duet sung by Plant and Sandy Denny. The group had shared a bill with Denny's former outfit, Fairport Convention, in 1970 at the Bath Festival Of Blues And Progressive Music. Though rarely played live until 1977, this piece is another acoustic classic with Page playing the mandolin and Bonham providing subtle percussion. Meanwhile, don't overlook 'Misty Mountain Hop', where Jones plays Hohner electric piano and Page harmonises on the memorable central riff. The majestic 'When The Levee Breaks' is also legendary in Led Zeppelin circles for the Bonham drum sound: a newly acquired Ludwig kit being mic'd up at the bottom of a stairwell at Headley Grange.
Dynamically unchallenged to this point, the group recorded Houses Of The Holy on The Rolling Stones' Mobile Studio at Mick Jagger's Stargroves home. By 1973, Page was experimenting with a more layered guitar sound while, overall, they moved into a different sonic territory. The reggaefied 'D'yer Maker' trailed a dub sound while 'Over The Hills And Far Away' had a country pedal steel feel that was achieved on clavinet and synth. Elsewhere, 'The Crunge' allowed the rhythm section space for their funk grooves and 'No Quarter' encouraged Jones to indulge his love of classical music. Among it all, 'The Song Remains The Same' became the album's iconic moment and it was a live cert that opened both their 1977 and 1979 US concerts.
For Physical Graffiti, the group found they had enough quality material to fill a double-album, though some of the cuts were outtakes. 'In My Time Of Dying', was not only the longest track they released but also evidence of their ability to jam. On 'In The Light', Page returned to his famous trick of using a violin bow on the guitar – this time an acoustic. Both the Page and Plant consider this album to be a high-water mark.
Despite a hectic schedule and Plant suffering a serious car accident in Greece, in 1975, the group stayed on their A-game for Presence. Recording at Musicland Studios in Munich, they laid the groundwork for the New Wave Of British Heavy Metal with 'Achilles Last Stand' and overcame the mania of maintaining a hard-living rock lifestyle on the bluesy 'Tea For One', almost a throwback to the old Yardbirds days.
The live soundtrack album for the film of the same name, The Song Remains The Same, returned to a summertime date at Madison Square Garden in 1973, and functions as a virtual hits set with the enthralling sprawl of 'Dazed And Confused' at its epicentre. The 2007 reissue restores 'Black Dog', 'Over The Hills And Far Away', 'Misty Mountain Hop', 'Since I've Been Loving You', 'The Ocean' and 'Heartbreaker', making it the go-to choice.
The group's final album of all-new material, In Through The Out Door, saw Led Zeppelin return to Britain for rehearsals, though they recorded at ABBA's Polar Studios in Stockholm. Plant and Jones had more input than usual and the results received mixed reviews. Even so, the rockabilly 'Hot Dog' and the soul-bearing 'Carouselambra' were up to speed.
The final studio album, Coda, came out two years after Bonham's death and consisted of outtakes, live recordings from the Royal Albert Hall, and 'Bonzo's Montreux', a drum solo with Page's electronic effects added later.
A decade after they officially disbanded, the four-disc Led Zeppelin box set emerged in 1990 as a reminder of their greatness. Page, too, was struck by the significance of the anthology, telling Guitarist magazine, "Oh, I'm now fully aware of the mark Led Zeppelin made on the musical landscape. My awareness was re-heightened when we were remastering the material to do that CD box set in 1990. When you hear it all, song after song, you realise what a textbook it is for musicians who are coming along, and that's so great. The whole thing is about passing it on because that's how it was done for me when I was learning from all those old blues and rockabilly records. It's all part of how this cultural phenomenon keeps moving on. I think everyone carries the flame on."
In the States, the lavish box set went platinum ten times over and was accompanied by a scaled-down version, Led Zeppelin Remasters. A fully-fledged sequel, Led Zeppelin Boxed Set 2, completed the picture and added the unreleased 'Baby Come On Home'. The Complete Studio Recordings is self-explanatory, though it adds an expanded Coda. Fans also flocked to BBC Sessions, with recovered 1969 material recorded live at London's Paris Theatre, London radio sessions for John Peel, Alexis Korner, et al.
Further live collections followed, including the triple-disc How The West Was Won (2003), which chronicled the group at a live peak in 1972, bossing the LA Forum and Long Beach Arena. Celebration Day followed in 2012, capturing the group's monumental reunion at London's O2 Arena for the Ahmet Ertegun Tribute Concert.
Led Zeppelin had performed together at Live Aid in 1985, and at Atlantic Records' 40th-anniversary bash in 1988, but the Celebration Day set captures a proper night of nostalgia with Jason Bonham filling his dad's drum stool, hence a particularly poignant version of 'In My Time of Dying' and the ecstatically received classics 'Whole Lotta Love' and 'Kashmir'.
In hard rock terms, it's more a case of who didn't they influence? Led Zeppelin left a legacy that inspires everyone from Deep Purple to Lady Gaga. Many even cite them as Britain's most influential act after The Beatles, a proposition borne out of the success of their 2016 The Complete BBC Sessions release. The greatest rock'n'roll band of all time? Hard to disagree.
Max Bell