Fairport Convention
It's perhaps safest to say that Fairport Convention hasn't just influenced English folk-rock, even if in all its glory they have enhanced it beyond belief. What this standout band has done is influence music. Full stop. They are Fairport Convention.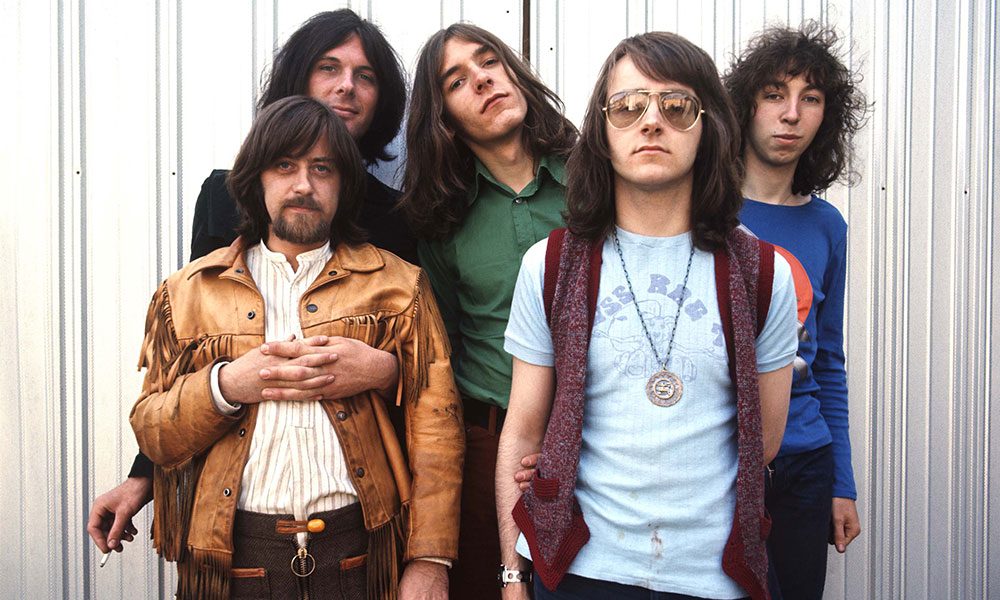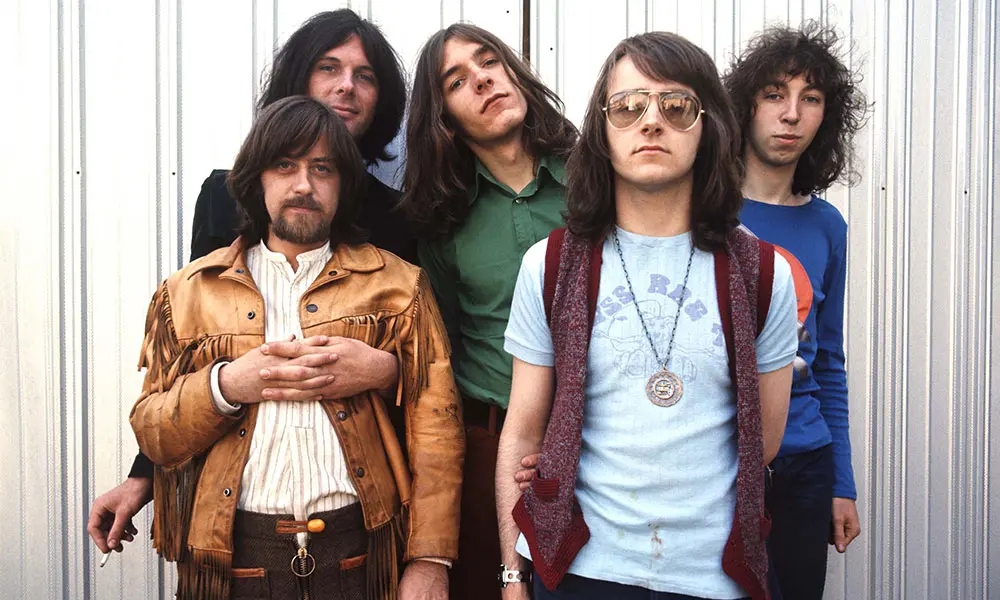 Widely accepted as being the first great English electric folk group, Fairport Convention is that and far more. It would be safer to say they are simply one of the greatest English groups of all. They began their career with a repertoire of traditional material, some originals and a veritable jukebox of American new folk, they soon developed their own niche as interpreters of murder ballads, sly tales of yore and deeply thought out, planned and executed concept pieces. Incredibly prolific – they released three albums in 1969 alone – Fairport Convention have lasted the course of over 40 years in some shape or other with numerous personnel changes along the way and a catalogue of music that is as rich as their own history. The band's annual Cropredy Festival in Oxfordshire is always likely to spring a surprise, with past members putting in appearances alongside special guests from the folk world and beyond.
Key and core members of the group are household names in their own right: Sandy Denny, Richard Thompson, Simon Nicol, Ian Matthews, Dave Pegg, Dave Mattacks, Ashley Hutchings, Judy Dyble and Dave Swarbrick – to mention but a few – are the names of folk-rock legend, avatars for the scene that sprang up around Fairport in the late 1960s and 1970s. There are classic periods – anytime from 1967 to 1975 will send Convention fans into raptures – equally classic line-ups, disasters, tragedies, fractious departures, glorious returns, successes and experiments that didn't always translate – but added together their history is the stuff of something noble, artistically accomplished, a sound built on integrity and forged in the live arena where band and audience become one.
In the beginning, was the word, and all that, and Fairport Convention can trace their origins to friends Ashley Hutchings and Simon Nicol who rehearsed together in a house called 'Fairport' in Muswell Hill, where Nicol's father was a local MD. Adding a young tyro, the aforementioned Richard Thompson on guitar, they would soon add their first female singer, Judy Dyble, a choice that lent them a different slant to others on the London circuit. In fact, they were soon nicknamed 'The English Jefferson Airplane' by the London rock press and wowed crowds at venues like UFO, The Electric Garden (later Middle Earth) and the Roundhouse. Their debut album, Fairport Convention, released in early 1968 with Joe Boyd at the controls, included class versions of Joni Mitchell's 'Chelsea Morning' and Bob Dylan's 'Jack O'Diamonds' (itself a folk standard) as well as some in-house originals and a sprinkling of electric blues. Sonically it was both intriguing and well-executed; the band learnt fast and was comprised of inherently savvy and prodigiously talented musicians. These kids were damn good.
If that was a starling debut for those in the know, then the follow-up, What We Did on Our Holidays, caused a sensation in the underground media. Dyble's departure, sad enough, had paved the way for the entrance of one Sandy Denny, who Nicol said was the only viable candidate – in that she stood out like a clean glass in a sink full of dirty dishes. This time the combination of covers and originals was nigh on perfect. Denny's own tune 'Fotheringay' was a marvellous overture and with everyone contributing words and music of the highest calibre, it was even possible to see that tackling another couple of items from Dylan and Mitchell wasn't strictly necessary anymore. Not when Thompson's 'Meet on the Ledge', or the band's immaculate version of 'She Moves Through the Fair' were standing up to be counted. Hippies were transfixed. Folkies stood up and got the new picture.
Two months before Unhalfbricking was released the Fairport's suffered disaster when drummer Martin Lamble and Thompson's then-girlfriend Jeannie Franklyn were killed in a car crash as the band returned from a gig in Birmingham. That watershed moment caused a purge in their overall approach although the posthumous for some album was a triumph. Including Denny's lilting take on Bob Dylan's 'If You Gotta Go' – re-tooled as 'Si Tu Dois Partir' – her own meta-classic 'Who Knows Where The Times Goes', and Thompson's 'Genesis Hall', this was a five-star affair which shook Britain and the American media and convinced many that here was a band capable of standing head to head with say, well, The Band themselves.
Liege & Lief (1969) sees that roll pushed faster by Denny's suggestion that they concentrate on Celtic folk, English pastoral and Scottish high jinx – but nevertheless paint their own colours across the canvas. Another unparalleled success Liege & Lief also saw new members, thanks to Dave Swarbrick's fiddle and viola skills allied to new drummer Dave Mattock's muscular clout.
As with all the albums from this period, a wealth of extra material is included for modern listeners. Here you will delight in discovering various BBC sessions. Plus: studio outtakes like 'Sir Patrick Spens', The Byrds' 'The Ballad of Easy Rider' and the famous 'Medley', including 'The Lark in the Morning' and 'Toss the Feathers', which could reduce audiences to quivering jelly way back in the day and may continue to do so. Folk in Excelsis.
The seventies dawned for Fairport with Full House where Thompson and Swarbrick take the reins. Denny had decided to change tack and so she's gone off to form Fotheringay, while Ashley Hutchings went off to form Steeleye Span. In came Pegg and out soon too would go Thompson himself, though he left behind another country meets folk-rock classic.
Such was the band's draw however that 1971's Angel Delight (named after a pub in Hertfordshire where they were living and imbibing) was actually their highest chart entry to date. Produced by John Wood, it evoked all the traditional pleasantry of an English rustic idyll filtered through the sharp attack of a dynamic rhythm section and Swarbrick's ever more prominent violin.
The conceptual Babbacombe Lee (named after a Victorian murderer who escaped his demise when the gallows failed to open on three occasions) is a narrative album, which could be termed the first folk-rock opera. Again the reissue is jam-packed with extras including 'Cell Song' and 'Wake Up John (Hanging Song)'. An audacious experiment at any time, in 1971 it was quite revolutionary, although in recent years the rediscovery of the murder ballad by the likes of Nick Cave et al lends Babbacombe Lee modern currency. Got to hear this. It really is a classic.
Rosie (1973) sees the arrival of new key members, Australian producer, singer-songwriter and guitarist Trevor Lucas, and the American lead guitarist Jerry Donahue, two men who were fresh from working with Sandy Denny on her solo projects. Indeed Denny and Lucas were now married. Mattacks contributes some exemplary playing before quitting for the Albion band, but Gerry Conway made an able deputy and would later become a full-time member.
Pausing for breath on Nine, available in a re-mastered form with live club tracks from The Howff, the band return to form on 1974's Fairport Live Convention, an album which saw the return of Joe Boyd in an executive role as the band were captured in terrific form at the Sydney Opera House, the London Rainbow and the Fairfield Halls, Croydon. Given the chance to play catch up they examined their recent past, still only barely six years of history, and revisited songs like 'Matty Groves', 'John the Gun'and Dylan's 'Down in the Flood' while chucking in a cheeky take on Chris Kenner's New Orleans gem 'Something You Got'. For long-time fans, this was like the good old days. Sandy Denny had returned and given her chemistry with Lucas it's possible to view this as a strange equivalent to Fleetwood Mac just before they made Rumours.
Sandy Denny stayed for the Glyn Johns produced Rising for the Moon, which was affectionately dubbed as the band's Fotheringay Convention. Truth to tell, the never-ending line-up changes were a comedy. But laughing aside, folk-rock with a buffed pop sheen emerged; almost by default, there was an album that ushered the Fairport's towards the new sophisticated studio sounds of the era. Traditional pieces, much loved by the older guard,  were replaced by strong, confident writing that indicated all concerned were in the mood for progression. Denny's title track and 'Stranger to Himself'were far more redolent of her own solo career and yet Swarbrick, Mattacks and Pegg couldn't quite let go off the hem and so they added a glorious mixture of shuffle, mandolin and dulcimer to the mix.
Facing out the 1970s with a new abrasive nature the album Gottle o'Geer started out life as possible solo work for Dave Swarbrick but didn't end up that way. Here you'll find some new faces as Martin Carthy, Robert Palmer,  Benny Gallagher and Graham Lyle all lend a hand while Simon Nicol returns to piece the jigsaw together.
Tipplers Tales includes the band's own take on John Barleycorn (hitherto the province of Steve Winwood's Traffic) and also finds our heroes becoming a solid part of the English musical scene – beyond category, capable of pure folk, R&B and rock, and virtually a national institution. Did they ever believe that would happen? Probably not.
For those who hanker after something live and tasty, we can go backwards and forward. Dip and delve. Live at the L.A. Troubadour was a remarkable find since it dates back to Thompson-era Fairport and was recorded on the Full House tour and can be filed next to the counterpart disc House Full: Live at the L.A. Troubadour, thus giving one the full flavour of the Convention in flight in 1970. Each is a marvellous thing to behold in remastered form.
Expanding on that experience it's well worth checking out In Real Time: Live'87, and essential to investigate Live at the BBC, an apparently modest proposal which includes tracks recorded for various BBC shows between 1968 and 1974. It's an amazing document. This four-CD package comes with a detailed booklet, fabulous rare photographs, lyrics and a mind-boggling assortment of songs. Favourites from Dylan, Eric Anderson, Chet Powers, Emitt Rhodes – even a version of The Doors' 'Light My Fire' – sit neatly beside what is virtually a very best of the band in their various incarnations. T's like an introduction to the infinite.
For further delectation 25th Anniversary Pack is a superb primer of all things good while Meet on the Ledge (The Classic Years 1967-1975) rivals the earlier Chronicles and includes such rare nuggets as 'Bonny Bunch of Roses' and 'Poor Will and the Jolly Hangman' to whet the appetite for long-time fans while fulfilling the brief of introducing newcomers and those with interest piqued as they enter the Fairport fray and find out what all the fuss was about.
Isn't that the point?
Both are entertaining beyond measure and will surely send even the most hardened fanatic scurrying back to all the original discs. Given the length of their career(s), the magnitude of their achievements and the sheer heft of music that poured from within it's pretty impossible to characterise Fairport Convention in any one bag. It wouldn't be fair to them or the listener. In fact, you could chuck them into any number of clichéd hold-alls and still be wrong on most counts when it came time to collect.
Lifetime achievements abound, and some of those illustrate the legacy. Radio 2's award in 2002 for just that was one such mark. Then again The Folk Awards on that station called Who Knows Where the Times Goes – the greatest folk track of all time – and said that Liege & Lief was the most influential album of all time. All these things are true and fine but there is so much else. It's perhaps safest to say that Fairport Convention hasn't just influenced English folk-rock, even if in all its glory they have enhanced it beyond belief. What this standout band has done is influence music. Full stop. They are Fairport Convention.
For all things folk, be sure to check out We Are Folk…
Format:
UK English