The Greatest Prog Drummers: An Essential Top 25 Countdown
From arena rock heroes to overlooked masters, here are the best prog drummers who embody the virtuosity and imagination of prog rock.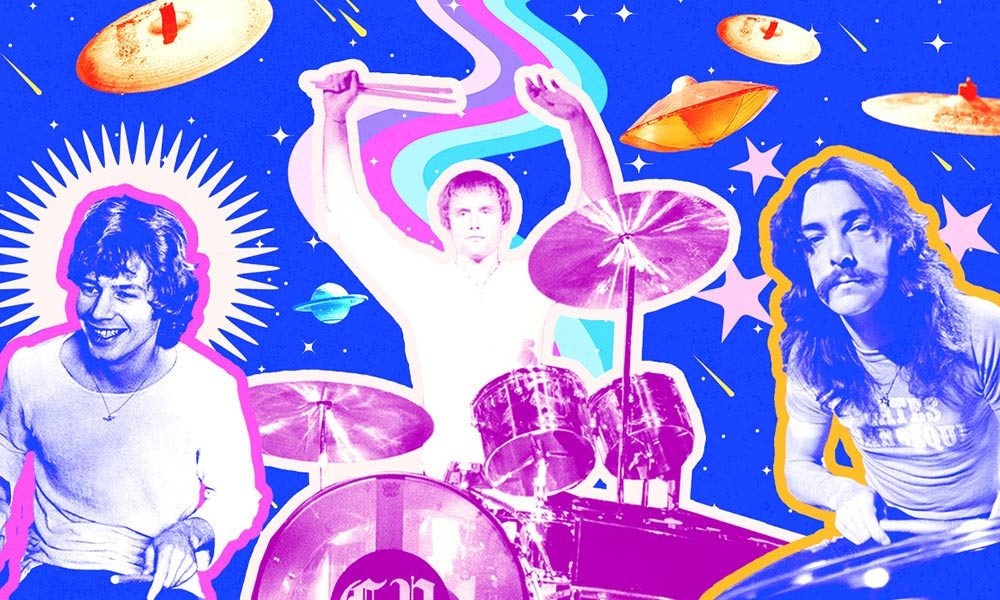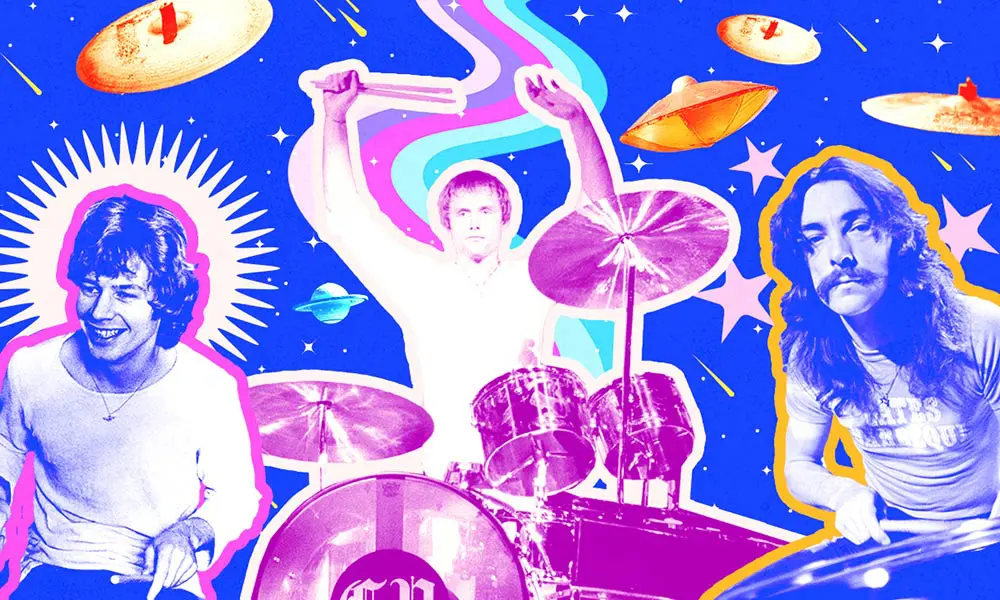 The rock'n'roll cliché says that the drummer is always the wildest, unhinged part of the band – which may be true when you're talking about The Who or Led Zeppelin. But in the world of prog rock, that stereotype gets ripped to shreds. The prog world is full of drummers who are versatile, inquisitive musicians, and sometimes the band's resident deep thinker – and in at least one case here – they were also the band's lyricist. Nearly every drummer here did a lot of exploring, many ventured into jazz or classical music and became better prog drummers as a result. Along with a few overlooked masters on this list, some of these drummers are some of the most admired musicians in prog rock or anywhere else.
25: Steve Smith (Journey)
Yes, Journey's prog days were largely over when Steve Smith joined in 1978, but not completely if Smith had anything to say about it. During his two Journey stints (he returned in the mid-2010s) it was a kick to hear a great jazz drummer playing arena rock and keeping the frontline from getting too set in its ways. Smith proved equally impressive doing fusion with his longtime band Vital Information, and pure prog in his one-album stint with Focus.
24: Ron Howden (Nektar)
If his band Nektar was better-known, Ron Howden would be recognized as one of the great prog drummers. He can do the kind of heavy pulse that Pink Floyd's Nick Mason specializes in, but is also good at surprise fills and quick bursts of energy. Listen to the storm he conjures up in the "Confusion" jam that closes part one of Remember the Future. Now in his mid-70s, Howden was still at full strength when Nektar did a rare US tour in early 2020.
23: Tony Fernandez (Strawbs, Rick Wakeman)
To put it bluntly, Rick Wakeman's solo bands tended to feature players who were in no danger of upstaging him. Flashy drummer Tony Fernandez was one of the few who made his presence felt, especially when he was the only other player. On "Montezuma's Revenge" (from the White Rock soundtrack) he adds some wild touches to an already wild piece. He's currently in Wakeman's former band Strawbs, whose recent Settlement album marks them as one of the few classic-era prog bands still doing A-level work.
Montezuma's Revenge (From "White Rock" Soundtrack)
22: Nick D'Virgilio (Spock's Beard, Big Big Train)
Nick D'Virgilio is a second-generation prog drummer who can channel all the first-generation masters, harking back to Phil Collins and Neil Peart while adding some muscular energy of his own. He even did a Collins move by taking over as Spock's Beard's frontman after Neal Morse left. No surprise that he was also one of the prog drummers who got tapped to take Collins' seat on Genesis' Calling All Stations. He's currently in Big Big Train, whose 2019 single "Alive" was an exhilarating performance.
21: Kevin Ellman (Utopia)
The other prog drummers who played with Todd Rundgren and Utopia were no slouches, but Kevin Ellman was something else. Neil Peart claimed him as an influence, and if you listen to the busy yet in-the-pocket drumming on Utopia's debut, you can hear why. And he's got the most diverse resume of them all, having recorded with Bette Midler and Barry Manilow during his relatively brief stint as a session and touring drummer. He's now a quite successful financial planner.
20: Clive Bunker (Jethro Tull)
Jethro Tull never had a bad drummer, but its founding member Clive Bunker stands out for his sense of swing and imaginative use of incidental percussion when the band was still out to play mainly jazz and blues. Listen to the Aqualung track "Up to Me," and be impressed by the array of sounds he adds to an acoustic number.
19: Pierre van der Linden (Focus)
It wasn't just the yodeling or the heavy riff that made Focus' "Hocus Pocus" a classic – it was the eight (count 'em) short drum solos, every one electric and different. And that's not even Pierre van der Linden's best moment– that would be "Anonymous II," where his propulsive ride-cymbal work keeps the track zooming along for a full 26 minutes.
Focus - Hocus Pocus (Live Video)
18: Pierre Moerlen (Gong)
During its "Pothead Pixie" days, Gong could shift on a dime from Daevid Allen's flights of lyrical whimsy to free-flowing fusion, so they needed a drummer with a firm hand on the steering wheel. But Pierre Moerlen really blossomed during Gong's second main incarnation when he ditched the vocals, added more percussion, and gave prog its first real exposure to the Indonesian gamelan.
17: Jon Hiseman (Colosseum, Tempest)
Like many of his contemporaries (Ginger Baker, Bill Bruford), Jon Hiseman was a jazzman who crossed into the rock world. In another time, he would have been at home driving a big band. His work with Colosseum, one of the UK's first and greatest fusion bands, is the most celebrated, but prog enthusiasts need to check out the two albums by Tempest, with a young Allan Holdsworth on guitar. He also joined the rock and jazz influences to blues on one of John Mayall's most ambitious pieces, the side-long "Bare Wires" suite.
16: Chester Thompson (Genesis, Zappa, Weather Report)
When Genesis snatched Chester Thompson out of Weather Report, they didn't get a drummer who steered them toward jazz, rather they got one who could play Phil Collins' existing drum parts that much more forcefully. Thompson's always been especially good at locking in with a rhythm partner, whether it's his live drum duets with Collins, his interplay with bassist Alphonso Johnson in Weather Report, or his drum/mallet teaming with Ruth Underwood in Frank Zappa's band.
Montana (Live / 12-9-73 / Show 1)
15: Nisse Bielfeld (Par Lindh Project)
Of all the drummers in millennial prog, the Par Lindh's Project's drummer (who's sadly been quiet in more recent years) seems the most informed by thrash metal. With his thundering double-bass drum attacks, he could pass a Metallica audition handily. It's a kick to hear that style in a prog context. On the Par Lindh Project's title track from "Veni Vidi Vici," his full-throttle intro leads to an unleashed Hammond organ, and the energy boils for over eight minutes. It sounds like vintage ELP with two Carl Palmers.
14: Dave Mattacks (Fairport Convention, Jethro Tull)
Dave Mattacks is not a strictly prog drummer (or else he'd be listed much higher) but he's a great and versatile player who's done prog along with many other styles. Though best-known for his long service in Fairport Convention, Mattacks has been the ultimate songwriter's drummer, able to work with the world's best and figure out exactly what every song calls for. In terms of prog credentials, he's got a year with Jethro Tull, played on a few Camel tracks and sessions with Gary Brooker and Phil Manzanera and more surprisingly he played on Bill Nelson's Red Noise's groundbreaking bit of prog-punk futurism, Sound-on-Sound.
13: Andy Edwards (IQ, Frost, etc)
Unlike many modern-day prog drummers, Andy Edwards is as much of a classic rock drummer as he is a fusion guy. During his late 90s stint with Robert Plant, he could shift from heavy-duty John Bonham parts to more fluid instrumental workouts. His ability to work both sides of the fence has distinguished Edwards' work ever since. See Frost's big epic, "Milliontown," which weaves together dramatic heavy sections and free-flowing fusion stretches.
12: Chris Cutler (Henry Cow, Pere Ubu)
Like everybody who played in Henry Cow, Chris Cutler was out to expand his instrument's vocabulary; which meant exploring the melodic, trancelike, and noisy possibilities of percussion. He seldom played a straight backbeat, though he certainly could. During his mid-80s stint with Pere Ubu, he tag-teamed with founding drummer Scott Krauss on some of the most muscular rock that "avant-garage" band ever made.
11: Terry Bozzio (Zappa, UK)
Frank Zappa's drummers all have an arguable place here, considering the amazing dexterity it took to play Frank's music. Terry Bozzio has the clearest prog connection, taking over in UK from the seemingly irreplaceable Bill Bruford. (He reportedly turned down an offer to join Jethro Tull afterward, preferring to get Missing Persons off the ground). Though he was a relative short-timer, he's the only drummer Zappa ever honored with a completely solo piece: "Hands With a Hammer," on You Can't Do That Onstage Anymore #3.
10: B.J.Wilson (Procol Harum)
When it came to pure imagination, B.J.Wilson was the man. You simply never knew what he was going to do next. His drum entrance on "A Salty Dog" was simply majestic and if you've seen video of Procol Harum in its prime, there's one good example of Wilson's dexterity. The cowbell part that goes all through "Whiskey Train" was no overdub; he played it in real-time along with the rest of the complex drum part.
Procol Harum - Whiskey Train
9: Gavin Harrison, Pat Mastelotto, Jeremy Stacey (King Crimson)
No prog band has ever had a line-up like modern-day King Crimson, in which this triumvirate sits upfront and plays the role of a single drummer with very busy hands. It's not just the drum energy that makes this line-up a wonder to see, it's the perfect synchrony in their percussive tradeoffs. They're so much of one mind that we included them here together. Honorable mention also goes to the late and great Bill Rieflin, who was part of the frontline before moving to keyboards, then succumbing to illness.
8: Jaki Liebezeit (Can)
You won't get any flashy polyrhythms from Can's drummer, yet Jaki Liebezeit's invention of the grinding, machine-like approach to rhythm makes him one of the most influential prog drummers on this list; and a favorite of post-punk innovators like Brian Eno and Jah Wobble in the early 80s. The eye-opening nature of Can's early albums derived in part from trying to play funk and getting it gloriously wrong. But it's worth noting that they mastered straight-ahead funk on their overlooked later albums (Flow Motion, Saw Delight), still with Liebezeit driving.
7: Alan White (Yes)
Yes fans tend to think of Bill Bruford as the finesse drummer and Alan White as the muscular one, but that's a bit of a reduction since they both had imagination to spare. White proved a perfect fit for the headier direction that Yes were going when he joined, and he was audibly having the time of his life with the big arena direction of 90125. White gets extra pre-prog points for his iconic drum part on John Lennon's "Instant Karma," earthshaking cymbal crashes and all.
Instant Karma! (We All Shine On) (Remastered 2010)
6: Marco Minnemann (solo, sessions)
Modern-day prog has upped the limits on pure virtuosity, and no drummer embodies that better than Marco Minnemann, a technical wizard whose live solos can top a half-hour. Give him a double-kick drum and a hi-hat and he can already play circles around most drummers. But he wouldn't be on this list if he didn't have imagination, or the ability to tap into a well-written melodic piece. See the way he builds intensity on Steven Wilson's epic "The Watchmaker."
5: Phil Collins (Genesis, solo)
Forget his other career for a minute, and appreciate Phil Collins for the dazzling drummer he is. First, with the jazz-influenced drumming he brought to early Genesis and Brand X and then came the momentous sessions for Peter Gabriel's third album where he junked his cymbals, cranked some reverb, and invented the 80s drum sound. He also deserves additional props for his last album, Going Back, where he mastered the styles of the great Motown drummers – and did it while his hands were ailing and had to be duct-taped to the sticks.
Genesis - The Return of the Giant Hogweed (Official Audio)
4: Carl Palmer (Emerson, Lake & Palmer)
For superhuman speed and flash, Carl Palmer is hard to beat – whether he's pumping hard behind Emerson Lake & Palmer, or putting the same flourishes into a pop context in Asia. Quick, try to name a classic-rock hit besides "Heat of the Moment" that features marimba. He was a 19-year-old firebrand when he joined ELP, and a 70-year-old firebrand now with his powers impressively intact. He's also living proof that removing your shirt during a double-bass roll may not improve a solo, but it sure doesn't hurt.
3: Mike Portnoy (Dream Theater, Transatlantic)
The ultimate prog-metal drummer, Mike Portnoy is a whizkid who puts prog complexity into his metal and metal ferocity into his prog. He's also great at keying into the drama of a song, as evinced on the flourishes he adds to the big finale of Dream Theater's "Finally Free." His energy is boundless, just check the head of steam he maintains through Transatlantic's crowning epic "The Whirlwind" – all 75 minutes of it.
2: Neil Peart (Rush)
We're not just getting sentimental here, even though Neil Peart's death in early 2020 still hurts. The man was a brilliantly inventive drummer who transformed the band he was in, joining Rush when they were still a workmanlike hard-rock outfit. Peart's various solos weren't just models of dexterity; they also had great riffs and even tunes. He also kept rhythm in mind while carefully choosing the words he'd use as Rush's lyricist. As a fan of big-band jazz (he produced two Buddy Rich tribute albums), Peart knew it didn't mean a thing if you couldn't make it swing.
1: Bill Bruford (Yes, King Crimson, Earthworks)
Bill Bruford is simply one of the most distinctive drummers that rock ever produced. There's always something in a Bruford performance – whether it's a hard snare hit, a glide across the cymbals, or his impeccable sense of timing – that immediately lets you know it's him.
As a Yes member, he sounded completely at home with the trickiest moments: like the midsection of "Perpetual Change" where the band plays two-time signatures at once. As a jazzman with Earthworks, he found musical possibilities in electronic drums; when he could finally drive the band while playing melodies. And with King Crimson and beyond, he proudly embraced the band's credo of never playing anything you've played before.
Looking for more? Discover the best prog guitarists of all time.