Rick Wakeman
Rick Wakeman is a progressive rock keyboardist and songwriter who's known for his solo career along with his work in the band Yes.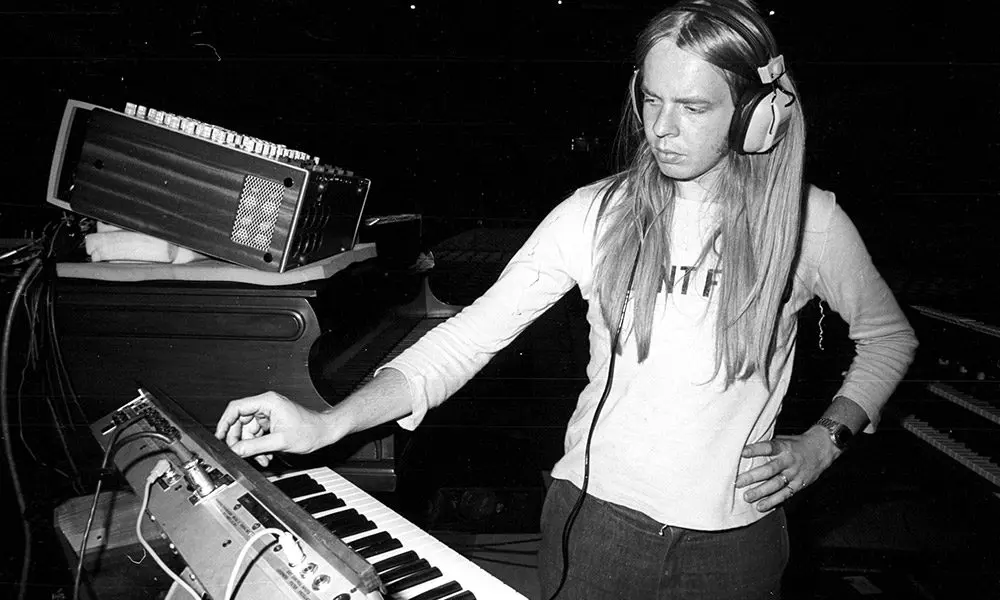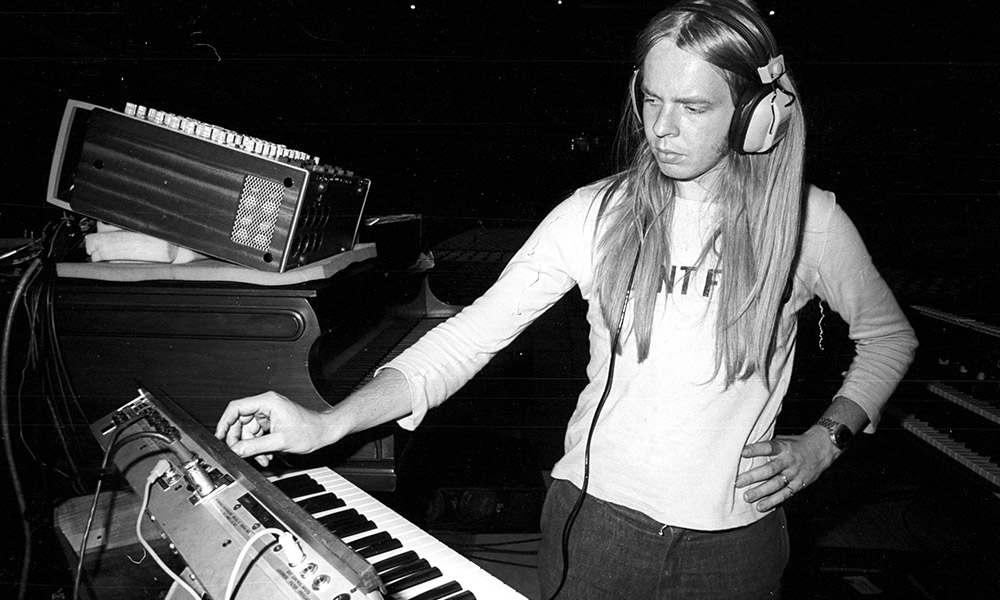 From just a cursory glance at online reviews and comments from prog-rock fans, it soon becomes obvious that Rick Wakeman is still a god in that world. In terms of flamboyant keyboard playing only Liberace, Elton John and perhaps Keith Emerson are in the same league, possibly, only just! Wakeman's range of styles and his technical virtuosity have few equals and there is way more to his music than flash and bombast. In a career spanning four decades, he has variously played the role of anonymous session man, folk-rock keyboard man, prog-rock superstar and respected classical composer. Not to mention THE grumpy old man that is loved and admired by millions of other grumpy old men.
Rick was born on 18 May 1949 in Perivale, Middlesex and grew up in West London. He showed an early propensity for the keyboards at school and passed the Grade One piano exam when he was 10. Two years later he started his own band at school. Church organ lessons followed and all the while he was winning countless prizes at festivals and in competitions. He joined a local blues band – The Atlantic Blues – whose first residency was at the Neasden Mental Rehabilitation Club. Good training perhaps for a career in rock music! In 1965 he left The Atlantic Blues and joined The Concords who played more sedate gigs at weddings, birthdays and in pubs. A year later he formed his own rock band – Curdled Milk, named, we're told, after Clapton's Cream – and he did his first Radio One session with the James Royal Set, which also occasionally featured John Entwhistle. In 1967 at age 16 he passed the entrance exam to the Royal College of Music, became a Sunday School teacher (!) and changed bands constantly.
His period at the Royal College of Music where he studied piano, modern music, clarinet and orchestration wasn't altogether to his liking and it wasn't long before he started doing studio session work for producers like Gus Dudgeon and Tony Visconti. He left college in 1969 and eventually joined a pub band called The Spinning Wheel who had a residency at the Greyhound in Chadwell Heath, owned by Bob Wheatley of Wheatley Taverns. His most notable sessions around this time were for David Bowie on 'Space Oddity' and The Strawbs whom he joined a year later. He first played on their third and fourth albums, Just A Collection Of Antiques And Curios and From The Witchwood, and soon came to the attention of the press who earmarked him for future stardom. Session work also increased to the point where he was constantly in demand. It is estimated that he has performed on over 2,000 different tracks by artists as diverse as Black Sabbath, Cat Stevens ('Morning Has Broken' being the most remembered), Mary Hopkins, Cilla Black, Clive Dunn, Elton John, Edison Lighthouse, David Bowie, Lou Reed, Dana, Des O'Connor, Magna Carta, Al Stewart, Ralph McTell, Butterscotch, Biddu and Harry Nilsson. In 1971 he left The Strawbs to join Yes, replacing Tony Kaye, with whom he toured the States for the first time and made the prog-rock classic, Fragile.
In an eventful year, he also signed a solo contract with A&M and commenced recording of the album that would launch Rick Wakeman as a major solo artist, The Six Wives of Henry VIII. The original idea for this masterwork came to Wakeman on one of the many US flights he took whilst on tour with Yes; he was reading a book on Henry VIII and the chapter on Anne Boleyn brought to mind a piece of music that he'd previously written but, for lack of context, hadn't yet used. From there the concept of interpreting the personalities of Henry's six wives through music took shape. Recording commenced in February 1972 at a number of different locations, including St Giles-without-Cripplegate, with musicians from Yes and The Strawbs, and actor David Hemmings, providing narration and with Wakeman playing a variety of keyboards – Minimoog, mellotron, harpsichord, etc. Apparently, confusion among the participants was common as Wakeman had nothing written down – he knew exactly what he wanted to do but it was all in his head. Eight months later he had a finished record and it was launched in January 1973 when Wakeman performed excerpts from it on The Old Grey Whistle Test and his music became known in millions of households across the UK. The album, sporting a cover shot of the six wives taken at Madame Tussauds with, bizarrely, Richard Nixon lurking in the background, reached No. 7 in the UK chart and by the middle of the year had sold around 300,000 copies.
Sales have accumulated at a phenomenal rate ever since, the last estimate, on the 40th anniversary of its release, being well over 15 million copies worldwide. And this despite some fairly negative press reaction (Time magazine and Rolling Stone aside) that understandably upset him greatly at the time. Plus the fact that A&M initially unenthusiastically declared the record "unsellable" and only pressed enough copies to allow them to recoup the recording advance, it's a wonder it didn't sink without trace. Far from it though. As recently as 2009, and to celebrate the 500th anniversary of Henry VIII's ascension to the throne, Wakeman performed the album live for the first time at Hampton Court Palace after a 36-year wait as he'd originally wanted to perform the album there back in 1973 but was flatly refused permission at the time.
Also included in the live performance was a track, 'Defender of the Faith' that he'd written and recorded about Henry that was originally supposed to be on the original record but with space restricted in the days of vinyl, it was discarded. With Wakeman's band, The English Rock Ensemble, the English Chamber Choir and the Orchestra Europa, the original suite of songs, with minor variations, was performed and filmed in May 2009 and released as an album and DVD – The Six Wives of Henry VIII Live At Hampton Court Palace in October.
Further major album success after The Six Wives came fast and furious. Yes' follow-up to Fragile, Close To The Edge, was a No. 4 chart album in September 1972 and the following year Yes songs topped the album chart as did Tales From Topographic Oceans in December 1973. And then in May 1974, Wakeman released his second solo album, Journey To The Centre Of The Earth – a No. 1 UK album and a chart entry in virtually every country in the world. Solo success was obviously hard to ignore and with growing disenchantment, with the music of Yes he left to take Journey on a lavish, profit-eating world tour. The following year, after a concert at the Crystal Palace Bowl, he paid the price of such a punishing tour schedule with a minor heart attack that hospitalised him but didn't apparently affect his creativity. While laid up he wrote the third album of his 'historical legend' trilogy, The Myths and Legends of King Arthur and the Knights of the Round Table, which is suitably over-the-top fashion was subsequently performed as an ice show for three nights at the Empire Pool, Wembley. In 1975 he also ventured into films, writing the score for and even appearing in Ken Russell's Lisztomania.
And from that day to this Rick Wakeman's career has continued to take unexpected twists and turns, the only constant perhaps being his innumerable stints with Yes (even his most devoted fans must have given up counting how many times he's joined and then left them by now). He has survived heart attacks, media apathy, a car crash, four marriages, financial uncertainty and punk-rock. He has continued to make a steady stream of solo albums (can it really be over 100 now with combined sales of over 50 million copies?), endless film soundtracks, branched out into new-age/ambient music, dabbled in the circus and forged a prominent, mostly non-musical career in television. He also somehow finds time to moonlight as a DJ on the radio. Last year he reaped some reward for his short time at the Royal College of Music when they awarded him a Fellowship.
But it will be for his immense contribution to the often-maligned but perennially popular genre of prog-rock with all its earnestness and classical pretensions that we have most to be thankful to Rick Wakeman for. The sight of him with his long, flowing blonde hair and silver capes navigating a mountain of keyboards piled up around him with a true showman's flourish is one of rock's most enduring images.
Format:
UK English