Best Rick Wakeman Songs: 20 Classics From The Keyboard Genius
Rick Wakeman has lent his expertise to a variety of recordings – by his own estimation, more than 2,000. We dig into the best.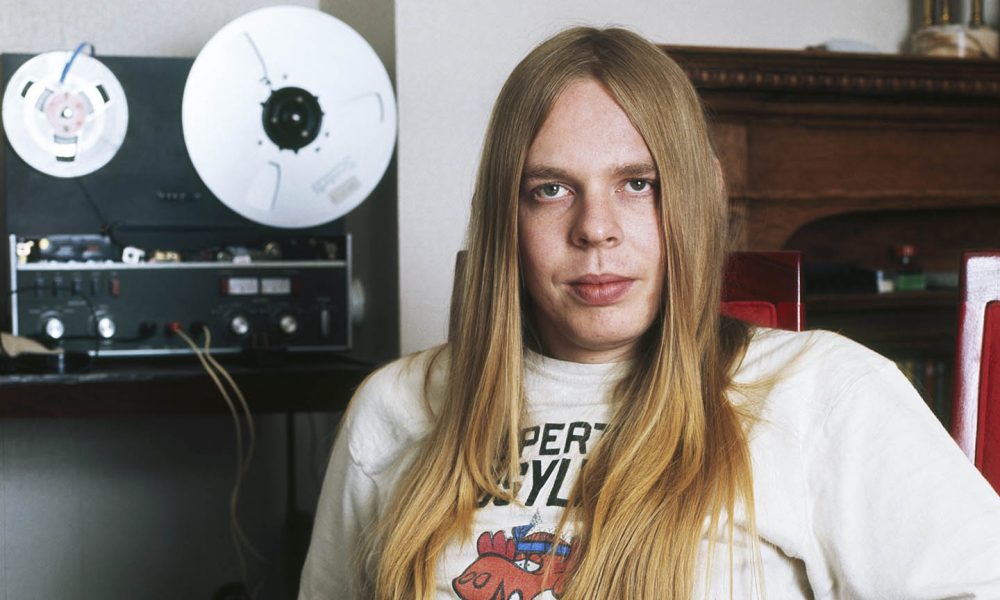 His name is synonymous with excess: keyboards stacked higher than Stonehenge; capes that resemble the outer shell of an interplanetary spacecraft; and, of course, concept albums. On ice. However, nothing slots into a pigeonhole without a struggle. Humorous, personable, and earthily unpretentious, keyboardist Rick Wakeman, born on May 18, 1949, has lent his expertise to a variety of recordings – by his own estimation, contributing session performances to more than 2,000 songs. Having amassed an astonishing, almost overwhelming body of work, we'll give you a starter course with this guide to the best Rick Wakeman songs.
Listen to the best of Rick Wakeman on Spotify, and scroll down to read about the best Rick Wakeman songs.
One early session with significant ramifications was for the band Junior's Eyes, whose 1969 Battersea Power Station album was produced by Tony Visconti. The producer subsequently asked Wakeman and guitarist Mick Wayne to play on the recording of a single by another of his clients – a certain David Bowie. The single in question was the epochal "Space Oddity": Wakeman's questing Mellotron part earned him a laughable-in-retrospect session fee of £9, but, more importantly, led to an enduring friendship and on-off professional relationship with Bowie.
Wakeman's admiration for the determinedly idiosyncratic singer-songwriter was limitless, not least after Bowie played the keyboardist for the songs he had written for 1971's Hunky Dory album, one after the other, on his Hagstrom 12-string acoustic guitar. In Wakeman's recollection, Bowie asked him to interpret these for piano; however, in a comment posted on the BowieNet website, Bowie mentioned that this "lovely fella" was slightly misremembering the occasion, and that several of the album's songs – notably, "Changes" and "Life On Mars?" – were actually written on piano in the first instance.
Rick Wakeman - Space Oddity
The latter in particular is a gift: not just a career-high for both Bowie and Wakeman, but a candidate for the finest song ever written, by anyone. Wakeman is at his rippling, rhapsodic, touch-sensitive best, leaning into the song's vertiginous chord progression on Trident Studio's Bechstein grand – the same piano used by Paul McCartney on The Beatles' epochal "Hey Jude."
If "Life On Mars?" represents the jewel in Wakeman's session crown, his playing also featured, incongruously, on any number of light-pop diversions of the period by the likes of The Brotherhood Of Man, Tony Christie, White Plains, and Edison Lighthouse. Rather more distinguished were sessions for Lou Reed, The Kinks, Elton John, and T.Rex. For the latter's "Get It On," Wakeman was asked to execute a mere piano glissando – but, to his credit, Marc Bolan is said to have called Wakeman in so as to provide the still cash-strapped musician with a much-appreciated session fee. Mention should also be made of Cat Stevens' "Morning Has Broken" (from 1971's Teaser And The Firecat). As florid piano accompaniments to enormous hit singles go, this has to be one of the most famous – and Wakeman rightly remains proud of his performance.
Rick Wakeman - Morning Has Broken
Much of the keyboardist's session work came about as the result of the boost in profile provided by his "day job" with revered English folk-rockers The Strawbs. Having joined the band in 1970, Wakeman made a resounding mark with the piano showcase "Temperament Of Mind," as featured on the live Just A Collection Of Antiques And Curios album. Elegant and technically precise, the piece moves seamlessly through various moods and modes – ragtime, baroque, blues – and tempers its virtuosic tendencies with wryly comedic "chase music" digressions.
The following year's From The Witchwood contained "A Glimpse Of Heaven," Wakeman's favorite Strawbs track, with its exultant starburst of phased, Leslie-speakered Hammond organ. However, the summer of 1971 saw Wakeman jumping ship to join Yes, thereby sealing his reputation and benefiting from a wage rise, from £18 per week with The Strawbs, to £50.
Wakeman wasted no time in earning his keep. The fourth Yes album, November 1971's Fragile, contains one of the best Rick Wakeman songs of the era, the imperious "Heart Of The Sunrise," on which the keyboardist interweaves a complex network of lines and textures on Hammond organ, Mellotron, piano, and Minimoog – the latter bought for half its purchase price from Oliver! co-star Jack Wild, who mistook its monophonic mode of operation for a fault in the device itself.
Yes - Heart Of The Sunrise (Symphonic Live 2003)
Pushing their abilities to the point of collapse, Yes followed Fragile with 1972's Close To The Edge, a pinnacle in prog's controversial canon. The side-long title track in particular is wilfully, recklessly ambitious. For its midsection, Wakeman recorded a passage on the church organ at St Giles' Cripplegate (also used for "Jane Seymour" from his first solo album proper, The Six Wives Of Henry VIII) – but it's his percolating Hammond obbligato that still dislocates jaws, four decades later.
In a scenario that Wakeman has mordantly likened to the Richard Burton-Liz Taylor relationship, the keyboardist was destined to leave and rejoin Yes several times over the ensuing years. Ironically, one of his most thrilling and accomplished performances for the band came at the height of punk, in 1977, with "Awaken" from the Going For The One album. The dauntless arrogance of its virtuosity remains one of the best Rick Wakeman songs and practically qualifies as a punk gesture in itself.
Yes - Awaken (Symphonic Live 2003)
Four years earlier, in 1973, Wakeman's playing was in unprecedented demand. In addition to savoring globe-spanning success with Yes, he bagged another high-profile session scalp with his bravura turn on Black Sabbath's "Sabbra Cadabra" (from Sabbath Bloody Sabbath), its regal synth motif contrastingly offset with a funky pub-piano line. According to reliable legend, Wakeman refused financial recompense for the session, opting instead for beer.
The same year also saw the launch of Wakeman's pathologically fecund solo career (more than 100 albums under his name have been released to date) with The Six Wives Of Henry VIII, the first of three grandiloquent, spendthrift, long-form concept works which together constitute his commercial peak. From Six Wives, "Catherine Parr" remains one of the best Rick Wakeman songs: a Hammond, piano, and Moog masterclass, the speed and dexterity of which defies rational belief. Wakeman allows himself no hiding place; consider the stamina and concentration required for those twinkling arpeggios alone.
The following year's Journey To The Centre Of The Earth, recorded live at London's Royal Festival Hall, gave Wakeman his only No.1 album – and a heart attack into the bargain when he collapsed after a performance of the piece at the Crystal Palace Bowl. With characteristic nonchalance, Wakeman spent his hospital-bound weeks of convalescence composing "The Last Battle" for his next concept undertaking (with covert autobiographical resonances), 1975's The Myths And Legends Of King Arthur And The Knights Of The Round Table: yes, the very album that ended up being staged on ice when Wakeman cannily decided to exploit the rink already in situ at Wembley Arena. One of Arthur's showpieces, "Sir Lancelot And The Black Night," acquired a fascinating afterlife when it was sampled by J Dilla on "Sum Epic Shit" (Wakeman's material has in fact provided a regular source of samples over the years, for artists including De La Soul and LL Cool J).
It's an act of folly to suppose that one can précis a back catalogue that runs into three figures in just a few words. It's perhaps easier to suggest that Wakeman has dutifully catered for every corner of his fanbase in the intervening years since his commercial zenith. "Statue Of Justice," from 1977's Top 30 album Criminal Record, remains one of the best Rick Wakeman songs: a firestorm of intense, dramatic convolutions, while "The Pulse," from 1979's Rhapsodies, is a chilly nod to the prevalent synth-pop of the day. Those who favor Wakeman's playing in discreet and understated neo-classical mode are directed towards "The Peregrine Falcon," from 1993's Heritage Suite, or "The Swans," from 1994's Romance Of The Victorian Age, which Wakeman recorded with his similarly virtuosic son Adam. There again, those with a hankering for pop-oriented space-rock should seek out "The Mission," from 2003's Out There, which reunites Wakeman both with his Mellotron and his stalwart 70s accompanists, The English Rock Ensemble.
Most rewardingly, 2010's The Living Tree, recorded with his erstwhile colleague, Yes vocalist Jon Anderson, is low-key, affecting, and affectionate. The likes of "Morning Star" and "Garden" are late-period highlights that gently repudiate the dimming of the day with a timelessness that characterizes the best Rick Wakeman songs.