10 Of The Best West Coast Rap Album Covers
Today, many of these covers are synonymous with the sound of West Coast rap, the music audible at first sight.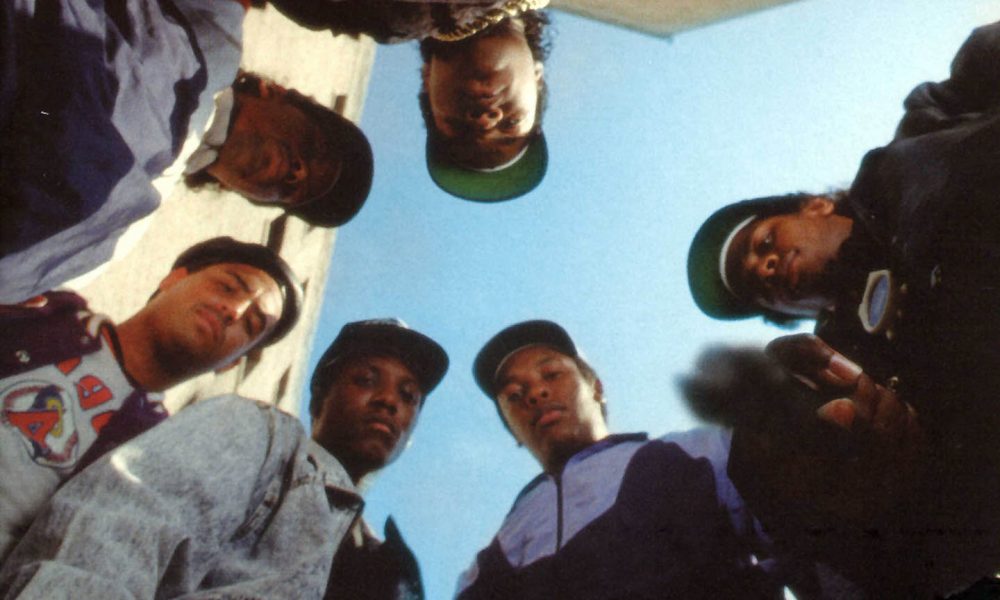 Rap is rooted in the East Coast, but the West Coast was instrumental in elevating the visual presentation of the art form. Rappers from Los Angeles cultivated singular styles that became indivisible from the music. You can point to N.W.A.'s all-black aesthetic, the bouncing and gleaming candy-painted Chevrolet Impalas that jumped to g-funk, or the enduring L.A. uniform of khaki's, Converse, and a fresh white t-shirt. That style carried over to their album covers. The best reflected their creators' musical, personal, and cultural influences. Today, many of those are synonymous with the sound of West Coast rap, the music audible at first sight.
Here are the stories behind ten of the greatest West Coast rap album covers, listed chronologically by release date.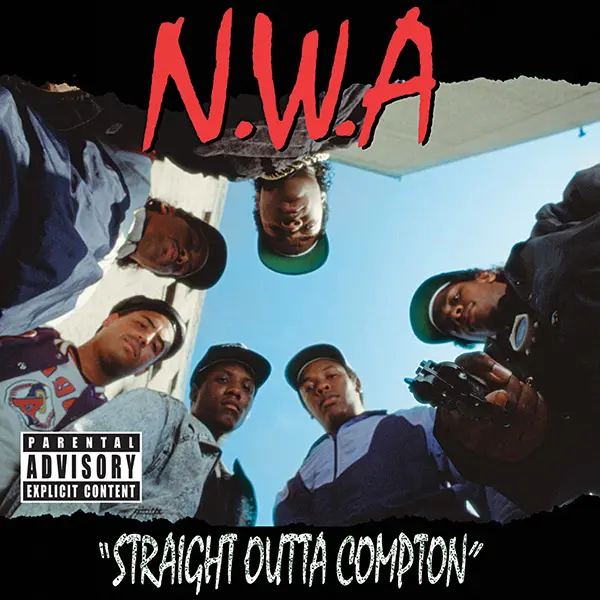 N.W.A. – Straight Outta Compton
(1988, photography by Eric Poppleton, art direction by Kevin Hosmann)
N.W.A. didn't create gangsta rap, but they codified the subgenre's invincible, irreverent, and militant gangsta mythos on 1988's Straight Outta Compton. Dr. Dre and DJ Yella crafted a barrage of banging yet funky beats that hit harder than LAPD battering rams. Backed by that production, Ice Cube and MC Ren captured the anger Black men in Compton and elsewhere felt from enduring police brutality in poor, gang-ridden neighborhoods that were already veritable war zones. Meanwhile, Eazy-E played the swaggering, malt liquor-swilling dopeman. The Straight Outta Compton cover photo of the group, taken from the perspective of a potential murder victim, mirrored the album's every sound, sentiment, and gunshot.
Fresh from California Institute of the Arts, photographer Eric Poppleton got the N.W.A. gig via friend and art director Kevin Hosmann. Lacking funds for locations or lighting, Poppleton and Hosmann improvised for the cover shoot. "There was no artificial lighting or anything, I just lay on the ground and they pointed what hopefully was an unloaded gun down at the camera," Poppleton told NME of the Straight Outta Compton cover photo. "I couldn't say for sure whether it was ready to fire, but it was definitely a real gun."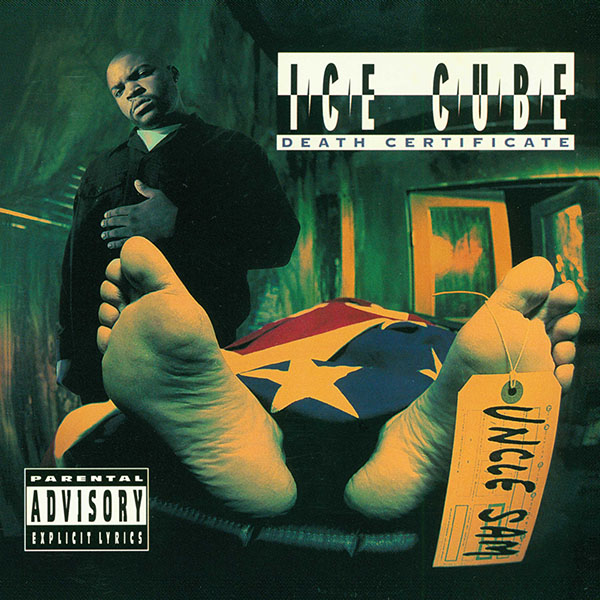 Ice Cube – Death Certificate
(1991, photography by Mario Castellanos, art direction by Kevin Hosmann)
When Ice Cube arrived with N.W.A., he held nothing sacred and had no idols. That mentality became even more apparent in his solo work. Everyone was a target for his ire and interrogation on his sophomore album, Death Certificate. Police, politicians, the president, white people, women – the list goes on. The album was as personal as it was sociopolitical, conscious yet full of contradictions that the press picked apart. On the cover, Ice Cube stands inside a morgue, pledging allegiance to the U.S. flag while Uncle Sam lies dead beneath it. The image displayed Cube's unrelenting indictment of the U.S. and his belief that Black men could rise above the country's past atrocities and present injustices.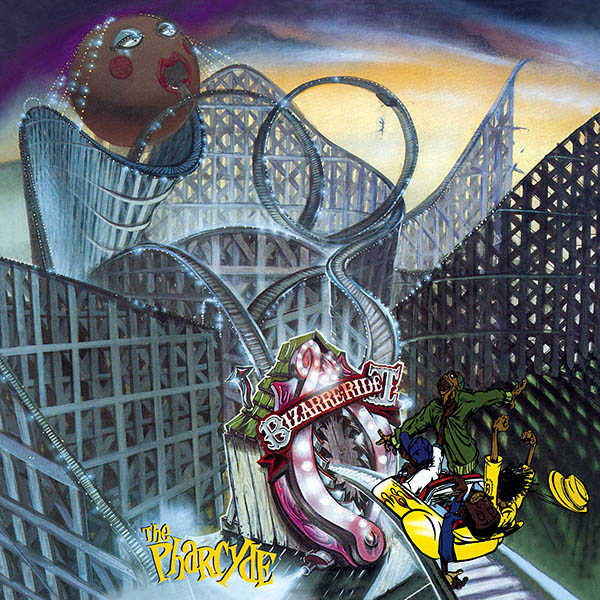 The Pharcyde – Bizarre Ride II the Pharcyde
(1992, artwork by Slick)
The Pharcyde were the antithesis of the posturing, ostensibly invincible gangster macks who dominated L.A. rap in the 90s. Instead, the group of dancers turned rappers offered self-deprecating comedy, stoner hijinx, emotional vulnerability, and youthful lust, couching everything in jazzy yet bumping beats. The cover for the group's Delicious Vinyl debut, Bizarre Ride II the Pharcyde, is as colorful and libidinous as songs like "On the DL" and "Otha Fish."
Designed by graffiti artist, fine arts graduate, and eventual street clothing designer Slick (Richard Wyrgatsch II), the Fat Albert-esque cartoon on the Bizarre Ride cover depicts the group riding in a cart on a winding and dilapidated rollercoaster straight into the mouth of a woman. The rollercoaster was partly inspired by the Colossus coaster Magic Mountain in Valencia, CA, and the woman was modeled on adult film star Ebony Ayes. Talking to KCET about the sexual cover art, Slick said, "…[W]e already established how we were going to crop it in, and how it'd be real a real subtle thing. I like the fact that it was a slow read. It wasn't too blatant, you know."
Dr. Dre – The Chronic
(1992, art direction/design by Kimberly Holt, photography by Daniel Jordon)
Dr. Dre made a hard pivot after leaving N.W.A. The producer/rapper who claimed he didn't "smoke weed or sess" on "Express Yourself" became an avowed smoker when he recorded his aptly named solo debut, 1992's The Chronic, for the then newly formed Death Row Records. A diss record that eviscerated Eazy-E, a sociopolitical treatise on all the injustices that inspired the 1992 L.A. riots – the album was all that and more while turning g-funk into a cinematic sonic experience meant to soundtrack cruising, gang activity, and smoke sessions. The cover of The Chronic points to the latter. Inspired by the logo for Zig-Zag, the French-originated rolling papers, Dre's mean-mugging photo supplants the illustration of the French soldier that appears on Zig-Zag packaging. Simple yet effective and now forever iconic, the cover was gangster yet inviting, just like g-funk.
Cypress Hill – Black Sunday
(1993, photography by Anthony Artiaga; concept and design by Dante Ariola)
Cypress Hill were cholo stoners obsessed with hydroponic strains and doom in equal measure, rap's answer to Cheech and Chong and Black Sabbath. B-Real and Sen Dog painted their section of South Gate, California, in vivid, DayGlo hues while cloaking it in darkness and clouds of blunt smoke. The group's logo – a skull vivisected by several arrows – presaged the image they'd use on their sophomore album, Black Sunday.
DJ Muggs, the producer who scored many of the group's other albums, came up with the concept for Black Sunday's eerie, Sabbath-esque artwork of a lone tree atop a hill littered with headstones while driving by a Brooklyn cemetery. "I'm driving by this cemetery every day into the city, and one day it f***ing snows and all the leaves are off all the trees," Muggs told the NY Post. "There are just icicles on all the trees. The whole thing is white with snow, and I was like, 'Yeah, I want to shoot that f***king album cover in that cemetery.'"
Snoop Dogg – Doggystyle
(1993, illustration by Joe Cool)
Dr. Dre and Snoop Dogg made no secret of their affinity for George Clinton and the music of Parliament and Funkadelic. So it was no surprise that the cartoon cover art of Snoop Dogg's 1993 debut album, Doggystyle, is partly an homage to the comic illustrations on albums like Funkadelic's One Nation Under a Groove. On the vivid and busy cover, a half-man, half-dog wearing a hat, a long flannel, and a gold chain – a prototypical L.A. outfit in the 90s – leans over the edge of a dog house to reach for the tail of a half-woman, half-dog wearing lingerie. Behind them, a dogcatcher waits to capture them. Like a g-funk answer to the chorus in a Greek tragedy, three dogs sit atop a brick wall observing the proceedings and quoting Clinton's "Atomic Dog."
Snoop Dogg's cousin, Joe Cool, illustrated the cover. Cool sent Snoop a portrait of him during a prison stint, and Snoop came to Cool with Dr. Dre's concept after he was released. "He said, 'Well Dr. Dre really wants a picture of me on top of a doghouse, reaching over, feeling on a dog's ass or something. But I want you to draw it, though. We'll run it by Dre,'" Cool told HipHopDX. Dr. Dre approved, and the rest is rap history.
2Pac – All Eyez on Me
(1996, photography by Ken Nahoum)
All Eyez on Me is arguably 2Pac's most well-known and enduring album. The reasons for this are many. You can point to the context of its creation, the size of Pac's celebrity, the strength of the music, the visual presentation, his tragic demise shortly after its release, or all of the above. The 27-track, double album is full of anger, paranoia, lust, superstar swagger, thug defiance, and glasses of thug passion. You can read it all on the cover.
Shot by Death Row's then in-house photographer Ken Nahoum, the photo captures Pac at the peak of his fame and one of the darkest of times in his life. It perfectly captures the Thug Life and Mad Max aesthetic that would inform the "California Love" video. Shirtless, Pac shows off his tattoos, flashes a Death Row medallion hanging from a gold chain, and rocks the black leather strap of a Jean Paul Gaultier vest. Throwing up the West Coast "W," he visually cues where his allegiances lie in the notorious East Coast/West Coast beef. Pac's eyes also convey the sensitivity that allowed him to make songs like "Dear Mama" from Me Against the World, the album that preceded All Eyez on Me. "Tupac was a poet," Nahoum told Andscape. "He was a person with a great vision in life." While 2Pac is no longer with us, his vision continues to inspire people from every walk of life.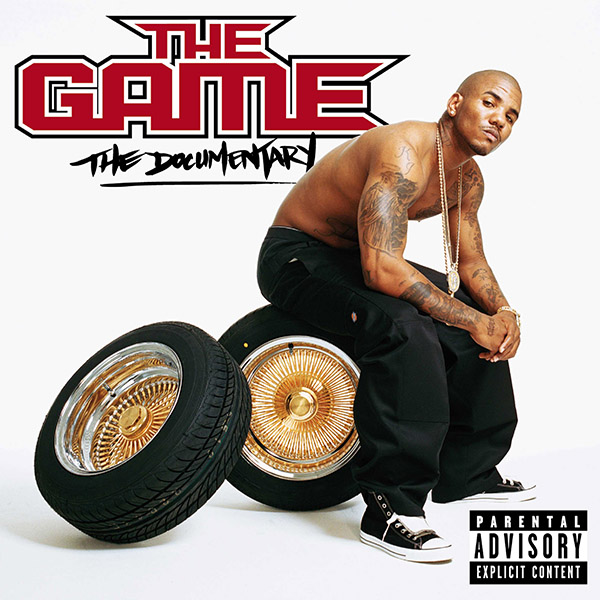 The Game – The Documentary
(2005, photography by Jonathan Mannion)
With The Documentary, The Game made a West Coast rap album that almost seemed like it was created in a lab, a combination of every sound, sight, and cultural touchstone that defined L.A. rap. He continually called back to his predecessors, and – at the same time – added personal and modern touches to the sound and tropes of the past.
The album cover was shot by renowned hip-hop photographer Jonathan Mannion, who'd taken iconic cover photos for Jay-Z, Eminem, DMX, and more. Like 2Pac before him, The Game poses shirtless. He wears black Dickies and black Converse, both staples in L.A. street fashion. To nod to West Coast car culture, he sits atop a tire with gold wire rims, the preferred rims for the lowriders that became synonymous with g-funk. "This is arguably one of the most important pictures in hip-hop," Mannion said in a conversation with The Game. He's not wrong. The Documentary cover is a minimalist encapsulation of everything that makes West Coast hip-hop.
Jurassic 5 – Quality Control
(2000, photography by Brian Cross a.k.a. B+)
While gangster rap ruled Los Angeles airwaves in the 90s, avant-garde underground rappers sparred at heated open mics and parking lot ciphers, developing inventive cadences and occasionally landing major label deals. Jurassic 5 ranks among the best of the bunch. Four rappers (Chali 2na, Soup, Akil, and Marc 7) and two producer-DJs (Cut Chemist, Nu-Mark) who hopped in a time machine and signed to Interscope, the group reinvented and updated the collaborative party-rocking routines of predecessors like the Cold Crush Brothers. Conscious, reverent, and uplifting without being corny, Jurassic 5 moved crowds while dispelling L.A. and entertainment industry myths on albums like Quality Control.
Inspired by the album cover for Jethro Tull's Songs from the Wood, Nu-Mark envisioned the cover as a "closeup of a needle on a record stump." In the end, the Quality Control cover photo showed the group sitting in the middle of a Los Angeles intersection as cars speed past while listening to a tree stump with their "J5" logo carved into it. The image encapsulated the group's "back to the roots" ethos and ability to articulate everything they saw in L.A. According to photographer B+, Nu-Mark was upset about the visibility of the record player tonearm atop the stump. "It's a complicated thing to be able to do a pretty large group photograph and pull a detail that ostensibly lives in a square inch of the photograph. It was crazy," B+ told SPIN. "Keith Tamashiro was the designer and was very much an integral part. In the end, he was the one that helped me to understand Nu-Mark."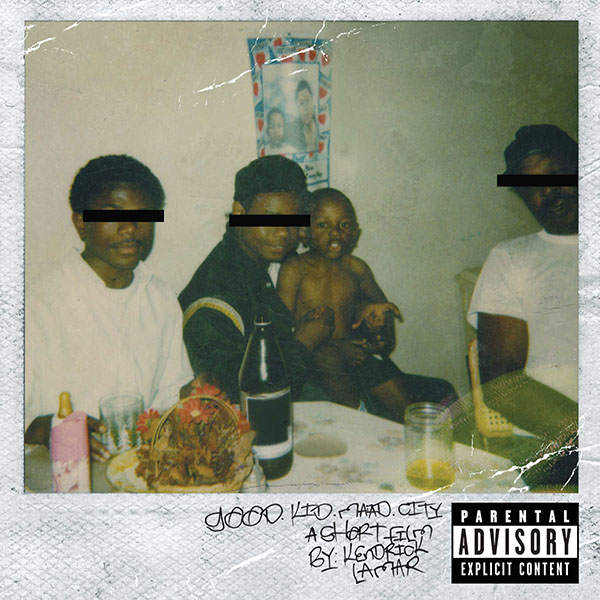 Kendrick Lamar – good kid, m.A.A.d city
(2012, art direction by Kendrick Lamar)
Kendrick Lamar's sophomore album good kid, m.A.A.d city is an intense, deeply personal bildungsroman. A high-speed ride in a bucket minivan down Rosecrans Ave., decades in Compton seen through the eyes of a sensitive, poetic, insightful, and conflicted soul. There's youthful lust, chest-beating car freestyles ("Backseat Freestyles"), anti-drinking anthems ("Swimming Pools (Drank)"), unrelenting demons from memory lane ("m.A.A.d city"), and more. Talking to FUSE, Lamar called the album a "self-portrait."
Fittingly, the album cover features him as a child, a snapshot of the world that shaped him. Lamar explained its significance best. "Two of my uncles, that's two of them, to the far right, that's my grandpa and a baby bottle next to a 40-ounce next to a gang sign, holding a kid," Lamar told FUSE. "It's not just music to me. This is a story about the youth and the people that they call delinquents in my city. You look in the background and you see a picture on the wall of me and my pops. The eyes blanked out, that's for my own personal reasons. You'll probably hear about that in the album, but that photo just says so much about my life and how I was raised in Compton and the things I've seen through innocent eyes. You don't see no one else's eyes, but you see my eyes of innocence and trying to figure out what's going on."