DMX
DMX was that rare commodity: a commercial powerhouse with artistic and street credibility to spare.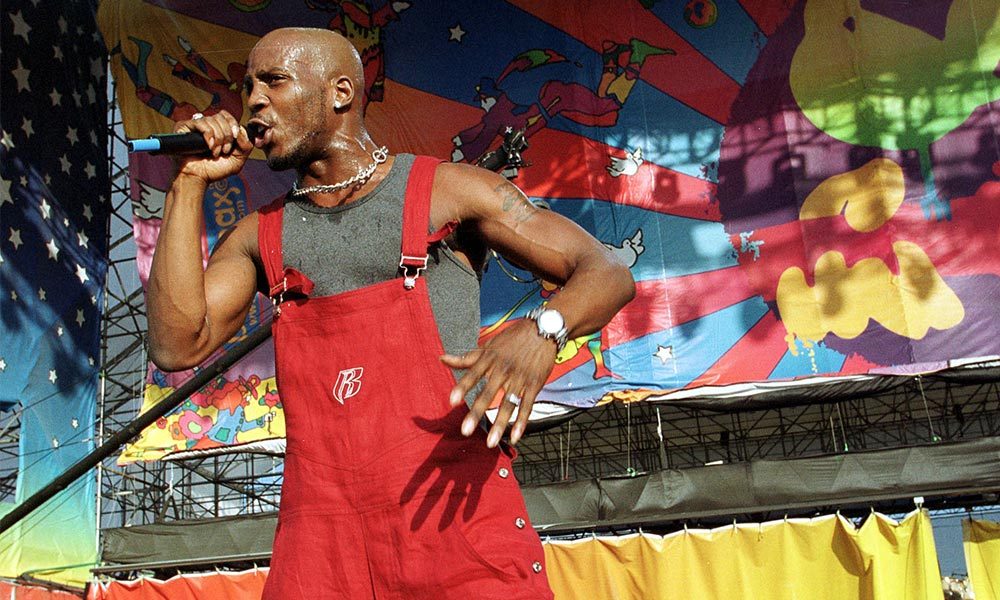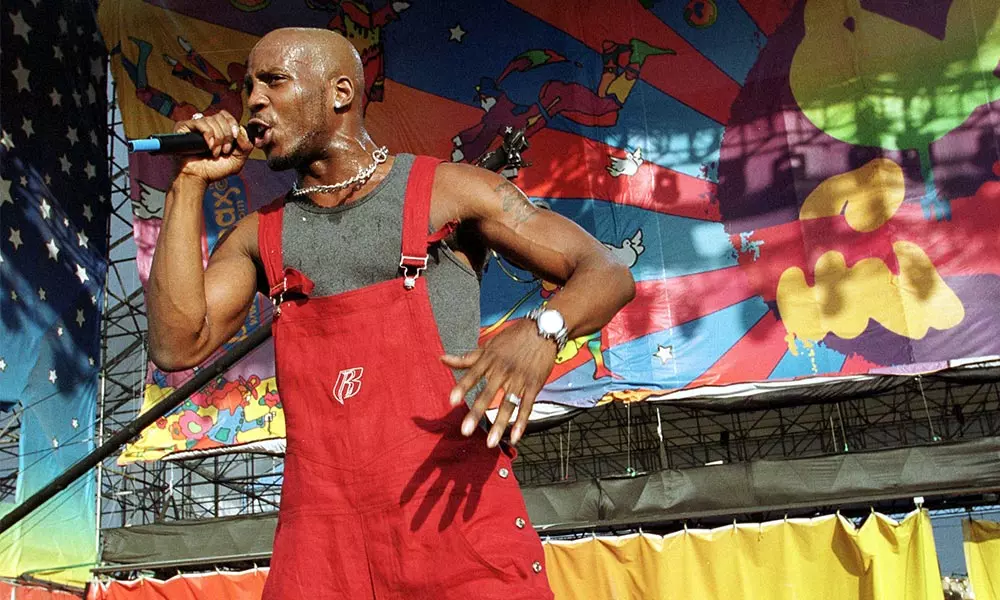 Following the deaths of Tupac Shakur and the Notorious B.I.G., DMX took over as the undisputed reigning king of hardcore rap. He was that rare commodity: a commercial powerhouse with artistic and street credibility to spare. His rapid ascent to stardom was actually almost a decade in the making, which gave him a chance to develop the theatrical image that made him one of rap's most distinctive personalities during his heyday. Everything about DMX was unremittingly intense, from his muscular, tattooed physique to his gruff, barking delivery, which made a perfect match for his trademark lyrical obsession with dogs. Plus, there was substance behind the style; much of his work was tied together by a fascination with the split between the sacred and the profane. He could move from spiritual anguish one minute to a narrative about the sins of the streets the next, yet keep it all part of the same complex character, sort of like a Hip Hop Johnny Cash. The results were compelling enough to make DMX the first artist ever to have his first four albums enter the charts at number one.
DMX was born Earl Simmons in Baltimore, Maryland, on December 18, 1970. He moved with part of his family to the New York City suburb of Yonkers while still a young child. A troubled and abusive childhood turned him violent, and he spent a great deal of time living in group homes and surviving on the streets via robbery, which led to several run-ins with the law. He found his saving grace in Hip Hop, starting out as a DJ and human beatbox, and later moved into rapping for a greater share of the spotlight, taking his name from the DMX digital drum machine (though it's also been reinterpreted to mean "Dark Man X"). He made a name for himself on the freestyle battle scene and was written up in The Source magazine's Unsigned Hype column in 1991.
Columbia subsidiary Ruffhouse signed him to a deal the following year and released his debut single, 'Born Loser'. However, a surplus of talent on the Ruffhouse roster left DMX underpromoted, and the label agreed to release him from his contract. He issued one further single in 1994, 'Make a Move', but was convicted of drug possession that same year, the biggest offence of several on his record.
DMX began to rebuild his career with an appearance on one of DJ Clue's underground mixtapes. In 1997, he earned a second major-label shot with Def Jam, and made a galvanizing guest appearance on LL Cool J's '4, 3, 2, 1.' Further guest spots on Mase's '24 Hours to Live' and fellow Yonkers MCs the LOX's 'Money, Power & Respect' created an even stronger buzz, and in early 1998, he released his debut Def Jam single, 'Get at Me Dog'. The song was a gold-selling smash on the rap and dance charts and paved the way for DMX's full-length debut, It's Dark and Hell Is Hot, to debut at number one on the pop charts.
Produced mostly by Swizz Beatz, who rode the album's success to a lucrative career of his own, It's Dark and Hell Is Hot earned DMX numerous comparisons to 2Pac for his booming, aggressive presence on the mike, and went on to sell over four million copies. Not long after the album's release in May 1998, DMX was accused of raping a stripper in the Bronx but was later cleared by DNA evidence. He went on to make his feature film debut co-starring in Hype Williams' ambitious but unsuccessful Belly.
Before the end of 1998, DMX completed his second album, and a pending buyout of Def Jam pushed the record into stores that December. Featuring a controversial cover photo of the rapper covered in blood, Flesh of My Flesh, Blood of My Blood entered the charts at number one and eventually went triple platinum. The following year, DMX hit the road with Jay-Z and the Method Man / Redman team on the blockbuster Hard Knock Life tour.
During a tour stop in Denver, a warrant for his arrest was issued in connection with a stabbing, of which he was later cleared; another incident occurred in May when he was accused of assaulting a Yonkers man who'd allegedly harassed his wife (the charges were once again dropped). More serious charges were brought that summer when DMX's uncle/manager was accidentally shot in the foot at a New Jersey hotel. Police later raided DMX's home and filed animal cruelty, weapons, and drug possession charges against the rapper and his wife; he eventually plea-bargained down to fines, probation, and community service.
In the midst of those difficulties, the Ruff Ryders posse – of which DMX was a core, founding member – released a showcase compilation, Ryde or Die, Vol. 1. With contributions from DMX, as well as Eve, the LOX, and multiple guests, Ryde or Die, Vol. 1 debuted at number one in the spring of 1999, further cementing DMX's Midas touch.
Toward the end of 1999, DMX released his third album, …And Then There Was X, which became his third straight album to debut at number one. It also produced his biggest hit single since 'Get at Me Dog', 'Party Up (Up in Here)', which became his first Top Ten hit on the R&B charts. The follow-ups 'What You Want' and 'What's My Name?' were also quite popular, and their success helped make …And Then There Was X the rapper's best-selling album to date, moving over five million copies. During its run, DMX returned to the big screen with a major supporting role in the Jet Li action flick Romeo Must Die.
In the meantime, he was indicted by a Westchester County, New York, grand jury on weapons and drug charges in June of 2000. He also entangled himself in a lengthy legal battle with police in Cheektowaga, New York (near Buffalo), when he was arrested in March for driving without a license and possession of marijuana. He missed one court date, and when he turned himself in that May, police discovered more marijuana in a pack of cigarettes the rapper had brought with him. He pleaded guilty and was sentenced to 15 days in jail, and his appeal to have the sentence reduced was finally denied in early 2001. After stalling for several weeks, he turned himself in and was charged with contempt of court. He was further charged with assault when, upon learning he would not be let out early for good behaviour, he allegedly threw a food tray at a group of prison officers. He later bargained the charges down to reckless assault and paid a fine, and accused guards of roughing him up and causing a minor leg injury.
Not long after DMX's release from jail, his latest movie, the Steven Seagal action film Exit Wounds, opened at number one in the box office. DMX also contributed the hit single 'No Sunshine' to the soundtrack and signed a multi-picture deal with Warner Bros. in the wake of Exit Wounds' success. With his legal problems finally resolved, he returned to the studio and completed his fourth album, the more introspective The Great Depression. It was released in the fall of 2001 and became his fourth straight album to debut at number one. Although it went platinum quickly, it didn't have the same shelf life as his previous releases. In late 2002, DMX published his memoirs as E.A.R.L.: The Autobiography of DMX and also recorded several tracks with Audioslave (i.e., the former Rage Against the Machine).
One of their collaborations, 'Here I Come', was featured on the soundtrack of DMX's next film, a reunion with Jet Li called Cradle 2 the Grave. The film opened at number one upon its release in March 2003, and its DMX-heavy soundtrack debuted in the Top Ten. Grand Champ was released six months later, followed by 2006's Year of the Dog… Again. Just prior to that album's release, his revealing BET reality program made its debut. A compilation titled Definition of X: The Pick of the Litter was issued in June 2007. The artist was burdened by legal issues in the following years, serving 90 days in jail after pleading guilty to charges of animal cruelty, drug possession, and theft in late 2008, and 2010 saw a 90-day sentence for reckless driving turn into a full year after alcohol consumption triggered a parole violation. DMX returned to recording with 2012's Undisputed, an effort released by the Seven Arts label with production from Swizz Beatz and J.R. Rotem.
Words: Steve Huey
Format:
UK English