How 'Flesh of My Flesh, Blood of My Blood' Won DMX A Million Dollar Bet
A record executive challenged the rapper to create another album in one month. The rapper delivered… and then some.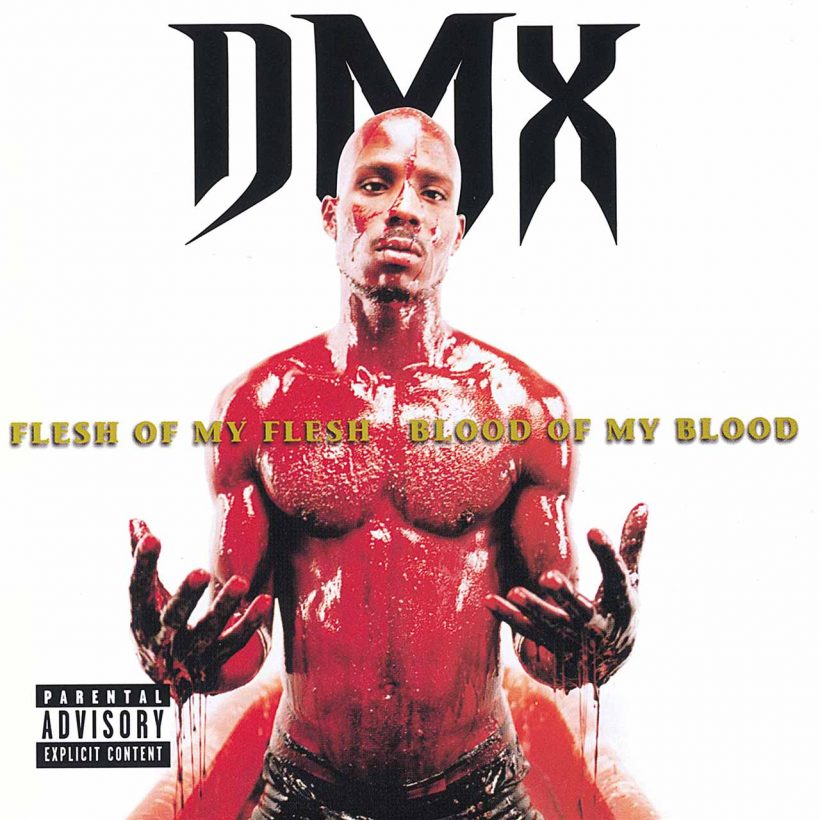 DMX had a helluva rookie year. It's one thing to debut at No. 1 on the Billboard charts straight out the gate – which he did with his first album It's Dark And Hell Is Hot. But to follow it up with another LP in the same calendar year and debut at No. 1 again – which he did with Flesh of My Flesh, Blood of My Blood – is unprecedented. In fact, it was the first time a hip-hop artist ever debuted at No. 1 with two different albums in the same year, a stat that solidified DMX as a bonafide superstar.
DMX emerged from the back blocks of Yonkers to take the industry by storm in 1997, breathing new life into a New York rap scene that was still mourning the loss of The Notorious B.I.G. It had been a long journey for the MC once known as Dark Man X and DMX The Great, from gracing the coveted Unsigned Hype column in The Source in 1991 to putting out his first major label single with Ruffhouse Records in '93, "Born Loser." So by the time he started popping back up in '97 on big league posse cuts like LL Cool J's "4,3,2,1" with Method Man, Redman, and Canibus, The LOX's "Money, Power, Respect" with Lil' Kim, and Mase's "24 Hrs to Live" with The LOX and Black Rob, his skills, persona, and point-of-view were well-developed. And the growl in his voice was undeniable.
Listen to DMX's Flesh Of My Flesh, Blood Of My Blood now.
Released on May 12, 1998, It's Dark and Hell Is Hot was a multi-platinum smash, thanks to the support of Def Jam, Ruff Ryders, and a cohesive body of work that displayed his unique ability to make radio hits with street appeal – including the singles "Get At Me Dog," "Stop Being Greedy," "Ruff Ryders Anthem," and "How's It Goin' Down." So the big question internally at Def Jam became, how quickly could he do it again?
Label executive Lyor Cohen was willing to put Def Jam's money up to find out. So Cohen made a deal with DMX – finish another album in 30 days, and get a one million dollar bonus. Without blinking, X accepted the challenge, and his team got to work. And ultimately – after a tireless month of recording and mixing new records in Yonkers, Manhattan, Miami, and Los Angeles, plus re-mixing leftover IDAHIH standouts – DMX's follow-up LP was completed.
In a 2016 interview with The Fader, DMX admitted the million dollar bonus was the source of his motivation for Flesh of My Flesh, Blood of My Blood. "That was the whole drive. I wanted to get that bonus. So I wasn't playing with that whole studio shit. I wanted to get it out. The first album had 19 songs, so I already felt like I was cheating a little bit by giving them less songs than on the first one."
It's true – Flesh of My Flesh, Blood of My Blood had 16 songs, three less than his debut. But regardless, he delivered on the bet, and Cohen kept his word by compensating X with the seven figure bonus promised for his timely efforts. In return, the rap universe was blessed with another batch of DMX bangers before the '98 holidays hit, featuring appearances by hometown homies The LOX and Mary J. Blige, plus superstar guest spots by Jay-Z and Marilyn Manson.
In comparing Flesh of My Flesh, Blood of My Blood to its predecessor, DMX's sophomore effort had less Billboard hits – though "Slippin'" is his most inspiring single to date. Over a DJ Shok-produced flip of Grover Washington's "Moonbeams," X reflected:
"I've been through mad different phases like mazes, to find my way / And now I know that happy days are not far away / If I'm strong enough I'll live long enough to see my kids / Doing something more constructive with their time than bids /I know because I been there / Now I'ma sit back and look at what it took for me to get there…"
He went on to detail his rough upbringing – from his father leaving him at a young age to living in group homes and getting locked up as a juvenile – and show how with the motivation and support of his inner circle he was able to "get back on my feet" and achieve his dreams of being a rap star.
Though "Slippin'" was the only single on Flesh to make considerable noise on the Billboard charts, the rest of the album was jam-packed with catchy and lyric-heavy album cuts that demanded repeat listens and high volume – from the melodic "Ain't No Way" to arguably the hardest mixtape posse cut of '98, "Blackout" with The LOX and Jay-Z. And he displayed his range as a songwriter, too, from infectious fan favorites like "No Love 4 Me" and the fun-loving "It's All Good" to the spiritual album closer "Ready To Meet Him." It was clear with his second LP that DMX knew how to make hip-hop anthems of all varieties, without ever losing the essence of the hood that raised him.
Flesh also helped continue to develop the Ruff Ryders sound, which was anchored by the young producer phenom Swizz Beatz. With 10 of the 16 tracks produced by Swizz, the album showed that their chemistry on It's Dark and Hell is Hot was no fluke – these two were poised to make lots of noise in the record industry together for years to come, as well as inspire a new wave of streetwise MCs and producers.
With back-to-back albums in 1998, DMX had swiftly ascended to become one of the biggest rap artists on the planet, and help fill a massive void in New York hip-hop that was left in the wake of Biggie's murder the year before. He had proven to Def Jam that he could crank out profitable classics, selling a combined seven million copies. And he showed the world that he was more than just a talented MC, with a co-starring role alongside Nas in the Hype Williams-directed hood classic Belly, which was released a month before Flesh of My Flesh.
There's no question that 1998 was a memorable year for New York rap music, with Jay-Z, Big Pun, Gang Starr, Black Star, and more all dropping timeless LPs. But with the release of both It's Dark and Hell Is Hot and Flesh of My Flesh, Blood of My Blood, one thing was made abundantly clear – hip-hop had never seen a New York-bred MC takeover the game in his rookie year like DMX.
Listen to DMX's Flesh Of My Flesh, Blood Of My Blood now.
Editor's note: This article was originally published in 2018.
Format:
UK English