Mary J. Blige
Mary J. Blige is one of the most successful R&B singers of all time, with classic albums like What's the 411? and No More Drama as well as singles like 'Real Love' and 'Family Affair.'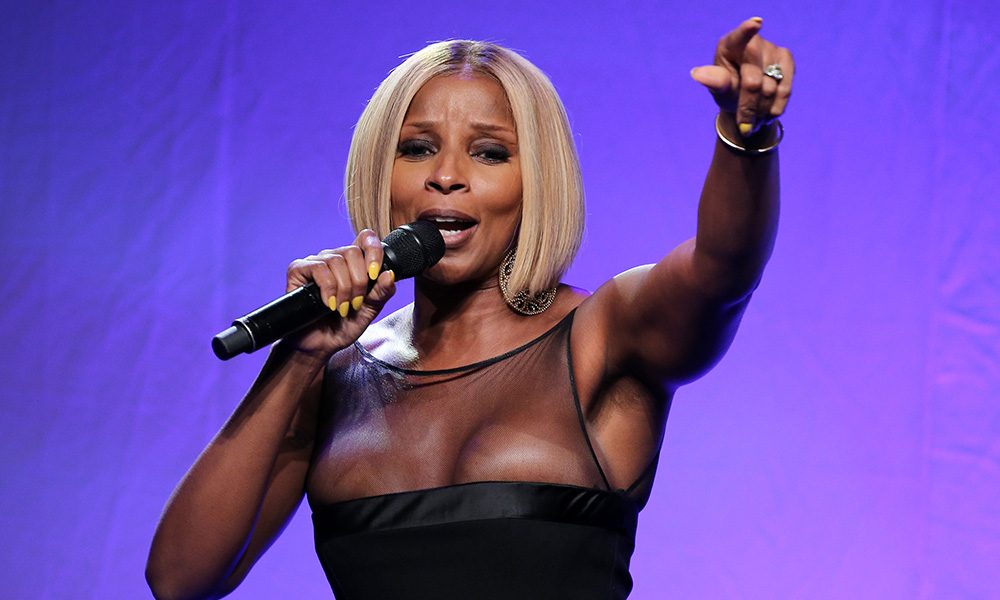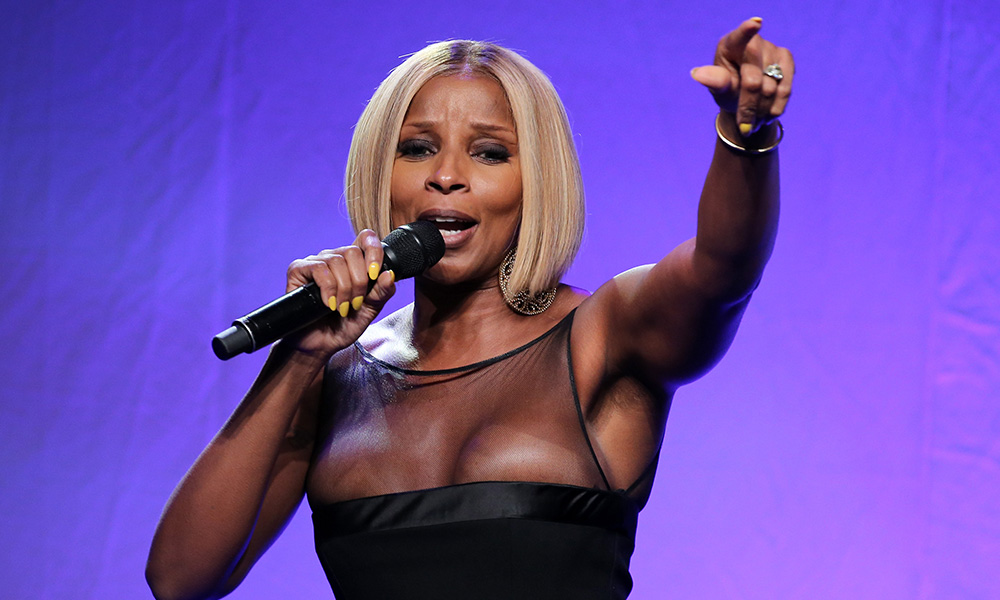 Mary J. Blige is the undisputed Queen of Hip Hop. Ranked by Billboard as the best selling R&B female artist in the last 25 years, her open heart confessional style has enabled her to cross over from her earlier ghetto style to the ranks of mass entertainment where she proudly resides at the pinnacle. Given that she has eight multi-platinum albums in her locker the chances are you already own a piece of Mary Jane but if you don't then discovery is essential. Her classic discs include What's the 411? My Life and Growing Pains, all of which smashed the notion that hip hop was a male preserve. Mary's soulful and emotive vocals set a blueprint for the genre in the 1990s but her legacy isn't tied to that decade by any means, nor to any specific musical format.
Consider, she is the only artist to have collected the Grammy Award in the R&B, hip hop, pop and gospel modes. Her eleven major tours have taken her around the world and we're sure you know that her current London Sessions extravaganza included a hit-packed set at the 2015 Glastonbury Festival where her recent assimilation of piano house and dance beats were integrated into the crowd-pleasers – "Love Is All We Need", "You Bring Me Joy" and "Love No Limit" included. Writing in the New Statesman Tracey Thorne made MJB a Glasto highlight. Moving with and ahead of the times, Mary has collaborated with everyone from Puff Daddy and Common to the cream of new British talent – Sam Smith, Disclosure, Emeli Sandé and Naughty Boy, while her collaborations in the rock field include liaisons with Bono and Maroon 5. At time of writing Mary has just joined Taylor Swift onstage at the Staples Centre, Los Angeles where the two superstars brought the house down with "Doubt" and "Family Affair", her 2001 chart-topper, Dr Dre produced smash from the confessional No More Drama album. As she continues her multi-faceted journey, however, one constant remains for Blige: her fans. "Being connected with their lives is what keeps me going," she says. "They're the reason why I am where I am: confident in knowing who I am and what I can do. With each album, it's just me continuing to grow. And that's the takeaway I want for my fans with My Life II … to please look at what we've survived and how strong we are now."
Born in the Bronx, New York, Blige began moving people with her soulful voice when at 18 she signed with Andre Harrell's Uptown Records in 1989, becoming the MCA-distributed label's youngest and first female artist. Influenced at an early age by the music of Aretha Franklin, Chaka Khan and Gladys Knight, Blige brought her own gritty, urban-rooted style—fusing hip-hop, soul and honest, frank lyrics—to the forefront on her 1992 debut album What's the 411? The multi-platinum set, executive produced by Sean "Diddy" Combs, quickly spun off several hits, including two R&B No. 1s: "You Remind Me" and "Real Love."
Initially compared for vocal power to Chaka Khan and Anita Baker, Mary J proved to be a phenomenon in her own right. What's the 411? The remix was one of the first albums to get that treatment but few were prepared for the sensational direction of My Life, a no-holds-barred account of depression, addiction and living in an abusive relationship in places but also a set that embraces gold standard soul samples (Al Green, Curtis Mayfield, Roy Ayers) and covers of tracks by Carole King and Norman Whitfield. That seamless blend had wide appeal and by the end of 1995, it had sold in excess of three million copies and won the Billboard Music Award for Top R&B album.
Three years later Mary was ready to unload Share My World, a disc that employs a cast of stellar producers – Rodney Jerkins, Jam & Lewis, R/ Kelly et al – but isn't swamped by technicalities.
Yet again Blige emerges with music rather than mere sound and accentuates her fashion and image so you get the whole picture. The stand out cuts include "Love Is All We Need", "I Can Love", "Missing You" and "Seven Days", the latter containing a great guitar solo from George Benson. Immediate, warm and potent this album is a fine way to discover Mary.
Talking of which the fourth album, Mary, is quite a departure towards mature soul writing, sometimes reminiscent of Nina Simone, Lauryn Hill and Erykah Badou. Blige worked with guests George Michael, Aretha Franklin and Elton John while Eric Clapton makes a cameo appearance on Diane Warren's "Give Me You"
No More Drama and Love & Life, where MJ worked with Dre and also reunited in somewhat stormy fashion with P Diddy, kept her at the top and heralded her true crossover period. By 2004 Blige was teaming with a bewildering number of artists – Sting, Common, The Black Eyed Peas. The Breakthrough is equally eclectic but it's the truly soulful and straightforward "Be Without You" that drops the bomb. A double Grammy winner and the third-highest single peak of her career, following "Family Affair" and "Not Gon' Cry", this is Blige at her most romantic and confessional.
The therapeutic nature of that album is matched by Growing Pains: more dramas, more fessing, and more strength through adversity, everything she does best. Available with bonus tracks (iTunes editions) including a startling cover of Todd Rundgren's "Hello It's Me", produced by Mark Ronson, this album is totally ready for discovery. The Pharrell Williams/Neptunes cut "'Till the Morning" is the sleeper here and don't forget to check Maroon 5's "Wake Up Call" where Mary Jane makes a guest appearance on a remix.
Stronger With Each Tear features a duet with Canadian rapper Drake on "The One" and Trey Songz features on the witty "We Got Hood Love". Making her fan base go whaa! Mary also covered the Led Zeppelin chestnuts, "Stairway to Heaven" and "Whole Lotta Love" and the International edition returned her to the top in the US and to #4 in the UK.
My Life 11…The Journey Continues (Act 1) was an attempt to keep in touch with her fan base even as her star soared into the mainstream, hence her festive A Mary Christmas (2013) where producer David Foster teams her with Barbra Streisand, The Clark Sisters and Jessie J on a bunch of Yuletide log warmers.
So to the London Sessions, recorded at RAK studios near Regent's Park and involving a bunch of different noise – grime, deep house and even a trip to the UK garage. Both Blige and her producer Rodney Jerkins felt a transfusion was in order and they soaked themselves in the scene, working with Sam Smith, Emeli Sandé, the Disclosure boys et al.. Very much a melting pot event the infusion of clubbable piano ballads up her game and won rave reviews.
With My Life 11…The Journey Continues (Act 2) on the schedule MJB shows no signs of resting on her laurels. If for her music is therapy, her life played out in public, then we're enjoying the invitation to take the long hard look and ease the doubt. She doesn't hold anything back and that is another reason why we are much obliged to Mary J. Blige.
Words: Max Bell