Best Motown Samples: 20 Essential Tracks For Crate-Diggers
Not often a label thought of in hip-hop terms, the best Motown samples prove that Berry Gordy's empire had more than enough beats for the crate-diggers.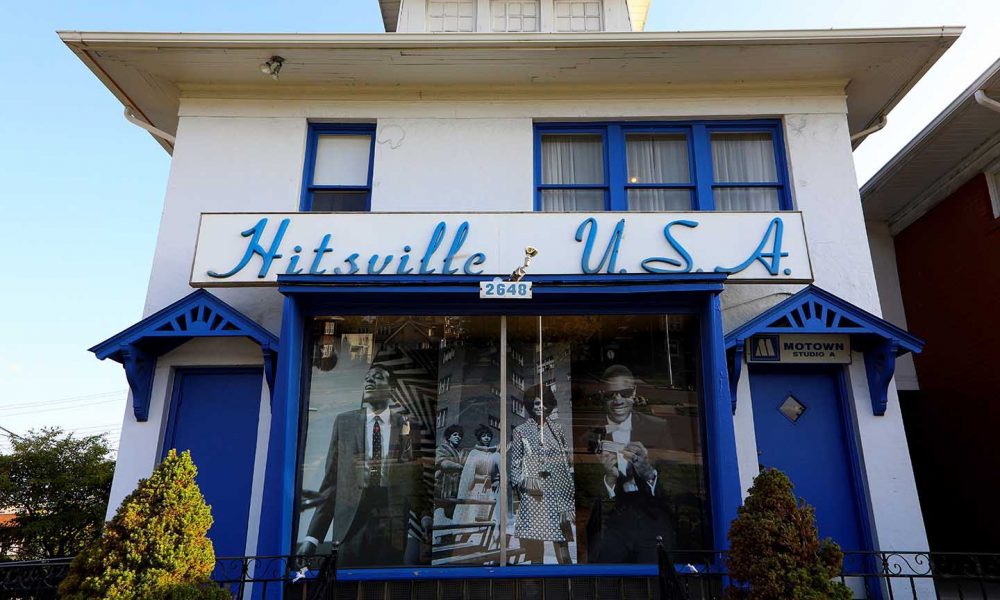 Once hip-hop got established in the first half of the 80s, everyone knew what it was about, right? A collage of funky beats and scratches with rhymes laid on them. Which meant using James Brown loops, mostly, and obscure stuff like The Honeydrippers' "Impeach The President" and The Mohawks' "The Champ." Then hip-hop absorbed P-Funk in the late 80s, thanks to De La Soul and Digital Underground, and jazz through Gang Starr and A Tribe Called Quest; boy, did that 60s-70s Blue Note catalogue get rinsed. Hey, they even used reggae as a breaks source. But Motown samples? Motown was soulful, sure, but common consent supposedly had it that the Detroit mega-label was not funky in the usual hip-hop sense.
But hold it, everybody. Hold it, hold it, listen – as Dennis Edwards demanded on The Temptations' "I Can't Get Next To You." Common consent was wrong. Motown really did deliver the goods when it came to breaks, and true hip-hoppers always keep their ears open for a great beat, wherever it comes from. One Motown break, "The Assembly Line," was one of hip-hop's foundation stones. There was also the sultry groove of Diana Ross' "Love Hangover." And Marvin Gaye's beats got sampled as the hip-hop pioneers recalled that their parents' generation also had something vital to say over a funky jam. Most of this stuff didn't sound like Motown in the sense of "Dancing In The Street" or "Tears Of A Clown," but it was 100 percent Motown and perfect to bust a rhyme over. Plus, it dropped a little retro soul on your modern R&B joint, too.
As hip-hop matured, some of its greatest exponents gave Motown beats fresh life in a new era. Here are 20 of the best Motown samples. Think we've missed some of your favorites? Let us know in the comments section, below.
Listen to the best Motown songs on Apple Music and Spotify.
Commodores: The Assembly Line
Hey, Commodores? Well, we know they did "Brick House," right; and "Machine Gun." But ain't they basically 'bout ballads like "Three Times A Lady"? Well, no. The first Commodores sound was badass funk, and none badder than "The Assembly Line," a highly ambitious and intelligent song from their 1974 debut album, Machine Gun, that looks at life and society and, well, everything. This amazing tune has been re-assembled at least 300 times in hip-hop, from Eric B & Rakim's "Let The Rhythm Hit 'Em" to Public Enemy's "Raise The Roof," and all points between. But don't forget the original – it's a total thriller.
The Magic Disco Machine: Scratchin'
It had to be big with a title like that… From a fairly anonymous album of 1975, Disc-O-Tech, created by a crew of Motown backroom brains, including Frank Wilson, Gloria Jones, and Hal Davis, "Scratchin"'s name was practically an invitation for hip-hop to leap aboard. Sampled by Run-DMC ("Jam Master Jay") and MC Shan ("The Bridge"), it then enjoyed another life in New Jack Swing via Wreckx-N-Effect's mighty "Rump Shaker," before moving on to dance music thanks to C+C Music Factory's "Things That Make You Go Hmm.…." All that scratchin' making you itch?
Marvin Gaye: Inner City Blues (Make Me Wanna Holler)
Gaye's remarkable howl of despair, from 1971's What's Going On, has been a source of interest in hip-hop since sampling became a viable way of creating beats. Among those to use it is Coolio ("N Da Closet"), Ice Cube ("When I Get To Heaven"), and the great Masta Ace ("Go Where I Send Thee"). Covers of the original, of which there were plenty, also brought beats for rhymes, such as jazz organist Reuben Wilson's 1974 interpretation supporting A Tribe Called Quest's "Youthful Expression."
Diana Ross: Love Hangover
Lady Diana's 1976 disco classic was sliced and spliced by Geto Boys on "The Other Level," Janet Jackson for "My Need" and Digital Underground on the original (temporarily banned) cut of "Freaks Of The Industry." The tune feeds samplers with both the long moody slow-jam intro, and one of the most iconic funky basslines of the mid-70s in the uptempo disco section – a handy two-for-one deal.
Jackson 5: I Want You Back
Jackson 5's breakthrough single came back numerous times courtesy of sampling technology, reappearing on Jay Z's "I Just Wanna Love U," Eric B & Rakim's "I Know You Got Soul" and Blackstreet's "Take Me There." And try Shirley Scott's uplifting 1970 cover cut, which is still spun in dusty groove clubs today.
Marvin Gaye: What's Going On
Tell ya what's going on, Marvin: they're clipping your tune and building hip-hop empires with it. Some of the samples took this protest song as full inspiration, such as The Jungle Brothers' "What's Going On," while others just chipped off a chunk, like Mos Def's "Modern Marvel." There are plenty of covers, too, and one of the best is Quincy Jones," from his classic album Smackwater Jack.
Marvin Gaye: "T" Plays It Cool
Chilled gangsta groove from the Trouble Man soundtrack, as heard in part on Gang Starr's "Take A Rest" and Jazzy Jeff And The Fresh Prince's "A Touch Of Jazz." What does it bring to a sampling track? A touch of icy uptown class and a downbeat downtown groove.
Eddie Kendricks: Intimate Friends
Eddie Kendricks' career was sliding back a little in the disco era, but he still had the vibe, as this 1977 killer from his album Slick proves. This gloriously subtle jam was used in Alicia Keys' classic "Unbreakable," and, still on the R&B tip, informed the groove of Oran "Juice" Jones' "Players' Call." Erykah Badu, Common, and many more artists have displayed their discernment in repurposing a piece of this gem.
Marvin Gaye: Let's Get It On
We all know what Marvin is referring to on this 1973 album title tune, and it isn't trying on a nice sweater. The message came through loud and clear on a slew of samples, such as Big Daddy Kane's "Smooth Operator," Ghostface Killah's "Jellyfish," and "Boombastic" from that other Mr. Lover Lover, Shaggy.
Diana Ross And Marvin Gaye: Stop, Look, Listen (To Your Heart)
It's easily forgotten that this Motown marvel from 1973's Diana & Marvin album was originally a Philly phenomenon, sung by The Stylistics. Many have found its delicate emotional feel tempting to touch, including 50 Cent on "Ghetto Qu'ran (Forgive Me)" and Ja Rule and Ashanti on "Mesmerize."
Stop, Look, Listen (To Your Heart)
Marvin Gaye: I Want You
The title track of Marvin's libido-soaked 1976 album was primed for getting it on, though not all samplers adopted its lustful attitude. Ice Cube's gangsta tale "What Can I Do" rode it to fine effect; Mary J Blige's beautiful "Be Happy" recaptured a very 70s Marvin mood, and the Motown legend cropped up like a ghost in Robin Thicke's "Make U Love Me."
Stevie Wonder: Pastime Paradise
Another Mary J Blige jam, "Time," is by no means the biggest tune to eat a piece of Stevie Wonder's fabulous meditation "Pastime Paradise," from 1976's Songs In The Key Of Life. The original inspired one of the biggest hip-hop joints of all time, Coolio's "Gangsta's Paradise," among the best and most powerful uses of any Motown sample in hip-hop.
Rick James: Mary Jane
Rick James, the bad boy of Motown's late-70s/early 80s roster, liked to sing about enjoying Mary Jane, which is – whisper it – an illegal substance. EPMD were ready to pull it from their copy of James' 1978 Stone City Band album, and the tune fed several episodes of their "Jane" saga, starting with the first one. Jennifer Lopez reinterpreted some of the music for "I'm Real," and Redman went straight to the point with "Smoke Buddah." And you thought a roach was a fish?
Jackson 5: It's Great To Be Here
Jackson 5's fifth album, Maybe Tomorrow, released in 1971, wasn't as successful as some of their previous efforts, selling only around 3.5 million copies! It had its fair share of killer cuts, however, and one was "It's Great To Be Here," drawing sample action from Puff Daddy And The Family on "It's All About The Benjamins," and helping to construct hip-hop thanks to founding father Afrika Bambaataa's famed "Death Mix."
The Temptations: I Can't Get Next To You
Though a massive track and a US No.1 in 1969, The Temptations' "I Can't Get Next To You" is not the most obvious of their tunes for sampling: others from their psychedelic soul era are more conventionally "funky." But Lil Wayne snipped off a piece for "I," and Public Enemy were among others paying tribute by sampler (hear "Night Of The Living Bassheads"). Curiously, The Temptations re-used the arresting intro themselves for their 1970 smash "Psychedelic Shack."
The Miracles: Give Me Just Another Day
When Smokey Robinson walked away from The Miracles in 1972, their musical paths forked; while Smokey eventually settled on his Quiet Storm vibe, The Miracles elected to go funky disco with their new frontman Billy Griffin, and their "Do It Baby" was a slinky hit in 1974. The album of the same name induced some samples of the title tune, and also held the wicked "Give Me Just Another Day," one of Motown's greatest grooves of the mid-70s, as sampled by Jay Z ("Hova Is Back") and 50 Cent ("Movin On Up").
The Supremes: It's Time To Break Down
The Miracles were not the only group to lose their figurehead in the early 70s, yet go on to thrive. The Supremes waved farewell to Diana Ross, recruited Jean Terrell to replace her, and, in 1970, cut the superb New Ways But Love Stays, their second album with the new line-up. It included the simmering steady groove of "It's Time To Break Down," which was, indeed, broken down into samples, including Gang Starr's killer "JFK To LAX," and "Coffee Table" from Washington, DC's hip-hop envelope-pusher Damu The Fudgemunk.
Willie Hutch: Brother's Gonna Work It Out
Willie Hutch was Motown's boss funker for the bulk of the 70s, and a handy soul tunesmith, too. He cut the soundtrack for blaxploitation movie The Mack in 1973; the title alone would be enough to tell a crate-digger that beats lurk within. Dr. Dre used it on "Rat-Tat-Tat-Tat," Public Enemy rented a piece on "Whole Lotta Love Goin" On In The Middle Of Hell" and borrowed its title for a track on Fear Of A Black Planet. Tupac, Jaheim, and Chance The Rapper also found it irresistible.
Mary Jane Girls: All Night Long
Ah, the mid-80s. Ah, those easy grooves they later called G-funk. Ah, Rick James' "girl group", Mary Jane Girls, promising to love you "All Night Long." Among those who inhaled their smoke was Mary J Blige on "All Night," Blackstreet on "Tonight's The Night," and LL Cool J on the beloved "Around The Way Girl," a tune that can make hip-hoppers of a certain age go dewy-eyed.
Edwin Starr: Easin' In
The singer who brought us "War" also had a brush with creating movie soundtracks, and "Easin' In" helped make 1974's Hell Up In Harlem funky. Sat in the theatre with a tub of popcorn was Ice T, who used the break for "High Rollers"; in the circle were Digable Planets on "Nickel Bags"; and Tone Lōc was in the back row gettin' jiggy for "Lōc-ed After Dark."
Marvin Gaye And Tammi Terrell: Ain't No Mountain High Enough
The 1968 soul classic has tempted beat miners, among them Fat Joe with Mashonda on "Listen Baby." But the supreme use of the track was on Amy Winehouse's "Tears Dry On Their Own," an edifice of loneliness erected on Marvin and Tammi's foundations.
Ain't No Mountain High Enough
Looking for more? Discover the best Motown songs of all time.