70s Motown: How "The Sound Of Young America" Came Of Age
Having helped birth soul music in the 60s, Motown helped it mature in the 70s, creating classic albums and asking some of the biggest questions of the era.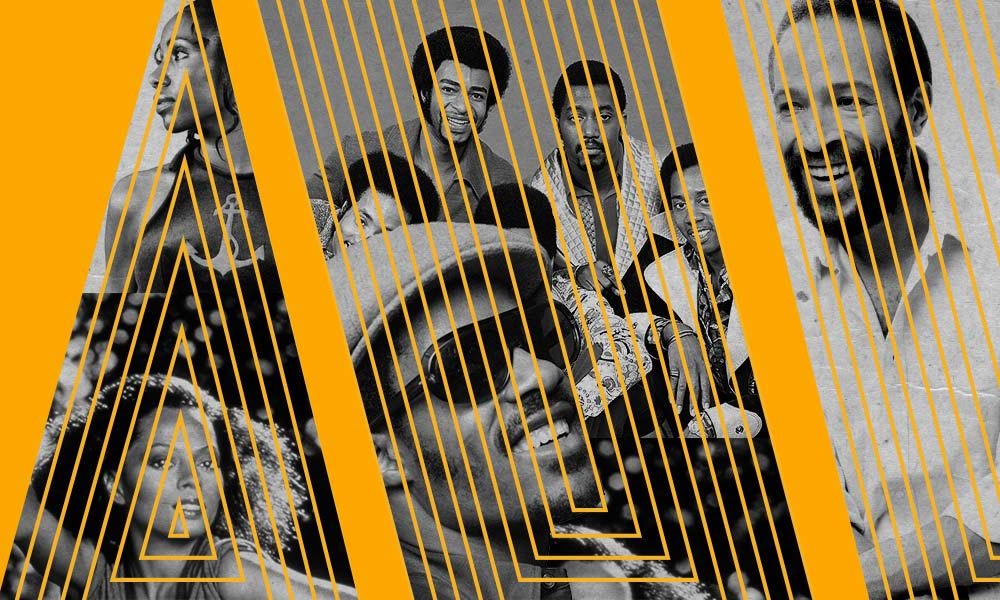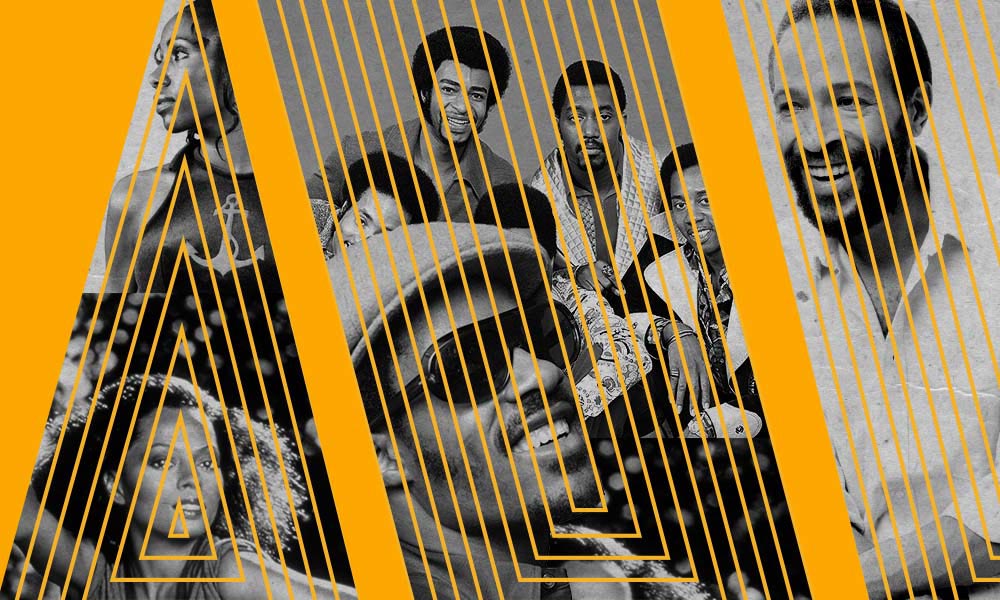 Motown entered the 70s fit, fresh and ready for the fray. Having grown from nothing to become one of the world's most recognizable brands, there was no reason to assume that the music it made in the new decade would not be as successful as the previous one. Motown had the vast majority of its stars still in harness. It was no longer entirely associated with the thumping sound that characterized its mid-60s – though, handily, it still had a certain cachet, and songs recorded in the 60s would become hits for the company in the 70s, such as Smokey Robinson And The Miracles' "Tears Of A Clown."
Motown was acquiring the valuable patina of classic pop, with a certain eternal appeal. The label's first generation of stars were growing into skilled writers and producers, though in 1970 their status was not entirely assured. Motown had new stars, including a kid who would become a dominant, if ultimately controversial, presence over the next two decades. Splits in established Motown acts became win-win situations, as they delivered solo hitmakers while the original groups continued. And soul music kept its allure for the public: people still wanted to dance while hearing stories told in an emotional manner. How could Motown lose?
Listen to the best of Motown on Apple Music and Spotify.
Torn between two worlds
The decade was not without its complications for Berry Gordy's company. Motown had begun to leave Detroit, the city that had helped define its sound, reflecting the mass-production methods that fuelled its car industry, and which also produced the bulk of the talent that the label relied upon.
Motown would be torn between two worlds by this development. The company's first truly brilliant producer-writers, Holland-Dozier-Holland, had quit in 1967 to launch their own corporation, Hot Wax/Invictus, which was now fully operational after a long legal wrangle. Nobody knew how much competition they might provide, and Motown did indeed suffer while highly talented and ambitious rivals adapted the Detroit label's template for the new decade – though the most effective competitor, Philadelphia International, was never part of Gordy's set-up. Most importantly, popular music was changing, and so was the way it was marketed.
The three-minute rush of the single was slowly supplanted by the lasting wonder of the album, no longer an item sold to draw more mileage from a hit single, but a standalone product designed to offer a deeper musical experience. Why, there were even rock bands who felt that releasing singles would be a severe artistic compromise. Where did this leave a label like Motown, which had prided itself on supplying soul in 7" parcels?
Competing in changing times
Motown was nothing if not aware of developments taking place around it. During the final years of the 60s, it had carefully positioned itself to compete in changing times. The work of producer Norman Whitfield had grown increasingly more questing, and with his songwriting partner Barrett Strong, he created music that was every bit as cerebral as most rock bands could muster, yet this "psychedelic soul" still retained its funky dancefloor appeal. Whitfield did it for The Temptations, successfully shifting them from sweet balladeers to social commentators; he had taken Marvin Gaye's music in a deeper direction even as the singer charted a parallel, poppier lovey-dovey course with his duet partner Tammi Terrell. And Whitfield's new charges, The Undisputed Truth, were like The Temptations with an added rock element.
A rock element? Motown had, in fact, begun signing rock-inclined acts for a few years. It had founded a new label to do just that: Rare Earth, named after a 1969 white rock band who covered Motown material in fresh ways, produced by Norman Whitfield. The label also released records by British bands like Pretty Things and Love Sculpture. Whitfield was by no means alone in updating Motown's sound; producer Frank Wilson was creating little soul symphonies for the mind, such as Four Tops' "Still Water (Love)" and The Supremes' "Stoned Love," which subtly took the Motown sound beyond its 60s stylings.
Stoned Love (Long Version)
The company launched another new label, MoWest, designed to deliver the music created at their corporation's new HQ in Los Angeles, a shift completed in 1972. With its scenic beach design and the sense that this was by no means tied to "the Motown way," MoWest released music that would have been out of place on the parent label and its main subsidiaries Tamla, Soul, and Gordy. This varied from the funky and free Syreeta Wright to The Four Seasons, who saw one of their greatest records, 1972's "The Night," flop in the US, though it eventually hit in Europe.
What's going on?
Most importantly, some pivotal artists cut loose from Motown's apron strings and began to express themselves fully, delivering albums that continued to sell for decades to lasting critical approval. But it was by no means a smooth process, and some of the artists, such as Stevie Wonder and Marvin Gaye, faced an uphill battle to get their (inner) visions approved by Motown's head honcho, Berry Gordy, who was justifiably fretful about these fabulous singers moving in different directions. Gordy had considered letting Stevie Wonder leave the label, fearing this former child star would never prove his commercial worth as an adult. And Marvin Gaye had never been a straightforward guy to deal with, refusing to accept that the proven way was the only way.
1970 found Gaye locked in the studio, in a fragile emotional state, making songs that appeared to drift aimlessly. In Tammi Terrell, Motown had found him a musical foil that worked: they really clicked. Now Tammi, desperately ill with a brain tumor, was about to make music with the angels, and Marvin sought comfort in getting stoned. His new sound even sounded semi-detached and smoky, its drum sound way over there, not in your face. That wasn't the Motown way, and Gordy disliked his early auditions of what would become Marvin's artistic breakthrough, What's Going On. But the singer persisted, and Gordy relented. The rest is history. A couple of crucial tracks were co-written by Obie Benson of Four Tops, who would leave the label in 1972 rather than move to LA; what if they'd stayed? Gaye's albums, among them the bedroom symphonies of Let's Get It On and the painfully open divorce album Here, My Dear, pushed soul's envelope throughout the 70s.
Where I'm coming from…
Stevie Wonder's parallel rise to artistic supremacy was different. As a kid, he'd proved his facility on numerous instruments, but struggled to find an audience while the company marketed him as a miniature Ray Charles. Mid-60s hits such as "Uptight (Everything's Alright)" and "I Was Made To Love Her" eased the pressure somewhat, but as Wonder's 20s approached, Sylvia Moy, a Motown songwriter, had to dissuade Gordy from ditching the prodigy. She saw the worth in Stevie's material and co-wrote his songs like "My Cherie Amour" (1969) and the poignant "Never Had A Dream Come True" (1970). His Signed, Sealed And Delivered album of 1970 not only included the title smash and the gospel-driven "Heaven Help Us All," there were several more intriguing numbers Wonder co-wrote, including the reflective "I Gotta Have A Song" and the gritty "You Can't Judge A Book By Its Cover." However, the album's cheesy artwork did little to suggest Stevie was a serious artist.
Stevie's contract at Motown was running out, and the final album under the deal, Where I'm Coming From, also hinted at where he was going. It had emotional and lyrical depth, and a natural feel that showed his comfort with a more complex recording process, from the baroque "Look Around" to the utterly soulful "If You Really Love Me." Here was an artist facing the new decade bursting with ideas, but the album was not a huge hit. Motown hesitated over offering a fresh contract, which freed Wonder to record as he wished away from the Motown machine, working with synth boffins Robert Margouleff and Malcolm Cecil as co-producers while playing most of the instruments himself. The result, 1972's Music Of My Mind, was eventually released by Motown, and while it brought no major hits, it was a satisfying, cohesive album indicative of the cutting-edge direction Wonder was heading for.
Later that year, Talking Book, packed with thrillers such as the smash "Superstition," the thrumming "You've Got It Bad Girl," the standard-to-be "You Are The Sunshine Of My Life," and so on, confirmed just how right Stevie had been to follow his own lights. For the next decade, Wonder's albums would be must-haves for both soul and rock fans, taken as seriously as any other artist's work. They confirmed Motown's ability to compete in the album era, even if the company had been reluctant. Wonder's work helped bankroll Motown's 70s projects, and albums such as Innervisions (1973), Fulfillingness' First Finale (1974), and Songs In The Key Of Life (1976) remain perfect examples of the inventiveness of 70s pop, as well as statements in soul.
A testament to genius
While some artists were now wearing the (flared'n'funky) trousers at Motown, the label still retained full control over others. The Temptations entered the 70s amid their psychedelic soul era, hitting with "Ball Of Confusion" and "Psychedelic Shack." However, they were not serene. The group was tetchy about the radical material Norman Whitfield wrote with Barrett Strong that cast them as commentators on ghetto life and the historical black experience such as "Run Charlie Run," or which suggested they came from broken homes. Founder member Paul Williams was unwell and had fallen into a struggle with alcohol that, by 1971, left him unable to continue with the group, and he died two years later. Lead singer David Ruffin was fired in 1968 after becoming unreliable and "starry," and, two years later, high tenor Eddie Kendricks was lobbying for the Tempts to go on strike until Motown agreed to have the group's accounts audited. Kendricks quit in 1971, leaving the beautiful single "Just My Imagination (Running Away With Me)" as testament to his genius.
For a while The Temptations flourished: "Papa Was A Rolling Stone" was a major hit in 1972, and the accompanying album, All Directions, was wonderful. But their next set, Masterpiece, was like a Whitfield solo album in places, with The Temptations almost incidental to the 13-minute title cut. The group's stellar career subsequently took a downturn, which perhaps made it all the more irritating to them that Eddie Kendricks became a solo star, scoring heavily with "Keep On Truckin'" and "Boogie Down" in 1973, and cutting some of Motown's best albums of the era in People… Hold On, Eddie Kendricks and Boogie Down across 1972-74.
Dancin' machines
Motown had no such problems with the sundering of another major act: far from finding Diana Ross' departure from The Supremes an irritation, Berry Gordy encouraged her aspirations, and urged songwriters such as Frank Wilson, Smokey Robinson, and Leonard Caston, Jr, to create hits for a resurgent post-Ross Supremes, resulting in such gems as "Stoned Love," "Nathan Jones," "Up The Ladder To The Roof" and "Automatically Sunshine" soundtracking youth-club dances in Britain and nightclubs in the US. Ross became one of the biggest stars in pop, cutting breathtaking records such as "Love Hangover," "Reach Out And Touch (Somebody's Hand)" and an even more symphonic arrangement of Marvin Gaye And Tammi Terrell's "Ain't No Mountain High Enough."
Some of Ross' greatest moments were authored by Ashford And Simpson, producer-writers who, fittingly, seemed supreme at the time. Curiously, however, their Midas touch evaporated when Valerie Simpson's two superb solo albums, released across 1971-72, flopped. Smokey Robinson, another maestro, also had a so-so start to his solo career until 1975's A Quiet Storm album re-established him as a superstar. The Miracles, the group he'd quit in '72, also struggled to score without their former leader until the slinky "Do It Baby" boomed in 1974 and proved they could thrive with Billy Griffin as frontman. Their biggest hit came with the following year's disco banger "Love Machine."
Motown's teenie-soul act, Jackson 5, soared at the start of the 70s, thanks to strong supervision from Gordy and a coterie of in-house songwriters known simply as "The Corporation." "I Want You Back" was a US No.1 in January 1970; "ABC," "The Love You Save" and "I'll Be There" followed suit. The group issued five albums and a greatest-hits set in two years, striking while the iron was hot. Michael Jackson's parallel solo career opened in 1971 with "Got To Be There" and the US No.14 album of the same title. In 1971 the cartoon series The Jackson 5ive launched on TV. Packed with talent (unlike some other teenybop acts), the group was inevitably going to tumble from favor – though, as late as 1974 they hit US No.2 with the super groover "Dancin" Machine." They would leave Motown in 1975, after which the youngest Jackson sibling went on to dominate pop music throughout the following decade.
Motown gets funked up
Funk was another major factor in the evolution of 70s black music, and though Motown was not particularly associated with the genre, some signings focused on the ghetto groove. One was singer-producer-writer Willie Hutch, who'd been cutting records for years before inking a Motown contract in 1973. His work ranged from writing "I'll Be There" for J5 to delivering tough soundtracks for Blaxploitation thrillers Foxy Brown and The Mack. Never a major pop act, Hutch coolly retained his credibility for a strong African-American fanbase.
Rather less understated, Rick James had been threatening to funk Motown up for years, having been signed as a songwriter long before the Gordy sub-label released his debut album, Come Get It!, in the spring of 1978. With a rock'n'roll lifestyle and labeling himself "punk-funk," James cut an extravagant presence among the Motown roster. He also mentored Teena Marie, a singer who'd been making demos for Motown for a couple of years. James decided to produce her – having turned down the chance to produce Diana Ross when he felt he was not being given the control he demanded. Marie's debut album, 1979's Wild And Peaceful, was credible, funky, and soulful.
Another artist with a funkier approach arrived at Motown by default when it swallowed another label, Ric-Tic. Edwin Starr had a rawer style than many of his new labelmates, and sometimes felt that this, and the fact he'd been with a Detroit company that provided competition to Gordy's corporation, meant he was held back somewhat. Perhaps that was so, as some of his singles were spectacularly successful, yet he was never quite treated as a first-division Motown star.
1970 was Starr's best year, thanks to the acerbic "War" and the funkier, stop-start "Stop The War, Now." Starr completed his Motown tenure in 1973 with the soundtrack for Hell Up In Harlem, after cutting the funk-rock single "Who Is The Leader Of The People?" under the supervision of producers Dino Ferakis and Nick Zesses, who'd soon make an interesting album for Motown as Riot. Starr's single was also recorded by Stoney And Meatloaf during their brief stay at Motown's Rare Earth subsidiary – yes, it was that Meat.
It should have been them
As a label that had built its reputation with acts like The Marvelettes and Mary Wells, Motown had less luck with their female stars in the 70s. Mid-60s soulster Gloria Jones attempted to reboot her singing career with 1973's excellent Share My Love album, to little acclaim. A 1970 Marvelettes relaunch foundered. Two Martha Reeves And The Vandellas albums appeared before they threw in the towel during 1972 (though, ironically, two of their older tunes, "Jimmy Mack" and "Third Finger Left Hand," then became popular in the UK). Former James Brown protégée Yvonne Fair hit with a sassy take of "It Should Have Been Me," and her 1975 album, The Bitch Is Black, was sizzling, but that was her last hurrah.
Fair's hit had been previously recorded by Gladys Knight And The Pips. Gladys, one of the greatest voices in soul, never quite hit Motown's top rank, despite recording songs of the highest order. It was cynically rumored that Gladys had been regarded as competition for Diana Ross, so Motown signed her in 1966 so they could control her. Her early 70s hits "If I Were Your Woman," "Help Me Make It Through The Night" and her farewell to the label, "Neither One Of Us (Wants To Be The First To Say Goodbye)," helped make soul a grown-up yet emotional music – what Smokey Robinson later called a "quiet storm." But Knight never received Motown's full focus, and she signed to Buddah in 1973. Motown plundered her back catalogue as her star soared at her new label.
Diana Ross And The Supremes were too popular to be allowed to fall into disrepair, and both took the lioness' share of attention when it came to Motown's female acts during the first half of the 70s. But Motown's backroom staff boasted female writers and producers pulling the strings, such as Pam Sawyer, Valerie Simpson, and Janie Bradford. A female executive, Suzanne DePasse, connected the company to one of its biggest acts of the decade, Commodores, and their first album, 1974's Machine Gun, was graced by two superb funk tracks penned by Pam Sawyer and Gloria Jones, "The Assembly Line" and "The Zoo (The Human Zoo)." The group's albums increased in sales until they peaked with Natural High, which featured "Three Times A Lady," Motown's only US No.1 single of 1978.
Coming of age
That tells a story in itself. In the second half of the 70s, the label seemed to drift. While Motown should have been a shoo-in for disco dominance, Diana Ross was a touch too classy for most four-to-the-floor disco bangers, and Marvin Gaye's stunning "Got To Give It Up" was not typical of his output. Chicago soul legend Jerry Butler cut fab disco tunes for the label, including the punchy "Chalk It Up," and Thelma Houston's "Don't Leave Me This Way" became one of Motown's greatest disco tunes. Her 1976 album, Any Way You Like It, was a classic of its type. Sensing chemistry, Motown teamed Jerry and Thelma for two albums, the best of which is 1977's fine Thelma And Jerry. It wasn't like Marvin and Tammi, but what was?
Classic Motown groups like The Originals and The Miracles (who left the label in 1977) vied with newer acts like Tata Vega, but Motown did not appear to be driving African-American music forward any more – even if Dynamic Superiors were ahead of their time with lead singer Tony Washington, who was gay, out and proud.
Berry Gordy had been working on TV and movie projects, and the tight family feel of Motown's Detroit days was not replicated in LA. But Motown still had some irons in the fire: Jermaine Jackson, the one member of Jackson 5 who'd stayed with the label, partly because he was married to Gordy's daughter Hazel, would soon justify sticking around. Diana Ross would continue to score hits. Commodores were about to disgorge a major star, and Stevie Wonder remained a force to be reckoned with.
There was more glory to come from the company that created The Sound Of Young America, even if it was no longer quite so young.
Looking for more? Discover the best Motown songs of all time.