Super Freaky: The Unbelievable Life Of Punk-Funk Badass Rick James
His insane lifestyle might have risked overshadowing the music, but Rick James was a talented musician whose work speaks for itself.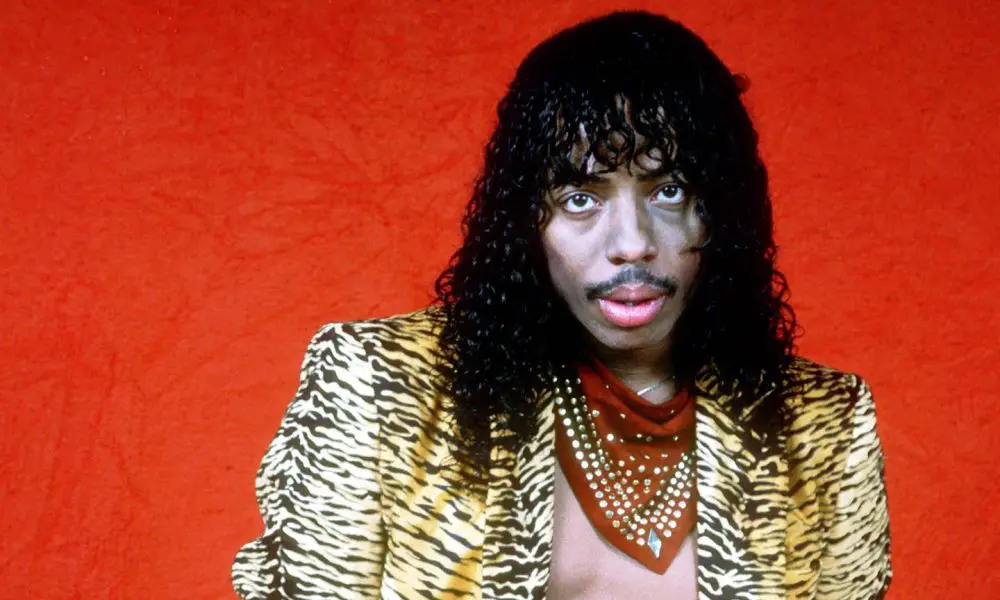 Rick James? The super freak. The inventor of punk-funk. Yet history has kinda let this pioneer of brittle, bruising good-time groove slip from its memory. It's hard to imagine nowadays, but he even had a huge influence over Prince – so Rick James said, anyway. (Repeatedly!) That bravado is what made him great. And it's perhaps what made his life so full of ups and downs. Excess will do that to you.
Listen to the best of Rick James on Apple Music and Spotify.
Rick didn't take everything for himself. When the mature mellow groovers were trying to show they still had what it takes on the dancefloor to Mary Jane Girls' "All Night Long," they didn't know that the man with a masterplan who created it was Rick James. When the jazz-funkers felt the rumble of Teena Marie's "Behind The Groove" and pushed it into the charts, they didn't have a clue that one Ricky James was behind her first success. When all those little kids were popping and locking to the mega-hit "U Can't Touch This," they didn't realize it was Rick James' masterly, butt-kickin' bassline that was shakin' 'em. (And yes, he did play that mutha of a b-line personally.) Rick had a finger in many pies, and as a super freak who admitted to "a kinky nature," he probably licked those fingers clean afterward.
Super freak
Let's not get too absorbed by the other artists he helped turn into stars, however, because Rick ruled in his own right. It took him more than a decade to find fame; he'd been in bands in his teens, playing guitar and bass, and drummed in jazz groups, first in Buffalo, then in New York City. His first notable outfit was The Mynah Birds, formed when he moved to Toronto, Canada, in 1965, while a Navy reserve on the run from a posting to Vietnam. They mixed musical styles, offering bits of rock, soul, and even some hippy-dippy folk. Neil Young was a member for a while, and the group recorded a single for Columbia and sessions for Motown that didn't see the light of day until much later.
Motown remained interested in James – but balked at signing him as an artist while he was being chased by the law – and he wrote songs for their artists Bobby Taylor, David Ruffin, and The Spinners. A meet-up with Stevie Wonder didn't produce musical results, but Wonder did bestow on the former Ricky James Matthews (real name: James Ambrose Johnson, Jr; born on February 1, 1948) the shorter title Ricky James. In 1974, now simply Rick James, he released the funky rock single "My Mama" for A&M but had to wait four years for fame to hit with a return to Motown. And once he was hot, he was hard to stop.
The single "You And I," cut with his Stone City Band, broke him big and introduced James' deceptively simple, buoyant, funk-with-a-skip sound to a wide audience. After a mellow, Latin-influenced opening, the tune kicked in with horns as tight as gritted teeth and backing vocals that somewhat resembled Parlet, the original P-Funk female vocalists. The brittle, pinging sound caught a mood and went Top 20 in the US. What's more, it was a formula that was repeatable. The slower "Mary Jane" was a smaller hit, but strong sales of James' debut album, Come Get It!, rapidly followed by Bustin' Out Of L Seven and Fire It Up, made it clear that this new star with his braided hair, glitzy phonk suits, and sassytude would be with us some time. What's more, he was productive: in 1981, the platinum-awarded Street Songs became his fifth album in three years and delivered the massive "Super Freak" and the nearly-as-monster "Give It To Me Baby," both built on James' hypnotic bass licks and with grooves that were a call to the dancefloor. They still sound totally crisp.
Rick James was not a one-trick pony. While he branded his style "punk-funk," any punk content was more in his street attitude than musical content. He was a decent soul singer (he was delighted to work with his Motown idols The Temptations, who sang back-up on several of his records) and "Fire And Desire" and "Happy," duets with the young Motown star he'd championed, Teena Marie, were as powerful as soul ballads could be in the glitzy early 80s. His "Ebony Eyes" (1983), recorded with Smokey Robinson, was another romantic tour-de-force. Like Prince, who caught a break when Rick had him as tour support at the start of the 80s, he played an array of instruments, though Rick was usually pictured with a bass draped over his slim frame. He was a fine producer, working on hits for Eddie Murphy ("Party All the Time"), The Temptations ("Standing On The Top"), and the act most closely associated with him, Mary Jane Girls, for whom he delivered seven hits. But the name of the latter act suggested more than the title of one of his earlier singles.
Rick James - Super Freak (Official Music Video)
Give it to me, baby
Mary Jane is a synonym for marijuana. No biggie: one or two musicians have enjoyed the occasional spliff without it affecting their careers. But drugs were a weakness for Rick James. He started using during his teens, took heroin, and, when crack arrived, he found it moreish. He estimated he spent $7,000 a week on cocaine – for five years. In 1984 he was taken to hospital when he was discovered out cold on a friend's floor. In 1994 he served two years in Folsom Prison (it wasn't his first spell behind bars: he'd been confined three times during his time on the run from the US Navy).
When James died of heart failure, on August 6, 2004, he was found with nine different drugs in his system. Not his best idea: he was a diabetic, had a pacemaker, and had previously survived a minor stroke and a heart attack. But James never said die until he actually did. Four months before he passed, he'd mocked his own drug-taking on the TV comedy Chappelle's Show, and was working on an album.
He may no longer be around to explain, or even laugh off, his insane lifestyle, but Rick James' music speaks for itself. Let it glow, baby.
Listen to the best Motown songs on Apple Music and Spotify.
Super Freak: 10 Mad Facts About Rick James
1
Rick nearly didn't release "Super Freak," the record that was famously sampled by MC Hammer. The punk-funker reckoned it was too cheesy to put out.
2
He loved to parrrrtaaay. One night in 1981, Rick came home feeling horny but was too drunk to get it on with his partner. So he made sweet music with his piano instead – and came up with his R&B chart No.1, "Give It To Me Baby."
Rick James - Give It To Me Baby
3
One party he missed was at Sharon Tate's Beverly Crest, California, home in 1969. He was invited, but had got wrecked the night before and didn't feel up to it. Charles Manson's "family" turned up and killed Tate and four guests.
4
Despite rising to fame at the peak of the disco era and getting plenty of club play, Rick was never disco – funk and soul were his forte. It's not well-remembered today, but Rick was Motown's only major star of the 80s who hadn't made their name in the label's classic 60s and early 70s era. He was massive, and it was all down to the phonk.
5
As the hot new star in the Motown firmament, Rick was earmarked to produce Diana Ross in the late 70s. But when James discovered he was only working on half an album, he said, "Funk that, I'm outta here." But one of the songs he had written for Ross became a foundation stone of another career: the superfunkin' "I'm A Sucker For Your Love," released in '79, was Teena Marie's first hit, and opened her album Wild And Peaceful.
6
Salvador Dalí once sketched Rick on a dinner table napkin. Later, Rick forgot he had it in his pocket and dived into a pool. Bye-bye, Dalí sketch.
7
Linda Blair, star of The Exorcist, called him "the world's sexiest man." Rick read the interview, got in touch, and set about proving it. He later said, "She could freeze my blood," writing the song "Cold Blooded" about it.
8
Rick was gutted when he introduced his pal Greg Reeves to Neil Young, who promptly hired Reeves to play bass in Crosby, Stills, Nash & Young. An astounding bass player himself, Rick had hoped to get the gig.
9
Rick loathed Prince. He reckoned The Purple One stole his act after supporting the punk-funker on his first major tour.
10
Rick and his co-writer Alonzo Miller sued MC Hammer for publishing royalties for "U Can't Touch This" – and won. All three won the Grammy Award for Best Rhythm And Blues Song in 1990. Awkward. Rick claimed he'd never have authorized the sample if he'd been asked first.