The 56 Best Motown Songs: Essentials To Get You Dancing In The Street
The best Motown songs are timeless soul classics that capture everything it means to be in love, to suffer heartbreak – and to want to dance with abandon.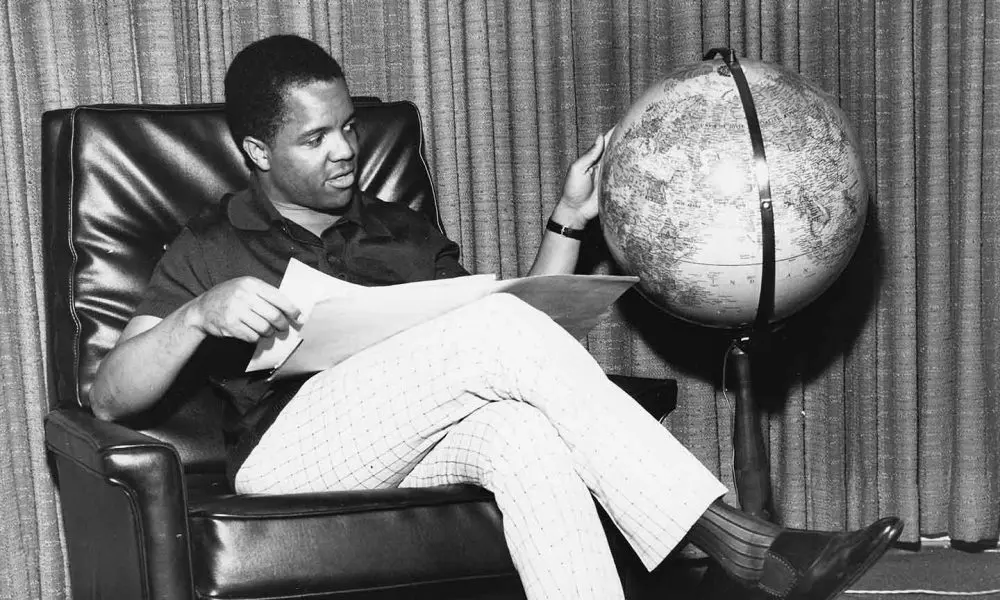 Drawn from a decades-long catalogue that's a gift that keeps giving and giving, the best Motown songs not only defined their era, they remain timeless examples of classic pop. That Berry Gordy turned his independent Detroit-based soul imprint into one of the biggest record labels of all time is achievement enough. That its songs still sit among the greatest and most soulful ever recorded is testament to the relentless quality of the artists and songwriters Gordy hired. Here we'll show you why.
Check out some of the greatest soul albums on vinyl here.
56: Heatwave (Martha Reeves & The Vandellas)
If you're looking for a perfect example of "The Motown Sound," you'd be hard-pressed to find a better one than 1963's "Heatwave." With doo-wop vocals, a hefty backbeat, and plenty of horns, this is the classic sound of the label.
55: Endless Love (Lionel Richie & Diana Ross)
One of the greatest duets ever, this Lionel Richie-penned tune topped the Billboard charts for nine weeks. It's a perfect marriage of two distinct and talented voices. The movie for which it was written is largely forgotten today, but the song will be remembered forever.
54: It's a Shame (The Spinners)
The Spinners would go off to record more for Atlantic Records, but you can understand why Motown wanted to get in on the ground floor of this talented vocal group. This tune, co-written by Stevie Wonder, was the group's most successful song for Motown, reaching No. 4 on the Billboard R&B chart.
53: This Old Heart of Mine (Is Weak for You) (The Isley Brothers)
The Isley Brothers only recorded songs for Motown for a short time, but they made a mighty impact with this pleading Holland–Dozier–Holland gem. It would go on to be covered countless times in the following decades.
52: Mercy Mercy Me (The Ecology) (Marvin Gaye)
Marvin Gaye's poignant song about the environment only becomes more relevant as time goes on. While the sentiment was downcast, it resonated with listeners at the time (it nearly reached the top of the Billboard charts) and today (the album from which it was taken, What's Going On was named the #1 record in the 2020 Rolling Stone list of the best albums of all-time).
51: I Can't Help Myself (Sugar Pie Honey Bunch) (The Four Tops)
This massive hit for The Four Tops wasn't just a No. 1 on the Billboard Hot 100. It's since been one of the tracks used in countless TV shows and films to stand in for the 1960s as a decade, ensuring that this Motown song will continue to resonate for generations to come.
50: Get Ready (The Temptations)
An anthem from the first hitmaking phase of The Temptations' career, when their songs were laid on by Smokey Robinson – a sure sign of soul of the highest order. Assertive, powerful, and groovy, this 1966 smash is beautifully delivered by the great Eddie Kendricks.
49: Can I Get A Witness (Marvin Gaye)
The classic Motown sound was starting to fully flow by the end of 1963, when "Can I Get A Witness" was released. But you can still hear a strong current of R&B and an undertow of gospel in this thrilling floor-filler and all-time mod mover.
48: Needle In A Haystack (The Velvelettes)
An early marker of success for up and coming super-producer Norman Whitfield, this irresistible single was one of just two US Hot 100 entries for a girl group signed to a record company awash with them. Perhaps The Velvelettes needed more attention, or to shout louder – but they surely had talent to spare.
47: There's A Ghost In My House (R Dean Taylor)
One doozy of a catchy song, penned by Motown backroom legends Holland-Dozier-Holland alongside Canadian singer Richard Dean Taylor. With a chorus driven into your brain by a guitar like an angry hornet, this has the pop fashion of 1967 all over it. A wild version supplied a much-needed UK hit for The Fall in 1987.
There's A Ghost In My House
46: Shotgun (Junior Walker And The All Stars)
Junior Walker – aka Autry DeWalt Mixon, Jr – was Motown's leading horn-playing star, guaranteed to kick up a rumpus, yet sensitive, too. His hoarse voice fronted a slew of hits, including this guttural dance-craze romp (it suits The Pony).
45: Dancing In The Street (Martha And The Vandellas)
Was it about dancing or riots? Either way, "Dancing In The Street" was an anthem. Martha Reeves and her soul sisters deliver a song you've heard over and over – but it still sounds fantastic. We're all invited.
44: Take Some Time Out For Love (The Isley Brothers)
They gained acclaim for helping to change soul in the 70s by adding rock guitar, and did the original version of "Twist And Shout" (later covered by The Beatles on their debut album, Please Please Me). In between, they taped utterly amazing records at Motown, such as this bruising 1966 dancer.
43: Everybody Needs Love (Gladys Knight And The Pips)
Though she possesses pipes that could blow down buildings, Gladys Knight prefers to use them subtly and, from the get-go at Motown, seemed more adult than her contemporaries. This silky 1967 treatise on desire, previously recorded by The Temptations, is one of the best Motown love songs.
42: Still Water (Love) (Four Tops)
"Still Water" was written by Smokey Robinson and producer Frank Wilson, and released in two forms, "Love" and "Peace." Full of the spirit of universal love pervasive in youth culture from 1967, this 1970 single should have made bigger ripples than it did. In terms of sound, it heralded what was to come on Marvin Gaye's classic What's Going On album.
41: Super Freak (Rick James)
Before "U Can't Touch This" there was "Super Freak," a badass hunk-a punk-funk that had Rick James riding high in 1981. Nastay as a busted tooth, slick as an oil spill, this Motown song kicks butt.
Rick James - Super Freak (Official Music Video)
40: Automatically Sunshine (The Supremes)
There was a lot of life in The Supremes after you-know-who quit. "Automatically Sunshine," riding a brilliant little bass run, finds the girls in the masterly supervision of Smokey Robinson, who created a thoughtful yet still danceable sound that was both contemporary to 1972 and true to Motown's classic values.
39: Smiling Faces Sometimes (The Undisputed Truth)
One of Motown's best paranoid psychedelic funk songs penned by Norman Whitfield and lyricist Barrett Strong. First recorded by The Temptations, but a huge hit for The Undisputed Truth in 1971, here's the hard-edged aspect of Motown, superbad and tough.
38: Keep On Truckin' (Eddie Kendricks)
And here's a more rolling groover: a US solo No.1 for the former high tenor of The Temptations. It used a motto of the early 70s which became even more popular following the song's 1973 release, adorning T-shirts and badges across the US and UK.
37: Superstition (Stevie Wonder)
Stevie Wonder's all-time clavinet killer riffed its way into history in 1972, and has thrilled (and advised) listeners ever since. Confirmation that the junior genius had matured – and then some.
36: Got To Give It Up (Marvin Gaye)
Despite cutting many of his best records during the disco era, Marvin Gaye did not make many actual disco records. "Got To Give It Up" was an exception, and it showed he could have been the king of the four-to-the-floor style if it had suited him. A US No.1 in 1977, and still a club classic.
35: Upside Down (Diana Ross)
The world-famous Supreme queen's 1980 meeting with disco maestros Chic was not without controversy: she remixed the album they created for her. But when a song like this was the result, it was worth arguing over.
34: If I Were Your Woman (Gladys Knight And The Pips)
Gladys Knight casts an eye over a love she's lost – and knows she could do better than his woman. Incredibly passionate music from 1970, with a highly romantic pulse.
33: You're All I Need To Get By (Marvin Gaye And Tammi Terrell)
Marvin's third vocal partner, Tammi Terrell, gave him something dazzling to bounce off, and both singers shine on this glorious affirmation of love gone good, laid in 1968. Some emotions remain eternal.
32: I Was Made To Love Her (Stevie Wonder)
The second phase of Stevie's career saw him creating some of the most life-affirming Motown songs of the 60s, and this hymn to Ms. Right still lifts the heart. What a voice; what a soul.
31: War (Edwin Starr)
First recorded for The Temptations' Psychedelic Shack album, Edwin Starr took "War" to a far angrier place in 1970, and it became an anthem for those who opposed the Vietnam War. This Motown song has since been revived at critical junctures, with covers by Frankie Goes To Hollywood and Bruce Springsteen. But the not-quite original is the best!
30: Shop Around (The Miracles)
Smokey Robinson's group had a nice line in hand-me-down advice songs before he became the king of emotional metaphors, as this miraculous sliver of 1960 R&B testifies. Mama knows best: don't fall for the first lover you meet.
29: Money (That's What I Want) (Barrett Strong)
In the mid-60s, Barrett Strong became the lyrical lynchpin for the symphonic songs of Norman Whitfield, but before that he was quite something as a singer-songwriter, delivering this massive monetary smash in 1961, as covered by The Beatles on their With The Beatles album.
28: Please Mr. Postman (The Marvelettes)
Sticking with the R&B end of Tamla Motown, here's the label's first No.1, stylishly delivered by Gladys Horton and the girls from Inkster, Michigan. That letter she wanted probably held a 1961 gold record.
27: Love Child (Diana Ross And The Supremes)
Holland-Dozier-Holland, who'd practically written The Supremes' rise to fame, had quit the label, and the group could not afford to slide. So, in 1968, the Motown machine set about creating a song to make the beloved trio totally contemporary. The result was this arresting story of ghetto love.
26: Just Walk In My Shoes (Gladys Knight And The Pips)
The ruler of the tear-soaked adult ballad, Gladys Knight donned her dancing footwear for her debut Motown single, released on its Soul imprint in 1966. The song is a soaring, fiery call to the floor penned by the highly-skilled Lewis sisters. Walk in her shoes? Those pumps gonna strut.
25: Does Your Mama Know About Me (Bobby Taylor And The Vancouvers)
Motown was never short of material that cast a male singer as uncertain about a relationship, but the 1968 hit "Does Your Mama Know About Me" touches a different nerve, as a once-bitten, twice-shy Taylor wonders whether his ethnicity will see him rejected by his new love's family. Set to a lilting waltz arrangement, this bittersweet tale of anxiety is never resolved – appropriately, as couples still face the same problem.
Does Your Mama Know About Me
24: What's Going On (Marvin Gaye)
A fair question, Marvin, as the skinny 60s soul romantic grows into a man aware that the world around him is full of exploitation, fear, and loathing. Co-written by Four Tops' Obie Benson after he'd seen police brutality at a street protest, "What's Going On" was the African-American hit of 1971, covered by jazz musicians, reggae singers, and funkateers alike.
23: Quiet Storm (Smokey Robinson)
Composed by Smokey and his sister Rose, "Quiet Storm" was not a huge pop hit, but it represents two things: a new genre of soul, which gave radio programmers an innovative format called, yes, Quiet Storm; and Motown coming to terms with the fact its music was not entirely for kids and parties anymore. Smokey, as ever, is touching. Sink into his silky gentleness and lose yourself.
22: Brick House (Commodores)
Remembered today as the proper starting place for Lionel Richie's massive career and a bevy of mellow ballads, Commodores earned their silver star and sleeve braid with paaartay funk, and this master jam, sung by Walter Orange, kept freaks on their feet for years. "Brick House"'s curious compliment for a "mighty mighty" female, with lyrics penned by Shirley Hanna-King, wife of the band's hornsman William King, was a US smash in 1977. Ow!
21: Love Hangover (Diana Ross)
Diana doesn't want Alka-Seltzer. Forget the hair of the dog. She is reveling in her passion-jaded condition, delivering a trophy-grabbing disco masterpiece, showing the likes of Donna Summer and Gloria Gaynor who's The Boss. Co-written by Pam Sawyer, who'd been fashioning songs for Ross since "Love Child," this is one of the best disco records ever made.
20: End Of The Road (Boyz II Men)
Kinda ironic that Motown's biggest songs for years came from a Philadelphia group. But Boyz II Men's 1992 New Jack Swing sound was styled after classic vocal soul, Motown included. "End Of The Road" spent a quarter of a year at US No.1, and Boyz II Men went on to beat that performance, twice!
19: Every Little Bit Hurts (Brenda Holloway)
Another slowie, 1964-style. Brenda Holloway, the LA teenager who gave Motown the touch of class its founder, Berry Gordy, craved, had recorded "Every Little Bit Hurts" two years earlier, but it went unissued. When it finally saw the light of day, it soared.
18: Ooo Baby Baby (The Miracles)
Smokey Robinson And The Miracles reflect on their amorous error and beg for forgiveness. Shockingly, "Ooo Baby Baby" was not a UK hit, though it made US No.16 in 1965. Since then it has become regarded as a total classic of Motown balladry.
17: The Hunter Gets Captured By The Game (The Marvelettes)
More Smokey magic, this time as a tunesmith alongside fellow Miracle Pete Moore. Wanda Young, in The Marvelettes' lead singer's role, had set a "tender trap" for a fella, but love "hit me like a sudden slap," turning the tables. With a moody chord sequence and haunting harmonica, "The Hunter Gets Captured By The Game" was one of the most original hits of 1967.
16: Reflections (Diana Ross And The Supremes)
With Diana's name now in lights, The Supremes set about tackling the problem of delivering soul in a psychedelic year (1967) – by making a psychedelic soul record. Obvious, really. Throbbing, grinding, and otherworldly, this is Ross in inner space, chasing dreams and illusions, while regretting wasted love as ever. Awe-inspiring.
15: I Want You (Marvin Gaye)
Marvin is overwhelmed by desire in the title track of his 1976 album, I Want You, produced and co-written by Leon Ware. If you're not in the mood, this can almost be too intimate – but who isn't in the mood when Marvin starts to sing?
14: Heaven Must Have Sent You (The Elgins)
Produced and penned by Holland-Dozier-Holland, this fabulous single was the only big hit for The Elgins, a highly-accomplished vocal outfit. It made US No.50 in 1966 – and had to wait until 1971 to become a UK No.3. The song was so good, Bonnie Pointer gave it a disco refurb for her debut Motown album, later in the 70s.
Heaven Must Have Sent You (Stereo Promo Version)
13: Just My Imagination (Running Away With Me) (The Temptations)
A dreamy – in fact, daydreamy – ballad that was Eddie Kendricks' parting gift to The Temptations, as he turns this tale of a deluded fantasist into a fan's dream come true. It was also a goodbye to Paul Willaims: soul times were changing in 1971.
Just My Imagination (Running Away With Me)
12: Reach Out I'll Be There (Four Tops)
Four Tops' 1966 monster, with Levi Stubbs straining every sinew to let you know he's standing by, ready to catch you when you fall. What a guy. What a single.
11: My Guy (Mary Wells)
That keening horn at the start calls you to a 1964 Motown song that is a sure-fire smash hit. Written by Smokey Robinson, this was Mary Wells' biggest hit for the label – and more or less marked the end of her tenure there. Heard so often, it still sounds bright and alive.
10: My Girl (The Temptations)
Smokey replied to his own song for Mary Wells with this wonderful record, Robert White's simple but effective guitar figure contrasting beautifully with David Ruffin's powerful vocal. Tender yet sprightly, it's regarded as The Temptations' theme song.
9: Sir Duke (Stevie Wonder)
Stevie's 1976 tribute to the swing jazz giants who inspired him as a kid is delivered with such joy that it could have been the work of "Sir" Duke Ellington himself – though far funkier. A happy and glorious 1977 No.1.
8: Stop! In The Name Of Love (The Supremes)
Ain't no use sneakin' around, boy; The Supremes know what you are up to in a song that serves as both a plea for being treated better and as a fierce admonition. The use of the word "charms" is totally toxic. If the fella took no notice, he's got no soul.
Stop! In The Name Of Love
7: The Tracks Of My Tears (The Miracles)
Another miracle from Smokey, this confessional wailer was a No.10 US hit in 1965 – but should have been bigger. Things are not what they seem, admits Smokey, a topic he also dealt with in "Tears Of A Clown." His pain was our gain.
6: I Want You Back (Jackson 5)
Full of beans, Michael Jackson and the rest of the boys from Gary, Indiana, break big with their first Tamla single, sounding like a junior Sly And The Family Stone crossed with a teenage Temptations. Released in 1969, a chart-topper in 1970, and the birth of a legend.
5: What Becomes Of The Brokenhearted (Jimmy Ruffin)
The brother of The Temptations' lead singer grabs his chance with a desolate story of a land of loneliness. Always bigger in Britain than he was in the US, Ruffin nonetheless made US No.7 with a Motown song that turns on the soul taps until his cup of misery overflows.
What Becomes Of The Brokenhearted
4: I Heard It Through The Grapevine (Marvin Gaye)
Marvin wasn't the first singer to record "I Heard It Through The Grapevine," and wasn't the first to hit with it, that plaudit going to Gladys Knight And The Pips. But his slower, altogether more spooked version was the one that stuck, no doubt helped along by Jack Ashford's subtle tambourine. It remains one of Motown's best songs.
I Heard It Through The Grapevine
3: Papa Was A Rollin' Stone (The Temptations)
The Undisputed Truth did it first, in 1972, but The Temptations landed the smash hit the following year with this version full of badass badness. The group apparently had doubts about dissing their "dads," who were all upright folk. One of the greatest Motown songs ever.
2: Someday We'll Be Together (Diana Ross And The Supremes)
Diana says farewell to The Supremes with a version of the 1961 Johnny And Jackey duet that manages to be both resigned and hopeful. The arrangement is surprisingly similar; the producer is Johnny Bristol – Johnny of Johnny And Jackey. The terrible irony is, The Supremes didn't sing on it at all, though you can hear Bristol's voice urging Diana onwards and upwards.
Someday We'll Be Together
1: Ain't No Mountain High Enough (Marvin Gaye And Tammi Terrell)
One of the crowning glories of pop's 60s revolution, one of the best soul songs of all time, and, for many fans, Motown's peak. Written by Nickolas Ashford and Valerie Simpson, "Ain't No Mountain High Enough" melded gospel roots with heavenly soul within a musical backdrop that swooped from gentle valleys to staggering highs. Marvin and Tammi never sounded better, solo or together. Soul with ambition, soaked in passion.
Ain't No Mountain High Enough
Entries written by Ian McCann and Sam Armstrong.
Looking for more? Discover the best Motown love songs.
Think we've missed any of the best Motown songs? Let us know in the comments section below.