Boyz II Men
The biggest-selling R&B act of all time, Boyz II Men's 20-year career has been blessed with record-breaking hits and a cavalcade of awards.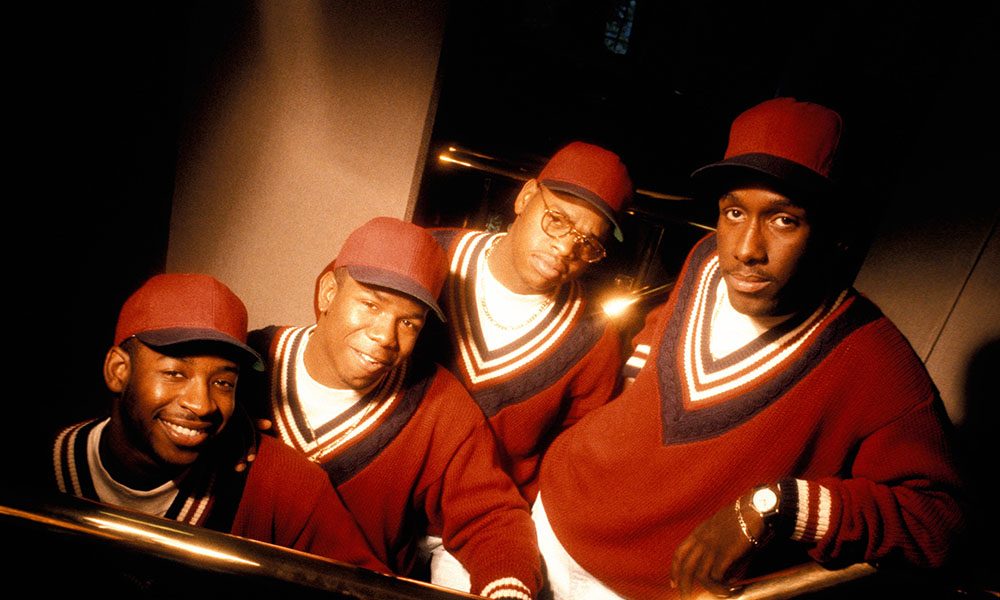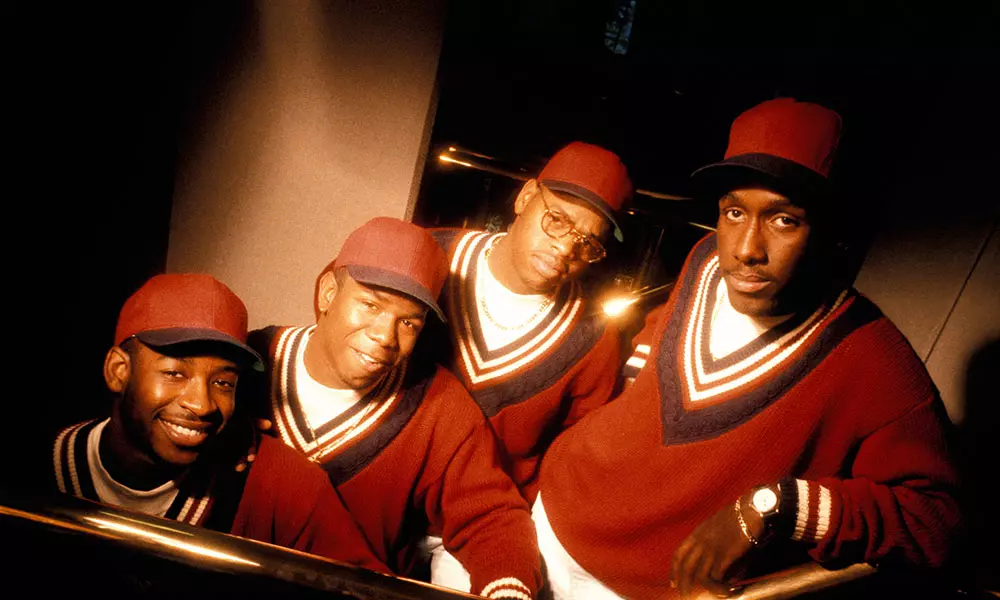 The biggest-selling R&B act of all time, Boyz II Men's 20-year career has been blessed with record-breaking hits and a cavalcade of awards. Their silky smooth brand of R&B, dubbed "hip-hop doo-wop" by the group, helped redefine the genre, winning them legions of fans worldwide.
The group began life as Unique Attraction, founded by friends Nathan Morris and Marc Nelson at Philadelphia's High School For The Creative And Performing Arts, in 1985. Schoolmates George Baldi, Jon Shoats and Marguerite Walker completed the original line-up, joined in 1987 by freshman Wanya Morris. The following year saw them splinter, however, as Baldi, Shoats and Walker left following their graduation. Shawn Stockman was the first replacement, snapped up after the remaining members saw him perform a solo with the school choir. Next was bass vocalist Michael McCary, who joined in an impromptu singing session in the school bathroom and found himself swiftly recruited. With a permanent line-up cemented, the five-piece changed their name to Boyz II Men in 1988, after the track 'Boys To Men' on New Edition's 1988 album Heart Break. Soon, their idols would have an even more pronounced impact on their career…
After performing at a well-received school Valentine's Day party in 1989, the band managed to sneak backstage at a Philadelphia show by New Edition offshoot Bel Biv DeVoe. There Boyz II Men sang an a cappella version of New Edition's 'Can You Stand The Rain', impressing Michael Bivins so much that he agreed to manage them. All set to record their debut album, however, delays and personality clashes led to founding member Marc Nelson's departure, leaving the group a quartet.
With Bivins' influence, they scored a deal with Motown and began work on their debut album. 1991's Cooleyhighharmony was written largely by the band and produced by Dallas Austin, who'd later oversee some of TLC's biggest hits. It was a sparkling debut that mixed old-school R&B with contemporary influences; its two lead singles showcased their varied style. 'Motownphilly', co-written by Michael Bivins and featuring his rap cameo, utilised the upbeat, hip-hop-influenced New Jack Swing genre that had dominated the charts that year, while 'It's So Hard To Say Goodbye To Yesterday' was a spine-tingling a cappella cover of GC Cameron's 1975 hit, perfectly showcasing each member's stunning vocals and close harmonies. Both singles raced up the charts on release, becoming US Top 5 hits. Other album highlights included the slow jams 'Please Don't Go' and 'This Is My Heart', along with upbeat anthems 'Under Pressure' and 'Sympin'', and the sensual 'Uhh Ahh'.
With the band presenting a preppy, clean-cut look that was a fresh change from the street-tough image then dominating R&B, Cooleyhighharmony proved a huge success, quickly going multi-platinum as it reached No.3 in the US chart before selling over nine million copies. There was more success come awards season as the album won a Grammy for Best R&B Performance By A Duo Or Group With Vocals at the 1992 ceremony. Riding on its success, the group joined MC Hammer's 2 Legit 2 Quit tour in 1992 as an opening act, yet tragedy struck when their tour manager, Khalil Roundtree, was shot and killed in Chicago. Devastated, the band dedicated future performances of 'Its So Hard To Say Goodbye To Yesterday' to him.
Between further gigs in 1992, Boyz II Men returned to the studio to record a song for the soundtrack to the Eddie Murphy film Boomerang. Co-written and produced by Kenneth "Babyface" Edmonds and released on 30 June 1992, the super-smooth 'End Of The Road' would catapult them from R&B hopefuls to world-famous superstars as it became one of the biggest-selling singles of all time. Reaching the No1. position on 22 August, and remaining there for an astonishing 13 weeks, the song broke Elvis Presley's 11-week record for the double-sided 'Don't Be Cruel'/'Hound Dog' – a record The King had held since 1956. 1993 saw a revamped Cooleyhighharmony released with 'End Of The Road' added as a bonus track, while the band issued a cover of The Five Satins' song 'In The Still Of The Nite'. Next came the Christmas Interpretations album, a collection of self-penned odes to Yuletide, alongside a luscious a cappella version of 'Silent Night'.
After the runaway success of the previous two years, a lot was expected of Boyz II Men's sophomore album, but 1994's II delivered on all fronts. Written by the band and produced by such R&B luminaries as Tim & Bob, LA Reid, and Jimmy Jam and Terry Lewis, it was a work that built on the strengths of the debut. Only the most optimistic would have predicted success on the scale of 'End Of The Road', but the Babyface-penned lead single 'I'll Make Love To You', a similarly caramel-smooth crooner, went even further, topping the charts for 14 weeks. Its reign only came to an end when the group knocked themselves off the top spot with II's second single, 'On Bended Knee', which went on to spend a further five weeks at No.1 – the first time since The Beatles that an act had replaced itself at the top of the US charts. The rest of the album (which also included the US No.2 hit 'Water Runs Dry') was a filler-free mix of uptempo dance tunes and slow numbers. Riding on the crest of the unprecedented success of its singles, II went on to sell over 8.6 million copies worldwide, while earning the band two Grammy Awards, one for Best R&B Album, the other for Best R&B Performance for 'I'll Make Love To You'.
The remainder of 1994 and much of '95 were spent touring the world, with the band only breaking off to work on collaborations. There was a Wanya Morris effort with Brandy on 'Brokenhearted', and group contributions to Michael Jackson's HIStory and LL Cool J's Hey Lover. Their Midas touch came to the fore once again on a collaboration with Mariah Carey. 'One Sweet Day', which was written by the band with Carey and Walter Afanasieff, ended up breaking their own record by spending 16 weeks at the top of the charts. At the end of 1995, Motown released The Remix Collection, which entered the US Top 20.
Their third album, 1997's Evolution, met with mixed reviews, yet topped the US charts and became their highest-charting UK album for 10 years. Laden with the slow ballads that had become their trademark – including lead single '4 Seasons Of Loneliness', which also hit the No.1 spot – the album suffered long-term after a global tour had to be postponed when Wanya Morris developed a benign polyp on his vocal chords, a setback from which he went on to fully recover.
After Motown's parent company, Polygram, was sold in 1999, label restructuring found Boyz II Men reassigned to Universal, for whom they recorded 2000's Nathan Michael Shawn Wanya. The album found the group assuming greater control over their output, and they took on almost exclusive writing and production duties in an attempt to diversify from the Babyface-penned ballads for which they had become famous. Reviewed well and containing some excellent songwriting in the likes of 'I Finally Know' and 'Pass You By', it sold gold and made its mark in the US Top 5.
Departing from Universal the following year, the group signed to Arista, releasing the album Full Circle in 2002. A continuation of the more mature direction of its predecessor, the Babyface-penned slow number 'The Color Of Love' was issued as a single, helping the album reach No.10 in the States – though it was the last to feature the band as a quartet, as Michael McCary left in 2003 due to scoliosis.
Now a trio, Boyz II Men returned in 2004 with Throwback, a covers collection that paid tribute to their favourite R&B and soul songs. 2006 brought The Remedy, an album initially released only in Japan, where they still had a significant fanbase, before being later issued digitally via their website. The following year, the group re-signed to Universal, for whom they released Motown: A Journey Through Hitsville USA. A covers album produced by Randy Jackson, it featured sterling versions of classics such as Marvin Gaye's 'Mercy Mercy Me', Smoky Robinson's 'The Tracks Of My Tears', and even an a cappella take on their own 'End Of The Road', which also featured singer Brian McKnight. A commercial success (it reached No.66 on the US R&B chart and No.8 in the UK), the album also fared well with the critics, earning Boyz II Men more Grammy nominations, this time for Best R&B Album, and Best R&B Performance for their version of Stevie Wonder's 'Ribbon In The Sky'. Randy Jackson returned to produce a third covers album, 2009's Love, which featured re-workings of rock and pop songs not normally associated with the band.
Boyz II Men celebrated their 20th anniversary in 2011 by releasing Twenty, an album which featured their first original songs in a decade, alongside reworkings of their classics. Well received by critics, it also continued their commercial revival as it debuted at No.20 on the US charts. 2014 saw another album of new material, Collide, which found the band spreading their wings with a variety of new music styles. Though no new music has been forthcoming since, they continue to tour, staging residencies in Las Vegas and filling arena venues throughout the States.
Paul Bowler
Format:
UK English