Leaders Of The Pack: A History Of Girl Groups
Girl groups go all the way back to the birth of pop, and their long and honorable dedication to delighting the ears deserves far more recognition than it gets.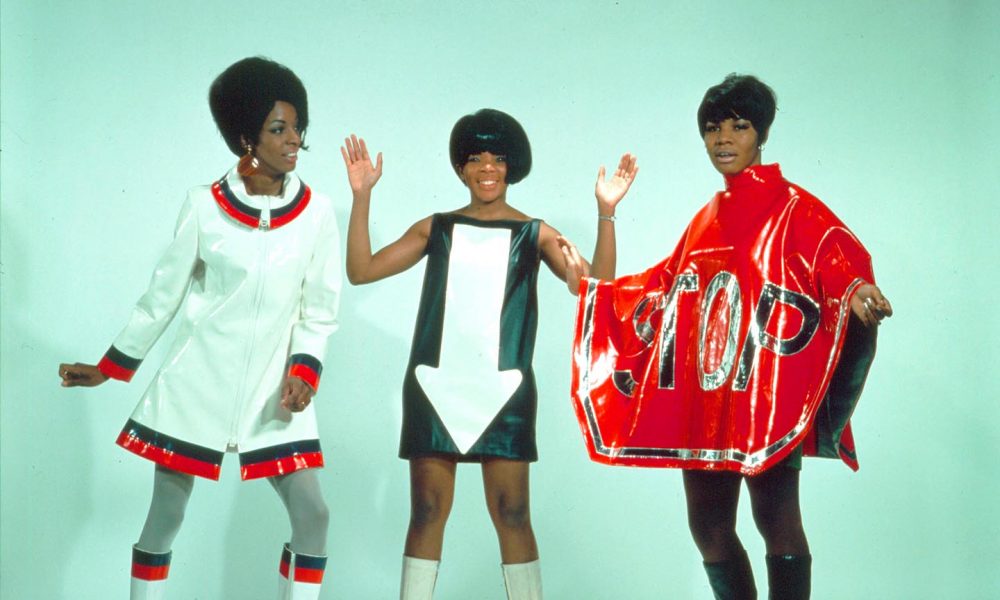 It would take a special male teenager who would admit to loving a boy band. In the macho world of young lads, appearing, if not tough, at least identifiably masculine, is everything. Admitting you loved Take That in the early 90s would mark you out as an unusual young male adolescent ripe for bullying. But if it was, say, one of the world's finest girl groups, such as R&B trio Eternal, that was cool: they projected a sexy image.
That kind of image not only attracts male fans, but girls see it as empowering, perhaps inspiring. And that's a fundamental difference: the sisters speak to everybody, but most brothers only speak to their brothers. And while most so-called "classic" rock bands are male, girl groups go all the way back to the birth of pop, and their long and honorable dedication to delighting the ears deserves far more recognition than it gets. So let's acknowledge the sheer brilliance of the female group – the backbone of pop since before pop had a name.
The 40s
Can we go back? Way back? It may seem like a long journey from The Andrews Sisters to Christina Aguilera, but Xtina knows full well the power of the three girls from Minnesota who mixed swing and R&B to become one of the biggest acts of the 40s. Watch her video for "Candyman": this is tapping into the history of girl groups to present The Andrews Sisters for the modern age.
Right from the start, the three Andrews Sisters were taking responsibility for their lives and those of their family, hitting the road in their teens after their dad's restaurant went broke. During the 30s, they worked their way up the swing circuit and signed to Decca, hitting big with "Bei Mir Bist Du Schön" in 1937. While that was a romantic ballad translated from Yiddish, the girls had already shown their R&B hipness with their previous hit, "Jammin," a mere 40 years ahead of Bob Marley. "Shortenin' Bread" and "Beer Barrel Polka" kept them in the public eye, and across 1940-41 the trio scored with a series of smashes – some of which look a bit weird to a modern mindset, notably "Beat Me Daddy, Eight To The Bar," and "Scrub Me, Mama, With A Boogie Beat."
The Andrews Sisters "Straighten Up and fly Right"
But there was also "Boogie Woogie Bugle Boy" amid their litany of wartime hits, and "Rum And Coca-Cola" remains famous. The sisters also made movies and the media of the day was fascinated with their love lives, occasional feuds, and looks. If that sounds like a modern group, it was: Andrews Sisters records have featured on video games such as Fallout 4, LA Noire, and Mafia II. They were the future from way back.
Not that they had it all their own way. Here's a nugget for Xtina to chew on: the 20s saw a popular vaudeville trio called the Three X Sisters, who wrote some of their own material. They were likely role models for The Boswell Sisters, who in turn inspired the Andrews and hung around long enough to provide competition. Another three-part harmony trio, The Boswells' brand of jazz, swing, and R&B made them claimants to being the earliest "funky" white girl group, who emerged from the New Orleans jazz scene and started scoring hits in the US in 1931.
If that sounds impossibly ancient, here's a salutary thought: it wasn't God, Argent, or KISS who gave rock'n'roll to you, it was The Boswell Sisters, ahead-of-their-time lay-dees who had the first hit with a song called "Rock And Roll" in 1934. They inspired The Andrews Sisters, and the line continued with The Dinning Sisters, three shy girls from Oklahoma who were signed to Capitol Records as its answer to Decca's Andrews. The Dinnings were, by their own admission, walking in the Andrews' shadow, but were still confident enough to sing "They Just Chopped Down The Old Apple Tree" in answer their rivals' smash hit "Don't Sit Under The Apple Tree (With Anyone Else But Me)." How d'ya like them apples?
The 50s
The popular girl groups of the late 40s and early 50s were often a little polite. The Chordettes, four women in off-the-shoulder dresses from Wisconsin, came from the barbershop tradition, a sound that could infatuate or infuriate according to taste. All the same, they delivered a couple of songs that remain instantly recognizable, "Mr. Sandman" (1954) and "Lollipop" (1958). However, despite boiling down their musical backing to compete with rock'n'roll and doo-wop, they remained somehow reminiscent of an earlier age, and later generations found their records creepy, it seems, hence the inclusion of "… Sandman" in Halloween II and several sci-fi movies.
The Chordettes were rivaled in the 50s trad-pop stakes by The McGuire Sisters, who raided the doo-wop songbook to create genteel versions of The Spaniels' "Goodnite Sweetheart, Goodnite" and The Moonglows' "Sincerely," enjoying far bigger hits with them in 1954-55 than the original artists. But doo-wop could not be kept down for long: this street-corner vocal harmony sound was too strong to be overlooked, and the Teen Queens hit with "Eddie My Love" in 1956, while The Chantels added a spot of Latin to doo-wop on "Maybe" in 1958. But the style's most interesting female vocal group was The Bobbettes, who wrote "Mr. Lee." It was one of the best-loved US hits of 1957, but the same could not be said of the teacher who inspired it: initially the song declared how much they loathed him, and the group were persuaded to change it. But one of their follow-up hits could not keep the hate down: 1960 saw them release "I Shot Mr. Lee." Yikes.
The 60s
The door was open for African-American girl groups, and they didn't need asking twice to walk right in. New Jersey quartet The Shirelles cut records for Decca before finding fame at Scepter, where they had a small hit with "Tonight's The Night," co-written by the group's Shirley Owens. "Dedicated To The One I Love" also failed to break the US Top 40, but there was nothing small about the group's next hit: "Will You Love Me Tomorrow." Written by Carole King and Jerry Goffin, this gem topped the US charts in 1960, prompting a reissue of "Dedicated To The One I Love," which then made No 3. "Soldier Boy" gave the group another No.1 in 1962.
In Detroit, Tamla label-owner Berry Gordy was watching. The Marvelettes' "Please Mr. Postman" was a roughed-up, more R&B vision of The Shirelles' sound, and Gordy knew he'd found a repeatable formula. But he wasn't the only one impressed by The Shirelles: in England, The Beatles covered their "Boys" and "Baby It's You" on their first LP, which also contained a version of "Chains" by Brooklyn female trio The Cookies. If it sounds amazing that these pop giants chose to cover US girl groups, it was, but bear in mind that the Fabs were fans themselves, offering tribute to music they admired.
In Hollywood, Phil Spector was also paying attention. He sought out a series of girl groups capable of softening the masonry of his famous Wall Of Sound, though in The Crystals and The Ronettes he found singers powerful enough to compete with his raucous productions. The Crystals gave him hits with "Da Doo Ron Ron" and "Then He Kissed Me," but their sole No.1 was actually the work of another group, The Blossoms, rebadged as The Crystals, singing Gene Pitney's "He's A Rebel." Spector had been in a rush to record the song before another act beat him to it; The Crystals lived in New York and the megalomaniac maestro couldn't wait for them to reach the West Coast.
There was a curious afterlife to one of The Crystals' more controversial songs: "He Hit Me (And It Felt Like A Kiss)" was understandably a flop when released in 1962, but decades later it caught the imagination of Amy Winehouse, who was fascinated by the almost masochistic suffering of the girl groups and began to incorporate a touch of these feelings into her music. (Incidentally, The Crystals reportedly hated the song.)
The Ronettes were Spector's other major girl group, all backcombed bouffants and big beat balladry. Fronted by Veronica "Ronnie" Spector, the trio found their feet with their sixth single, "Be My Baby," a huge hit in 1963, following it with a series of classics of their type, including "Baby I Love You," "(The Best Part Of) Breaking Up," "Walking In The Rain" and the original version of "I Can Hear Music," later a hit for The Beach Boys, whose Brian Wilson wrote "Don't Worry Baby" as a response to "Be My Baby." But again producer Spector held all the cards: The Ronettes' first four tracks for him were credited to The Crystals on wax.
The other dominant girl group of 1963 was The Chiffons, four Bronx singers with two lead singers, Judy Craig and Sylvia Peterson. They hit big with "He's So Fine" and a series of superb Gerry Goffin and Carole King songs, "One Fine Day," "Sweet Talkin' Guy" and "I Have A Boyfriend." In the mid-60s, long after their peak, The Chiffons continued to cut wonderful 45s, including the fabulous "Out Of This World," which boasted a sound that hit just as hard as Motown's.
Jerry Leiber and Mike Stoller, famous for composing hits for The Coasters and Elvis Presley, wanted in on the girl-group action and founded the Red Bird label, populating nearly half its catalogue with female acts. In 1964, it hit US No.1 with The Dixie Cups' "Chapel Of Love," a song intended for The Ronettes. Coming out of New Orleans' musical gumbo gave them a different sound to their New York competitors – you could hear it in their version of "Iko Iko," a record that vibrated with the Crescent City's upbeat attitude. Another group with a radical sound was Red Bird's white quartet The Shangri-Las, whose melodramatic records were dug from the same dark seam of pop that Roy Orbison and Gene Pitney mined for misery. "Remember (Walking In The Sand)" was a creepy, tearful ballad that touched an America struggling to come to terms with its young men going to Vietnam; it didn't mention the war, but did speak about a boyfriend going away and the future the narrator would never have.
The Shangri-Las -Leader Of The Pack Video with High Quality Sound
Even darker, their follow-up, "Leader Of The Pack," saw a teenage row culminating in a leather-clad boyfriend being turned into a bloody mess amid motorcycle wreckage. Lead vocalist Mary Weiss sounded like she was about to go home and gulp down a handful of tranquilizers (in reality, it was more likely to be a Lemsip, as she sang like The Crystals' Barbara Alston with a cold). The records were decorated with sound effects such as seagulls screeching and bikes revving; the whole lot was draped in reverb to make it sound like the coldest recesses of a church that was holding a funeral after a particularly tragic loss.
This is what pop genius is made of, and though The Shangri-Las' success was as short-lived as the hero in "Leader Of The Pack," their final US Top 10 single, 1965's "I Can Never Go Home Anymore," was another masterpiece. In a curious postscript, pioneering UK punk group The Damned's 1976 debut single, "New Rose," quoted the intro to "… Pack," a sure sign of the Shangri-Las' lasting outsider status. By contrast, a more tender variant of the girl group phenomenon came from Baltimore's The Royalettes, who delivered their grand statement in 1965 with the impeccable "It's Gonna Take A Miracle," a deeply soulful record.
Speaking of soul, by 1964, Tamla had got its girl group act(s) together – and then some. Martha And The Vandellas ("Heatwave," "Quicksand," "Dancing In The Street"), The Velvelettes ("Needle In A Haystack," "He Was Really Sayin" Somethin'") and The Marvelettes ("Too Many Fish In The Sea," "The Hunter Gets Captured By The Game") were the entrée to the main course: The Supremes, the biggest girl group of the 60s. As a soul singer, Diana Ross was not the match of some of her contemporaries, but in front of Flo Ballard and Mary Wilson, she brought teenage dreams to life. She had a winning personality, cute looks and the support of arguably the best pop machine of all time behind her. Writers Holland-Dozier-Holland gave The Supremes a glittering string of smashes, starting with 1964's "Where Did Our Love Go" and rising through "Baby Love," "Stop! In The Name Of Love," "I Hear A Symphony" and "You Keep Me Hangin' On," and Motown ensured The Supremes kept up with the psychedelic era thanks to "Love Child," "Reflections" and the vaudeville-gone-paisley theme for "The Happening."
However, when Holland-Dozier-Holland tried to repeat their Supremes success away from Motown, they fell short. Honey Cone was a decent pop-soul act, but had just three big hits with "Want Ads," "Stick Up" and "One Monkey Don't Stop No Show," which hardly put The Supremes into the shade.
The 70s
While The Supremes were never quite as sensational once Ms. Ross left to a stellar solo career, they still scored hits deep into the 70s, a decade which continued to dance to the sound of all-female soul groups. Some were positively funky, such as Stargard, who hit with "Theme Song From 'Which Way Is Up'," penned by ex-Motown producer Norman Whitfield for a Richard Pryor movie. Parlet and The Brides Of Funkenstein were George Clinton/Bootsy-directed girl groups that sang material that was sometimes as wacky as three-legged pants. The (four) Pointer Sisters had sass up to their scalps and dressed like they had been raking around in their grandma's flapper drawer, oozing deco disco style.
They scored with Allen Toussaint's "Yes We Can-Can" (alerting Barack Obama to it, presumably) and cut material as diverse as the hypnotically sexy "Don't It Drive You Crazy" (1977) and their mid-80s pop zinger "Jump (For My Love)." In all, they enjoyed 12 years of hits. Less successful, but with even tougher vocal chops and attitude, came Labelle, a trio that grew out of 60s R&B act Patti LaBelle And The Bluebelles. Managed by British former Ready Steady Go! producer Vicki Wickham, they dressed like glam astronauts, hitting No.1 with an Allen Toussaint production, "Lady Marmalade," which has served as a call to the dancefloor ever since. While the group never topped this success, they remained a formidable force, individually and collectively.
Labelle - Lady Marmalade (Voulez-Vous Coucher Avec Moi Ce Soir ) 1974 • TopPop
The dominant studio city in 70s soul was Philadelphia, and its smooth style supported numerous female acts, such as First Choice ("Armed And Extremely Dangerous," "Smarty Pants," "Doctor Love"), The Jones Girls (three Detroit-based sisters who became favorites of serious soul fans), and The Fuzz (a Washington trio with material written by leader Sheila Young). But Philly's biggest female group was The Three Degrees, who aimed to do for that city what The Supremes did for Detroit, scoring hits such as "When Will I See You Again, "TSOP," "Love Is The Message" and "Take Good Care Of Yourself."
While girl groups were accepted in soul, in rock'n'roll they faced a rough road. The Pleasure Seekers, featuring Suzi Quatro, played tough garage rock in the mid-60s, became Cradle later in the decade, and are still rocking hard. Their contemporaries Goldie And The Gingerbreads were the first self-contained female rock act signed to a major label, but the powers of Decca and Atlantic couldn't make them stars.
Goldie and the Gingerbreads
Some fine rock acts surfaced in the 70s, were hyped, but mostly ignored, such as Fanny, a quartet who were serious musicians and played on numerous sessions, yet were subjected to vocal abuse at gigs, notably when supporting Slade. Then there were Birtha, an LA foursome who toured the UK with a motto that said "Birtha has balls" – musically, they did. But female rockers were not taken very seriously until the punk revolution chucked away the rulebook, delivering a climate where rock women took more prominence. The likes of Siouxsie Sioux, Poly Styrene, Pauline Murray, Vi Subversa, and Gaye Advert were all notable figures in the UK; in the States, Debbie Harry and Tina Weymouth became stars.
All-female groups, however, were scarcer. In the US, The Runaways had lit the way in the 70s with an energized if straightforward rock'n'roll; sadly, it later emerged that some members had been abused by their (male) mentor, Kim Fowley. In Britain, The Slits emerged with a provocative image and a mix of punk and dub that won them huge respect – if not huge hits. A more underground act, The Raincoats, created a stir with a gutsy, raw post-punk sound that drew both acclaim and disdain; compromise was not on their agenda and they are now seen as one of the most original acts of the era. A far more trad-metal-rock quartet, Girlschool, won a huge following in the New Wave Of British Heavy Metal, showing no fear of touring and recording with the terrifying Motörhead.
The 80s and beyond
Things improved for girl groups in the 80s. From America, the likes of Sister Sledge and Mary Jane Girls cleaned up in the discos during the first half of the decade, and the harder-edged, self-contained band Klymaxx brought a more funky attitude to their take on dance music. The Bangles enjoyed a series of smash hits in the second half of the decade, including a cover of Prince's "Manic Monday" and the international No.1 "Eternal Flame." In the UK, Bananarama, a group initially criticized for unison singing in a monotone, grew into a major pop act with the likes of "Shy Boy" and the witty "Robert De Niro's Waiting." The group carried on when Siobhan Fahey left to form Shakespears Sister with Marcella Detroit, a duo with a darker sound that scored heavily with the single "Stay" in 1992, from the album Hormonally Yours.
The Bangles - Manic Monday (Official Video)
Bananarama had drawn influence from The Go-Go's, a Los Angeles band fronted by Belinda Carlisle and Jane Wiedlin, who hit with "Vacation" and "Head Over Heels" in the early 80s, plus the song Wiedlin wrote with Fun Boy Three singer Terry Hall, "Our Lips Are Sealed." Hall's group had been instrumental in putting Bananarama into the public eye when the two trios cut a pair of hit singles together. In turn, Bananarama were an influence over the next wave of UK girl groups, who had grown up watching them become stars; this included Spice Girls. But there was another US girl group which had considerable input into the expectations of the Girl Power generation, though their fine records are not often cited as an influence: En Vogue.
The funky foursome from Oakland, California, were the brainchild of Foster-McElroy, who'd produced hits for Timex Social Club and Tony! Toni! Tone!. Though known for creating the sound of New Jack Swing, the production boffins yearned to build an act that echoed the late 50s/early 60s girl groups in a modern context. Deciding that elegance, looks and brainpower were as important as strong voices, auditions were held, and the result was En Vogue, who hit big with the highly harmonious funk groove "Hold On," in 1990. This debut single put them on a hit run that lasted 10 years in the US.
Foster-McElroy's formula worked – so it was copied. British foursome Eternal enjoyed 15 hits from 1993; All Saints grabbed five No.1s between 1997 and 2000. There were many more acts formed this way. The biggest by far was Spice Girls, whose image of a gang of five ordinary young females having fun and expressing power through their music – and, above all, attitude – had a profound influence on a generation. Their 1996 debut "Wannabe" was a No 1 in every major music market.
Spice Girls - Wannabe (Official Music Video)
In truth, their motto of Girl Power was a dilution of the politics, anger, and energy of the riot grrrl movement which had emerged from Washington state in the early 90s, but Spice Girls' message was more easily accepted than the likes of the musically more credible Bikini Kill, Huggy Bear, and Sleater-Kinney. Girl Power delivered at least an idea – if not the reality – of feminism to millions of adolescent females. Spice Girls' initial hitmaking career was no longer than four years, just two of which were spent as a five-piece. Some of their records seemed short on substance, but the marketing of Posh, Ginger, Sporty, Baby and Scary, using the group name as surrogate surnames much as Ramones had during the punk era, was nigh-on perfect, and they became the pop act of second half of the 90s.
American black music continued to bear female fruit: TLC made beautiful records in the first half of the 90s, justifiably selling 65 million of them, a figure more or less matched by Destiny's Child, the leading trio who followed them and launched the career of the biggest female star of the new millennium, Beyoncé. In the UK, Sugababes and Girls Aloud in turn gave rise to Little Mix; the last two groups were formed through TV talent shows.
It's a long journey from The Andrews Sisters to Little Mix, but the route is surprisingly direct. For each group mentioned here, there are dozens more, each with something to say. Generations of girls admire them – teenage boys do too. They deliver a different voice to pop: an emotional expressiveness, often surprisingly direct, that male acts cannot – and cannot even hope – to deliver. If that's the real meaning of girl power, more power to them.
Discover more about the female Motown singers you really should know.