The Best Chemical Brothers Songs: 20 Electronic Classics
Over several decades, The best Chemical Brothers songs have drawn on influences from psych to hip-hop, redefining the notion of dance music.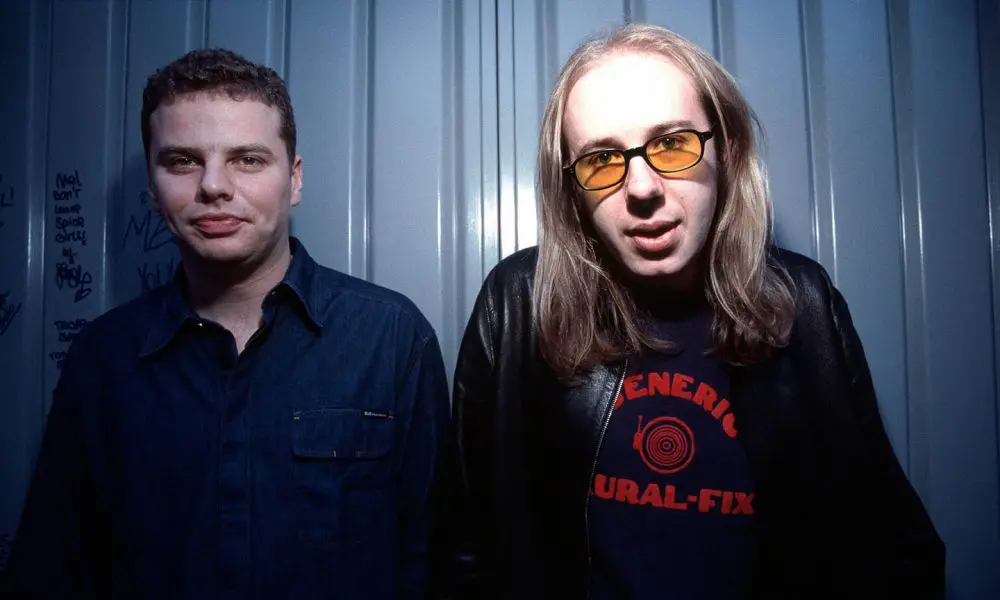 Since the early 90s, The Chemical Brothers – Tom Rowlands and Ed Simons – have constantly pushed the boundaries of electronic music. At a time when dance music was the preserve of clubs, the duo embraced hip-hop, psychedelia, jazz, and indie for a sound initially labeled as Big Beat and which became richer and more eclectic with each album. The Chemical Brothers have called upon an impressive range of collaborators over the years for their songs, from Oasis' Noel Gallagher to Q-Tip of A Tribe Called Quest, racking up hit singles along the way.
Listen to the best Chemical Brothers songs now.
20. Song To The Siren (Exit Planet Dust, 1995)
First released in 1992 under their original name, The Dust Brothers, the thumping "Song To The Siren" was the duo's first single. Tom and Ed started DJing together while at university in Manchester, inspired by heavy hip-hop beats and the energy of house music. They soon grew frustrated at the lack of tunes that fit the remit, so made their own. "Song To The Siren" was recorded at home and initially released on a white label funded by a £300 loan from a friend. It was out of step with trends in dance music and initially struggled for exposure until DJ Andrew Weatherall recognized its raw power and released it on his Junior Boy's Own label. The rest is history.
The Chemical Brothers - Setting Sun (Official Music Video)
19. MAH (No Geography, 2019)
The Chemical Brothers' ninth album saw the duo returning to their roots with a sample-heavy set written on analogue gear – the pair set up a "1997 corner" in the studio in a bid to capture the energy of their early releases. "MAH" was evidence that they'd succeeded. The title comes from a sample of "Mad As Hell," a 1977 disco song by El Coco that in turn was inspired by William Holden's electrifying rant from the 1976 movie Network ("I'm mad as hell and I'm not going to take this anymore"). Here, its righteous fury is a kicking-off point for a blistering, funk-fuelled raver that was a highlight of a strong comeback album.
18. Elektrobank (Dig Your Own Hole, 1997)
Their second album, 1997's Dig Your Own Hole, saw the Chemical Brothers expanding the parameters of what dance music could do. With an introduction taken from a tape of DJ Kool Herc and a sampled hook from "This That Shit" by Keith Murray set to clattering beats and robo-funk, "Elektrobank" was their biggest shout-out to hip-hop yet. It inspired one of director Spike Jonze's greatest music videos, featuring a hypnotic rhythmic gymnastics performance from fellow director Sofia Coppola (and the help of a stunt double).
17. It Began In Afrika (Come With Us, 2002)
The first taster of their fourth album, Come With Us, was released as a single in September 2001. Originally almost 10 minutes long, it's an unrelenting, four-to-the-floor acid epic with intense bursts of polyrhythmic conga and timbales. The title is repeated throughout, courtesy of a booming sample from Jim Ingram's "Drumbeat," also sampled on Jungle Brothers' "Done By The Forces Of Nature."
16. Music: Response (Surrender, 1999)
The Brothers' third album, Surrender, burst into life with the funk bass, analog synth flourishes, and vocodered vocals of "Music: Response." A heavy groove holds everything together as the Chemical Brothers take the listener on a thrill ride through glitchy electronic interludes and pulsing beats. It's a supremely confident opening song, their belief in the music's ability to fill dancefloors echoed by the repeated sample from "Make It Hot" by Nicole Wray featuring Missy Elliott – "I got what you want, I got what you need."
15. Where Do I Begin (Dig Your Own Hole, 1997)
This woozy and deeply hungover-sounding song shows that The Chemical Brothers are as comfortable soundtracking the morning after as they are the night before. Norfolk singer-songwriter Beth Orton first worked with the Chemical Brothers on Exit Planet Dust's "Alive Again" and would return for "The State We're In" on Come With Us, though Dig Your Own Hole's "Where Do I Begin" is our pick of their collaborations. Orton sounds frazzled and regretful over a soothing soundbed of backward guitar loops and stray synth burbles. But her reverie is soon interrupted by a crashing beat, as if representing the headache to come.
14. Surface To Air (Push The Button, 2005)
A fitting climax to Push the Button, "Surface To Air" evolves from a pulsing synth line into a shimmering thing of wonder, lifted skyward by bittersweet guitar and bass lines reminiscent of Power, Corruption & Lies-era New Order. It's a triumphant example of their ability to turn dancefloors into sites for rapturous communion with the spin of a disc.
13. Escape Velocity (Further, 2010)
Another masterclass in blissed-out joy, "Escape Velocity" nods to the tricksy arpeggio synth pattern of The Who's classic "Baba O'Riley" before taking a left-turn into dark disco territory, all warped synth lines and mammoth beats. It swiftly became a pulverizing highlight of their live sets, a return to their early big beat sound with a modern edge.
​12. Do It Again (We Are The Night, 2007)
A nimble slice of supremely catchy electro-pop, "Do It Again" saw Tom and Ed embracing contemporary R&B and putting a unique spin on it. Vocalist Ali Love sings of the negative after-effects of hedonism ("All I wanted was a little fun/Got a brain like bubblegum"), but the insistent backing of "do it again" and the unstoppable beat suggests that he'll be tempted back to the dancefloor.
11. The Private Psychedelic Reel (Dig Your Own Hole, 1997)
Ending Dig Your Own Hole with the luminescent glory of "The Private Psychedelic Reel" showed how far The Chemical Brothers had traveled musically. In just a few years they'd evolved from DIY, cut'n'paste big beat to this sitar-addled kaleidoscopic masterpiece, featuring Mercury Rev's Jonathan Donahue's glorious clarinet freak out.
The Private Psychedelic Reel
10. Out Of Control (Surrender, 1999)
The UK No. 1 dance hit "Out Of Control" featured two indie heroes of Tom and Ed's youth – Bernard Sumner of Joy Division/New Order and Bobby Gillespie of Primal Scream. It's among the hardest-hitting dance songs on The Chemical Brothers' Surrender, with throbbing, trance-like bass, and machine-tooled beats. But around the four-and-a-half-minute mark, the rhythm drops out and overdriven guitar and electronic noise combine for a moment of magic before the beat kicks in again, a brief interlude that demonstrates the duo's instinctive understanding of dynamics.
9. Galvanize (Push The Button, 2005)
The first single from Push The Button (and a UK No. 3 hit) was a universal call for action featuring A Tribe Called Quest's Q-Tip on vocals. A decade on and the Chemical Brothers were still expanding their sound – the instrumental hook of "Galvanize" was a sample of the snaking string part from "Hadi Kedba Bayna," a song by Moroccan singer Najat Aatabou. "Galvanize" was another example of The Chemical Brothers' ability to create thrilling, party-ready dance music from disparate sources. It also won them a Grammy for Best Dance Recording in 2006.
8. Life Is Sweet (Exit Planet Dust, 1995)
The Chemical Brothers' 1994 remix of The Charlatans' "Patrol" led to frontman Tim Burgess contributing vocals to this standout from their debut album, Exit Planet Dust. The duo manipulate Burgess' vocals – adding distortion, panning them around the track's sonic landscape, adding a sense of uneasiness to an already edgy Chemical Brothers song. It means that when Burgess' singing appears free of effects, he sounds cherubic, adding a sentimental dimension to the track. It's an early sign that there was so much more to them than packing out clubs.
7. Go (Born In The Echoes, 2015)
The Brothers' second song to feature Q-Tip was another winner. The spry, drily funky "Go" was taken to another level by the rapper's smart wordplay and the stadium-sized chorus ("We're only here to make you go" – as if that was ever in doubt. The song also sparked a reunion between the Chemical Brothers and filmmaker Michel Gondry (Eternal Sunshine Of The Spotless Mind), who directed its typically stylish and surreal music video.
​6. Hey Boy Hey Girl (Surrender, 1999)
"Hey Boy Hey Girl" served as a reminder that while Surrender found the duo experimenting with more sophisticated sounds than ever before, they were still capable of delivering a full-pelt banger. The call-to-the-dancefloor hook ("Superstar DJs, here we go!") was sampled from "The Roof Is On Fire" by Rock Master Scott & The Dynamic Three, bringing the early hip-hop classic to a whole new generation.
The Chemical Brothers - Hey Boy Hey Girl (Official Music Video)
5. Setting Sun (Dig Your Own Hole, 1997)
The Chemical Brothers had never been shy in declaring their love of Beatles songs, regularly mixing their own "Chemical Beats" with the groundbreaking Revolver track "Tomorrow Never Knows" during live sets. When word got out that they'd worked with Oasis songwriter Noel Gallagher, the much-anticipated track was dubbed "Tomorrow Never Noels" in the press. "Setting Sun" lived up to expectations. Based on an old Oasis demo, it was a head-spinningly intense, vivid update of The Beatles' experimental masterpiece and a No. 1 single in the UK. Noel would return on Surrender for the dazzling "Let Forever Be," suggesting a parallel universe in which The Chemical Brothers produced Oasis' third album and created a psych-rock classic.
4. Leave Home (Exit Planet Dust, 1995)
The first single released under the name The Chemical Brothers (rather than The Dust Brothers) was a statement of intent. The repeated sample of, "The brothers gonna work it out" (from Blake Baxter's house track of the same name) assures us we're in safe hands before they unleash the almighty breakbeats and fiendish basslines of "Leave Home." Nearly three decades on, its rambunctious energy and power remains undimmed.
3. Block Rockin' Beats (Dig Your Own Hole, 1997)
The Brothers' second UK No. 1 single is a distillation of the sound that made their name – these beats were so big they could very feasibly rock entire blocks. A sample from US rapper Schooly D's 1989 track "Gucci Again" provided the song with its title, while the irresistibly funky drum break was sourced from Bernard Purdie's solo on "Them Changes." Add copious air raid sirens and a deliciously filthy bassline and voila, "Block Rockin' Beats."
2. The Sunshine Underground (Surrender, 1999)
The centerpiece of Surrender begins in beatific fashion, with a looped sitar sample and ambient synth washes giving way to a loping groove-based section that wouldn't sound out of place on The Beta Band's The Three EPs. The calm is interrupted by the arrival of a pummelling beat, turning this Chemical Brothers song into a fantastical, no-holds-barred cosmic rave for the ages.
1. Star Guitar (Come With Us, 2002)
A pure evocation of dancefloor ecstasy, "Star Guitar" is somehow many things at once – lush, trance-inducing, and inexplicably moving. The track takes its name from a sample of the opening acoustic guitar riff from David Bowie's "Starman," drenched in phasers and effects and near-unrecognizable. Adding to the feel of communal celebration and altered reality is Beverley Skeete's repeated vocal of, "You should feel what I feel, you should take what I take." The song was given another dimension with Michel Gondry's unforgettably trippy music video, a perfect union of song and visual.
The Chemical Brothers - Star Guitar