From Underworld To The Overground: How Dance Music Went Mainstream In The 90s
Praised for its diversity and impact, 90s dance music is to electronica fans what the 60s were to classic rock aficionados.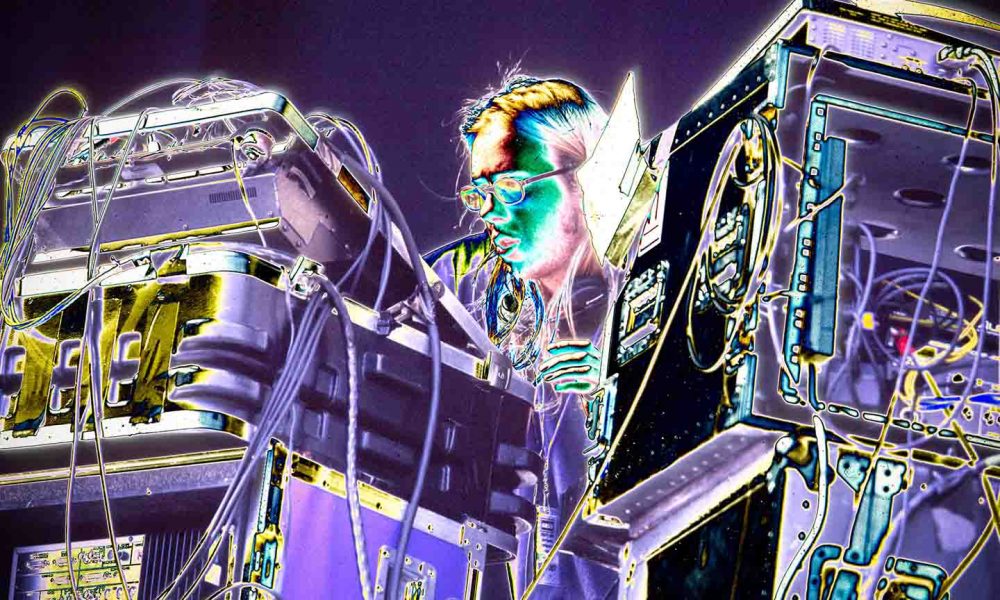 It took a long time for dance music to recover from 1979's notorious disco demolition event. It wasn't until the late 80s, and the UK's legendary Second Summer Of Love, that dance music was recontextualized for a younger audience. A trickle of curious Chicago house hits, such as Farley "Jackmaster" Funk's "Love Can't Turn Around" and Steve "Silk" Hurley's "Jack Your Body" (both from the recently reissued DJ International catalogue), had been joined by British interpretations of the sound (such as M/A/R/R/S's "Pump Up The Volume" and Bomb The Bass' "Beat Dis"), as well as Detroit techno anthems like Inner City's "Good Life." By 1989, the trickle had become a flood: the UK charts, and music television staples such as Top Of The Pops, became awash with frothy dance tunes; credible acts such as Pet Shop Boys and The Style Council also underlined the songcraft involved in tracks such as Sterling Void's "It's Alright" and Joe Smooth's "Promised Land" with their respective cover versions. The scene was set for 90s dance music to enter the mainstream.
The birth of 90s dance music
In the 90s, an entire generation seemingly turned onto electronica, with snooty indie types attending raves and turning into overnight converts. As 90s dance music added ever more subgenres and a parade of innovative acts to the scene, more and more sections of the record-buying public caved in, whether it was students rushing to get down to The Chemical Brothers' block rockin' beats, journalists enthusing about the cut-up lyrics of Underworld, or middle-aged prog rockers appreciating the ambient soundscapes of The Orb. It seemed that, coupled with the easy collaboration between the worlds of electronica and the similarly sample-heavy hip-hop (which staged its own world domination in the 90s), rock music had finally met a serious contender. Every man and his dog was coming up with electronic releases, and a shocking amount of it was selling well – whether in HMV or out the back of cars.
In the UK, the summer of 1989 was dominated by Jazzie B. His Soul II Soul group's blissed-out "Back To Life (However Do You Want Me)," and the accompanying Club Classics Vol One album, showed the first hints of the auteur-led projects which later came to prominence.
Soul II Soul - Back To Life (However Do You Want Me) (Official Music Video)
The US took longer to succumb to the charms of what was, ironically, a revolution born on its own shores. Club hits came in the shape of tracks such as the Italian outfit 49ers' 1990 single "Touch Me" (marking the first rumbles of the EDM avalanche which eventually came in the new millennium). That same year, Norman Cook's dance period began in earnest with Beats International's Clash-inspired "Dub Be Good To Me" hitting on both sides of the Atlantic; Adamski introduced Seal to the world on "Killer"; DNA entered "Tom's Diner"; and even England's national football team got in on the act, collaborating with New Order on "World In Motion."
Massive Attack and the Bristol scene
In 1991, piano house and garage hits of various shades came at an ever-increasing speed, in the form of undeniable classics such as Brothers In Rhythm's "Such A Good Feeling," Crystal Waters' "Gypsy Woman," and CeCe Peniston's "Finally." In another room, Massive Attack appeared to emerge fully-formed, from Bristol, to further Soul II Soul's downtempo, multi-faceted approach to the new sounds, forging a new path for 90s dance music and, in the process, kick-starting an extremely fertile period for the West Country city.
Massive Attack - Unfinished Sympathy
Unsurprisingly, Massive Attack shared a collaborator with Soul II Soul, Nellee Hooper. Their first album, Blue Lines, was crowned an instant classic and burned its way into countless hearts, beginning a highly artistic career which eventually saw the group top the charts with 1998's dark Mezzanine (following right behind were sometime collaborator Tricky, and Bristol's other most highly atmospheric act, Portishead). Massive Attack weren't averse to some ambient touches, and that side to 90s dance music also started to make a big impact in 1991, with Enigma's novel "Sadeness (Part 1)" busting the US charts wide open with its updated Gregorian chants. Scene kingpins The Orb, meanwhile, hit the top of the UK album charts in 1992 with UFOrb. A radically adjusted version of that album's "Blue Room" was also a chart hit (with the group famously bending performance expectations by spending one Top Of The Pops appearance playing chess).
The Chemical Brothers enter the mainstream
By the middle of the decade, the biggest hits in 90s dance music had become a parade of inanity studded with inspired technoid moments such as Altern 8's "Activ-8," Baby D's "Let Me Be Your Fantasy," and N-Trance's "Set You Free." In Germany, techno had become the soundtrack to a never-ending reunification party, epitomized by the Love Parade and Mayday events, and an international wave of album acts were building on the innovations of the period. Techno stars Underworld had been gaining recognition for 1994's dubnobasswithmyheadman, and for their much-discussed live shows. It didn't hurt that their ever-evolving track "Born Slippy" was used to great effect in the huge 1996 hit film Trainspotting, the savvy soundtrack which was as big as the movie itself, even receiving acclaim in the States.
The Chemical Brothers were one of the most successful of that era's raft of acts. There had been links between the worlds of guitars and synths for years, leading to prominent club remixes and to the former Sugarcube Björk starting her illustrious and quizzical solo career with a fresh sound, again in collaboration with Nellee Hooper. The Chems, however, indelibly linked the worlds of indie and dance in a style known as big beat. They utilized timely collaborations, notably including their 1996 European smash "Setting Sun" (featuring Oasis' Noel Gallagher), and their 1999 international success, Surrender, which added New Order's Bernard Sumner and Primal Scream's Bobby Gillespie to the mix and created a dance classic in "Hey Boy Hey Girl."
The Chemical Brothers - Hey Boy Hey Girl (Official Music Video)
Norman Cook had reinvented himself as Fatboy Slim by the mid-90s and built an array of big-beat crowd-pleasers on the path towards releasing the international sensation, You've Come A Long Way, Baby (1998). A landmark release in the popularity of 90s dance music, it featured hits such as "Praise You," greatly assisted by its goofy video, which starred Christopher Walken and was directed by American maverick Spike Jonze. Jonze also blessed Daft Punk with a similarly odd clip for their scuzzy breakthrough hit, "Da Funk." On the calmer side of the breakbeat revolution, DJ Shadow produced the cult classic Endtroducing… (1996) from a dizzying array of samples and, like The Orb, took listeners on a trip comparable to those of the 70s' most legendary concept albums.
Fatboy Slim - Praise You [Official Video]
Backlash, legacy, and resurgence
The era came to something of a juddering halt as, mirroring the disco backlash of the late 70s, the new millennium saw crowds tiring of the scene's overt commercialism. At the end of the decade, the faster side of 90s dance music, such as trance and hard house (which had thrown up lovely pieces such as Robert Miles' timeless "Children" (1995)), had become bland. It closed with Moby interrupting wall-to-wall Eurodance smashes with the gargantuan techno-lite success of Play, which turned out to be tremendously adaptable for films and adverts alike.
Underground, though, the house and garage beats continued pumping. Bassy cuts such as Armand Van Helden's take on CJ Bolland's "Sugar Is Sweeter" had signaled the start of UK garage in 1996, adapting the particularly pacey drum'n'bass sound to a tempo which most could live with. UK garage would endlessly morph in the coming decade, leading to grime, dubstep, and much more.
Dance music by no means went away in the 00s, but it has taken until recent years, with the rise of EDM and the sadly departed Avicii, for a serious reappraisal of the golden age of 90s dance music to take place. It was, to electronica fans, what the 60s were to acolytes of classic rock: a hallowed era praised as much for its diversity as for the impact and commercial success of its music.