Massive Attack
The British duo comprised of 3D and Daddy G and pioneered Bristol's trip-hop sound with classic albums like Mezzanine and Blue Lines.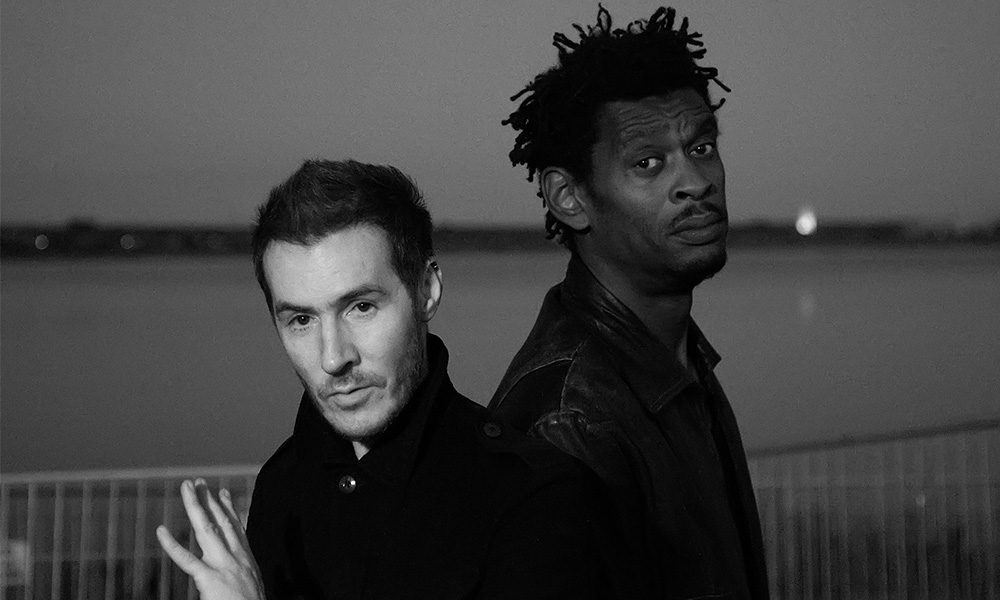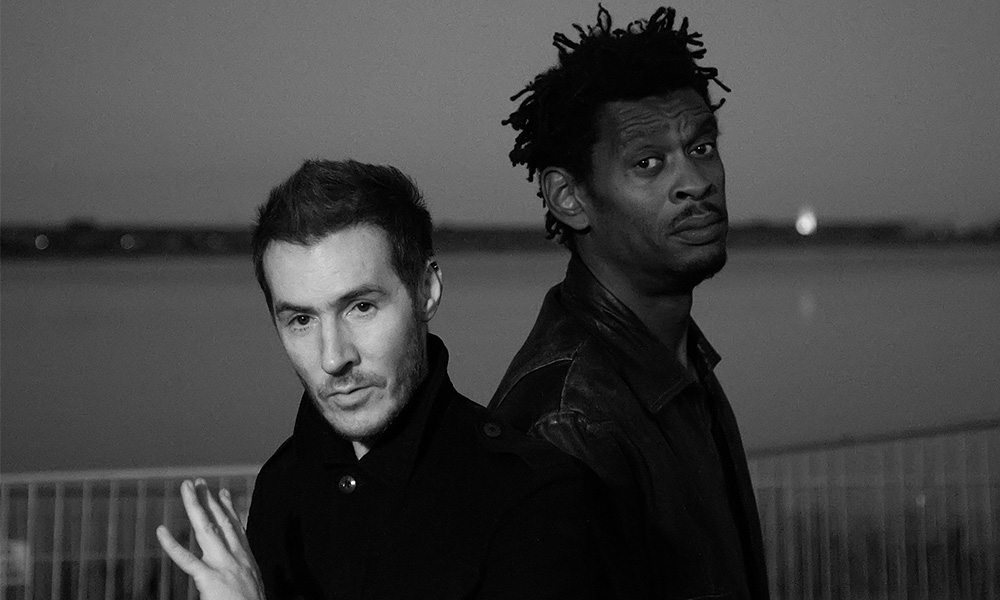 West Country trip hoppers Robert '3D' Del Naja and Grant 'Daddy G' Marshall burst into our consciousness in 1988 when they formed in Bristol. Socially active and musically groundbreaking by turns, Massive Attack stunned critics with their debut album Blue Lines and the sky-bursting single 'Unfinished Sympathy' – both are all-time classics. Two more of their albums have debuted at number one and they've won deserved recognition for their craft in the shape of a Brit Award for Best British Dance act and various MTV Europe Music Awards. Genuine pioneers in their field their five studio albums have sold well over ten million copies worldwide. In addition to their studio career, the two Massive men are respected DJs. Naja is also an innovative artist who has exhibited in London and Bristol while their live shows are spectacles of multimedia involving classy guests and surprises at every turn. They have collaborated with David Bowie, Elizabeth Fraser, Sinead O'Connor and Madonna and probably turned down dozens of others. Their most recent album is Heligoland, but watch their space. There is plenty more to come.
Graffiti artist and rapper Del Naja met Grantley Marshall and Andrew Vowles when they became part of the local collective The Wild Bunch. Picking up in places where the legendary Bristolian The Pop Group left off The Wild Bunch and their sound system concentrated on reggae, dubplates, skank and soul. After stabs at production they signed to Circa Records on Neneh Cherry's recommendation (she was an early supporter and bankroller) and spent months perfecting Blue Lines with co-producers Jonny Dollar and Cameron McVey, while Geoff Barrow, later of Portishead, worked the tapes.
Blue Lines is available in original and Remix versions and is highly recommended as a starting point for its fusion of electronic, hip hop, dub, soul and reggae sounds. From the outset, the writing was powerful with early tracks 'Safe from Harm' and 'Lately' setting a high standard. While they don't pay lip service to the terminology surrounding trip-hop the album did establish their style. Innovative, with catchy earworm hooks and what-the-hell-is-that twists, Massive Attack slowed down the hip hop groove to their own pace – mellow and meditative. Easy facility with breakbeats and sampling became their calling card and their influence stems from this moment. Guests on the album include Tricky (aka Tricky Kid) Shara Nelson and Horace Andy and the cuts are fresh and funky. The title track samples Tom Scott's 'Sneakin' in the Back' while 'Daydreaming' quotes Wally Badarou's lush Mambo. Given that every song has vast merit it may be invidious to choose one highlight but 'Unfinished Sympathy' has become a signature piece. Percussive excellence and the string arrangements of veteran Wil Malone lend themselves to outside remixing and the track has been carefully dismantled and reshaped by the likes of Paul Oakenfold and Nellee Hooper.
In its stark form, the single was voted number one cut of the year by mainstream and style lead publications. It signals their arrival as a major force. Tina Turner would have a Top Ten hit with it in 1996 but Massive Attack's own chilled take with its Mahavishnu Orchestra vocal sample is the blueprint. Even the video, shot by Blue Velvet cinematographer Baillie Walsh, is breathtaking and groundbreaking in its use of a Los Angeles street scene and a slow perambulation around West Pico Boulevard by Nelson. The Verve would pay homage to the video/film's elan in their own Bitter Sweet Symphony. It is truly an important moment in British music.
Having spent around eight months on the first album, the second disc, Protection (again available with full Remixes) arrived in 1994. Now recording in London and Bristol the cast list still includes Tricky – just about to complete his own Maxinquaye debut – Hooper and Andy while adding vocalists Nicolette, Tracey Thorn from Everything but the Girl, Craig Armstrong's piano and Chester Kamen on guitar. Again the reviews were glowing and the album sounds as crisp and cool and sexy today as it did – incredible to recall – nearly twenty years ago! The timeless grace of Massive Attack's approach is a definite virtue. Listen to their version of The Doors' 'Light My Fire', as different in its way as Jose Feliciano's in 1968. In stripping the song down and then layering it up Del Naja and company reveal the unexpected. Same goes for 'Protection' and 'Karmacoma'. 'Protection' uses James Brown's rhythm motif from 'The Payback' but swaps his ferocious hi-hat and bass snap with a much more sultry loop. It's worth mentioning a few of the mixes on this too as they include 7 and 12-inch versions helmed by Eno, 'Radiation Ruling the Nation', 'Angel Dust' and 'J. Swift'. Perhaps most impressive is Tracey Thorn's vocal – a performance of great beauty. 'Karmacoma' is a dance floor beast with raps by 3D and Tricky and samples of Borodin's Prince Igor and Serge Gainsbourg's 'Melody'. Again the video for the track is mind-blowing – think Quentin Tarantino rather than a bunch of pretty boys strumming guitars on a desert island. That ain't the Massive method.
The next single 'Risingson' would usher in third album Mezzanine (1998). With Vowles back at the mixing desk, this new venture signals ever more adventurous use of sampling, programming and state of the art sonics. Massive Attack were also influential in the download world since this album was made available months before any physical release. Not that it did sales any harm. This is their most successful seller to date. Ironically it was also, they said, the most stressful to complete. All that perfectionism can drive a fellow mad it seems. Out they came relatively unscathed with an artefact that went Double Platinum in 2012.
Textured, dark and ambient Mezzanine buries the trip-hop pigeonhole for good. An eerie, unsettling at the time, mood pervades tracks like 'Inertia Creeps' and the title song (which features a cute sample from The Velvet Underground's 'I Found a Reason') although the most intriguing cut could well be a reworking of John Holt and the Paragons slinky 'Man Next Door' where the in-house groove is funked up and frazzled by snatches of Led Zeppelin's 'When the Levee Breaks' and The Cure's '10.15 Saturday Night'. Tensions may have been high in the studio but the sense of dangerous adventure is all over this baby. And it does have many seriously grooved up gears. The title track shouldn't be overlooked. Perfect late-night soundtrack stuff with a rare groove drum link from Bernard Purdie's 'Heavy Soul Slinger'. They couldn't resist that title. Nor could they put down the classic idea of sampling Isaac Hayes and Quincy Jones on '(Exchange)'. One of the five-star summer albums of '98.
For 100th Window, Del Naja found himself in sole charge of the Massive moniker as Vowles and Marshall quit for some fresh air. The solution was to use a wider spectrum of vocalists so Damon Albarn and Sinead O'Connor came to Clifton. A radical departure all-around, sessions began with a lot of experimental cut-ups involving Spiritualized offshoot Lupine Howl. Eventually, these were discarded as was the sampling technique and the jazz dub fusion of previous discs. The single 'Special Cases' (featuring O'Connor) gave fans their first sighting of the new direction while follow-up 'Butterfly Caught' indicated this was going to be something completely different. Well into their second-decade Massive Attack were now able to fly and the Official Soundtrack album Danny The Dog scored for the martial arts action-thriller Unleashed (the OST has also been made available under that title) found Del Naja and cohort producer Neil Davidge adapting their sound to suit the atmospherics demanded by working to showreels.
Collected (2006) is a must-have compilation. As well as the key cuts from previous discs there are exclusive edits, the single 'Live with Me' featuring underground soul-jazz legend Terry Callier and a bonus dual-layered CD containing rare material with collaborators like Madonna, Mos Def and Debbie Clare. Team this with the handy extended play of Bite-Size for the latest digital Attack.
And so to Heligoland. Perhaps their most immediately accessible album, this warm bunch of beats and blues boasts guests Albarn coming on more Gorillaz than Blur, Mazzy Star's Hope Sandoval, Elbow's Guy Garvey, Martina Topley-Bird updating the Bristol connection and Portishead's guitarist Adrian Utley. Fans were delighted to find Marshall back on board and co-writing every track but saddened to hear the passing of original Wild Buncher Jonny Dollar to whom the album is dedicated.
Del Naja and co. originally sent out feelers to dozens of possible collaborators but opted for a more organic mood. 'Paradise Circus', co-produced with Burial, highlights Sandoval's gorgeous throat, albeit tinged with an air of menace that made it ideal theme title music for the acclaimed BBC crime series Luther. The flip 'Four Walls' was unreleased. 'Splitting the Atom' is another significant cut as it welcomes back Horace Andy and sees Albarn providing keyboard synths. Lovers of FIFA 11 will also be familiar with the blood-rushing groove here while the epic closer 'Atlas Air' is simply classically Massive Attack.
In short, this is all modern music for the mind, body and soul.