Madonna
Madonna is one of the most iconic pop stars of the last century, with classic albums like Ray of Light and Like a Prayer as well as countless hit singles like 'Vogue,' 'Like A Virgin,' 'Music,' and 'Caught Up.'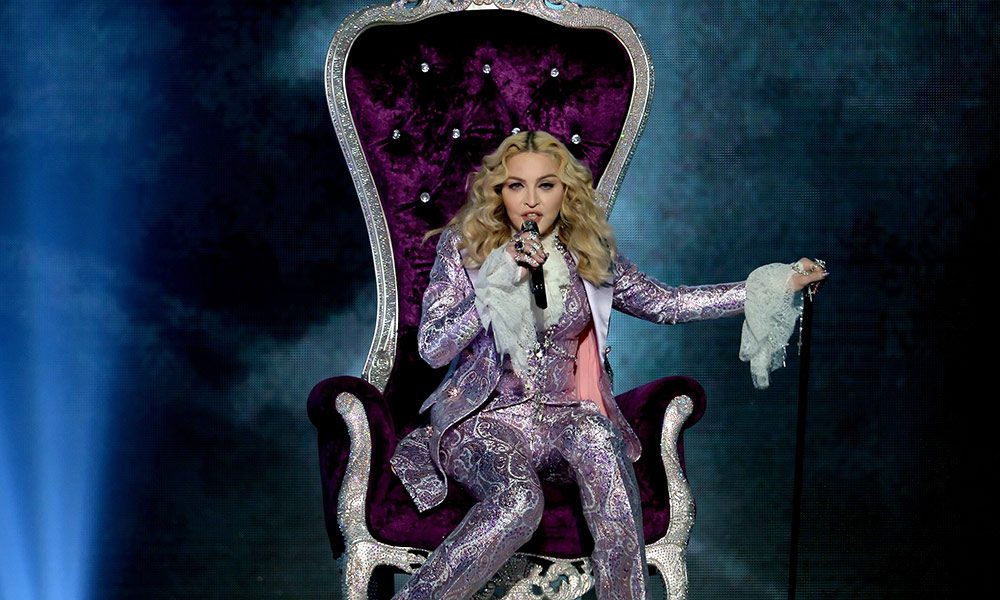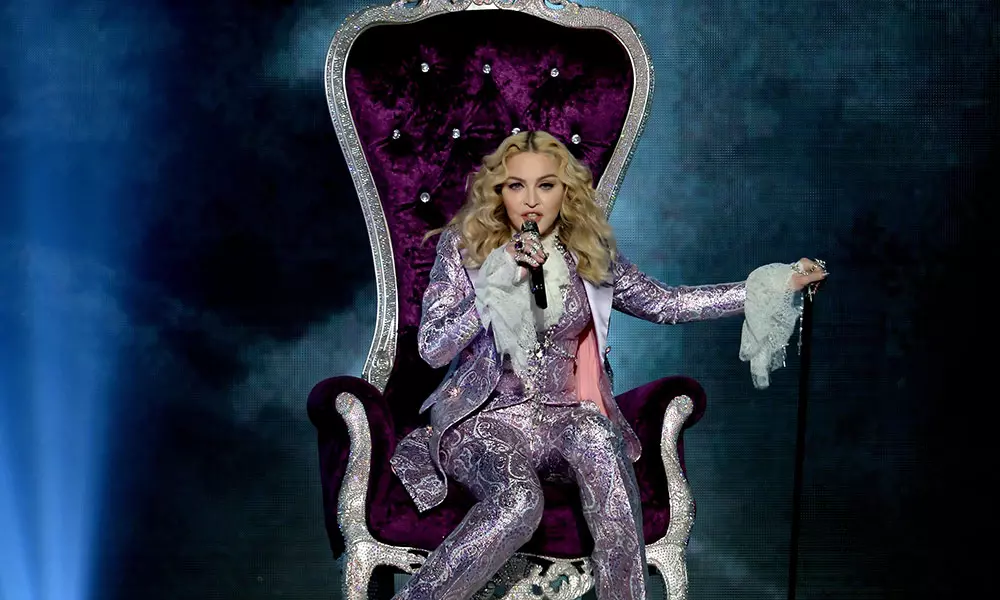 Her story is the stuff of fairy tales. "I wanted to dance; I wanted to sing. I wanted to be famous; I wanted everyone to love me; I worked really hard and my dream came true." That was part of Madonna's filmed opening monologue for the audiences lucky enough to capture her US-only Virgin Tour of early 1985, just as her star went supernova around the world.
The death of her mother, not long after Madonna turned five, in 1963, is widely regarded as the genesis of her furious drive to get – and stay – noticed. Born into a large Michigan Catholic family, Madonna's traumatic loss was compounded by her father's decision to remarry. Still, there was to be no reckless rebellion for the teenager, however troubled. Those who knew her at high school describe someone studious and uniquely focused, possessing a memorable spirit and an intoxicating charisma. In particular, she revelled in the attention shown to her by a dance teacher, and he exposed her to the local gay nightlife, where she immediately felt at home.
Madonna boarded a bus to New York, determined to forge a career in dance, but struggled to establish herself in the Big Apple, juggling a series of dead-end jobs to get by. Her first big break came in 1979 when she was picked to work with disco singer Patrick Hernandez in Paris. His producers wanted to groom Madonna as their new star, but she became frustrated by the time it was taking them and decided to fly back to the States with little achieved in the six-month stay.
She joined boyfriend Dan Gilroy's band, The Breakfast Club, and the group, with Madonna initially on drums, began to gig around the city. Tapes that have emerged from that time showcase Madonna's early influences as Debbie Harry and Chrissie Hynde, but it wasn't until she drew from the city's exploding club scene that she began to develop her signature sound. She appeared in low-budget films, sat as a life model and did backing vocals before famously getting signed to Seymour Stein's Sire Records label while the mogul was laid up in the hospital. He'd been impressed by the demo she had created and was aware of the growing buzz around the ambitious singer.
Two singles made a solid impact on the worldwide dance tracks, but it was the third, 'Holiday', that crossed over in early 1984 and launched Madonna as an international star. Her self-titled debut LP sold steadily across that year, fueled by further hits such as 'Lucky Star' and 'Borderline'.
Enlisting Chic's Nile Rogers for production duties on her follow-up album, Like A Virgin, the title track became a Christmas US chart-topper and she took her place as the world's biggest female music draw. In 1985, Madonna was unstoppable. Like A Virgin was mined for further singles, among them 'Dress You Up'. New song 'Crazy For You' became her first soundtrack hit (again topping the charts in the US) and 'Into The Groove' (her first UK No.1, performed at that summer's Live Aid concert) helped launch her critically acclaimed role in the movie Desperately Seeking Susan. Never off the charts, there was little pause for breath before True Blue, her third LP, staggeringly, became an even bigger hit in 1986, thanks to classic Madonna cuts 'Papa Don't Preach', 'Open Your Heart' and 'La Isla Bonita' all topping the charts in either in the UK or the US.
If her music career appeared unbeatable, crowned by 1987's Who's That Girl tour, which saw her perform for the first time at stadiums across the globe, her appearances in the movies were received rather less warmly. A turn in Shanghai Surprise (alongside then-husband Sean Penn) and a lead role in Who's That Girl? couldn't stop them from becoming critical and commercial flops.
1988 saw no new record releases while she appeared in a play on Broadway and battled to save her marriage. It was a fight Madonna declared she had lost on the eve of the release of her masterpiece, Like A Prayer, in 1989. Huge multiple hits from Madonna albums were nothing of a novelty by this stage, so it was something of a surprise when the US-issued 'Oh Father' stalled at No.20 stateside that winter, her first single in a run of 16 to miss the Top 5.
But there was a swift return to form. 'Vogue', released in April 1990, became her biggest hit to date and ended up the world's most successful single of the year, enjoying four weeks at the top in the UK. It helped launch a star turn in Warren Beatty's Dick Tracy, and Madonna dated the actor/director for a brief time while taking her Blond Ambition tour around the planet. This show is widely regarded as the inspiration for the theatrical productions common at today's stadium gigs and acted as the backdrop for the behind-the-scenes documentary Truth Or Dare (or In Bed With Madonna, as it was known outside the US). 1990 also saw the release of her first greatest hits collection, but there had been just so many of them by this stage that The Immaculate Collection was even forced to ignore tracks such as 'Who's That Girl', which had topped the charts on both sides of the Atlantic.
Madonna's desire to shock had been a characteristic of her career stretching back to the provocative Like A Virgin, but she surpassed herself in 1992 with the release of the Sex photography book and the Erotica album. It was an attempt to provoke and led to the first real backlash of her career, with conservative media condemning the work. Her music's chart performance, while still solid, was also softer than she was used to, with songs such as 'Bad Girl' failing to make the US Top 20. 1993's The Girlie Show tour – her first to reach Australia – also failed to find universal favour, while reviews of her ongoing movie work, including Body Of Evidence, solicited a savage response.
As 1994's Bedtime Stories took its influence from the new soul sounds dominant stateside, there was a sense Madonna was starting to tread water – despite the inclusion of the seven-week US chart-topper 'Take A Bow'. A starring role in Alan Parker's film adaptation of the musical Evita secured her a Golden Globe Award but did little to dispel the sense that Madonna's moment had passed.
So her staggering critical and commercial reinvention with Ray Of Light, in 1998, likely came as a surprise even to the star, who had also recently had her first child. The album, recorded with maverick Brit musician William Orbit, earned her a Grammy for Best Pop Album and sold more than 16 million copies worldwide. She followed it – characteristically – by moving on and recording with French electronica wizard Mirwais. 2000's Music was another big hit and the title track was another chart-topper on both sides of the Atlantic – her last to date in the US. By now, Madonna had also married English film director Guy Richie, and the following few years saw her alternating tours with stage or movie projects and record releases. 2003's American Life was a relative commercial misfire, but 2005's Confessions On A Dance Floor contained another enormous hit with the ABBA-sampling 'Hung Up', which topped the UK charts for three weeks.
In 2008, her marriage to Guy collapsed and Madonna turned some of her focus towards charitable deeds, particularly with building resilient education projects in the African state of Malawi, where she adopted two children. Her last studio album of the decade was 2008's Hard Candy, which saw her draw from the R&B sounds once again dominant in the world's charts. A duet with Justin Timberlake, '4 Minutes', produced by Timbaland, gave her another big hit worldwide and remains her final UK chart-topper to date.
With the music industry in a period of significant change, Madonna chose to form a new, wider business alliance with Live Nation, releasing her MDNA (2012) and Rebel Heart (2015) albums with the company, and spending months on two enormous global tours in support of them. These phenomenal concert runs saw her named the world's biggest live act and, in 2016, she was named Billboard's Woman Of The Year.
While her position as the planet's biggest female music star may have slipped for now – the likes of Lady Gaga, Katy Perry and Taylor Swift have certainly captured a younger generation – Madonna unapologetically clings tightly to her crown as the Queen Of Pop. She has inspired a generation of new chart goliaths and, while we have lost so many of those great artists from her breakthrough era, she appears – as ever – in strikingly good shape and focused firmly on the future. Her current work contains more than a nod to her illustrious past, but a master of reinvention never forgets it's where you're headed next that really counts.
Mark Elliott