Halsey
The musician has used pop as a vehicle to engage fans in a discussion around gender, sexuality, the music industry, and youth culture.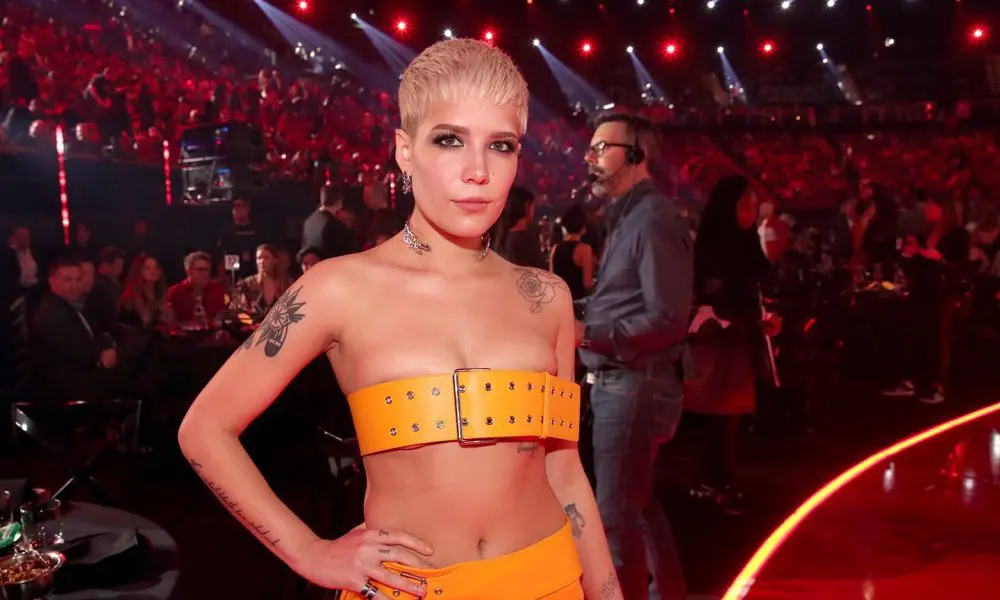 Few pop stars are willing to stand up for what they believe in, consequences be damned, like Halsey. But Halsey has built an entire career around not only their vivid artistic vision but using pop music as a vehicle to engage fans in a discussion around gender, sexuality, the music industry, and youth culture.
Born Ashley Nicolette Frangipane in Edison, New Jersey on September 29, 1994, Halsey, who goes by she/them pronouns, started playing multiple musical instruments before the age of 14, picking up the violin, viola, and cello before moving on to the guitar. Halsey's childhood could be unstable at times, with their parents moving the family around and enrolling Halsey in a series of different schools. They experienced bullying and even attempted suicide at age 17 before being diagnosed with bipolar disorder.
To cope with tough times, Halsey channeled their emotions into music, posting videos to YouTube and Tumblr, garnering attention for a parody of Taylor Swift's "I Knew You Were Trouble." Halsey then wrote a follow-up track, "Ghost," which they posted to SoundCloud. That's when the industry started to pay attention: Thanks to it going viral, "Ghost" began charting and earning radio plays, and Halsey – a name chosen for the street in Brooklyn – signed to the record label Astralwerks, played numerous acoustic shows around New York City, and released their debut EP, Room 93, in fall 2014.
Come 2015, Halsey began work on their debut studio album, BADLANDS, which dropped that summer and debuted at no. 2 on the Billboard 200 albums chart. Halsey quickly embarked on the Badlands Tour and even earned an opening slot for select dates of The Weeknd's The Madness Fall Tour. Even better, four singles from BADLANDS went platinum: "Ghost," "New Americana," "Colors," and "Castle," which was rerecorded for the soundtrack of the 2016 movie The Huntsman: Winter's War.
In 2016, Halsey co-wrote and recorded "Closer" with EDM stars the Chainsmokers – the track earned major success, topping the Billboard Hot 100 for 12 consecutive weeks and continues to be one of the most-streamed songs on Spotify. "Closer" even earned Halsey their first Grammy nomination for Best Pop Duo/Group Performance.
By 2017, Halsey released "Not Afraid Anymore" for the movie Fifty Shades Darker, followed by "Now Or Never," the lead single to her second studio album, Hopeless Fountain Kingdom. It was around this time that Halsey became more open about their bisexuality in their lyrics, and listeners responded with overwhelming support, pushing Hopeless Fountain Kingdom to Platinum status in the US.
Come 2018, Halsey made their Saturday Night Live debut as musical guest, performing "Bad At Love" and "Him & I" with G-Eazy. A prolific collaborator, Halsey teamed up with a slew of popular artists in the following months, including Big Sean and Stefflon Don ("Alone"), Khalid and Benny Blanco ("Eastside"), Yungblud ("11 Minutes"), Lil Dicky ("Earth"), and K-pop superstars BTS ("Boy With Luv"). Halsey also made a cameo as themselves in the major motion picture A Star Is Born and served as an advisor on NBC's The Voice.
All the while, Halsey never lost sight of growing as a solo artist; in October 2018, they released the extremely personal breakup anthem "Without Me," which became their first number one solo record on the Billboard Hot 100, remaining in the top five for 22 weeks. In early 2019, Halsey returned to Saturday Night Live, this time as a host and musical guest. They also began to prepare for the release of their third studio album, titled Manic.
In the lead-up to Manic, which came out in January 2020, Halsey released singles "Nightmare," "Graveyard," and "Clementine." They also took a featured spot on Bring Me The Horizon's 2019 EP, Music To Listen To… Halsey also took on another high-profile collab, working with DJ Marshmello on the single "Be Kind." In summer 2020, Halsey released their first book of poetry titled I Would Leave Me If I Could.
The following year, 2021, was arguably Halsey's most critically successful to date. That summer, Halsey released their fourth album, If I Can't Have Love, I Want Power, teaming up with Nine Inch Nails members Trent Reznor and Atticus Ross to produce. A marked shift in tone, If I Can't Have Love, I Want Power took Halsey's work to a whole new sonic direction, leaning into dark '90s industrial, pop-punk, R&B, and pop. Critics praised Halsey's ambition and the record's themes, which explored pregnancy, sexuality, motherhood, and womanhood. The thudding single "I Am Not a Woman, I'm a God" featured Halsey pregnant in its music video.
A distinctive, thought-provoking pop artist, Halsey has achieved a great deal in the years they have been active, earning four Billboard Music Awards, one American Music Award, one GLAAD Media Award, an MTV Video Music Award, two Grammy Awards, and being named Songwriter of the year by BMI Film & TV Awards in 2021. All throughout, they remain a vocal advocate for suicide prevention awareness, sexual assault victim advocacy, and racial justice. They truly are a force to be reckoned with.
Listen to the best of Halsey on Apple Music or Spotify.