Amy Winehouse
Only recording two albums in her lifetime, Amy Winehouse's blend of blues, jazz, soul, funk, pop and R&B was, like herself, indefinable.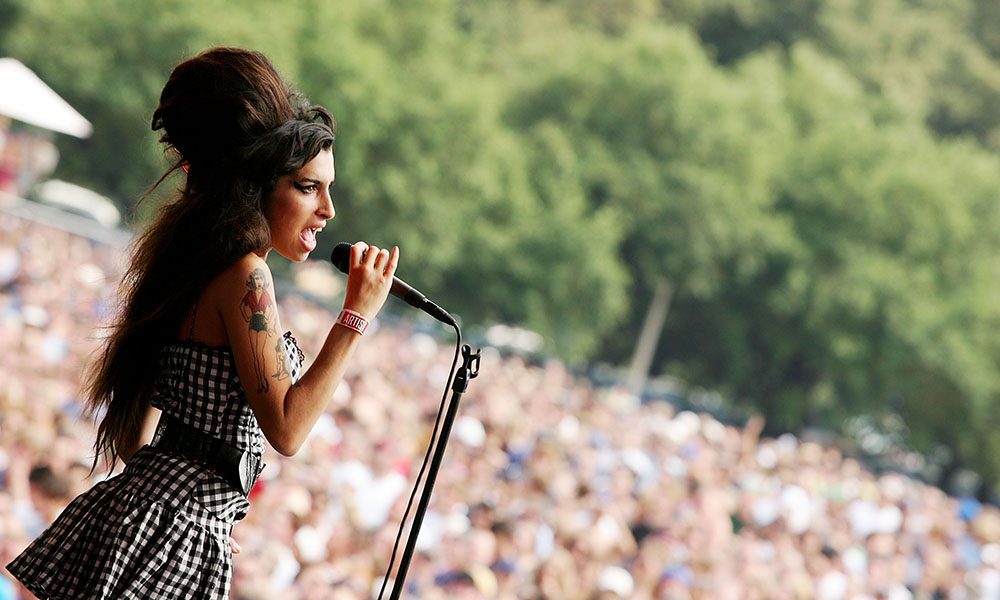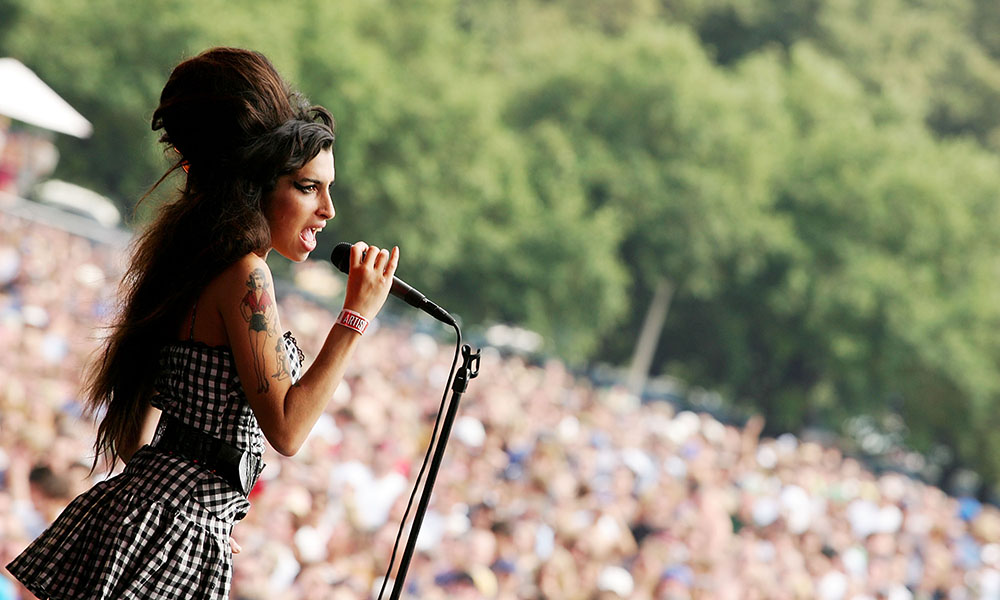 Short, sharp and sweet with an incredible legacy left in her wake, the life and work of Amy Winehouse will be entrenched in popular music for years to come. Only recording two albums in her lifetime, her blend of blues, jazz, soul, funk, pop and R&B was, like herself, indefinable.
If awards are truly a measure of success then Amy's short career was steller in the extreme. Her debut album, Frank, was 'nominated for the Mercury Prize. Her 2006 follow-up album, Back to Black, led to six Grammy Award nominations and five wins, tying the then-record for the most wins by a female artist in a single night, it included three of the "Big Four": Best New Artist, Record of the Year and Song of the Year. In 2007 she won a Brit Award for Best British Female Artist; she had also been nominated for Best British Album. She also won the Ivor Novello Award three times.
Winehouse broke through at a time when neo-soul, as typified by artists such as Jill Scott, Maxwell and Musiq Soulchild, was all the rage in the US, but was largely unfamiliar to UK ears. Winehouse took this palette of styles and influences and developed it into something surprising, different and interesting. Her distinctive vocal style demonstrated her love of jazz; her subject matter was resolutely personal and English.
Amy Winehouse was born in Southgate, North London on 14 September 1983, to a taxi driver father and a pharmacist mother. Her mother's family had several professional jazz musicians in it, and her father, Mitch, was obsessed with Sinatra and would sing to her frequently. At nine years old Winehouse attended the Susi Earnshaw Theatre School, before moving on to the Sylvia Young Theatre School at the age of 14. Displaying a gift for playing guitar and singing, she was one of the pupils at the BRIT School for Performing Arts in Croydon, a veritable breeding ground for talent. Her reputation for singing grew, and by 2000 she was one of the featured vocalists in the National Youth Jazz Orchestra. Her boyfriend Tyler James passed a tape of her work to Simon Fuller's 19 management, and soon she had signed a deal with Island Records after A&R man Darcus Beese heard her unidentified voice on a track and decided to find out who the vocal talent was.
With industry interest under her belt and a publishing deal with EMI, she began to work on her debut album; influenced by a seeming history of African American music beyond her years, her talent seemed fresh, striking and different. Overseen largely by experienced R&B/hip-hop producer Salaam Remi, Frank represented the joy and innocence of an artist releasing their debut, almost bursting with ideas. Released in October 2003, it was an assured album, containing the hits 'Stronger Than Me', 'Take The Box', and the track that marked the marriage of her personal London swagger, unusual subject matter, nursery rhyme and soul, 'Fuck Me Pumps'. The album began with a brief instrumental accompanied by Winehouse's scat singing – if the listener was in any doubt, this album had its roots firmly in jazz. A string of successful live shows followed, and the album reached No. 13 in the UK charts.
However, it is for her second album, Back To Black, that Amy Winehouse will forever be remembered. Released in October 2006, it ushered in her new look and sound – with her cocktail dress displaying her tattoos, her hair piled into a beehive and her panda eyes, she looked like a classic lost chanteuse from New York in the late 1950s, albeit with a completely modern twist. A lot of this was down to the decision to use Mark Ronson, who was the new production wunderkind on the block, alongside Remi. Both crafted her songs into retro-sounding pieces of art. Her choice of soul backing band Sharon Jones and the Dap-Kings was also inspired. Gone were the polite arrangements of the first album, here was full-on soul.
It was only the subject matter of lead single 'Rehab' that made you realise you hadn't stumbled across some long-forgotten northern soul classic. Referencing her heroes Donny Hathaway and Ray Charles, Winehouse single-handedly brought traditional R&B to the 2000s' UK masses. The album's subject matter was deep and intimate, reflecting on personal relationships and addiction. 'You Know I'm No Good' bore all the hallmarks of classic girl-groups, spy thriller music and soul; 'Tears Dry On Their Own', Remi's accomplished fusion of Winehouse's break-up angst over Marvin Gaye and Tammi Terrell's 'Ain't No Mountain High Enough', is another remarkable standout. The title track is one of the most poignant vocal performances of the decade.
The album was a huge hit both sides of the Atlantic, especially capturing the imagination of the US audiences. In 2008, Winehouse scooped a newsworthy five awards at the Grammy ceremony. Although Back To Black failed to scoop the Album of the Year trophy, it won Best Pop Vocal Album; 'Rehab' won Record of the Year, Song of the Year and Best Female Vocal Performance. Most importantly, she won the coveted Best New Artist trophy as well. Her version of the Zutons' 'Valerie', recorded for Mark Ronson's Version project, was hardly ever off the radio throughout the winter of 2007.
It is well documented elsewhere what happened next. Her battle with drug and alcohol addiction, and her controversial marriage to Blake Fielder-Civil, meant she was rarely out of the public eye – often for the wrong reasons. Her live performances became increasingly erratic, and there seemed little sign of a follow-up to Back To Black, although various sessions were held around the world. To fill the gap, comprehensive deluxe editions were issued of both her Island albums to date, containing demos, BBC sessions and in-era b-sides.
Winehouse went to Studio Three at Abbey Road Studios on 23 March 2011 to record a duet of the jazz standard 'Body And Soul' with venerated crooner Tony Bennett. It was to be the last thing she ever recorded. Four months to the day later, Amy Winehouse was found dead at her home in Camden, as a result of having over five times the legal limit of alcohol in her system. A verdict of Death by Misadventure was recorded. She was 27 years old.
In the resulting media whirlwind and very public outpouring of grief, her music seemed the one least confused and contradictory thing around. Here was a girl born to sing; delivering songs she loved. This was borne out by the release of Lioness: Hidden Treasures, which was released in December 2011. Never intended as the follow-up to Back To Black, it was a collection, pieced together by Remi and Ronson, of studio left-overs and unreleased material, going right back to before Frank days and culminating with 'Body And Soul', her duet with Bennett. Producer Salaam Remi told The Sun at the time of the release of Lioness: "I believe she has left something beyond her years. She has put a body of work together that will inspire an unborn generation. I'm blessed to be part of that process, to have known that person and to continue her legacy with this album." And the album was a fine capture for this legacy. Possibly the most poignant track is the closing version of Donny Hathaway's 'A Song For You'. Hathaway, another artist who died young with a troubled personality, was, as said before, one of Winehouse's musical heroes, and her final words on the album are her saying "Marvin Gaye, great, but Donny Hathaway – he can't contain himself, he had something in him, you know." The same could be said of Amy Winehouse.
Her legacy continues to be looked after by her family, typified by the four-disc set Amy Winehouse at The BBC, which was released in late 2012, a fine CD and DVD record of the evolution of an artist. This release complements various other digital mini-albums that captured Winehouse in performance, such as Live In Germany or Live at iTunes Festival, London.
The loss of Amy Winehouse in 2011 grows in many respects ever sadder by the moment – a 27-year-old with everything to live for, demonstrated by her posthumous award in 2012 for Best Pop Duo/Group Performance for her duet with Tony Bennett, 'Body And Soul', from her Lioness collection.  The musical legacy remains so strong, and her persona, forever captured under her beehive and Kohl-eyes, will go on delighting and inspiring generations for years to come. She was truly a one-off.
Format:
UK English