Shaggy
The Grammy-winning reggae singer and songwriter from Kingston, Jamaica has notched countless hit singles and collaborated with many pop artists.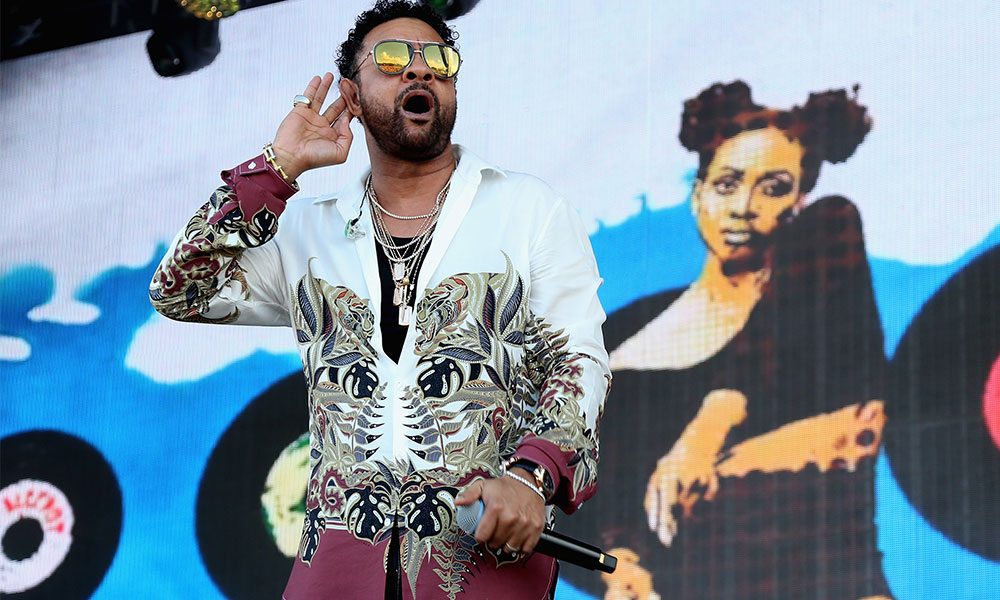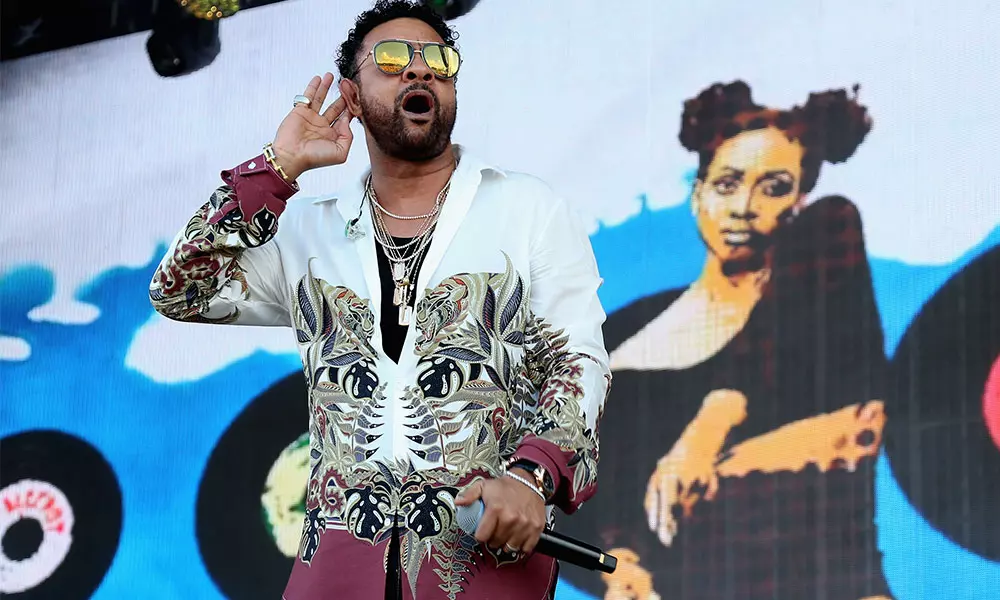 The Grammy Award-winning singer known to the world as Shaggy was born Orville Richard Burrell in October 1968, in Kingston. He moved to New York aged eighteen and became the sound of modern dance reggae during the 1990s after serving as a US marine including a tour of duty in Kuwait during Operation Desert Storm.
Shaggy released a string of massive singles including It Wasn't Me and Angel that topped the charts on both sides of the Atlantic and his aptly entitled album Hot Shot did likewise; sales of the album in America alone have been in excess of 6 million, making him the biggest-selling reggae artist in the world. During the first decade of this century, Shaggy's albums have continued to sell well and his innovative use of sampling within the overall context of reggae has included Booker T's 'Green Onions', Merilee Rush's 'ngel of the Morning' (on the chart-topping single Angel) and the Jacksons' 'Shake Your Body (Down To The Ground)'. Lucky Day and Clothes Drop, while not scaling the heights of Hot Shot, include many fabulous tracks released as singles, among them 'Me Julie' from the film Ali G Indahouse, which also features the film's star.
He was nicknamed after the Scooby-Doo character and at age 18, he joined his mother in the Flatbush area of Brooklyn, New York, and soon began performing with the local Jamaican-style sound system Gibraltar Musik. A steady income proved to be a more pressing matter, however, and in 1988 Shaggy joined the Marines. Stationed at Camp Lejeune in North Carolina, he continued to pursue music in his free time and often made the drive back to New York for recording sessions. He cut his first single, 'Man a Mi Yard' b/w 'Bullet Proof Buddy', at age 20 for producer Don One's own small label; for the follow-up, 'Big Hood' b/w 'Duppy or Uglyman', he worked with producer Lloyd "Spiderman" Campbell.
Shaggy's most important connection, however, proved to be radio DJ/studio engineer Sting (born Shaun Pizzonia), who got him a gig cutting dubplates at Phillip Smart's studio. One of those records, 'Mampie', became a huge hit among New York reggae fans; its follow-up, 'Big Up', was even more popular locally, and marked the first of several duets with Brooklyn singer Rayvon. However, Shaggy still had obligations to the military, and his budding career was interrupted by Operation Desert Storm in 1991; he was sent to Kuwait for a five-month tour of duty. After returning to Camp Lejeune, Shaggy resumed his sessions in New York, and waxed a cover of the Folkes Brothers' ska hit 'Oh Carolina'. Originally recorded for Prince Buster's label, the song was given a modern dancehall update complete with a prominent 'Peter Gunn' sample. At first, 'Oh Carolina' was simply another local hit, but thanks to some overseas promotion, it was picked up for release in the U.K. by Greensleeves in late 1992. It was an instant smash, vaulting all the way to the top of the British pop charts early the next year and doing the same in several other European countries.
'Oh Carolina' wasn't as big a hit in the U.S., where it stalled in the lower half of the charts, despite its inclusion on the hit soundtrack to the Sharon Stone film Sliver. Furthermore, its follow-up singles, the tongue-in-cheek gospel of 'Soon Be Done' and the jazzy 'Nice and Lovely', failed to duplicate its success. Nonetheless, the overseas success of 'Oh Carolina', coupled with the high-profile Maxi Priest duet 'One More Chance', was enough to land Shaggy a lucrative deal with Virgin Records. His debut album, Pure Pleasure, was released in 1993, and included many of his recent singles; the following year, Greensleeves issued a collection called Original Doberman, which covered many of his earliest recordings.
Now firmly a star in Europe, Shaggy went on to conquer the U.S. with his next album, 1995's Boombastic. The title track was an inescapable hit, selling over a million copies; it reached number three on the pop charts and number one on the R&B charts, and also became his second U.K. chart-topper. 'In the Summertime', the flip side of the American single release of 'Boombastic', climbed into the U.K. Top Five as a follow-up. Meanwhile, the album went platinum, nearly reaching the R&B Top Ten, and spent a full year at number one on Billboard's reggae album chart; it also won a Grammy for Best Reggae Album. A third single, 'Why You Treat Me So Bad', featured guest rapper Grand Puba and nearly reached the British Top Ten in 1996, but failed to make much of an impact stateside.
Shaggy followed his breakout success with an extensive world tour, consolidating his European following, and recorded a hit duet with Maxi Priest, 'That Girl', in 1996. He returned to solo action in 1997 with the Midnite Lover album. The first single, a dancehall version of Big Brother & the Holding Company's 'Piece of My Heart' featuring duet partner Marsha, was a relative flop in the U.S., though it had some international success. Similarly, the album was a commercial disappointment, and Virgin, assuming that Shaggy's moment had passed (as it quickly had for many of dancehall's crossover hitmakers), dropped him from its roster.
Undaunted, Shaggy turned to movie soundtracks to keep his name in the public eye. He appeared on a minor hit duet with Janet Jackson, 'Luv Me, Luv Me', from the soundtrack of How Stella Got Her Groove Back in 1998 and followed it by contributing the solo cut 'Hope' to For Love of the Game in 1999. By this time, he was able to land a new deal with MCA and rewarded them with one of the biggest-selling reggae albums ever. Released in 2000, Hot Shot started off slowly as its lead single, 'Dance and Shout', flopped in the States. However, a radio DJ in Hawaii downloaded the track 'It Wasn't Me' (featuring Rik Rok) from Napster, and began playing it on his show. Soon it was a national hit, rocketing up the pop charts and hitting number one in early 2001; naturally, it did likewise in the U.K. and many other European countries. Its follow-up, 'Angel' — a rewrite of the country hit 'Angel of the Morning', featuring Rayvon on vocals — also went straight to number one in the U.S. and U.K. Hot Shot, meanwhile, spent six weeks at number one on the album charts and eventually sold over six million copies in the U.S. alone — an almost unheard-of figure for a reggae release.
Format:
UK English