'Up for the Down Stroke': Parliament Finds The Classic P-Funk Sound
Parliament's 'Up for the Down Stroke' saw the group starting to hone their classic sound. It's an enthralling listen, even today.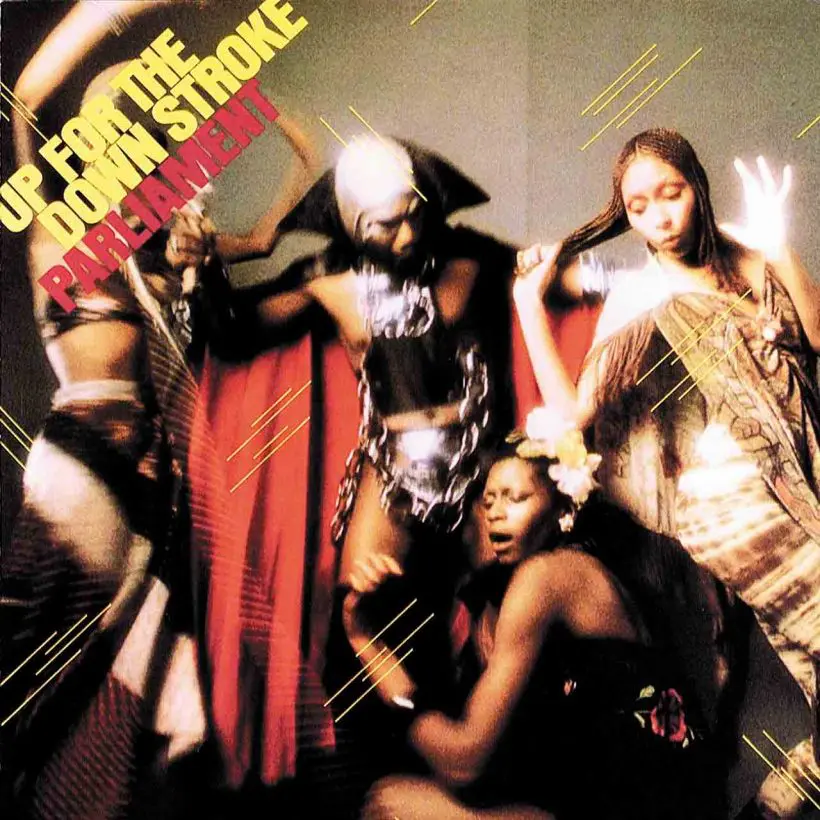 More than Parliament's official second full-length, Up For the Down Stroke signals a sea change in the history of Parliament-Funkadelic: the inception of the classic P-Funk sound. The wigged-out predecessor Osmium (and Funkadelic's early oeuvre) spiked Black pop's punch bowl with psyche-soul tabs. But Up For the Down Stroke represents a reorganization of influences, sounds, and ideas that feels like hearing one of the most vital musical movements of modern times cohere in real time.
Recording and performing largely as Funkadelic during the first part of the 1970s, George Clinton and his ensemble of singers and musicians excelled in the heavy – grooves, guitar, and commentary. But by 1974 Clinton correctly sensed that his troupe needed to reinvent itself in order to keep pace with the ongoing innovations in Black music. He conceived a rebooted Parliament (itself an expanded iteration of the original Parliaments vocal quintet) as an entity with its own distinct sensibilities – "jazzy James Brown, or a pop Pink Floyd," as he once described it. Sliding into focus as outlandish front man, Clinton found a willing label partner for his vision in Casablanca Records' Neil Bogart (whose risk-taking and affinity for theatricality was reflected in his two other notable signees of the time, Donna Summer and Kiss). But where Funkadelic comfortably played bills alongside rock acts, Parliament would openly court Black radio as it defined its new sound.
Listen to Parliament's Up For the Down Stroke on Apple Music or Spotify.
Up For the Down Stroke's title track realized the goal straight away, becoming the group's first Top 10 R&B hit, and blueprinted the P-Funk approach as it would come to be known: a heavy-on-the-one groove anchored by Bootsy Collins's nimble bass, Bernie Worrell's snaking keyboards, and super tight horn charts supporting an intriguing irresistible hook that could mean everything or absolutely nothing (or more of either than you initially thought). Nods to the group's past manifest themselves in remakes of its 60s singles originally cut in the classic Motown style. Here they're (obviously) funkier – and in their best moments oddly haunting (particularly on extended takes on "The Goose" and "All Your Goodies Are Gone").
Most memorable, however, is the material that foreshadows the conceptual brilliance Parliament would later more fully explore. An early manifestation of P-Funk's cosmology, "I Just Got Back" (credited: "From the fantasy, Ahead of Our Time In The Four Lands Of Ellet") finds Clinton exalting the beauty of a distant world he's returned from "beyond the things that we've dreamed about" over lovely acoustic guitar and whistling. Best of all is the album's eerie finale, "Presence of a Brain" – an espousal of humanity over artificiality that finds longtime P-Funk musical director Garry Shider testifying, "Magnetism is more intelligent than force." By the end of the song, though, the energy has turned mournful, Shider pleading, "When'll God's children start thinking together/Learning to live and love one another?" Parliament already seemed to understand that fantasy, reality, and the stakes of controlling the soul of the universe were more closely intertwined than most realized.
Listen to Parliament's Up For the Down Stroke on Apple Music or Spotify.