A Brief History of Queer And Trans Women In American Music
It's taken a century for LGBTQ people, people of color, and women to get their due, though they've inspired and shaped the industry for just as long.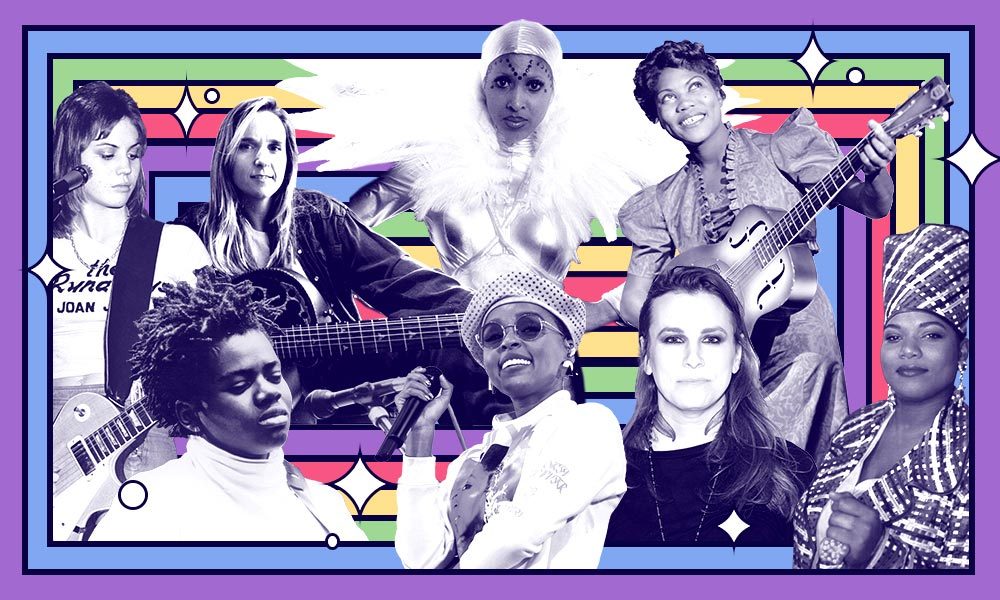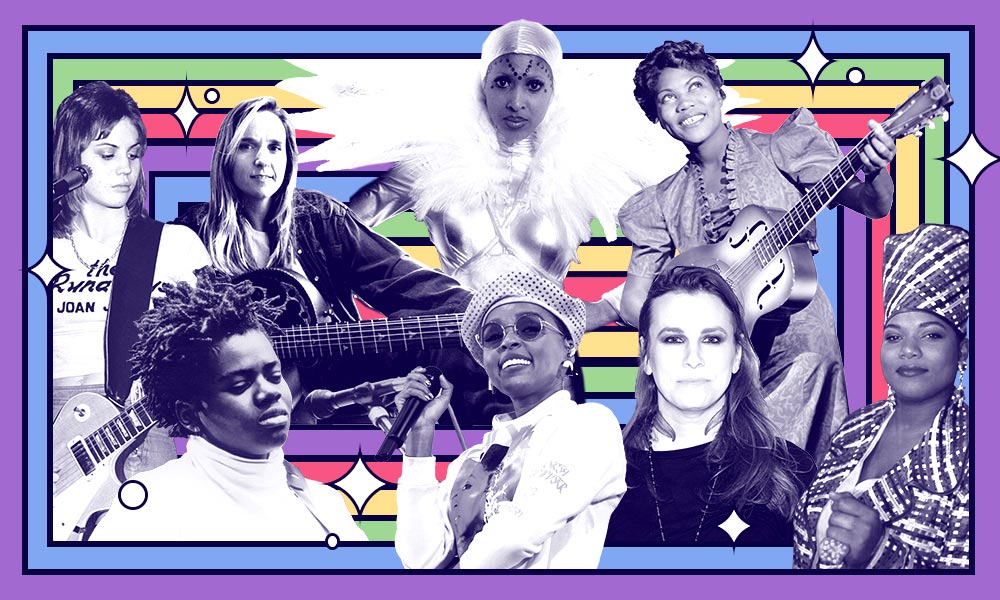 Queer and transgender people have played a substantial role in every facet of modern music, yet it's not often lesbian, bi, queer, or trans women are celebrated for their contributions. Sexism, homophobia, racism: The folks included in this brief history have uniformly faced one or more of these obstacles along the way. Their music, however, lives on as a testament to their perseverance.
Pioneering Black women
Sister Rosetta Tharpe had a self-taught technique she'd practiced since the age of four, playing live with her family before recording for the first time in her 20s in 1939, bringing her spiritual-based rhythm and rock to the radio. Biographers say Sister Tharpe was known to have a relationship with at least one other woman while she toured, with the road making it easier for many women to live more openly without fear of homophobic retribution. Artists like Harlem Renaissance star Gladys Bentley, bisexual "Empress of the Blues" Bessie Smith, moaning Ma Rainey, and "dirty blues" singer Lucille Bogan were more overt in their queerness on stage – in the latter's song, "B.D. Blues," the B.D. stands for "bull dagger," a nod to masculine-of-center or butch women like Bentley in her top hat and trousers.
Billie Holiday, perhaps one of the most well-known jazz singers in American history, was also said to have a relationship with actress Talullah Bankhead, though, even with the freeing underground nature of the prohibition era, most queer people did not identify as such in public as much as they did on a stage. Holiday claimed Bessie Smith as one of her biggest influences, though she was never so explicit about her queerness in her act. A same-sex love song or dress in drag could be seen as a playful nod by comparison, but LGBTQ people learned how to spot one another in all avenues.
Black and biracial women toured the vaudeville and chitlin circuits where they played to other people of color and open-minded others from the 1920s into the 1940s, inspiring other musicians like Big Mama Thornton, who was often billed as "Bessie Smith's Younger Sister," paying homage to her predecessor. Thornton's "Hound Dog" was later popularized by Elvis Presley. Thornton went on to tour with Janis Joplin, where she was the singer's opening act.
The lavender scare
Gender policing and segregation worsened after the Second World War, and so the "act" of homosexuality was one that queer and gender-nonconforming women musicians navigated carefully from the late 40s and well into the 50s and 60s. This era of McCarthyism and "the lavender scare," as it was called, subsequently led to the earliest grassroots newsletters and LGBTQ rights groups.
On the underground lounge circuit, singer and pianist Frances Faye was performing tongue-in-cheek, sapphic flirtations laced with double-entendres in her comical numbers. Major cities like New York, Los Angeles, and San Francisco were home to places like Madame Spivey's and Mona's Club 440, lesbian-focused establishments where queer artists like Liberace and Gladys Bentley would play among other established LGBTQ artists.
Women were still largely relegated to pop singing when it came to mainstream success. Though she wasn't out at the time, the late lesbian singer Lesley Gore had one of the biggest pop hits of the 1960s with the Grammy-nominated "It's My Party," followed by "You Don't Own Me," while bisexual singer Dusty Springfield had several hits with "Wishin' and Hopin'," "I Just Don't Know What to Do with Myself," "You Don't Have to Say You Love Me," and "Son of a Preacher Man." These early songs tinged with feminist leanings of independence and self-reliance were timely as second-wave feminism created opportunities for women to use their voices to change the world.
Gladys Bentley on "You Bet Your Life"
The women's music movement
Singer-songwriters like Joan Baez, Janis Ian, and Joan Armatrading were central to the late 60s/early 70s, singing the stories of their lives to women and reveling in the opportunity to hear their experiences reflected back at such a crucial time. Combined with the idea of Free Love and gay liberation, the women's movement spawned an entire women's music movement that aligned with the confessional folk music of the era but were separate in their separatism – that is, they wrote songs explicitly for and about women, and many of them were lesbian in nature.
Cris Williamson, Holly Near, Maxine Feldman, and Phranc are just a few notable singer-songwriters who performed for their community inside churches, coffee houses, gay bars, and at all-women music festivals, where activism and community were as much of a focus as the music itself. Olivia Records was an early home to LGBTQ women performers, and transgender producer Sandy Stone made history producing several of their albums, paving the way for others such as electronic musician Wendy Carlos, who came out as trans in 1979 after having won several Grammys, popularizing the Moog and composing the soundtrack for Stanley Kubrick's A Clockwork Orange and Disney's Tron.
This age of women writing, recording, and distributing their own work and booking their own shows and festivals was a direct response to the gatekeeping of the industry, which continued to prioritize men. Women who defied convention in additional ways had even more against them, yet they continued to create and play for themselves and each other, inspiring new generations of young women to pick up an instrument and tell their own story.
Theme from Tron (From "TRON"/Score)
Queer punk and disco
This musical momentum around new sounds and new ideas came to a head in the 70s with all-girl bands like Fanny, led by openly gay June Millington, and The Runaways, led by the iconic guitarist-turned-frontwoman Joan Jett. The backlash to this feminist wave was doubly difficult, as these women not only had to answer for their desires but for those of the women's movement, whose music they felt couldn't properly capture their angst. Neither band ever made a huge dent in the US commercially, but they saw success overseas in Japan and beyond.
At the same time, disco was hitting dance clubs, and the sexually fluid blonde Debbie Harry was leading Blondie on stages at Max's Kansas City and CBGB alongside Patti Smith who, despite not being queer-identified, was a major symbol of androgyny. Grace Jones and Annie Lennox would also participate in this drag-esque display, confronting notions of traditional femininity in the mainstream while homophobia kept openly lesbian musicians segregated to their own circuit.
Disco was heavily influenced by and played in gay clubs, and though Sylvester and allies like Donna Summer are more often namechecked, lesbian-identified Nona Hendryx of LaBelle ("Lady Marmalade") and Alicia Bridges, whose hit "I Love the Nightlife" went to No.2 on the Billboard charts, were also playing major venues and participating in the massive dancefloor movement. It was precisely because disco was so queer that there was such a massive backlash, yet queer people continued to have a hand in all genres, even if they had to stay in the closet publicly.
Labelle - Lady Marmalade (Voulez-Vous Coucher Avec Moi Ce Soir ) 1974 • TopPop
Girls to the front
The 80s were home to queer women as part of ensembles – Wendy and Lisa with Prince, Helen Terry with Culture Club, Jane Weidlin of The Go-Gos, and Kate Pierson singing with The B-52's, all acts with queer inferences in their performances and recordings. Meanwhile, punk had been percolating since the mid to late 70s, with trans pioneer Jayne County fronting outfits in New York, London, and Berlin just as queercore was coming out of Toronto in 1985.
Queer artist and filmmaker G.B. Jones coined the term "Queercore" in her zine and led the subsequent movement with her all-female post-punk band Fifth Column. As their name implied (a group that subverts from within), Fifth Column took on both the straight punk scene and gay mainstream and inspired other queercore acts like Team Dresch, Tribe 8, and The Butchies, as well as setting the stage for Riot grrrl in the 90s. Bikini Kill, Bratmobile, Heavens to Betsy, and Excuse 17 were integral to the pro-queer, third-wave feminist DIY aesthetic, pushing to make punk spaces more equitable and safe for women and people of all genders.
The Go-Go's - Head Over Heels
Kicking the door open
The 90s were also a notable decade for gay women in music, with reverberations of Madonna's sexual fluidity, Cyndi Lauper's individuality, and Queen Latifah's royal declarations of independence creating space for more voices from different kinds of bodies. k.d. lang and Melissa Etheridge won critical acclaim and climbed the Billboard charts while purposefully coming out as gay.
k.d. lang, a Canadian country-folk singer with cropped hair and a penchant for men's clothing, was the first mainstream artist to publicly identify as a lesbian when she came out in The Advocate in 1992, five years before Ellen DeGeneres would do the same on the cover of Time. Her masculine-of-center style and hit single "Constant Craving" had tongues wagging – she became the face of "lesbian chic," posing with supermodel Cindy Crawford for a provocative and now-iconic cover of Vanity Fair.
Blues-inspired rocker Melissa Etheridge followed lang, announcing her own lesbian identity with the release of Yes, I Am, in 1993. It was the singer's fourth album, but it put her on the map, fuelled by rockers like "Come To My Window" and the absolute barn-burning "I'm The Only One." Etheridge became a household name and picked up a Grammy for Best Female Rock Vocal Performance.
Melissa Etheridge - I'm The Only One (Music Video)
Lang and Etheridge weren't alone, but they kicked the closet door wide open for other queer women to speak more openly about their sexuality as it related to their songwriting or public persona. The Indigo Girls, Meshell Ndegeocello, Linda Perry of 4-Non Blondes, drummer Patty Schemel of Hole, Josephine Wiggs of the Breeders, and Kate Schellenbach of Luscious Jackson were all open about their queer identities in the pages of Spin and Rolling Stone as well as women-centric zines like Bitch and Girl Germs, while Jill Sobule's "I Kissed a Girl" (from her album I Can't Think Straight) was nominated for two MTV Video Music Awards in 1995.
Being out was a double-edged sword, as Lang, Etheridge, and the Indigo Girls became so well-known for being lesbians that their sexual identities could sometimes overshadow their musical abilities. Although these artists were subject to cruel jokes and send-ups at times, their being out in public simultaneously gave lesbians more visibility at a crucial time for political activist groups like the Lesbian Avengers who, feeling left behind by straight feminists and gay men, sought safety and respect as both women and queers.
Queer pop in the aughts
Feminism went pop with the Spice Girls, who were often accused of commodifying feminism and packaging it as girl power. But the acknowledgment of the group's queer fans also hinted at the future of queer women's bright future in pop. (Mel B would also later come out as bisexual.) At the turn of the millennium, pop radio eclipsed college rock as the dominant cultural force, as solo artists like Lady Gaga, Miley Cyrus, and La Roux played with their pansexuality both on stage and on TV in moments queerer than Britney and Christina's kiss with Madonna at the 2003 MTV VMAs.
Just a year earlier, MTV also played host to a similar stunt, this time from Russian pop duet t.A.T.u. and their baiting video "All The Things She Said," where the duo posed as lesbian schoolgirls. It would become just one of the many instances of fetishization queer women faced throughout the decade.
Once TRL went off the air, the internet took over, along with an influx of modes for artists to share themselves with the world. More and more queer women artists are not only able to be open about who they are, but able to express it freely and with subsequently less fear than their predecessors. Artists like Demi Lovato, Tegan and Sara, King Princess, Halsey, Janelle Monae, and Hayley Kiyoko create explicitly queer music. Demi Lovato's sapphic-themed "Cool for the Summer" and Halsey's "Strangers" duet with openly bisexual Lauren Jaruegui helped to create a new set of queer anthems for new generations.
Outside of pop, the 2000s was home to a thriving electronic scene with queer acts like Anohni, Fever Ray, and Goldfrapp playing stages at large-scale festivals, while country music and hip-hop have both seen a significant rise in openly gay artists. In 2019, Americana musician Brandi Carlile won three Grammys for her latest album, just 12 years after Chely Wright became the first major country singer to come out as a lesbian, while singer-songwriter Brandy Clark remains one of the best in the business, collaborating frequently with noted ally (and country-pop crossover queen) Kacey Musgraves, including the hit single, "Follow Your Arrow," winning Song of the Year at the 2014 CMA Awards.
070 Shake - Guilty Conscience (Official Video)
Meanwhile, MCs like 070 Shake, Young M.A., and Chika continue to carve out space in straight and male-dominated arenas as female queer artists, while their contemporaries like Cardi B and Megan thee Stallion flirt with bisexuality on their biggest hits. Trans performers like punk singer Laura Jane Grace, soul artist Shea Diamond, and pop songwriter Teddy Geiger all bring significant talent and visibility to their respective genres, just as the earliest LGBTQ women did and have continued to do, despite rarely receiving proper credit.
It's taken a century for LGBTQ people, people of color, and women to get their due, though they've inspired and shaped the industry for just as long. Like most of LGBTQ history, the influence is easily tracked but too often ignored.