Billie Holiday
Lady Day was a brilliant singer, a great lyrical interpreter, she took chances, lived life hard, she could swing, she could swoon, she moaned low, was elegant and she was a soul singer before anyone had coined the phrase.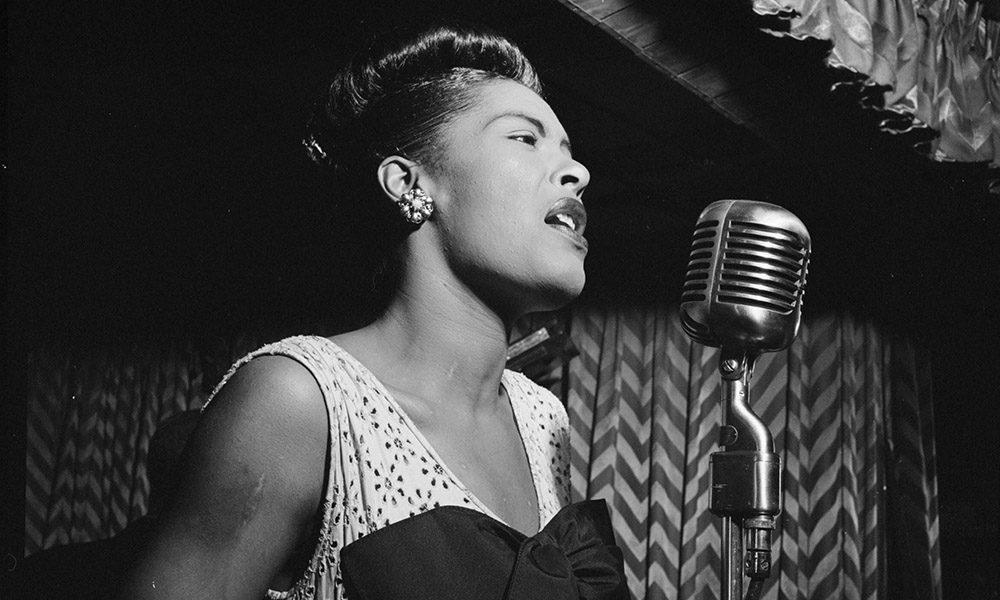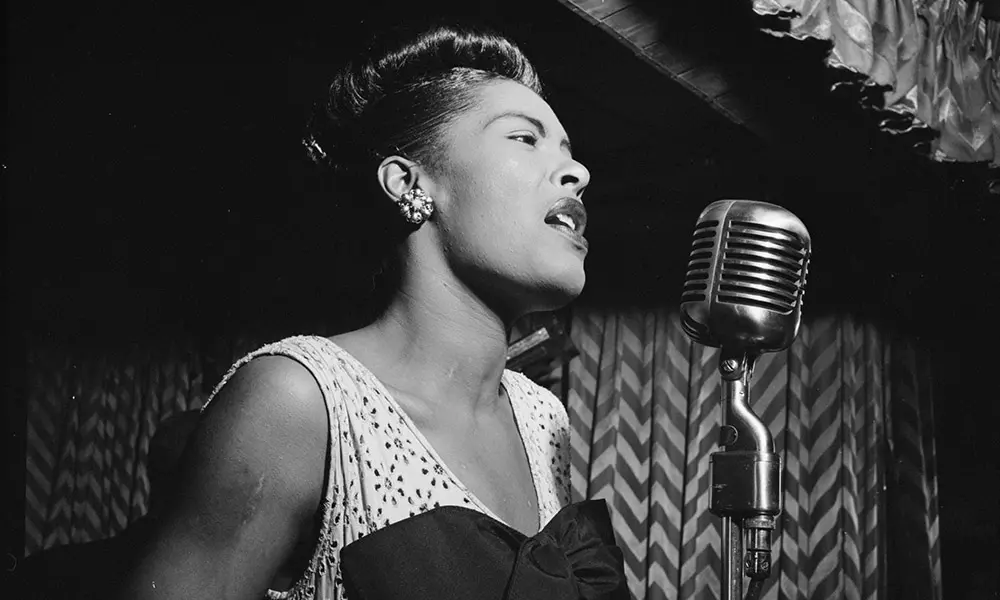 Lady Day was a brilliant singer, a great lyrical interpreter, she took chances, lived life hard, she could swing, she could swoon, she moaned low, was elegant and she was a soul singer before anyone had coined the phrase. She was one of the greatest jazz vocalists of all time – if not the greatest.
"With a few exceptions, every major pop singer in the US during her generation has been touched in some way by her genius." – Frank Sinatra
We know that Billie was born on 7 April 1915, but the facts about her childhood are murky at best, made no clearer by Lady Sings The Blues, Billie's autobiography, which confused things further. Billie's birth certificate named her father as DeViese whereas she insisted he was Clarence Holiday – Billie's mother, Sadie's childhood sweetheart, who later played guitar in Fletcher Henderson's Orchestra.
Abused as a child, she had a spell in a Catholic children's home before cleaning and running errands for a brothel madam. By 1928, Billie's mother moved to Harlem with her daughter and before long they were both working in a brothel; fourteen-year-old Billie was charged with vagrancy and sent to a workhouse.
On her release, Billie took up with a saxophonist and the pair of them began playing Harlem dives, Billie trying to emulate Bessie Smith whose records she loved. In October 1933, John Hammond, a music critic and record producer, heard her singing in a Harlem club and had her record a couple of sides with Benny Goodman. The first, 'Your Mother's Son-In-Law', gives no hint of her promise.
It would be a year or so before Billie recorded again. Hammond coerced Brunswick Records into a session and the recordings came out as Teddy Wilson and His Orchestra – the first of close to 100 recordings Billie made with Wilson. These four sides – 'Miss Brown To You', 'What A  Little Moonlight Can Do', 'I Wished Upon The Moon' and 'A Sunbonnet Blue' – should be in every jazz enthusiast's library.
Over the next twelve months, Billie recorded a dozen more sides with Teddy before working under her own name, with her own orchestra. The first session was in July 1936. Other sessions followed, both under her own name and with Wilson, some featuring Lester Young on saxophone.
In 1937, Billie sang with the Count Basie Orchestra, and the following year she appeared with Artie Shaw, becoming one of the first black singers to appear with a white orchestra. It was not an easy engagement, with Billie being abused by a member of the audience in Kentucky. By the end of 1937, a disenchanted Billie had quit Shaw's band after the Hotel Lincoln in New York demanded she uses the kitchen entrance rather than the front door.
Billie then began appearing at Café Society in Greenwich Village. Her performances – especially the torch songs – amazed everyone, including 'I Cover The Waterfront'. However, there was one song that became synonymous with Billie during her spell at the club. One night, Lewis Allen, a New York public-school teacher spoke with Barney Josephson, Café Society's owner, asking if Billie would sing a song he'd written ­– and so began the fascinating tale of 'Strange Fruit'.
Allen's song was about the lynching of a black man in the Deep South that pulled no punches. The anti-lynching protest poem set to music is incredibly powerful and Columbia, Billie's label, refused to release it. It came out on the smaller Commodore label, sharply dividing opinion. Audiences were stunned into silence when she sang it live – both men and women wept.
While Billie's career was moving in the right direction, her personal life was not. She had several relationships, including one with guitarist Freddie Green, and then in the summer of 1941, she married Jimmy Monroe, best described as a hustler. In 1942, Monroe was caught smuggling drugs into California, and despite Billie getting him the best lawyers, he got a one-year sentence. Monroe was smuggling marijuana, which Billie had been smoking for years, and he also brought opium into her life. By 1944 she was using heroin; a trumpet player she had an affair with while Monroe was in prison got Billie hooked.
One of Billie's biggest successes came in 1944 when she signed to Decca Records releasing, 'Lover Man'; Billie's early recordings are collected together on The Complete Commodore / Decca Masters. The song resonated with many servicemen overseas and their wives and lovers back home. In February 1945, Billie appeared at The Philharmonic Auditorium on a JATP concert – the first of many – and the following year she featured in the movie New Orleans (1947), along with Louis Armstrong.
Billie's drug problems came to the fore when she was arrested in May 1947 in Philadelphia and charged with possession of heroin, for which she received a one-year sentence. When Billie was released, she had kicked her habit and looked better than she had done in years. Almost immediately after she left prison, a concert was arranged at Carnegie Hall in March 1948; it was a sell-out. She sang over thirty songs despite not having sung for nearly a year, including 'All Of Me', 'Fine And Mellow' and, naturally, 'Strange Fruit'. As one newspaper put it "Billie took her homage like a queen. Her voice, a petulant, sex-edged moan, was stronger than ever." Billie's appearances at Jazz at The Philharmonic are on Jazz At The Philharmonic: The Billie Holiday Story, Vol. 1.
Jimmy Monroe, the man who the federal prosecutor described as the "worst type of parasite you can imagine", wasted no time in getting Billie back into her old habits. She was arrested again on a similar charge to her conviction, but this time she was acquitted.
Before long, a new man entered her life; John Levy was a club owner and about as bad as Monroe. He controlled Billie since she was dependent on having a strong man in her life. Despite everything, Metronome magazine named Billie the best female singer in its annual poll in 1949.
In 1952, Billie recorded for the Clef label for the first time, away from JATP concerts, backed by Oscar Peterson, Barney Kessel, Flip Phillips and Charlie Shavers. The album Songs By Billie Holiday – Solitude (1952) was re-released by Verve in 1957. Other Clef albums followed that were repackaged, including Lady Sings The Blues (1955), before she started recording new material for Verve in 1957. Among the albums from this period that give an idea of where Billie was at by this stage in her career is all Or Nothing At All (1955).
In 1954, Billie toured Europe and seemed happier than she had been in years, perhaps because she also had a new lover named Louis McKay, who at least kept drugs out of her life. By 1956, Billie published the aforementioned Lady Sings The Blues, which received some good reviews, but the book was a fictionalized account written with a journalist.
In 1957, Billie married Louis McKay, and while things initially went well, fights between the two became more common, especially when Billie found out he had lost much of her money in risky property speculation. Billie was also back on drugs. They split up and Billie moved into an apartment in New York with just her dog for company. Her drug habit, fortified by excessive drink, turned her into a pale shadow of her self. When Lester Young – probably her one true friend throughout her life and the one who named her Lady Day – died in March 1959, it was a terrible blow. Two months later, Billie was hospitalized from her drug use. She was refused entry to one hospital because she took drugs, and at a second one that allowed her in, a nurse found drugs at her beside and called the police, who arrested her. Just over a month later, Billie died on 17 July 1959 in New York City, still in the hospital, still under arrest.
Billie Holiday was a complex woman. She exasperated her friends, but at other times she was the sweetest-natured woman alive. Before the drugs, the booze and the lifestyle of an addict ravaged her voice and her body, there was no singer that came close to matching her intensity or her allure. Although it seems that every generation throws up one, maybe two, Holidayesque singers, none really has had the gift to do what really matters most: to sing like you really mean it.
Words – Richard Havers
Format:
UK English