Unearthing The Best Of Johnny Cash's American Recordings
Helmed by Rick Rubin, Johnny Cash's American Recordings saw the country legend make a stunning return late his career, re-establishing his rebel cred.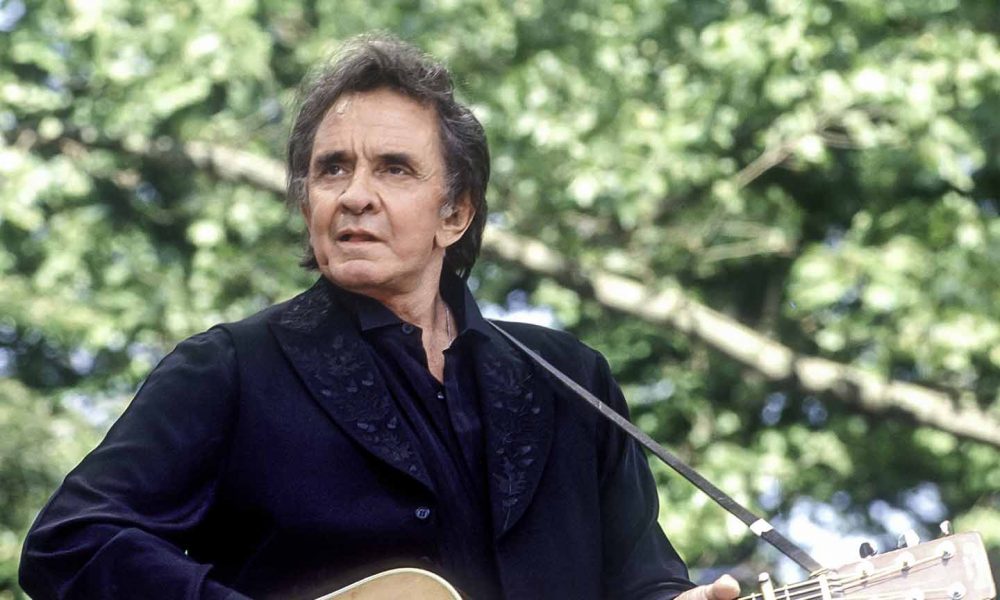 Looking back over Johnny Cash's career, especially the fruitful American Recordings era, there's one thing that's worth remembering: yes, he was an artist who could tell you profound things about the human condition, but he was also an artist who appreciated having hits. He was selective about the trends he followed but he did take note of them – whether that meant coming into Sun Studio on the rockabilly train, championing Bob Dylan in the late 60s, or embracing pop-country on his underrated 80s albums for CBS and Mercury. At his best, Cash was always out to make meaningful records that could sell.
So you could say that he rediscovered that mission when he first teamed up with Rick Rubin in 1994. Rubin correctly figured that the best way to introduce Cash to a grunge-era audience was to keep the music stripped down and to put the starker side of Cash forward – the "Man In Black" side, not the "Boy Named Sue" side. In some ways, the American Recordings albums represent a darkening of Cash's image. There are no funny songs on them (and he'd done plenty of those in the past) and, save for a few bursts of rockabilly on Unchained (the liveliest album of the lot, with Tom Petty & The Heartbreakers as back-up band), very few rockers. The darkness would of course become more palpable as the series went on, with the songs tied to tragic events in Cash's own later life.
Rubin famously opened Cash's ears to songs from far outside his comfort zone, and it's those songs, from artists such as Depeche Mode, Soundgarden, Nick Cave, and, most famously, Nine Inch Nails, that have come to be the most remembered. But the real strength of the six American Recordings album is the wide variety of material on them, and the amount of musicology involved. With many of his eclectic American Recordings album sessions arriving on the 9LP box set Unearthed, along with outtakes and rare recordings, here's a look back at this prolific recording period broken down into thematic categories.
Ready-mades
These are the songs so obviously up Cash's alley that he surely would have gotten around to them whether or not Rubin had come along. A prime example would be Neil Diamond's "Solitary Man" (the title track of American III), a song whose mix of romantic angst and world-weariness is so characteristic that Diamond could have been thinking of Cash when he wrote it.
Others were songs that he probably took his time to record because they were so strongly associated with other singers, but by the late 90s, Gordon Lightfoot's "If You Could Read My Mind" and Paul Simon's "Bridge Over Troubled Water" were fair game. Other times, Cash simply treads familiar territory – recording country standards by Marty Robbins ("Big Iron"), Eddy Armold ("Tennessee Stud") and Hank Williams ("I'm So Lonesome I Could Cry"), which are among the delights of these sessions.
Eyebrow-Raisers
When Cash heeded Rubin's advice and started covering contemporary artists the likes of Beck, Will Oldham, Danzig, U2, and Soundgarden, these were the songs that garnered the most attention and did the most to win him a new audience. At times he simply approaches them with characteristic dignity, but more often than not he truly connects with them.
At a time in Cash's life when he needed to make a cry from the heart, Nine Inch Nails' "Hurt" was exactly that. But to these ears, the best of this batch came from his former son-in-law, Nick Lowe's psychologically deep "The Beast In Me." By all appearances, Cash's recording the song was a transformative moment for Lowe as well. His writing took on a new depth ever since, and he'd never write another "Shting-Shtang" or "Rollers Show."
Johnny Cash originals
Unfortunately, Cash wasn't writing very prolifically during this late-career stage, so he took the occasion to rescue songs that got overlooked, such as "I'm Leavin' Now" (surely his only song to include the line "Get outta my face"), which originally appeared on the 1985 album Rainbow; other tracks ("Mean Eyed Cat") went back as far as 1960. But when Cash did pick up the pen, he didn't write throwaways. "The Man Comes Around" and "Like The 309" (the latter reportedly his last song) deal movingly with mortality.
Spirituals
Even in his younger days, Cash preferred gospel songs that had a bit of grit to them. The foreboding sentiments of a song such as "God's Gonna Cut You Down" (from American V: A Hundred Highways) are the kind of thing he never shied away from. There are traditional hymns scattered through the American albums just as there are in his whole catalogue but they also expanded his idea of what a spiritual could be, a modern rock song instead of a traditional one. Bruce Springsteen's "Further On Up the Road" and U2's "One" both fit the bill perfectly.
Johnny Cash - God's Gonna Cut You Down (Official Music Video)
Oddballs
Sometimes Cash's taste in songs was more than a little offbeat. There are plenty of examples through his catalogue – with 1966's "Dirty Old Egg-Suckin' Dog" as Exhibit A – and Rubin made no attempt to soften that. Loudon Wainwright III's twisted morality tale "The Man Who Couldn't Cry" is a strange one even by Wainwright's standards, and you can practically hear the Viper Room crowd scratching their heads over it on the live section of the first American Recordings album.
Johnny Cash - Delia's Gone live
Virtually nobody was covering Rod McKuen in the new millennium, as the 60s singer/poet had gone way out of fashion since the days when Frank Sinatra was recording his songs. But "Love's Been Good To Me" (also recorded by Sinatra) proved a suitably bittersweet moment on the first posthumous Cash album, American V: A Hundred Highways. On the darker side, you have to put "Delia's Gone" in the oddball category as well. Not that it was odd for Johnny Cash to sing a murder ballad (he'd done plenty of those, and had even recorded "Delia" in the 60s), but it was an offbeat choice as the opening track for the first American Recordings album. The unflinching lyric stirred up a little controversy, as was probably intended. And as Cash was fond of pointing out in concert: "It's not an anti-woman song, just an anti-Delia song."
Featuring outtakes and rare recordings from the American Recordings album sessions, Johnny Cash's acclaimed Unearthed box set is available on a 9LP release that can be bought here.