How Rick Rubin Brought His Midas Touch To American Recordings
Reflecting his eclectic tastes, Rick Rubin's American Recordings label covered metal, rock, country, and all points in between, establishing its founder as music's ultimate auteur in the 90s.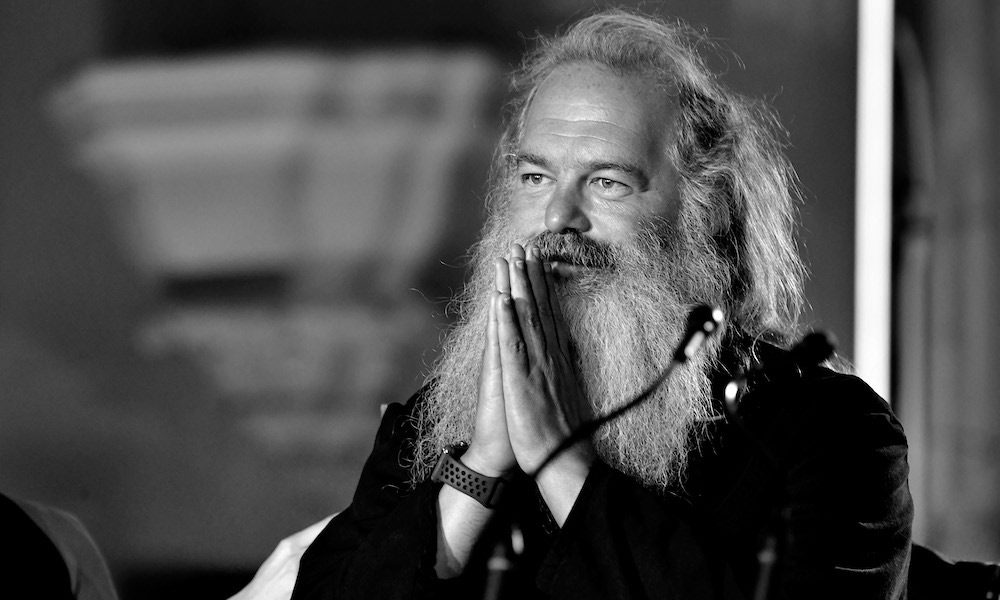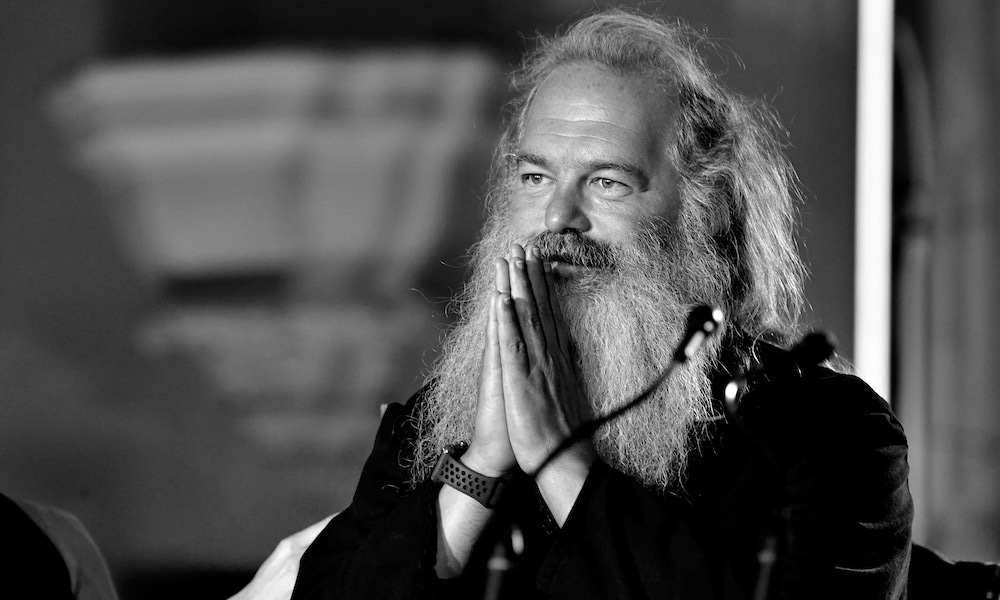 If you've been able to absorb and appreciate everything that Rick Rubin has produced and released on his American Recordings label, you probably have great ears, wildly eclectic taste, and a complete disregard for musical boundaries. In other words, you and Rick Rubin have a lot in common.
The Godfather of rap-rock
Few producers have covered quite as much ground as Rubin has over the years. He came to fame as one of the savviest hip-hop producers of the 80s and one of the first to realize the possibilities of bringing rock and rap together through sampling. On one hand, he showed Run-DMC fans the appeal of a killer guitar lick (he produced their cover of Aerosmith's "Walk This Way," one of the first great crossovers); on the other, he put Beastie Boys' Licensed To Ill into the dorm rooms of suburban kids who thought they hated rap.
When Rubin started producing rock bands, his first two choices seemed worlds apart: Slayer's Reign In Blood hit the extremes of thrash, while The Cult's Electric was proudly 70s-retro. Yet the production philosophy for both was pretty much the same. The producer steps back, lets the band wail, and makes sure that the tapes catch every vocal scream and mangled guitar string.
The birth of American Recordings
The Slayer album was actually the one that inaugurated the American Recordings label, after Rubin decided he was ready to move on from Def Jam. In those days, Rubin was well into courting controversy. Among the early American Recordings releases were albums by Andrew Dice Clay – whose comedic style, for better or worse, is more integrated into the mainstream today than it was then – and Geto Boys, who at the time offered some of the strongest street imagery that rap could deliver.
Yet something different was brewing via the label's first breakout group, The Black Crowes. Here the ambitions of label and band met their match: the Crowes wanted more than to be cast as throwback Southern rock; they simply wanted to be one of America's greatest rock'n'roll bands. With over four albums for American Recordings, starting with 1990's Shake Your Money Maker, they achieved just that. Interestingly, Rick Rubin never produced them. Their first two albums were done by his protégé, George Drakoulias, who'd mastered the Rubin style of bare-bones production, putting as little space as possible between the band and listener.
The man in black
Of course, Rubin's career would transform dramatically once he met Johnny Cash. But there's one earlier album in Rubin's catalogue that got less attention (though it spawned four hit singles), and it's an album that really crystallizes Rubin's vision of a musical world that encompasses the foundations of rock, 60s folk-rock, and psychedelia, with thrash, arena-rock, and hip-hop. That would be the soundtrack to Less Than Zero, released on Def Jam in 1987. Every song on it was a cover from a different era, so you had a lot of worlds colliding. The Bangles' "Hazy Shade Of Winter" was a big hit and Aerosmith's "Rockin' Pneumonia" wasn't, but both are among the sharpest-sounding tracks those bands released in the 80s. He also had Slayer doing "In-A-Gadda-Da-Vida" and, most tellingly of all, Roy Orbison covering Danzig's "Life Fades Away." A music legend performing a modern-day song that seems way out of character? Sounds like a plan.
That was part of the strategy when Rick Rubin began working with Johnny Cash, on 1994's American Recordings – an occasion to reference the label's name if there ever was one. Featuring just the man and his guitar, the album was about reminding people who Johnny Cash really was, stripping away the heavy production and minor songs that bogged down his 80s albums. The eyebrow-raiser of that first album was its opener, the stark murder ballad "Delia's Gone," but Cash had already recorded that song in the 60s (and so had Pat Boone; we kid you not). Rubin already knew that Cash was as much an outlaw as Slayer and Geto Boys, and all it took was a no-frills album to make that point. Over the next nine years, Cash and Rubin would record a staggering range of material and their collaboration would encompass the real-life story of Cash's final personal struggles and musical triumphs.
Stripping artists down to the essence
Rubin carried the Cash aesthetic into other projects, finding music legends he admired and stripping them down to the essence. One that fell through the cracks was Donovan's Sutras, which didn't quite do the trick of re-establishing the Scottish balladeer commercially, but for those who treasured the early Donovan albums, it was a godsend. More successful by far was his work with Neil Diamond and Tom Petty. In the latter case, Rubin's stark production was seen as the antidote to Petty's recent studio-driven work with Jeff Lynne. But Petty wound up bringing those worlds together, recording Highway Companion with Lynne.
Some of American Recordings' buried treasures aren't even American. The label released some of the most daring albums by UK eccentrics Julian Cope (Autogeddon) and Love And Rockets (Hot Trip To Heaven). It's hardly all commercial, either, as the label has worked with one of the ultimate outsider artists, Wesley Willis. It also released a couple of albums by The Mother Hips, a terrific neo-psych band out of San Francisco.
American Recordings' roster is all about Americana. Rubin did one of his trademark makeovers on ZZ Top, delivering the back-to-basics album they'd promised for decades on La Futura. Two of the most-praised Americana artists, Band Of Horses and The Avett Brothers, have been on the roster, with Rubin producing the latter. Rick Rubin is certainly a visionary, but you might also think of him as the sheriff of American music. He's the one who brings it all back alive.
Covering rarities and classics from his American Recordings period, the 9LP Johnny Cash box set Unearthed can be bought here.