Guns N' Roses, Summer Walker, And ABBA: Currently Trending Songs
Thanks to the power of TikTok, social media, and film syncs, classic songs are getting reintroduced to a new generation of fans.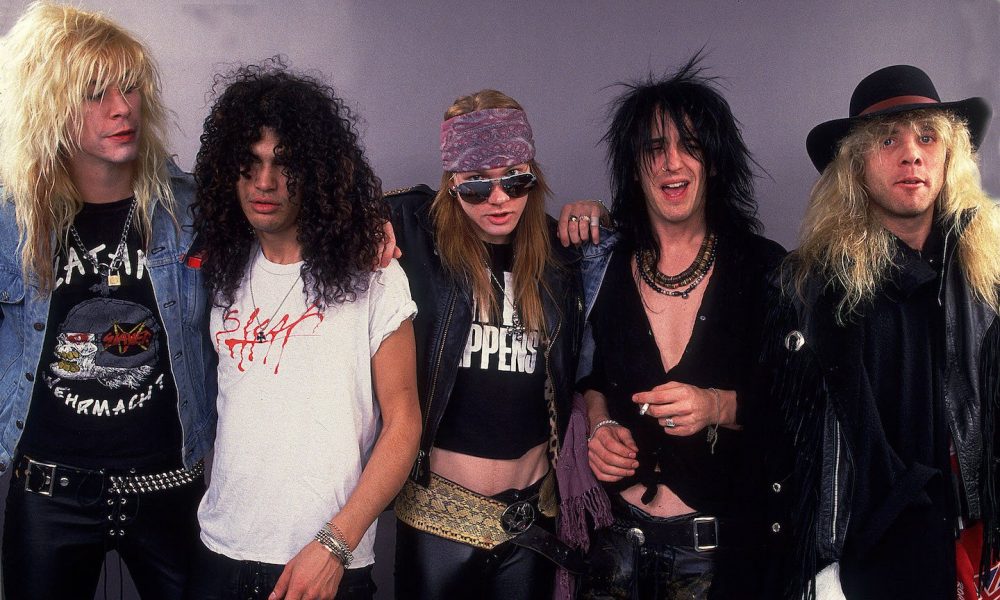 What are songs are currently trending on TikTok and beyond? Well, the path to virality, chart domination, and TikTok hits is no longer reserved for new, popular songs. The industry has seen an uptick in renewed interest around classic tracks that re-emerge in pop culture thanks to social media, soundtrack syncs, and commercial placements, and sometimes purely by chance. Look no further than the time a man went cruising on his longboard listening to Fleetwood Mac's "Dreams." This column will break down all of the older songs that are trending on TikTok again (and explain why they became popular one more time).
June 22
Guns N' Roses
In 1987, Guns N' Roses' debut album Appetite For Destruction kickstarted an illustrious career, ignited by huge anthems like "Sweet Child O' Mine" and "Paradise City." The former began life in a jam session at the band's house on LA's Sunset Strip and found its form when frontman Axl Rose centered the lyrics around his then-girlfriend Erin Everly. A huge hit whose relevance has spanned the decades since, the track has most recently appeared in the trailer for the new Disney and Marvel movie Thor: Love And Thunder. 
"Paradise City," meanwhile, was penned on the road, while the band was heading to a gig in San Francisco. As they drove to the show, the members took turns coming up with the lines, making it a truly collaborative effort. Lately, fans on TikTok have been celebrating the anthem by sharing clips of incendiary live performances.
Also trending this week is Guns N' Roses' 1991 epic "November Rain." The track appeared on their Use Your Illusion I album and, upon its release as a single, quickly became the longest song to enter the Top 10 of the Billboard Hot 100 – its radio edit clocked in at 4:43, while the album version was 8:57, but an 18-minute version is also said to exist. TikTok users have been highlighting the song's iconic solo in videos recently, putting the focus on a legendary moment in rock. 
Guns N' Roses - Sweet Child O' Mine (Official Music Video)
Summer Walker – Karma
Taken from her 2018 debut album Last Day Of Summer, "Karma" finds Atlanta R&B star Summer Walker issuing a warning. It's one that alerts her male listeners to not treat their partners poorly, telling them she'll get revenge for the wronged women. "You can't keep just doing them girls like that," she sings. "Thinking that nobody finna bite back." The track is now soundtracking a trend on TikTok where fans share their best photos of themselves. 
Summer Walker - Karma (Official Audio)
ABBA – Gimme! Gimme! Gimme! (A Man After Midnight)
Released in 1979, this ABBA classic was released as a then-brand-new song on the second volume of the Swedish icons' Greatest Hits compilation. Lyrically, it found Agnetha Fältskog singing about longing for a partner who will help her "chase the shadows" of the night away. "Movie stars find the end of the rainbow with a fortune to win," she sings sadly. "It's so different from the world I'm living in." The track is now part of a trend on TikTok where creators make videos of them dancing in a casual outfit to the song before it transitions to "Boogie Wonderland" and they appear in a get-up fit for a dance party. 
ABBA - Gimme! Gimme! Gimme! (A Man After Midnight)
Justin Bieber – Confident
This 2013 cut saw Justin Bieber team up with Chance The Rapper and marked the end of his Music Mondays project, which saw him release a new song every Monday for two months. The song has love at its core, with the Canadian pop star squiring a new love interest who's "confident." With Bieber performing the track on his current Justice world tour, TikTok has been full of fans sharing videos of him nailing the song life, nearly a decade on from its release. 
Justin Bieber - Confident ft. Chance The Rapper (Official Music Video)
YK Osiris – Worth It
The second single from YK Osiris' debut album The Golden Child, "Worth It" was released in 2019 and gave the US rapper his first entry on the Billboard Hot 100. It debuted on that chart at No.87 before moving up to a peak position of No.48. Later, a remix of the track was also released, featuring contributions from Tory Lanez and Ty Dolla Sign. Now, fans on TikTok are sharing their own versions of the hit single, with some performing them from their local grocery store. – Rhian Daly
YK Osiris - Worth It (Official Video)
June 17
Songs from Spiderhead
The anticipated new Netflix film, starring Chris Hemsworth, Miles Teller, and Jurnee Smollett, is already delivering plenty of intrigue – and an enticing soundtrack, to boot. In one memorable sequence from the film, Hemsworth character Steve Abnesti twirls to the sophisticated pop of Roxy Music's "More Than This" (Hemsworth reportedly requested it himself, as it's one of his favorite songs). In a climactic scene from the film, Poco's "Crazy Love" is also used to great effect. The entire soundtrack is on a similar vibe, with additional appearances by Supertramp and Chuck Mangione.
June 15
Katy Perry – Firework
Released in 2010, Katy Perry's "Firework" is an inspirational anthem of the modern era, intended to make the star's fans "feel proud and feel strong." The self-empowerment banger clearly resonated too, with it hitting the Top 10 in charts all around the world and scoring Perry a No.1 on the US Billboard Hot 100 (as well as multiple other Billboard charts). The song has been trending on TikTok lately, including some of Perry's past performances of it. 
Katy Perry - Firework (Official Music Video)
The-Dream – Falsetto
The second single from The-Dream's debut album Love/Hate, "Falsetto" kept the then-rising artist's trajectory moving onwards and upwards. It landed at No.3 in the Billboard Hot R&B/Hip-Hop Songs chart upon its release in 2007 – his best peak at the time – and took him into the Top 30 of the Hot 100 too. The smooth R&B track is now experiencing a resurgence thanks to a playful new TikTok trend where users deliver a piece of lighthearted choreography to its addictive chorus. 
The-Dream - Falsetto (Official Video)
Afroman – Crazy Rap (Colt 45 & 2 Zig Zags)
In 2001, LA rapper Afroman became a commercial success and a worldwide star thanks to his hit song "Because I Got High." Just two months after that track was conquering charts all over the globe, he unleashed his follow-up on the world, "Crazy Rap (Colt 45 & 2 Zig Zags)." Lyrically, it continued in the same themes as "Because I Got High," while referencing both Cheech and Chong, and Dolly Parton. Although it didn't reach the same dizzying commercial highs as its predecessor, "Crazy Rap" still had its moment in pop culture – a fact reinforced by its status as a trending song on TikTok. The track is being used to soundtrack videos where creators share their dream people to "sesh" with. 
Afroman - Crazy Rap (Official Music Video)
Lady Gaga – Government Hooker
Featured on Lady Gaga's second studio album Born This Way, "Government Hooker" meshed techno and industrial sounds with themes including female sexual empowerment. Never an official single, the track still charted in South Korea and reached No.16 on the US Hot Dance/Electronic Digital Songs chart. Now, it is being used to soundtrack videos on TikTok where fans edit scenes of their favourite male characters from Stranger Things into clips celebrating their visuals. 
Lady Gaga - Government Hooker (Official Audio)
June 8
Musical Youth – Pass The Dutchie
Released in 1982, Musical Youth's "Pass The Dutchie" scored a massive hit around the world by stitching together two pre-existing songs. The British-Jamaican reggae outfit spliced together U Brown's "Gimme The Music" and Mighty Diamonds' "Pass The Kouchie," and rocketed up the charts. "Pass The Dutchie" hit the top spot in the UK, while in the Billboard charts it landed in the Top 10. The track is now experiencing a second life thanks to season four of Stranger Things. Musical Youth's creation has become a fan-favorite moment on the new episodes' soundtrack, scoring scenes with the new character Argyle (played by Eduardo Franco) and his pizza delivery van. 
The power of Stranger Things has also been giving several other tracks from the 80s a big resurgence, most notably Kate Bush's "Running Up That Hill," which is pivotal to the storyline of Max Mayfield (played by Sadie Sink). Among the other songs being discovered – and rediscovered – via the show is KISS' "Detroit Rock City," which can be heard as the Hawkins High basketball team runs on to victory in episode one. 
The Cramps' "Fever" and "I Was A Teenage Werewolf," meanwhile, are also trending thanks to features on the show. The latter soundtracks the scene where the new character Eddie Munson (played by Joseph Quinn) causes chaos in the cafeteria when he's first introduced. 
June 1
Lena – life was a beach
In 2019, German singer-songwriter and 2010 Eurovision Song Contest winner Lena released her fifth album, Only Love, L. Among its tracks was "life was a beach," a piece of deceptively breezy, minimal pop in which the star reflected on losing a loved one and the loneliness of the aftermath. Despite not being a lead single, the track has now gone viral in Japan, ranking in Spotify's "Viral Top 50 Japan" chart for over 76 consecutive days. The song is being used on many TikTok videos and Instagram reels in the county as well. Notably, the popular Japanese dance group Local Campione danced along to the song on TikTok, with Lena joining in with the moves in her own video shortly after. – Rhian Daly 
Listen to all the best viral tracks on TikTok on Apple Music and Spotify.