Queen
The British rock band's members have included Freddie Mercury, Brian May, Roger Taylor, and John Deacon and are one of the biggest bands in the world.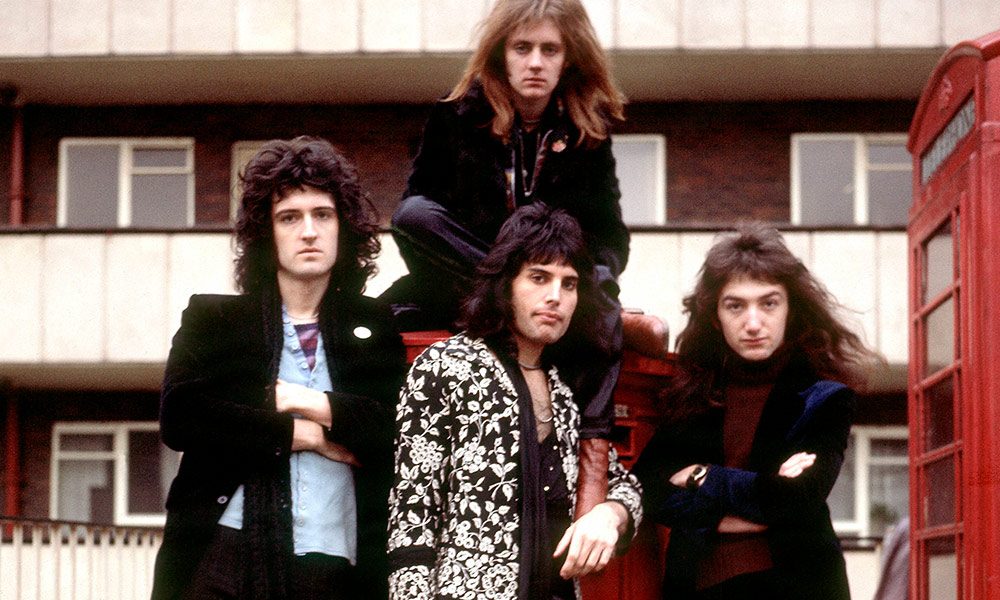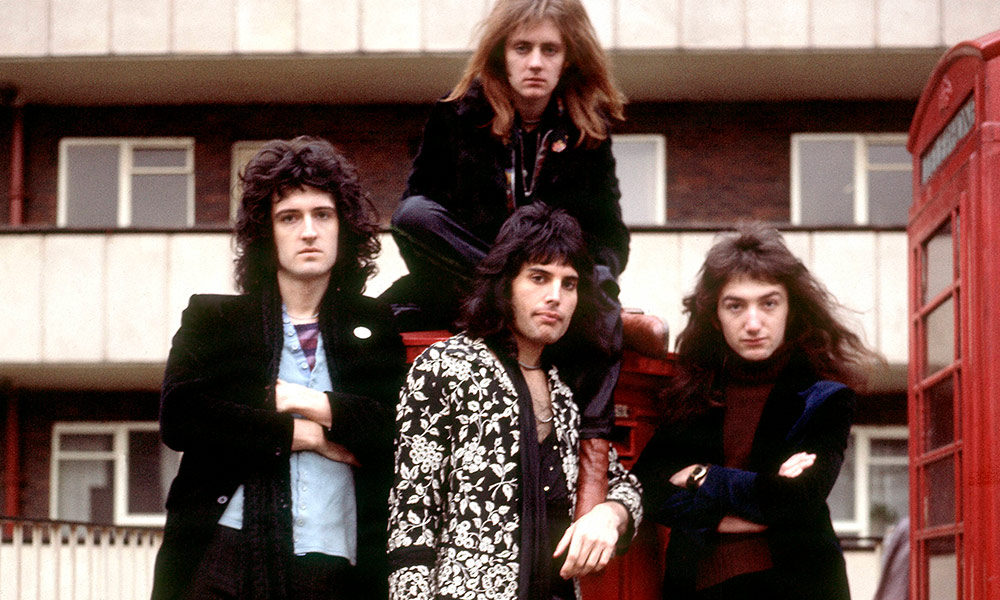 Quite simply, Queen is a unique band, one whose popularity has grown as the years have gone by. Their music covers a broad spectrum – rock, pop, blues, soul – which has been such a significant factor in their enduring appeal. They are creatively greater than the sum of the parts – Freddie Mercury, Brian May, Roger Taylor, and John Deacon wrote hits individually that were turned into classics by the band's musical dexterity. We bow before their collective talents, their individual brilliance and their majestic music.
Queen's first album was well on the way to being completed in 1972 – they already had Keep Yourself Alive, Liar, Jesus and The Night Comes Down finished – when they went searching for a record deal. All they had to do was put down a few tracks and find a  record company A&R man who got what they were trying to do. They had met a young up-and-coming producer, Roy Thomas Baker, who liked what he heard, and soon afterwards, the band signed to EMI. No big hits, but the stage was set.
The follow-up, Queen II, displayed an immense maturity and portrayed a band that had plenty to say, with five Brian May compositions, five by Freddie Mercury and a solitary track by Roger Taylor. Mercury and May were no normal rock songwriters. Their material drew on mysticism and other-worldly imagery. Mercury's Liar, My Fairy King and Seven Seas of Rhye, the band's first hit, were neatly juxtaposed against May's Keep Yourself Alive, Son and Daughter and Doing Alright, and managed somehow to show themselves as two sides of the same coin.
Queen's progress was not without its challenges. As the band prepared to record their third album, Sheer Heart Attack, they were faced with a major challenge – recording a crucial, career-defining album while Brian May recovered from a serious bout of hepatitis. They rallied and their work took a new turn, a series of short, sharp shocks to the system, brimming with commerciality and yet retaining the special something that made Queen so special as well as continuing to define their identity. According to Brian May, "I regard Sheer Heart Attack as the most polished album, the most finished product." The double "A" side single Killer Queen and Flick of the Wrist was a big hit.
"We have always been able to think on our feet, collectively and individually," Brian May once explained. "And when we go into the studio, it all comes together magically." A Night At The Opera forced audiences and critics to give them credit for a wider musical perspective, something closer to the diversity of the Beatles rather than just hard rock. Recorded across four studios, A Night at the Opera would boast of a  range of musical flavours performed with typical Queen panache, and of course, Bohemian Rhapsody was a piece of genius no-one expected. And as if to blatantly state that there were four writers in this band, Deacon came in with You're My Best Friend, and Taylor sang and wrote the spine-tingling rock hymn, I'm in Love with My Car, only two of the many great songs written by the two throughout the years.
Queen were well on their way to becoming one of the biggest rock bands in the world when the time came to start recording their fifth album, which would very much prove to be the sister album of A Night at the Opera, even down to the title, once again neatly nicked from another Marx Brothers movie –  A Day at the Races.
The album featured many of the signatures created on its predecessor, including the rollicking rocker Tie Your Mother Down, by Brian May, while Mercury, again, continued to shine as a contemporary writer, with Somebody to Love the lead single.
By this stage, Queen pretty much ruled the rock world (they had headlined a free concert in London's Hyde Park to 150,000 people), so News Of The World (named after the UK Sunday newspaper, a veritable scandal sheet) was an apt title, and presented a couple of timeless anthems: We Are the Champions and We Will Rock You. "I think that's when we established ourselves as a rock anthem band," May said years later. "We should have done an album called Anthems really."
Jazz, Queen's seventh album in just under six years, was somewhat overshadowed by the legendary launch that accompanied it in New Orleans on Halloween Night, October 31, 1978. But Jazz was another album that featured three tracks – Bicycle Race, Fat-Bottomed Girls and Don't Stop Me Now – that would go on to become Queen classics. Worldwide success and tax avoidance led Queen to record at Mountain Studios, Montreux, in a luxurious location overlooking Lake Geneva in Switzerland, and at Superbear Studios in Nice. Jazz was a solid if unspectacular Queen album.
Queen's reputation on stage was equal to that in the studio. With all this commotion about their scintillating performances, Queen were under increasing pressure to come up with a live album. Band and management were painfully aware that bootleggers were amply fulfilling that need, and wanted to do something about it. The first live album, Live Killers, was recorded on their European tour between January and March 1979; and was the band's first double album. It was released in June 1979 and made No.3 on the UK charts and peaked at No.16 in America. Fans that attended any of those wonderful performances in Europe in 1979 will tell you that Live Killers truly captures the sheer power, unparalleled energy and excitement Queen generated on stage during this time.
Queen went into the summer of 1979 with the intention that the next twelve months as tax exiles would be a different sort of recording year, one that would re-energise the creative batteries. An admirable plan… but, as it happened, the year turned into a recording feast, and the result was The Game.
"We wanted to get out of a rut, that laborious routine of recording, touring, promotion, etc," said May. They also wanted new experiences, and that was how they landed at Musicland Studios, Munich, and came out with more hits – the funky Another One Bites the Dust and the typically anthemic Save Me.
And yet Queen wanted more… to be all things to all men. Their penchant for cinema first became apparent when they were commissioned by Italian producer Dino De Laurentiis to provide the music for the over-the-top Sci-Fi movie, Flash Gordon. Recording for Flash Gordon took place at the same time as the sessions for The Game, recorded by legendary producer Mack in Munich and Advision Studios, London, the musical vignettes having been put together by Brian May at some London studios before they decamped to Germany. The music was overly dramatic, dynamic and perfectly suited to the over-the-top elements of Queen.
The band's first Greatest Hits compilation album was released in November 1981. It was an instant hit worldwide, reaching the No.1 slot in numerous countries. Its UK sales are in excess of 5.6 million copies, making it the UK's biggest selling album of all time. The UK album comprises Queen's hit singles output from Seven Seas Of Rhye in 1974 to Flash in 1980, and every other single to make the top 20 over the previous seven years.
The first album of the next era was Hot Space… a Queen album very different in sound, tone and approach to any other recorded to date. For this album, Queen would adopt a much sparser sound, letting music resonate alongside space.
The first example of this came in November 1981 when Queen released Under Pressure, a collaborative single with David Bowie. The music on the album was very different, with Freddie Mercury leading the way into new territories that were very foreign to the history of Queen – disco, pop, r'n'b, funk soul, everything but the signature Queen sound, it seemed, apart, typically, from Brian May's Put Out the Fire and plaintive Los Palabros de Amor.
Not surprisingly, Hot Space was met with confusion by many Queen fans when it was eventually released on May 21, but still reached number 4 in the UK charts, although in both the UK and USA, it was awarded Gold status, a drop from the platinum discs the band were used to.
As Queen convened to record the next album, John Deacon said in a radio interview: "We were disappointed with Hot Space too, so we really did talk about how we were going to attack the next album. With The Works, we decided to go towards the things people actually associate with Queen."
The Works title was derived from the fact that Queen felt that everything was working for them again, and a comment from Roger Taylor: "Let's give them the works!" And indeed they did! Recorded with Mack at the Record Plant and Musicland between August 1983 and January 1984, the album had a wide range of diversified killer tracks and marked a return to Queen's rock roots, led by Taylor's own pop classic, Radio Ga Ga.
Having reached a new high with their mindblowing performance at Live Aid on July 13 1985, Queen were indeed ready to rock. In January 1986, Queen were mapping out their future after what was a truly invigorating 1985. The band's major drive through the year would be a project-cum-album, starting with the Highlander movie soundtrack which would evolve into what would be the new album, A Kind of Magic.
Six of the nine tracks appeared in the movie Highlander, but they were longer and alternative versions. Tracks such as A Kind of Magic, Who Wants to Live Forever, One Vision and Friends will be Friends marked this as a true return to form.
Live Magic, Queen's second live album, was recorded at Wembley Stadium and Knebworth Park in England, and in Budapest Hungary, during the Magic Tour of Europe, in July and August 1986. Live Magic's 1979 predecessor Live Killers had been a double album, but this time the band wanted only a single disc and thus the necessity to abbreviate certain performances. Some fans were unimpressed by the shortened edits and would have preferred a double-disc set to better represent what many of them considered to be some of the best concerts Queen had ever played.
With a working title of The Invisible Man, the band went to work on the next studio album. Most importantly to fans, this was a typically creative Queen album, with rock music at its core; and it spawned five singles in the UK: I Want It All, Breakthru, The Invisible Man, Scandal and The Miracle, which would become the album's new title just three weeks before its release (May 22, 1989, in the UK and a few weeks later in the USA).
Queen had been aware of Freddie Mercury's illness for some time, but a decision had been made within "the band family" that this dreadful news would not be confirmed. Freddie was insistent on this: "I don't want people buying Queen music out of sympathy," he told his compatriots.
Innuendo certainly had the creative spark apparent in all of Queen's best music. It had variation and the brilliance of the clash of talents that occurred when the band were at the height of their powers, as shown in the overblown title track, the zaniness of I'm Going Slightly Mad and straight-ahead rock of Headlong. And then there was the confessional These Are the Days of Our Lives, which took on real emotional poignancy once Freddie's condition was confirmed.
The band's second Greatest Hits compilation album was released in the UK on 28 October 1991. Like the first Greatest Hits album issued a decade before, this one was another instant hit reaching the No 1 position in the UK for 5 weeks and in numerous other countries around the world. Since its release in the UK, it has reached at least 12 times platinum and combined with the first Greatest Hits, it represents the definitive Queen collection, jointly selling an incredible 40 million copies worldwide.
With a wealth of live footage, Queen's third concert album, Live at Wembley '86, was recorded at London's Wembley Stadium on July 12th 1986 – on the second of two nights – during the mighty Magic Tour of Europe. Released in May 1992, this was the first Queen album release after Mercury's death on November 24th 1991. It reached No 2 in the charts. Unlike the earlier live album, this set comprised the entire show.
All of Queen were aware that there was unfinished recording business with regard to Freddie. He had insisted on working until his final days. Tracks had been recorded and when he died they were left in the studio. It wasn't until Spring 1994 that Queen felt comfortable enough to work on that material. Made In Heaven was the title chosen by the Queen Fan Club. It turned out to be a perfectly valid Queen album, with thrilling cuts such as It's a Beautiful Day, You Don't Fool Me and the title track.
After compilations of their hit singles, Queen took a harder look at their status as an "albums' band" in the traditional sense. They had many popular tracks that did not fit the single mode, and so Queen Rocks was released in 1997, a selection of songs from Queen's heavier side. It also contained one new track, No-One But You (Only the Good Die Young). It was the last original studio recording from the 1990s featuring Brian May, Roger Taylor and John Deacon (and the first Queen recording without Freddie Mercury).
And still, there was room for another greatest hits package. Greatest Hits III was released in the UK in November 1999. It was released as the band had entered their Queen + phase – singles with guest vocalists. Although the first two tracks were not released as singles, further confusing the idea of the album, both had been previously unreleased before. The Show Must Go On performed live with Elton John taking on the lead vocal role, was taken from their live performance at the Theatre National De Chaillot in Paris on January 17 1997, while Under Pressure (Rah mix) was a specially remixed version and included fresh recording work by Roger and Brian.
Originally released in November 2000,  the 3 CD Platinum Collection set includes all three volumes of the original Greatest Hits albums. This special package was made to combine Greatest Hits, Greatest Hits II and Greatest Hits III in a triple CD case in one unique package with a 48-page booklet and an outer slipcase.
And there was still no shortage of Queen live performances. Queen on Fire: Live at the Bowl was recorded at a show in Milton Keynes, England, on June 5, 1982, during the Hot Space tour. Another double album, the album took in 25 songs from the set, starting off with Flash, into the Hero and then the fast version of We Will Rock You. Queen have always excelled at getting out of the traps fast, and this was a superb example of it.
Queen also did something they said they would never do, go back on the road without Freddie and, more significantly, record without Freddie. But even Freddie might have agreed with their choice of singer: Paul Rodgers, from Free, who were a great influence on Queen. May and Taylor had played with him at their induction into the UK Music Hall of Fame and heard him singing We Will Rock You and We Are the Champions. They tested the temperature with a few gigs under the name Queen+Paul Rodgers, and this blossomed into a world tour. They took an even bigger step when they decided to record an album together. Many fans were very dubious of the project.
"Strangely enough, we probably think less about the Queen legacy than you would imagine," May added. "We just do what we do and what feels right."
This live album released under the Queen + Paul Rodgers banner was recorded at the Hallam FM Arena in Sheffield England in May 2005. It was released as a double album in September that year and was a modest success in the UK.
Over the next few years, The Cosmos Rocks was recorded at Roger Taylor's home studio and released in September 2008. It was different but quite classy. Not quite Queen. Not quite Free, but a convergence of both. "I think of it as a Queen album with a twist," Taylor commented. The album sold well around the world, peaking at 6 in the UK and 47 in the USA. A major world tour followed its release, including a return to South America, and included a massive free concert, released on DVD, in Kharkov's Freedom Square in front of 350,000 Ukrainian fans. This was no pale imitation, but after the tour and five years together, Queen and Paul Rodgers decided that the project had reached its natural conclusion.
Released in November 2009, the Absolute Greatest compilation featured 20 of the band's best-loved and most famous hits from throughout their career on one CD for the very first time. It was available as a standard single-disc release and a double-disc special edition with an extra CD featuring reminiscences by Brian May and Roger Taylor. The album reached No.3 in the UK, went double-platinum and topped the charts again worldwide.
Teaming up with an American Idol contestant to form Queen + Adam Lambert, the group performed a variety of shows from 2009 to 2015, notably Queen + Adam Lambert Rock Big Ben Live, broadcast by the BBC on New Year's Eve 2014 Queen themselves also took the honours in playing at the closing ceremony of the London 2012 Olympics, where Jessie J joined them for a performance of "We Will Rock You". Back with Lambert, the group closed the 2016 Isle Of Wight Festival, dedicating "Who Wants To Live Forever" to the victims of the shootings in a Florida nightclub that day in June.
Digging into the vaults, Deep Cuts, Volume 1 (1973-1976), plus two further follow-ups documenting 1977-82 and 1984-95, focused on lesser-known band favourites with restored finales and perked-up drum parts in places. The North American collection, Icon, was more straightforward as an 11-song anthology, while Queen Forever delved back into the archive and emerged as 2CD deluxe and 4LP box set editions, the latter with a bonus 12" single featuring "Let Me in Your Heart Again (William Orbit Mix)".
For the die-hards, the Hungarian Rhapsody: Queen Live In Budapest captured the group in their pomp in 1986, while Live At The Rainbow '74 and A Night At The Odeon: Hammersmith 1975 brought the early golden period back to life. Even more tantalising was the late 2016 release On Air: The Complete BBC Sessions, which chronicled their entire BBC Radio recordings, further live material (some as early as their 1973 show at the Golders Green Hippodrome) and other Capital Radio gems, plus interviews.
So this is what has helped define Queen's unique place in rock history: a legacy that is ever-evolving and finding new audiences from all age groups. Who wants to live forever? We know that Queen will.
Max Bell
Format:
UK English