'To Be Real': 25 Essential LGBTQ Anthems For Pride Month
From disco hits to tender ballads, the queer canon is as diverse as it is large. Here are the most memorable songs that celebrate the LGBTQ experience.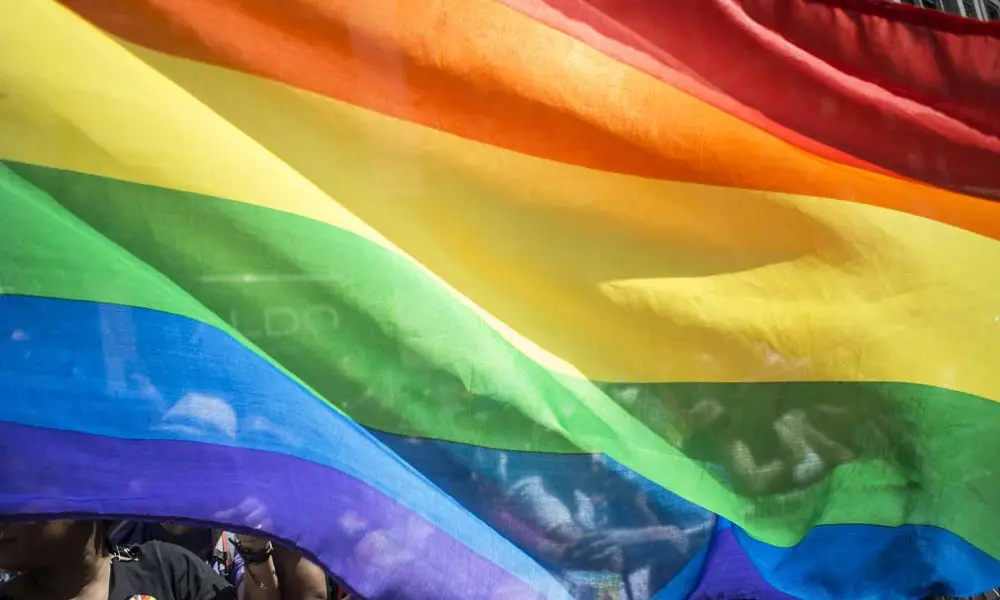 If music is the universal language, then what makes a song an LGBTQ anthem? LGBTQ artists have always been at the forefront of music, spanning every genre and era, but with pop music, these artists have a conduit to express both the pain of isolation and otherness as well as the jubilant feeling of self-love and community. To celebrate LGBTQ Pride Month, here are some of the most memorable songs that celebrate the LGBTQ experience.
Follow the Ultimate Pride playlist on Spotify.
25: Kacey Musgraves: Follow Your Arrow
Make no mistake, even country music has its share of LGBTQ songs, even if their message isn't explicit. While the 90s gave us country divas like Shania, Reba, Trisha and Martina, it wasn't until Nashville outsider-turned-critical-darling Kacey Musgraves came along and told us to "kiss lots of boys – or kiss lots of girls" that the genre was truly shaken up.
Kacey Musgraves - Follow Your Arrow (Official Music Video)
24: Carly Rae Jepsen: Run Away With Me
Like Robyn, Carly Rae Jepsen taps into something deeper with her pop hits, not shying away from the feelings of loneliness and disappointment that come with unrequited love. She's long eclipsed the success of "Call Me Maybe" and delivers the kind of escapist LGBTQ songs that speak to the queer experience, especially on "Run Away With Me," where the line "I'll be your sinner in secret" has enshrined the song's singalong status.
Carly Rae Jepsen - Run Away With Me
23: Kylie Minogue: All The Lovers
The Australian pop sensation has been churning out LGBTQ anthems since "Your Disco Needs You" back in the early 00s, so it's nearly impossible to choose just one defining track. Among her impressive catalogue of dance-pop gems, "All The Lovers" marked the first time the singer seemed to directly address her gay fanbase, along with the accompanying video that features a mass of couples of all stripes making out around her.
Kylie Minogue - All The Lovers (Official Video)
22: Janet Jackson: Together Again
On her critically-acclaimed Velvet Rope album, Janet Jackson got personal and tackled an array of taboo topics. On "Free Xone" she sings about "One rule, no rules/One love, free zone"; she flips the gender script on Rod Stewart's "Tonight's The Night"; and, on the bittersweet disco hit "Together Again," pens a triumphant tribute to the friend she lost to AIDS, earning a GLAAD Media Award in the process.
21: Melissa Etheridge: Come To My Window
LGBTQ songs may dominate pop and disco music, but they can also be found in rock music and the singer-songwriter realm. The steely-voiced Melissa Etheridge squashed rumors after titling her album Yes I Am and penning one of the most iconic lesbian (or otherwise) love songs.
20: Rupaul: Sissy That Walk
While "Supermodel (You Better Work)" remains a timeless anthem, RuPaul has amassed an impressive discography since the 90s, including her homage to ballroom culture, "Sissy That Walk" off 2014's Born Naked. If "Supermodel" was built for the runway, "Sissy That Walk" is a thumping call to the dancefloor. Only Ru could get a song that features "My p_ssy is on fire, now kiss the flame," on the Billboard charts.
19: Bronski Beat: Smalltown Boy
The British trio's universal hit spoke to small-town boys (and girls) everywhere who were looking to escape the oppressive nature of their hometowns. From the song's opening synths and Jimmy Somerville's unmistakable falsetto, "Smalltown Boy" marked a historic moment in pop music, especially coming from an openly gay group during the peak of the AIDS crisis.
Bronski Beat - Smalltown Boy (Official Video)
18: Elton John: Elton's Song
Even before he publicly came out in the late 80s, Elton John released one of the most revealing songs of his career with "Elton's Song," a moving piano ballad that was clearly about a hopeless crush on a boy. Co-written by Tom Robinson (who gave us "Glad To Be Gay"), it's one of the rare LGBTQ songs that eschews the dancefloor for a more tender moment.
Elton's Song (Remastered 2003)
17: Pet Shop Boys: Go West
While much of their earlier work in the 80s relied on sexual ambiguity ("West End Girls"), or a lack thereof ("Domino Dancing"), Pet Shop Boys' Neil Tennant and Chris Lowe had an immense impact on queer pop and dance music at large. Among their countless hits, their cover of Village People's "Go West" stands as their most enduring gay anthem.
Pet Shop Boys - Go West (Official Video) [HD REMASTERED]
16: Janelle Monáe: Make Me Feel
From Prince acolyte to force of nature, Janelle Monáe ditched her futuristic android persona and reclaimed her sexuality on the revelatory LP Dirty Computer and its lead single "Make Me Feel." Sonically it's the spiritual cousin of "Kiss," while lyrically it an embrace of sexual fluidity, all with a palpable sensuality that bursts forth from your speakers.
Janelle Monáe – Make Me Feel [Official Music Video]
15: Culture Club: Do You Really Want To Hurt Me
Emerging from London's gay-bar circuit, Culture Club and their frontman, Boy George, brought both genre and gender fluidity to the MTV generation. George's secret relationship with his bandmate Jon Moss inspired much of the angst and heartbreak on their second album, Colour By Numbers, including the immortal hit "Do You Really Want To Hurt Me."
Culture Club - Do You Really Want To Hurt Me
14: Madonna: Express Yourself
Madonna crafted one of the most iconic LGBTQ songs decades before "live your truth" entered the pop lexicon. While many point to the ballroom culture-inspired "Vogue" as her pivotal LGBTQ anthem, "Express Yourself" and its homoerotic visual was a siren call to fans, encouraging them to have autonomy over their needs and desires.
Madonna - Express Yourself (Official Video)
13: Erasure: A Little Respect
As the torch-bearers of 80s queer pop, British synth-pop masters Erasure didn't just write flashy floor-fillers, they wrote songs that captured the intense longing and desire of queer relationships. The fact that Andy Bell was passionately singing about an emotionally unavailable boyfriend was utterly lost on the thousands of teenage girls that would swarm their concerts.
12: Grace Jones: Pull Up To The Bumper
One of music's greatest instigators, Grace Jones was always a beloved gay icon. From her striking androgynous style to disco cred, she knew how to navigate gay club culture and bring it to the mainstream. Her pivot from disco gifted us the reggae-infused New Wave classic "Pull Up to the Bumper," a sexual-innuendo-loaded hit about taboo pleasure. With its bubbling bassline and infectious guitar lick, Jones's ode to anonymous intimacy still sounds transgressive.
Grace Jones - Pull Up To The Bumper
11: Donna Summer: I Feel Love
Despite her "Queen Of Disco" label, Donna Summer did more for the evolution of EDM than she's given credit for, thanks to her pioneering collaborations with Italian producer Giorgio Moroder. From the pulsing Moog synths to Summer's erotic trills, her 1977 hit "I Feel Love" turned the dancefloor into a celestial realm.
10: Robyn: Dancing On My Own
What started out as a tale of heartbreak over seeing an ex with a new lover quickly evolved into a triumphant anthem of self-acceptance. Inspired by "sad, gay disco anthems by Sylvester and Donna Summer," Swedish pop icon Robyn turned an observation on club culture into something much larger. With its pulsating beat and lyrical themes of isolation, "Dancing On My Own" was immediately absorbed into the queer canon.
Robyn - Dancing On My Own (Official Video)
9: Village People: YMCA
Defining gay anthem of the disco era or wholesome celebration of young male-oriented community centers? Coming from a band with the hit single "Macho Man" and an album called Cruisin', you decide. Before it was blasted at every bat mitzvah, this 70s hit, with its infectious chorus and simple choreography, was a fixture at New York City's gay clubs.
8: Carl Bean: I Was Born This Way
Decades before Gaga's gay anthem and pre-dating The Village People, Carl Bean brought gay pride to the clubs (and charts) on the 1977 Motown smash "I Was Born This Way." Originally released as a disco single by Valentino, Bean brought his gospel-powered vocals to the track, as he proclaims, "I'm happy, I'm carefree and I'm gay/I was born this way." The song has outlived disco through various remixes over the years and still sounds triumphant today.
I Was Born This Way (12" Vocal)
7: The Weather Girls: It's Raining Men
"Tall, blonde, dark and lean." The Weather Girls didn't discriminate when it came to the male specimen, so, naturally, their disco-pop hit was adopted by all. Co-written by David Letterman bandleader Paul Shaffer, "It's Raining Men" would be nothing without the powerhouse vocals of Martha Wash and Izora Rhodes-Armstead.
The Weather Girls - It's Raining Men (Video)
6: Queen: I Want To Break Free
While Freddie Mercury never publicly came out during his lifetime, many of Queen's enduring hits can be read as LGBTQ anthems, none more so than "I Want To Break Free." Written by Queen's bassist, John Deacon, the song spoke to any repressed individual. When the band satirized the popular UK soap opera Coronation Street by dressing up in drag for the music video, the world laughed with them – apart from America, which clutched its pearls at perceived subversive content.
Queen - I Want To Break Free (Official Video)
5: George Michael: Freedom 90
Though best remembered for its supermodel-starring music video, "Freedom 90" is an unabashed LGBTQ anthem for the former Wham!-singer-turned-sex symbol. "I think there's something you should know/I think it's time I told you so/There's something deep inside of me/There's someone else I've got to be," George Michael sings in this timeless 90s hit.
George Michael - Freedom! '90 (Official Video)
4: Lady Gaga: Born This Way
When Lady Gaga penned her bombastic ode to self-love, her words cemented a greater shift in cultural attitudes around homosexuality. "Born This Way" was not only a triumphant LGBTQ anthem but a retort to anyone who questioned their self-identity. Unlike her 80s and 90s pop predecessors, Gaga didn't have to hide behind cryptic lyrics. The fierce LGBTQ ally made her intent loud and clear, and just so happened to spawn one of the biggest pop hits of the century.
Lady Gaga - Born This Way (Official Music Video)
3: Diana Ross: I'm Coming Out
Like so many LGBTQ anthems, "I'm Coming Out" used Top 40 pop to convey more subversive messages to the community. "I'm Coming Out" didn't just allude to the former Supreme's disco makeover, it was a sign of support to her gay fanbase (whether Diana Ross was overtly aware of it or not) crafted by funk architects Nile Rodgers and Chic co-founder Bernard Edwards.
2: Gloria Gaynor: I Will Survive
Gloria Gaynor's resilient disco anthem took on a deeper meaning after the AIDS crisis hit. Outlasting the fallout of the infamous Disco Demolition Night, Gaynor's song evolved into a rallying cry of a community that was being decimated by disease. Both then and today, "I Will Survive" is one of the most enduring LGBTQ anthems for times when survival itself becomes an act of defiance.
I Will Survive (Extended Version)
1: Sylvester: You Make Me Feel (Mighty Real)
The "Queen Of Disco" was never a big enough title for the dynamic, gender-fluid singer known as Sylvester. With his airy falsetto and dynamite stage presence, the openly gay artist always kept it real, and that boldness can be heard in his music. A celebration of liberation, "You Make Me Feel (Mighty Real)" remains one of the most outspoken LGBTQ anthems of all time.
You Make Me Feel (Mighty Real)
Looking for more? Discover the LGBTQ musicians who helped their fans find a voice.