Grace Jones
One of the most iconic figures in American pop music has charted a nearly peerless career that's included albums like Nightclubbing and singles like "Slave to the Rhythm."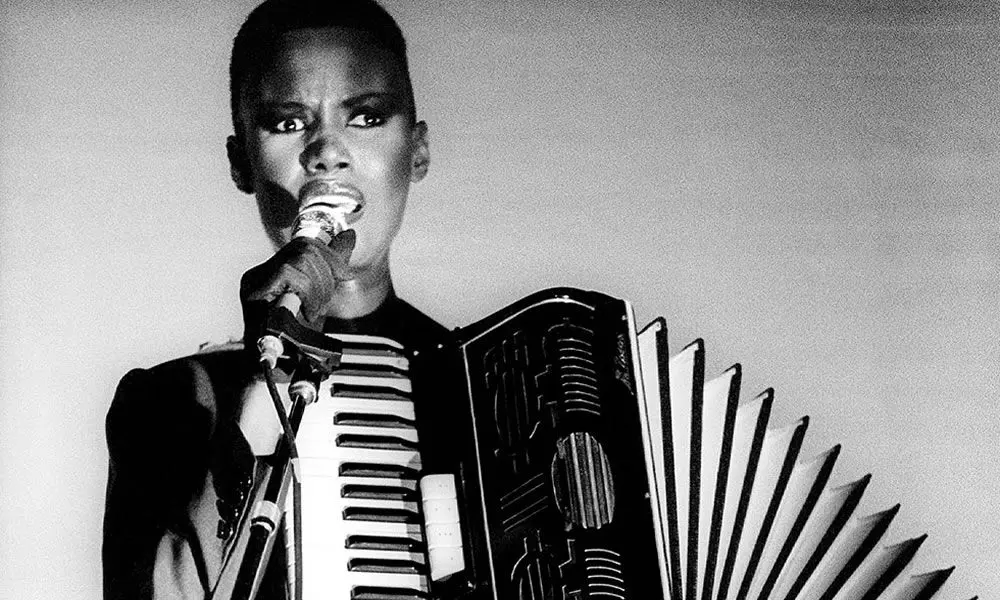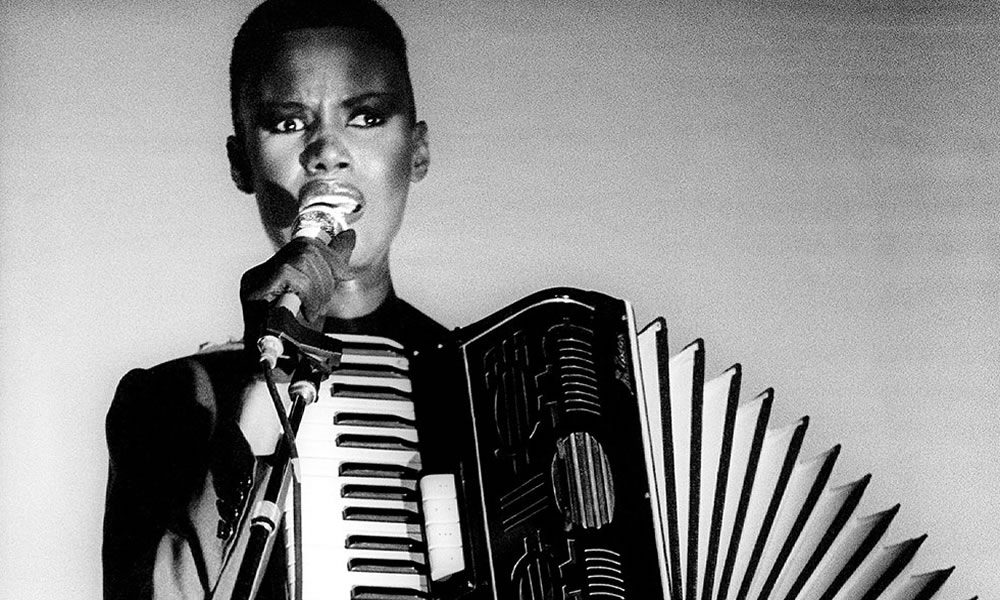 The great Grace Jones is a singer, actress and model with a string of classy albums to match her cinematic endeavours as Bond baddy girlfriend and all-round entertainment skills. Renowned for her charismatic stage performances and her stylish image these traits shouldn't disguise the fact that Jones has released music of classic status. She is not a dabbler: she has thrown her talents and energy into explorations of nightclub chanteuse, pioneering disco, sure-footed funk and cabaret crossover. A woman of sundry abilities, the young Grace hit pay-dirt in the studio with single smashes like "Pull Up to the Bumper" and the epic "Slave to the Rhythm" as well as long-playing successes such as Warm Leatherette, Nightclubbing and the massively popular Island Life selection. These include a collection of stunning, Jones inspired covers and are among the defining moments in American and European pop culture as the artist puts a spin on material by Bill Withers, Chrissie Hynde, Iggy Pop and David Bowie, Tom Petty, Roxy Music and Flash and the Pan, effectively sealing a bond between the recent past and the imminent futurism of superbly produced new sounds.
Equally adept at reggae fusion and conceptual or theatrical art-rock, Jones is far from the mainstream, yet can never be viewed as a marginal artist. Rather she is a protagonist and a true star who has bossed clubs and taken charts by storm. An iconoclast for sure, her take no prisoners approach is a blueprint for the more considered decadence of the late 20th century but her fame is no accident. Jones influenced the cross-dressing movement of the 1980s and has been an inspiration for artists, including Annie Lennox, Lady Gaga, Rihanna, Brazilian Girls, Nile Rodgers, Santigold, and Basement Jaxx.
Born Beverley Grace Jones in Spanish Town, Jamaica, 1948, the family moved to New York in the early 1960s and Grace's lean, rangy and striking beauty made her a teenage model star in that city, London and Paris where she modelled for Yves St. Laurent, Claude Montana and Kenzo and appeared on the covers of Elle, Vogue and Stern, often photographed by Helmut Newton and Guy Bourdin. In 1977 her singing brought her to the attention of Island Records for whom she signed a lucrative deal, combining show tunes with a move into reggae and funk fusion world of Compass Point Studios in the Bahamas. What was evident was that she could switch from a monotone sing-song to a contralto and soprano mode with a naturally gifted two and a half-octave range. The combination proved lethal and set her apart from just about everyone else, enabling her music in the 1980s during this era to be described as a hybrid of "rock, funk, post-punk, pop and reggae." This hybrid influenced a variety of alternative music artists, including Massive Attack, Todd Terje, Gorillaz, Hot Chip, and LCD Soundsystem.
Grace's debut is Portfolio (1977), spawning the worldwide underground hit "La Vie en Rose" – the best version outside of Edith Piaf's – as well as telling takes on "Send in the Clowns" and her own song "Sorry". Portfolio was groundbreaking for Jones: moderately successful in America it made her an overnight cult hit in Europe. The follow-up Fame (still produced with Tom Moulton) was quite different. She located to Sigma Sound in Philadelphia, where Bowie had recorded his Young Americans and embraced the burgeoning louche strand of disco that was sweeping New York City and Berlin. Even so, the standout cut "Do or Die" became a club hit in North America and Grace's songs were amongst the first to be given 12' mix plates, these generally only available to the mover and shaker DJ fraternity at this juncture.
The third album, Muse, followed her habit of using a medley format and arrived during the absurd "anti-disco" backlash which effectively squashed its progress although we recommend you investigate it anew because if this is Grace's lost album it shouldn't be kept under wraps much longer. The single "On Your Knees" is certainly one masterpiece that needn't be overlooked anymore.
Grace's final record of the 1970s is her breakthrough disc, Warm Leatherette (1979) that takes her into the reggae and new wave sphere, though with her own idiosyncratic stamp of course. The album was revolutionary for her as island boss Chris Blackwell came on board to produce with Alex Sadkin, recognising that the label's investment in their artist was about to go global.
Jones inhabits the material, as an actor would seek immersion in an important role. The many highlights include her versions of Roxy Music's "Love is the Drug", Hynde's "Private Life" – which still sends a shiver down the spine – Petty's "Breakdown" and Smokey Robinson's "The Hunter Gets Captured by the Game". It is a five-star affair that ought to, excuse the phrase, grace any collection.
Now recording at Compass Point with Sly Dunbar, Robbie Shakespeare, Wally Badarou, Barry Reynolds and Mikey Chung, Jones seized her moment. The ensuing Nightclubbing would be her huge statement. It's virtually another greatest hits in a way with her interpretation of Sting's "Demolition Man" and Vanda and Young's "Walking in the Rain" arriving like scorch marks on the brain while the Reynolds/Marianne Faithfull closer "I've Done it Again" helps define her as a kind of female Bowie – androgynous, alien, alternative and brilliant.
Living My Life and Slave to the Rhythm picked up the baton and would keep Jones to the forefront of club and dance culture thanks to exceptional songs like "Nipple to the Bottle", "My Jamaican Guy", "The Apple Stretching" (surely an influence on Erykah Badou), the "Slave" title track and the high-grade production values – digital technology taken to the nth degree.
The Island Life compilation, like Nightclubbing, is available in an expanded format with different mixes from her albums and that fabulous Jean-Paul Goude cover image of Grace looking impossible otherworldly and striking a pose that would set the seal for artists like Madonna and Kylie Minogue when they chose to vogue.
After this major success – the collection was hard to ignore in 1985 – Grace returns with Inside Story (working with Nile Rodgers) and her last studio album for nearly two decades, Bulletproof Heart (1989). Working with then-partner Chris Stanley providing music, fans love this album because it features all original material of tremendous allure and is also available as an expanded and re-mastered disc.
As usual with our artists, we offer a terrific range of compilations and collections to suit all pockets and tastes. Aside from the Gold standard Island Life we have the handy 20th Century Masters – The Millennium Collection: The Best of Grace Jones, one of our flagship affairs, including the 12' remix of "Nipple to the Bottle". The Universal Masters Collection and The Collection will delight long-time fans – the latter featuring Grace's take on Joy Division's "She's Lost Control" and her demo of Johnny Cash's "Ring of Fire". Most comprehensive is Private Life: The Compass Point Sessions (with key re-edits, the long and dub versions of "She's Lost Control" and enough extended and 12" mixes to satisfy the real acolytes).
Pride of place for those who want the inside skinny lands upon The Grace Jones Story. Here you'll find over two hours of scrupulously gathered gems commencing with her Portfolio outing and going through to her startling version of Sheep on Drugs' cut "Sex Drive" as well as stunning artwork and comprehensive liner notes. This is totally recommended.
But then the same goes for this woman's entire canon. It's been an extraordinary career that isn't showing signs of wear and tear. Grace Jones is a true force of nature and a law unto herself. We wouldn't have her any other way. We're slaves to her rhythm and guess you will be soon.
Words: Max Bell
Format:
UK English